Interview
Mackenzie Davis: 'America's election system is corrupt, peculiar and driven by greed'
The Canadian star of Jon Stewart's political satire 'Irresistible' does not have a vote in the upcoming presidential election but has been shocked by a system driven by 'money, greed and some very old-fashioned ideas'. She talks to Adam White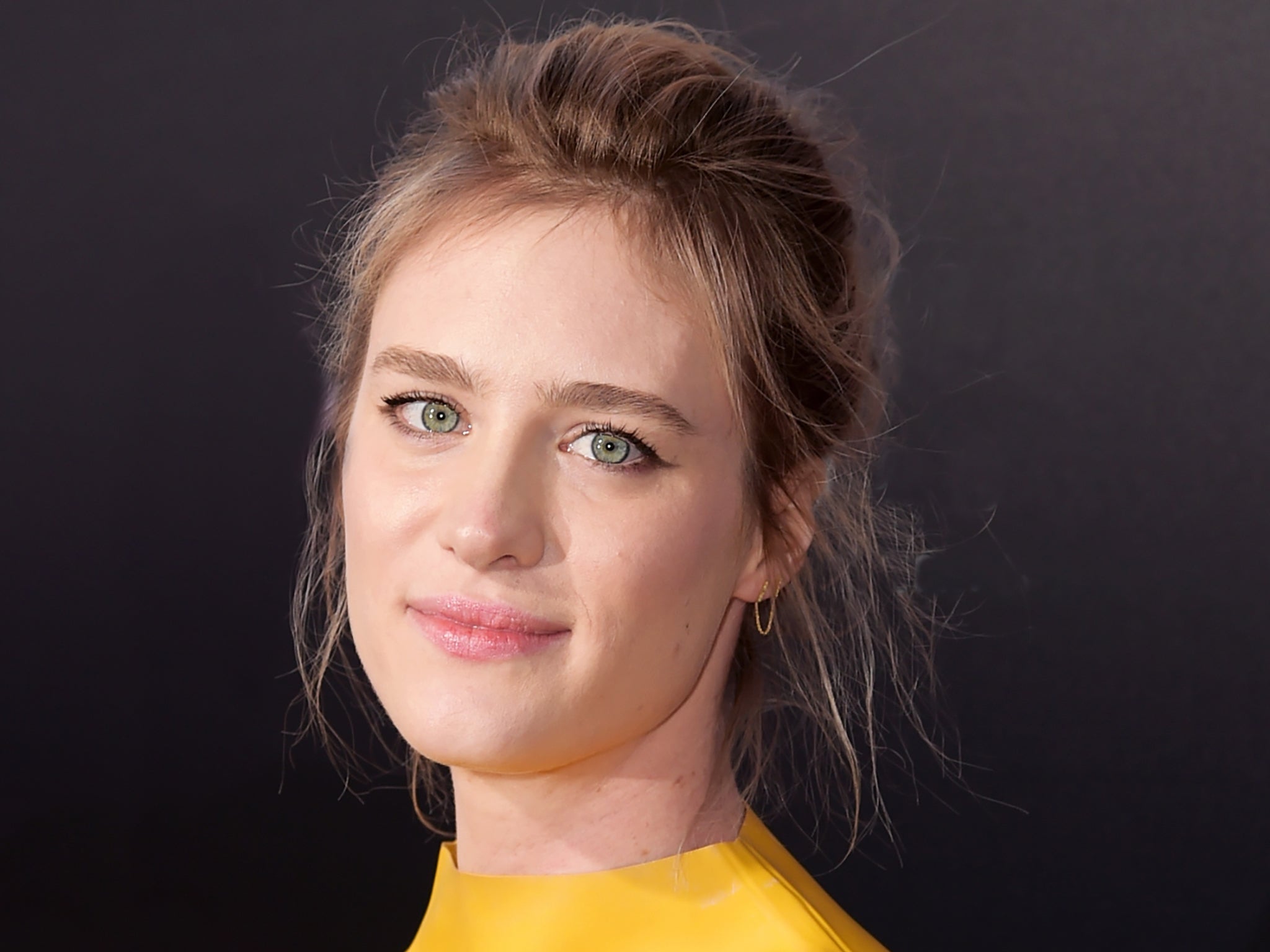 Mackenzie Davis, star of Terminator: Dark Fate, Tully and the acclaimed Black Mirror episode "San Junipero", moved from Canada to the United States a year after Barack Obama became president. "I was one of many young people that felt that it was the dawn of a new day; that there was this figurehead who would erase the sins of the past or perform some sort of healing salve on the country," she says, wistfully. "And, of course, none of that was true."
Irresistible, Davis's new film, uses a small-town mayoral election as a proxy for the current US political climate – the feelings of betrayal and disappointment on both sides of the political divide, the psychic importance of the forthcoming presidential election, and the conflict between big-money, metropolitan liberalism and the perceived insularity of the American heartland. It's also written and directed by Jon Stewart, in his most high-profile work since the end of his run on the satirical news programme The Daily Show, and it is stocked with a barely simmering rage.
In the four years since Obama's presidency, alongside discourse that has grown more outwardly hateful towards immigrants, people of colour and those holding the powerful to account, Davis has hardened. "I'm an immigrant, but I'm a Canadian immigrant," she says. "I have glided through so many aspects of American life that would cause enormous difficulty to other people. I'm hearing these things spoken about and rallied against, and yet I slip in effortlessly. Why was my experience like this and why is somebody else's not like this? The longer I've been here, the more I've realised that America has this very particular and peculiar election system that is corrupt and driven by money and greed and very old-fashioned ideas." She sighs, her inability to vote only strengthening her anger.
Davis, 33, has never been one to shy away from difficult conversations. While playing the scene-stealing role of computer programmer Cameron on the TV series Halt and Catch Fire, she publicly called for (and eventually received) pay parity with her male co-stars. When she discovered, long after filming had wrapped, that the Nasa employee she portrayed in Matt Damon's The Martian (2015) was originally written as an Asian woman, she grappled with her own racial blind spots while promoting the film. And she's been open about fighting for roles that aren't superficial girlfriend parts. Over the course of her career, she swapped out bland love interest duties (as in early work like 2014's That Awkward Moment) for complex, multifaceted women in movies like the underrated Tully (2018), which was more or less a two-hander with Charlize Theron.
Irresistible follows suit. In it, Steve Carell plays a Democratic Party strategist who swoops into a small US town to build the political profile of a folksy and advantageously centrist farmer (Chris Cooper). While the farmer's daughter, played by Davis, has her suspicions, Carell's character believes he holds the key to uniting a divided nation. Davis says that the movie, and working with Jon Stewart specifically, served as an education.
"America is an unbelievably complicated country," she says. "I love it in many, many ways, but I deeply want it to be better. That's real patriotism, though. Patriotism isn't just the worshipping of a flag, it's about asking for more. It's something very present in Canada, too. Like you can be proud to be Canadian, but also want it to do better on things. Airing your discontent is a passionate, visible form of patriotism. But it feels more contentious to do that in the States."
Born in Vancouver to a South African graphic designer and a Liverpudlian hairdresser, Davis started out as a model, before moving to New York to study drama. Her height and chameleon-like face quickly made her a go-to actor for work that is slightly out of time – Halt and Catch Fire was set among the tech boom of the 1980s, while she played a futuristic sex worker in Blade Runner 2049 (2017), and one half of the time-hopping couple at the centre of "San Junipero".
Though it's seemed a charmed run, Davis says she's often fought a lack of confidence. Therapy has helped. "It's made things a lot less vague for me. I don't so much try to control those feelings of anxiety or upset but understand them." Kristen Stewart helped, too. On the set of Happiest Season, their forthcoming lesbian romcom, Davis was convinced everyone would realise she was bad at acting. "I'm like, 'I don't know how to do this and everyone is finally going to see it on this one,'" she jokes. Stewart, however, was "soothing" for her. "She's been doing this forever and is, you know, somebody that seems very stable and secure in their enormous success but also gets the same feelings I get every day. Being an actor is not hard at all, but the emotional awkwardness of slipping into a role can feel excruciating."
A similar range of emotions occurred while filming last year's Terminator: Dark Fate. "It couldn't have been less my lane," she remembers. "I grew up very tall and gangly and have never been known for my grace and athleticism. So I felt like a square peg in a round hole. But I loved it by the end."
Access unlimited streaming of movies and TV shows with Amazon Prime Video
Sign up now for a 30-day free trial
Sign up
Access unlimited streaming of movies and TV shows with Amazon Prime Video
Sign up now for a 30-day free trial
Sign up
The film saw Davis take on not just the responsibility of playing a cyborg sent from the future to protect a vulnerable teenager but holding together a hoped-for reboot of the franchise as a whole. Based on how much money the film lost upon release, it's unlikely Davis will be called upon for more terminating. She acknowledges that the mood was anxious on set, with everyone, from director Tim Miller to stars Linda Hamilton and Arnold Schwarzenegger, trying their hardest to make the film a success.
"We knew that we were the sixth entry in a franchise that everybody seemed to have become quite tired of," she says. "Using a David and Goliath analogy with Terminator feels extremely 'off' because it was, you know, a multibillion-dollar movie, but for all of the pyrotechnics and the catchphrases and everything, we really put our hearts and souls into it. We were all together doing press in Japan when the numbers started coming in, but it also didn't feel dark – we were still having such a nice time! Of course, we wanted it to do better, but I also got it. Like, six movies is a lot! For me as a moviegoer, I'd be like, 'That's so many movies!' I loved making it, but I also understand why people didn't dig it."
That back-and-forth, of self-doubt yet eventual acceptance, has been a recurring effect throughout her career. Even in conversation, Davis seems to switch between both modes, confident in her stances but confessing that she's more cautious about expressing them than she used to be. "I've never been penalised for any of my opinions, but you do feel a little burn when your quote is taken out of context," she explains. "Or you feel misunderstood by someone when you were really earnestly trying to explain something."
Working on Happiest Season right before coronavirus shut down the entertainment industry has also made her re-evaluate many of her past career goals. "I used to really like the challenge of switching between genres and being conscious of not wanting to be one single thing," she explains. "Tonal shifts really appealed to me. But I think that's kind of gone away a bit. Happiest Season was just two months of uninterrupted joy, and I realised I really like going to set every day and laughing."
She'd like to do more comedy, she says, albeit with slight hesitation. "I'm not sure how good I am at it, to be honest." She hasn't entirely got over her insecurity just yet. But, to the probable delight of her therapist, she's getting there.
Irresistible is available to rent at home now, from digital partners including Sky Store, Amazon Prime Video, Apple TV and Google Play
Join our commenting forum
Join thought-provoking conversations, follow other Independent readers and see their replies