Mad Max: Fury Road: Charlize Theron on going bald and bulking up for the post-apocalyptic action thriller
The Oscar-winning actress explains how she got into character for the new 'Mad Max' extravaganza and refused to watch the original films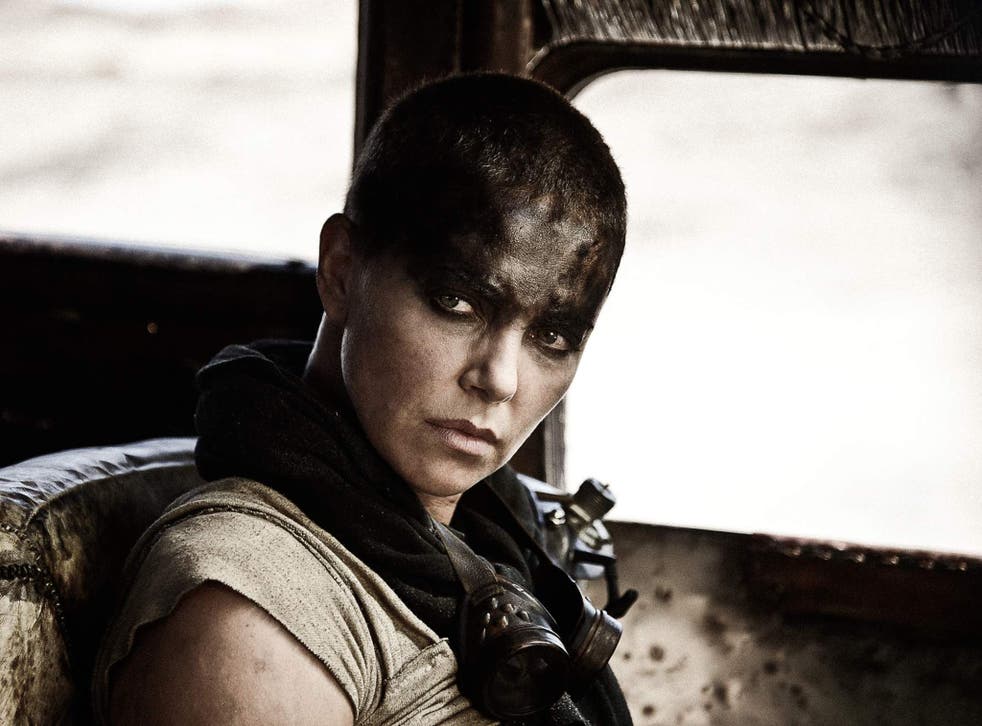 "Everyone hated me on this movie," laughs Charlize Theron, glancing at a photograph of herself as Imperator Furiosa, a shaven-headed, one-armed warrior in George Miller's highly anticipated new instalment of his legendary Mad Max films.
"We were going to make this movie several times and every time there was a whole different look and finally I called George and said, 'I need to buzz my head'. Then of course everybody hated me because it set the tone for the film – so about a thousand guys and girls had to shave their heads and the guys were worse about it than the girls," she explains.
With Tom Hardy stepping into the role made famous 30 years ago by Mel Gibson, Mad Max: Fury Road was filmed over eight long months in the scorching desert dust outside Swakopmund, Namibia.
A new mother at the time, there was no way Theron was going to leave her infant son Jackson behind with a nanny and thus he became something of a mascot on set, adored by his mother's co-stars Riley Keough and Rosie Huntington-Whiteley. "He was just under three months old when we went out there, a tiny little nugget. The girls passed him around like a little love-ball all day. They'd put him on the lunch table and he would just sit in the middle watching them eat, drooling over all the girls. And I'd be thinking, 'that's my boy!' "
At other times, Theron hung out with the guys, teaching co-star Nicholas Hoult to knit. "He got pretty good and made lots of scarves," she smiles.
I first met the 5ft 9in former model 17 years ago when she was a newbie in Hollywood, promoting her first big-budget movie, Mighty Joe Young. Expecting to meet the latest in a conveyer belt of starlets, instead I found a confident and outspoken young woman who refused pigeonholing. An only child raised on a dirt farm in South Africa, near Benoni, she had been a ballet dancer and teenage model before signing to her first manager after he overheard her loudly rowing with a stubborn bank-teller in Los Angeles.
On the brink of turning 40 (in August), Theron is still that girl in some respects, still demanding to be heard and refusing to suffer fools, often with some colourful language. Certainly she is one of a handful of actresses who exude a real power, from her roles as a wicked queen in Snow White and The Huntsman or a female-rights pioneer in North Country to her unflinching, Oscar-winning performance as a serial killer in Monster.
She has now met a match in the fiery Sean Penn, 54, whom she began dating 18 months ago, two years after she adopted Jackson, who is now three-and-a-half years old. The couple have been friends for almost 20 years, even collecting their Oscars – his for Mystic River – on the same night in 2004. As she told Esquire: "He's hot. How do you say that in an interview? You're a 40-year-old woman sounding like a 16-year-old." Last year they collaborated on the human rights drama The Last Face, filmed in the actress's native South Africa; Penn directed, and Theron starred as an aid-agency boss.

As much as their shared careers, the couple have found common ground in their passion for humanitarian work. Penn has his Haiti relief mission and Theron her own organisation devoted to raising Aids awareness in Africa. Politically informed, she can hold forth on any given issue, although her son is probably her favourite topic. "He's just a cool kid, he really is. I'm sorry, my kid is so cool," she says proudly. "And I have no idea because I am such a loser. I look at him everyday and go, 'man, I'm going to try and be as cool as you today.'"
Access unlimited streaming of movies and TV shows with Amazon Prime Video Sign up now for a 30-day free trial
Sign up
The tough, ice-cool blonde that Theron presents to the world, most notably in Ridley Scott's Prometheus, is at odds with her real persona. "I don't think of myself as tough," she admits. "But there's something in my personality that likes a challenge and can cope in tough circumstances. I wanna believe if push came to shove I would pull it together and survive, but then I think in the luxury of this hotel room, we can all feel that way, right?"
We are talking in a suite at a luxury Hollywood hotel, Theron dressed in black Dolce blouse, Capri trousers, and shiny Louboutin heels. She's fighting off bronchitis and sips a cup of camomile tea, stirring in honey and lemon. "I like feeling capable. In my twenties I never worked out because I hated the idea of going to the gym but then you get older and you start losing muscle tone and feeling weak and you go, 'oh, so wait, that's what that's about'. It's not about having a 23in waist, it's about feeling strong and capable. I like that I can pick up my almost 50lb kid and throw him in the air."
Best films to watch in 2015

Show all 10
She trained hard for her role as Furiosa. "I wanted to look like I had tremendous upper-body strength because there was so much physicality in the movie, especially with someone like Tom Hardy. And I just hate that idea of scrawny little girls fighting men off and then winning so I did a lot of upper-body yoga to get my shoulders and neck strong. I look like a football player in this movie."
She has a deep admiration for her co-star Hardy, who shoulders the burden of the film's success more than anyone, possibly even more than its creator Miller.
"George has a real love for women. I really felt it in this movie and, selfishly, I feel like us women had the great pleasure of being supremely complex."
The long-reigning face of Dior, she was happy to see the tables turn on the Mad Max set, with her male co-stars spending more time in the make-up trailer than she had to. "Nicholas had all these prosthetics and paint every day but I just had to look mucky, smearing grease on my forehead and buzzing my head."
She refused to revisit the original Mad Max films prior to filming, and has never met Mel Gibson in all her red-carpet years. "I didn't want to see the films again because then you're sitting in the rig going, 'oh my God am I being Tina Turner right now?'"
Next she next stars in Dark Places, adapted from Gone Girl author Gillian Flynn's novel, which she also produced. She snapped up the film rights to Susanna Kaysen's Brain on Fire, too, casting Dakota Fanning as the young journalist.
"I figured out a long time ago, that if I wasn't being offered the roles I wanted, then I should do something about that," says the actress whose Los Angeles-based company, Denver and Delilah Productions, is fast gaining clout. "I've hired the most talented people in their fields and it's just sort of grown so now there's a TV and a literary division. I like going to work each day."
'Mad Max: Fury Road' opens on 15 May
Register for free to continue reading
Registration is a free and easy way to support our truly independent journalism
By registering, you will also enjoy limited access to Premium articles, exclusive newsletters, commenting, and virtual events with our leading journalists
Already have an account? sign in
Register for free to continue reading
Registration is a free and easy way to support our truly independent journalism
By registering, you will also enjoy limited access to Premium articles, exclusive newsletters, commenting, and virtual events with our leading journalists
Already have an account? sign in
Join our new commenting forum
Join thought-provoking conversations, follow other Independent readers and see their replies