Who gets to tell other people's stories? How Madeline's Madeline explores exploitation in art
Experimental filmmaker Josephine Decker may not have any answers, but as Clarisse Loughrey discovers, it's never too late for a little self-reflection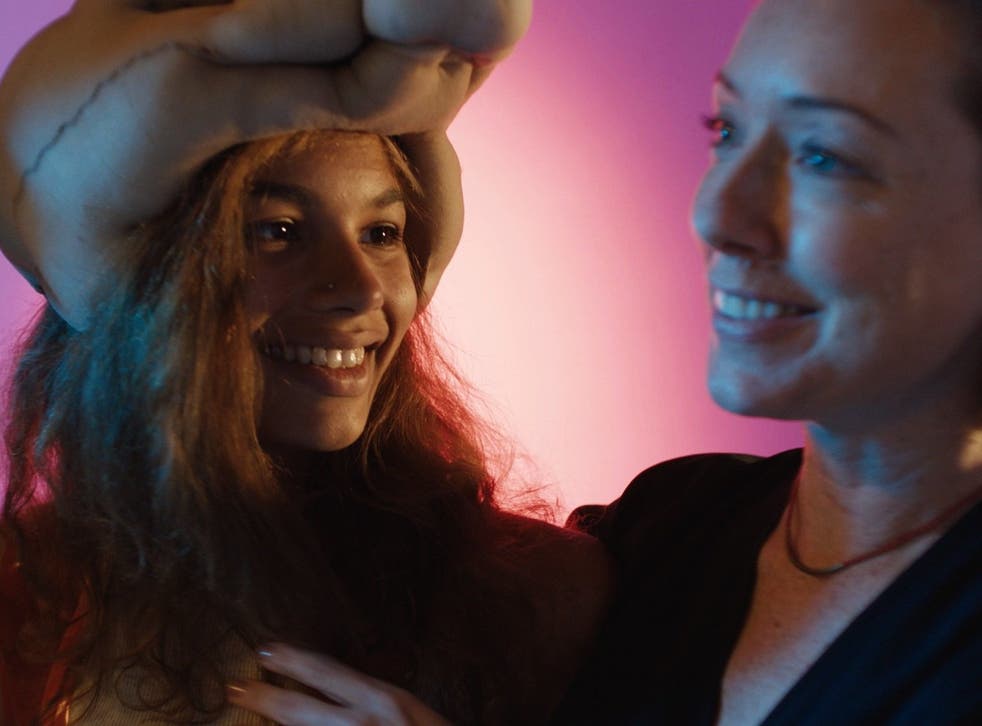 You're going to tell the story of the inside of her brain?" It's the question that's uttered at the climax of Madeline's Madeline, the new film from filmmaker Josephine Decker, by a concerned actor finally confronting her director. She's simply echoing what everyone else in the room thinks: this is no longer a play, this is the exploitation of another's suffering for artistic gain. Specifically, that of Madeline (Helena Howard), who is suffering from mental illness, one of the acting troupe's members and the protagonist of our story.
Channelling trauma in art is not a new idea, but it does raise some interesting questions. In short, who gets to tell other people's stories? And what do we risk in doing so? It's a conversation that we've seen flare up again and again, most notably when it comes to white filmmakers attempting to create works about minority individuals. Madeline's Madeline is acutely aware of this dynamic. Evangeline is urged to "think about the optics" of a white woman taking creative ownership of biracial teen's story.
All throughout the film, we've watched said director Evangeline (Molly Parker) slowly attempt to piece together what she thinks will be her towering masterpiece. But she's grasping at straws when it comes to a source of inspiration.
That's until her interests start to gravitate increasingly towards Madeline, a teenager with a frazzled, protective mother, Regina (Miranda July), who lives in constant terror that her daughter will have another episode and land back in the psychiatric hospital. It's not laid out exactly what Madeline suffers from, but we recognise the symptoms: the sudden mood swings, the moments of disassociation, the anxiety attacks. There are violent outbursts, too. Madeline confesses to Evangeline that, in a dream, she picked up a hot iron and slammed it down on her mother's hand.
The tragedy behind that image – of the sacred bond between mother and daughter broken beyond repair – reignites Evangeline's sense of creativity. It becomes the new source material for her play, as the cast are told to don Regina's flowery cardigans and recreate their many in-car screaming matches. Madeline grows uncomfortable and, as she starts to resist, it only spurs the director to directly involve her mother in the whole affair. All of this reaches an inevitable breaking point: Madeline gives Evangeline exactly what she wants, in an emotional outpouring that digs up her most deeply embedded traumas. It's clearly torture for her. Evangeline is overjoyed by what she's just witnessed but, as an audience, we're left disquieted.
Best films of 2019 (so far)

Show all 49
Decker's story posits some difficult questions. "Art is the commerce of intimacy and that is so complicated," she said in a recent interview. "You cross your own boundaries, you cross other peoples's boundaries, and then you cross other boundaries without even realising that you've invaded someone's privacy or dignity."
The Oscar-winning film Green Book recently faced criticism for its use of the "white saviour" trope, since its story of a friendship between two real-life figures – black jazz musician Don Shirley (Mahershala Ali) and his white driver Tony Vallelonga (Viggo Mortensen). It pushed out historical reality in favour of a neat tale about Vallelonga's redemption as a racist who finally learns tolerance. Shirley's own family denounced the film's screenplay, written by Vallelonga's son Nick, as a "symphony of lies", claiming that Shirley had never regarded Vallelonga as anything more than an employee.
The controversy here was clear-cut, but this year's Oscar season also revealed how complicated the discussion can be. Alfonso Cuaron's Roma depicts the life of Cleo, a domestic worker to a middle-class family in 1970s Mexico City, with nothing but sincerity and respect. It's a film that deliberately sets out to give a voice to the working class, indigenous women of Mexico, who have so often been sidelined in the country's history. But, for some critics, the question remained: Cleo's story needed to be told, but was Cuaron the right one to tell it? The director has said that he wanted to make the film in dedication to his childhood nanny, who played an integral part in his life, but does such a nostalgic gaze risk betraying the film's authenticity?
There's no easy answer. As Madeline's Madeline suggests, it'd be pointless to search for one. The film conforms to Decker's experimental pedigree and presents more of a collection of thoughts than any kind of formal treatise. The director collected together a trusted troupe of actors and devised the work over a span of eight months before committing to a screenplay, aiming to create an environment that was not only collaborative, but particularly critical of her, as a writer-director ironically telling another person's story about having their story told by someone else. July has remarked that Decker relished in being confronted by her collaborators – it happened several times and she found the experience "really interesting".
Access unlimited streaming of movies and TV shows with Amazon Prime Video Sign up now for a 30-day free trial
Sign up
Madeline's Madeline opens with the words: "The emotions you are having are not your own, they are someone else's." Whether that's a message to us, the viewer, or to Decker herself is unclear. As much as the film critiques Evangeline's approach, it also embraces the restorative powers of empathy. We all find comfort in the experiences of others, either as a means to escape reality or to help process our own emotions. It's a subject also tackled in Brady Corbet's Vox Lux, where a pop star's childhood trauma, as the victim of a school shooting, becomes an emblem for the nation's own loss of innocence. "It was not her grief, it was theirs," the film's narrator (Willem Dafoe) observes. "No longer merely her experience, they reclaimed it as their own."
Madeline's Madeline is out in UK cinemas now
Register for free to continue reading
Registration is a free and easy way to support our truly independent journalism
By registering, you will also enjoy limited access to Premium articles, exclusive newsletters, commenting, and virtual events with our leading journalists
Already have an account? sign in
Register for free to continue reading
Registration is a free and easy way to support our truly independent journalism
By registering, you will also enjoy limited access to Premium articles, exclusive newsletters, commenting, and virtual events with our leading journalists
Already have an account? sign in
Join our new commenting forum
Join thought-provoking conversations, follow other Independent readers and see their replies