interview
Maisie Williams: 'When I was 12 people were like, Ooh, are you gonna get a drug habit and ruin your life?'
The 23-year-old New Mutants star talks to Craig McLean about making revenge comedy 'Two Weeks to Live', why she wouldn't jump to watch 'Game of Thrones', and why women have to create their own stories to escape tokenism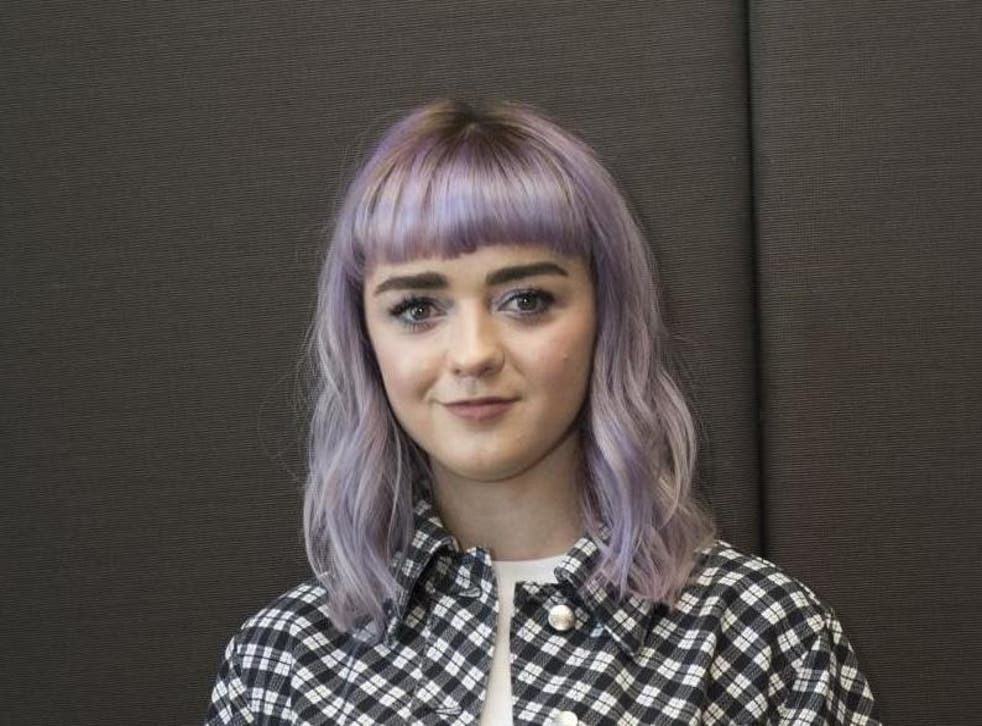 Leer en Español
Maisie Williams zooms into view, all Eighties club-kid fashion, heavily kohl'd eyes and shaggy, bleached blonde hair. It's a bold look, one she probably couldn't rock while filming eight seasons of Game of Thrones – that eye-popping 'do wouldn't exactly fit with Arya Stark's stealthy revenge mission – but it's of a piece with the chic open-plan kitchen from which she's speaking.
This, it turns out, is chez Williams, but not in the way we might expect.
"I'm in Paris, and learning French, which is going… well!" she says, falteringly, laughing. This isn't preparation for a production, she clarifies, "but I'd love to do a French-speaking film. It's just for me, for now, but with the intention one day of making a movie. We came here three, four weeks ago – my boyfriend is working remotely like most people, so we thought it'd be a good opportunity because we love it here so much." Spoken like a true, globe-trotting young acting A-lister who "isn't really in love with any city that I've been to. I'm really happy just moving around and I have a wonderful job which allows me to do that."
We're not here to discuss the 23-year-old's return to the world of fantasy little more than a year since that fan-frustrating final season of Game of Thrones. At the time of talking, the cinema release of would-be blockbuster superhero movie The New Mutants – in which Williams plays a mutant who can turn into a wolf (handy) – is still up in the air. Equally, she shot the film three years ago and it's had a tortuous post-production process, so it's probably as far in her rear-view mirror as all the hoo-hah about who really should have won the Iron Throne.
Plus, it was another alternative universe-set story. As the Bristol-born actor says, somewhat tellingly, "I've worked on a lot of different projects in a lot of different mediums – but I don't know that I've worked on something that I would jump to watch!" she adds with another laugh. "They've been very commercially successful, but I don't really watch that sort of thing that often. So I'm looking to work with someone who I can just feel my most creative with."
Which probably explains her first proper post-GoT project. Two Weeks to Live is a zingy comedy series/revenge drama, the violence set in motion by a practical joke gone wrong concerning a fake apocalypse (way funnier, not to mention credible, than it sounds, honest).
Williams plays a young woman, Kim, who's grown up in the remote Scottish Highlands with her mum Tina (Fleabag's Sian Clifford). But when life off the grid and killing deer for dinner starts to lose its lustre, Kim heads out into the real world, pursued by her mum. With what it seems is characteristic no-BS playfulness, she admits it was the right thing at the right time for someone who started on GoT when she was 13.
"It probably wasn't the most challenging thing that I've done. But I guess that's also why it was great timing, because I'd just come off 10 years of HELL!" Williams hoots, leaning her face into her laptop. "No, 10 years of joy!" The six-part show was, clearly, a blast to make. She and Clifford, who has just won the Female Performance in a Comedy Bafta for Fleabag, clicked instantly, bonding over their shared experience of playing fan-favourite characters and the challenge of moving on from those.
"When you watch us onscreen, you can just tell we're having a lot of fun. That's an infectious thing for the audience. That's what's it's all about, right? Moving the audience and them being able to feel what you're giving, and I think this show really does that. And for me, it's different to anything I've done before."
This explains why she hasn't use her global GoT fame to springboard into Hollywood blockbusters, as her Westeros bestie Sophie Turner has done with the X-Men franchise. "There are so many parts of the industry that I've never really experienced. And I didn't want to price myself out of that, or run away from the opportunity to work on something like this.
Access unlimited streaming of movies and TV shows with Amazon Prime Video Sign up now for a 30-day free trial
Sign up
"I'm sure every single person who was on Game of Thrones has been asked: what are you gonna do now?" she wonders in her relaxed, slangy speaking voice. "There's always the accusation, or query, as to whether you're going to do anything that was that successful again. But what we did on Game of Thrones was unprecedented, and if you try and do something like that again, you're only gonna fail. Because that sort of thing only comes around once. A big box office smash viewed by millions and millions of people around the world – it's never gonna top that. So that's just not a fulfilling thing to go after."
Two Weeks To Live, then, was a smart pivot, one that enabled her to flex comedy muscles while also show off her old fighting and stunt skills. "This was a really intense shoot, three, four shots per scene, and snappy and quick. You miss out on opportunities like this if you're just trying to go for status."
Williams clearly has a calm, cool head for her business, and for herself, and always has – I met her on the Northern Irish set of GoT when she was 14 and she was as unflustered and down-to-earth as they come, even as Thrones mania was exploding around the world. As she advanced through her teenage years, she navigated child superstardom with apparent ease, even as she was becoming one of the best-paid teenage actors in the world – by the final season, she and Turner were reportedly earning £158,000 per episode. But there were no tales of excess or indulgence, no paparazzi shots of drunken stumbles outside nightclubs.
Her mum, she says, deserves much of the credit for shepherding her through onrushing fame, but at the same she time herself was "always so aware" of the possible pitfalls.
"Even when I was 12, people were like: 'Ooh, are you gonna get a drug habit and ruin your life?' That is the problem, I guess: the fact that you're doing interviews when you're 12 and no one's ever addressing why that's a really difficult and dangerous thing for you to do. Everybody wants you to have an opinion on something when you don't know who you are yet.
"So I was really quick to understand that: these people aren't my friends. People just want to go where the money and drama is. And I wanted to really protect myself." So she had to "grow up really fast" while also recognising that that "can also mess you up. It's a minefield [and] it's a challenge every single day."
As for her next professional steps, she's looking… and looking. One area of firm interest is women-led projects. "Women telling female stories [is] really important, I think, if you want to create something that really does speak to women and that is really emotionally in tune, and powerful. We're going through this phase of hiring women as, like, a token – they're always onscreen, but they're never behind the camera. There's just a real mismatch there, because how can you expect a male director to know what it's like to be a woman?"
She mentions The Falling, a critically acclaimed indie by Carol Morley that she made when she was 15. "I'm so proud of that, and I would love to do something in that vein. That's a movie I would have watched if I wasn't in it. Everyone sees me as, you know, 16, which is cool. But I mentally don't feel like a 16-year-old, and it would be nice for me to play a woman who is as complex as I am."
Female writers and directors with a possibly French-language project in need of a star who'll bring talent, smarts and budget? You know who to call.
Two Weeks to Live starts on Sky One on Wednesday 2 September
Register for free to continue reading
Registration is a free and easy way to support our truly independent journalism
By registering, you will also enjoy limited access to Premium articles, exclusive newsletters, commenting, and virtual events with our leading journalists
Already have an account? sign in
Register for free to continue reading
Registration is a free and easy way to support our truly independent journalism
By registering, you will also enjoy limited access to Premium articles, exclusive newsletters, commenting, and virtual events with our leading journalists
Already have an account? sign in
Join our new commenting forum
Join thought-provoking conversations, follow other Independent readers and see their replies