Marco Bellocchio: Italian cinema legend looks back on his life, work, and his country's changing politics
As a month-long retrospective of his work begins at the BFI, the director opens up about his brother's suicide, his rivalry with Bernardo Bertolucci, and the defeat of left-wing idealism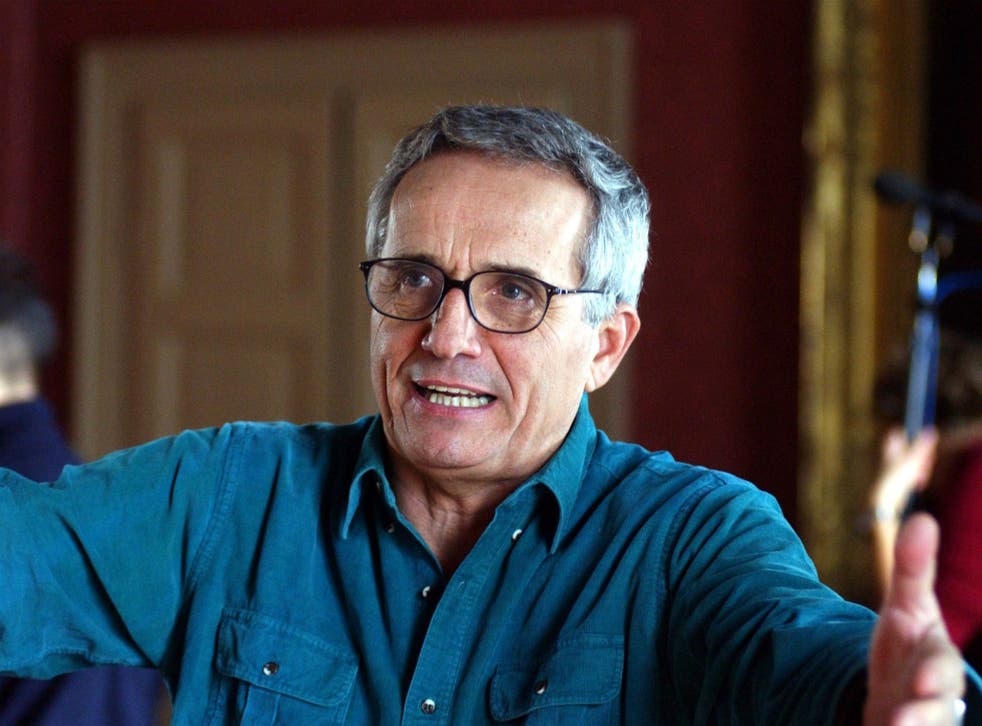 The first major retrospective of the oeuvre of Italian filmmaker Marco Bellocchio takes place in Britain this month, a fact that begs the question: why has it taken so long?
For more than 50 years Bellocchio has been populating the world's biggest festivals with his films, and received a lifetime achievement award from the Venice Film Festival in 2011. In this country, we're lagging seriously behind in our appreciation – but hopefully a season at the British Film Institute will help change that.
British cinemagoers will have the chance to catch up on a back catalogue full of fantastic dramas that take an often cutting look at Italian society and social mores. Highlights include his debut film Fists in the Pocket, Good Morning, Night about the real-life kidnapping of a former prime minister Aldo Moro, and A Leap in the Dark, telling the story of an emotional rivalry between a judge and his domineering sister.
Now 78, Bellocchio made the first of his 24 feature films, Fists in the Pocket, in 1965. The family drama about four dysfunctional siblings and their blind mother won an award at Locarno Film Festival and is one of the great achievements of Italian cinema, tackling bourgeois family values and Catholic morality.
It's also a pertinent and ahead-of-its-time story of mental illness, an issue he has tackled in several of his films. In 1968 Bellocchio's twin brother died by suicide, a traumatic event that he has argued pushed him towards political militancy.
He wore his left-wing credentials on his sleeve over the next few years, making his second feature film, China Is Near, a satire on a professor chosen to be a socialist candidate. He even made two documentaries for the Communist Party, which he financed himself.
But the 1970s was a more difficult time for Bellocchio. He saw Bernardo Bertolucci become the most internationally celebrated Italian director of his generation, while his own star refused to rise.
The director recalls: "We started out at the same time and I seemed to have more of an international outlook than Bertolucci. But then he began looking more to the international sphere himself and then came the extraordinary success of his Last Tango In Paris.
"I was young, so there was a tiny bit of jealousy and envy, especially for the freedom that such an international success can afford a director. But," he concludes, "that was a very long time ago."
Access unlimited streaming of movies and TV shows with Amazon Prime Video Sign up now for a 30-day free trial
Sign up
Looking back over his life and career, the director is glad that he didn't let these feelings affect his filmmaking.
"I never made the mistake of thinking I could make the same kind of film as him," he says. "Our sensibilities are very different, even though we are born in two towns that were very close to each other, Pianceza and Parma. My films are more Italian, or European. So to try and imitate his style in order to achieve that type of success, that would have been a failure and artistic suicide."
And anyway, a more existential crisis was engulfing the director, as he came to realise that the left-wing utopia that he idealised in his youth would not materialise.
"In the middle of the 1970s there was a series of defeats, social and political," he says. "Even though I was not part of a political faction, there was this desire of participating in the social milieu and bettering it. Once you faced defeat after defeat, it is very hard to accept [when you are] younger."
The films he made during this period such as In the Name of the Father and Victory March reflect this crisis, being largely about individuals trying to rebel against institutions, and discovering that the upper echelons of society have created structures that are impenetrable.
He also made a version of Chekhov's The Seagull for Italian television that concentrated on artistic failures of the writer Konstantin and his relationship with his mother, the successful actress Arkadina. Bellocchio's version, although ostensibly faithful in time and location, feels like a reaction to the failure of the 1968 political movement.
The director also sought help in the shape of psychiatrist Dr Massimo Fagioli, who rejected the ideas of Freud and was known as the "guru of collective analysis". Bellocchio participated in individual analysis before moving onto group analysis for many years.
It's a relationship that transformed his life. As he worked with Fagioli they became friends and he says his teachings influenced his own approach to drama.
When I ask what he learned in these sessions, Bellocchio responds: "It's difficult to say. There has been an internal enrichment and recharging of my creative output. I shot Leap in the Dark, in which the brother in the film kills himself, but there is a rebirth in the sister. That was tackled in a different way because it came after the analysis."
Yet it was only when Bellocchio moved away from more personal storytelling and took on a more distant perspective that he hit another purple patch, artistically. This was kickstarted by 2003's Good Morning, Night, about the 1978 kidnapping of former Italian prime minister Aldo Moro as seen from the perspective of one of the kidnappers.
The film is dedicated to his father, and he says of the film: "I can see my father's humanity and also my own journey through my friendship with Fagiole, adding all that later meaning and understanding."
He says that films such as Vincere – telling the story of Ida Dalser, who bore the illegitimate child of Benito Mussolini – couldn't have been made in the earlier part of his career when he was more interested in telling stories from a personal perspective.
In recent years, he claims, he's experienced "a greater interest in society. Maybe at the beginning of my career there was a desire of destroying, of confrontation, but now there is more of a desire to understand."
Even his take on the power and influence of the church has become less cutting in recent years. "I am not a believer," he reiterates. "The change now does not mean that I have reconciled myself with the church, it's just that when I was younger there was more that feeling of wanting to tackle the relationship with feelings of irony and sarcasm."
Yet he admits he cannot ditch Catholic morality. The retrospective organised by the BFI is called Satire and Morality for a reason. "There is really an exceedingly strong imprint of the Catholic upbringing and you can find that in the way you talk to people and relationship with other people."
I wonder what he thinks of the current centre-right government in Italy, a coalition led by the League and Five Star Movement. Bellocchio doesn't seem too concerned, so used is he to the vagaries and continual changes in Italian governments.
"It doesn't change very much," he argues. "In Italy we are used to a succession of centre-left governments. Obviously we have something completely different at the moment. It will all centre on how many of the electoral promises that they manage to implement, and they made very complex electoral promises. We are all sitting on the fence at the moment."
He's not inspired by the left wing in Italy, so is not surprised that no one else is either. He sees politics there as having become issues-based, with no overriding philosophy, except to react to what's debated on social media. He cites the fact that more than 60 per cent of Italians apparently switched their vote or made up their minds in the polling booth.
"Looking at the youth today, there is definitely a substantial slice very sensitive to social themes, like poverty and immigration, and that is reflected in the Italian cinema of younger filmmakers," he observes.
While he has no intention of making a film that deals directly with the issue in the manner of Jonas Carpignano's A Ciambra and Gianfranco Rosi's Fire at Sea, he still follows their work; he also watches Paolo Sorrentino and Matteo Garrone closely.
But he doesn't see such filmmakers as being part of a left-wing movement. Indeed, he doesn't think there is such a movement. "Unlike what happened in the past, this is not supported by a distinct ideology. Sometimes you hear about this resurgence of a new Marxism, but it's not harking back to that ideology, it's more a natural progression."
Bellocchio may be 78, but he's still working: currently, he's making a film about Tommaso Buscetta, the first mafioso who regretted his actions and went public with it, turning informant.
He says that the film allows him to explore familiar themes such as family dynamics and institutional rejection, but this time through the eyes of Buscetta.
It's all part of his own maturity as a filmmaker: "When you are younger, you start with yourself and you see the world through yourself, and now I can explore things that I feel but through someone else life."
But he says there is one myth about filmmaking that he will never believe in, and one that explains why the gaze in his films often seems so controlled and in a classical manner: "Certain people have this romantic throwback idea that you have to be crazy and decadent in order to be creative.
"Quite the contrary: if you are too crazy there is no way that you can create something coherent."
'Satire and Morality: The Cinema of Marco Bellocchio' season is at the BFI in London until 31 July
Register for free to continue reading
Registration is a free and easy way to support our truly independent journalism
By registering, you will also enjoy limited access to Premium articles, exclusive newsletters, commenting, and virtual events with our leading journalists
Already have an account? sign in
Register for free to continue reading
Registration is a free and easy way to support our truly independent journalism
By registering, you will also enjoy limited access to Premium articles, exclusive newsletters, commenting, and virtual events with our leading journalists
Already have an account? sign in
Join our new commenting forum
Join thought-provoking conversations, follow other Independent readers and see their replies