Martin Scorsese in conversation: Guilt trips of the great director
Martin Scorsese talks about working with DiCaprio and De Niro, and how he identifies with both of them – and the damaged characters they play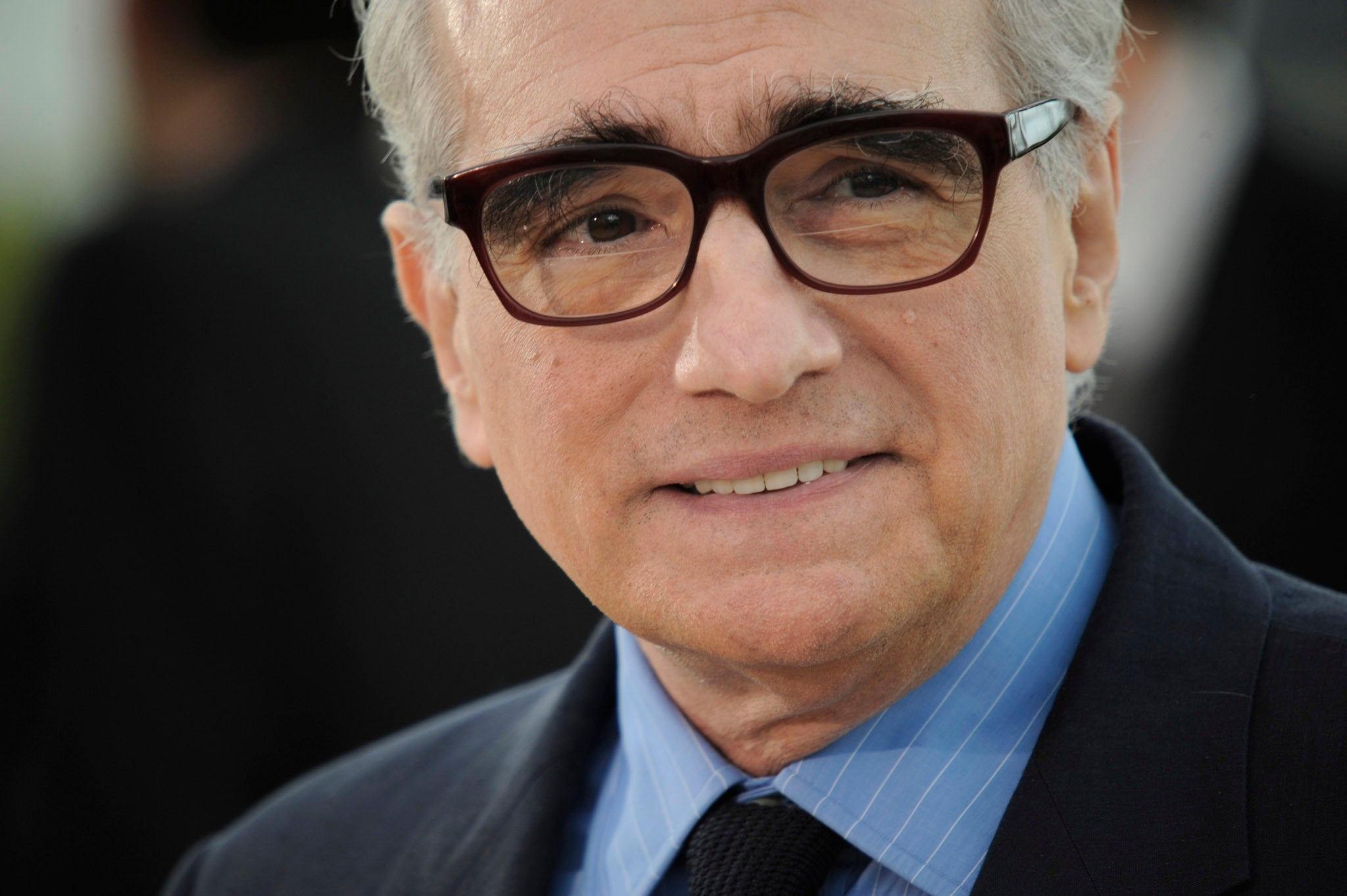 I don't think I've ever seen Martin Scorsese look so content, even though the director himself will suggest that he's never managed to reach a state of happiness. We are at the Marrakech Film Festival, where the famed director is president of the jury. He doesn't seem to have a care in the world, waltzing to screenings, giving out the festival's Tribute award to Casino star Sharon Stone, celebrating Scandinavian cinema, and, now, sitting in an opulent room at the Royal El Mansour hotel looking like a Buddha on a throne. It seems that when Marty rocks the kasbah, there are two kings living in Morocco.
He's so relaxed in public that it's incredible to think that this is a man with a major movie, The Wolf of Wall Street, coming out later this month. The Christmas Day release date in New York is timed to make the adaptation of Jordan Belfort's memoir eligible for the Oscars, and the buzz from early award screenings is that it might win many. The biggest noise is that this could be the picture that sees Leonardo DiCaprio finally walk away with the big acting prize.
The Scorsese regular plays Belfort, convicted of embezzling $100m in the 1990s. Before being jailed, he squandered much of the loot on expensive boys' toys: a helicopter, a yacht that once belonged to Coco Chanel and huge houses. Perhaps it was destiny that brought his story to the screen. He wrote the memoir while incarcerated, and one of his fellow inmates was Tommy Chong of Cheech & Chong fame. His hero was Gordon Gekko, the character made famous by Michael Douglas in Oliver Stone's Wall Street.
Belfort, a man who unapologetically believes that greed is good, doesn't strike as a Scorsese protagonist. Indeed the director says he took on the project because, "Leo wanted to do it". He explains, "I'm very happy with this. Leo DiCaprio, we kind of see things the same way. We have similar sensibilities and we want to make a certain kind of statement, hence the projects we choose. I chose Gangs of New York and Shutter Island. He wanted to do The Aviator. I chose The Departed. He wanted to do this new film."
The New Yorker's career has been built on characters wracked with guilt seeking redemption for their sins. Harvey Keitel's numbers-runner Charlie in Mean Streets, Robert De Niro's boxer Jake LaMotta in Raging Bull and DiCaprio's federal marshal Teddy Daniels in Shutter Island. They're all characters whose biggest enemies are themselves. Scorsese has always attributed this fascination to his Catholic upbringing on the streets of Little Italy, Manhattan in the 1950s. Charlie, Jake and Teddy are fictional reincarnations of Scorsese.
"I do identify with them," he states. "Particularly in Mean Streets and Raging Bull. In Raging Bull he seems to find some redemption, he really does. I don't know how really. It's the scene with his brother, I think, but the more important thing is to sit down and look at himself in the mirror and not hate himself too much, that I thought was a good place to reach. Not that I was able to do that, but the character. I think in any of the stories, there is a sense of trying for that redemption. I don't know about the new one, the new one is somewhat different."
Even aged 71, it seems he has never reached a point where he can find his personal redemption. It's a state of being that has seemingly haunted Scorsese all his life. He believes his comportment hasn't changed since childhood: "De Niro, he's the only person who knows where I came from, who I knew, who knows my story. He understands the pressures and that world. That world, it has gone now, but not in here [his heart], that is who I am, but he is the only one who really knows, who values it good and bad."
Talking about values in present-day America, he decries what he sees as selfish materialism, before entering into an odd segue, arguing that people are driven, "by the pursuit of happiness". Ruefully adding, "the pursuit, not actual happiness, the pursuit".
He attended Catholic college with a view to becoming a priest, and his failure to do so fed into personal feelings of guilt. This seeps through when he talks about Teddy in Shutter Island: "He was literally taking the weight of the cross, that character, the guilt that he had, what he did, what he experienced in his life, and if he did experience it, even, we don't even know, because some of it was in his head, but that guilt was real, and that is interesting to me."
Access unlimited streaming of movies and TV shows with Amazon Prime Video
Sign up now for a 30-day free trial
Sign up
Access unlimited streaming of movies and TV shows with Amazon Prime Video
Sign up now for a 30-day free trial
Sign up
His default is to look at himself and believe that some standard he has set has not been reached. This has a major impact on relationships. Most of his characters have trouble with women. Scorsese has himself been married five times. From 1965-1971 he was married to his university sweetheart Laraine Marie Brennan, with whom he had a daughter Catherine. He then married journalist Julia Cameron and had another daughter, Domenica Elizabeth Cameron-Scorsese, in 1976. 1979 saw the start of his three-year marriage with actress Isabella Rossellini, the daughter of one of his favourite directors, Roberto Rossellini. His fourth marriage came in 1985 to producer Barbara De Fina and lasted six years. He's now married to writer Helen Morris, whom he met on the set of Kundun and wed in July 1999. Four months later, their daughter Francesca Scorsese was born. From this perspective The Last Temptation of Christ doesn't seem so radical.
It seems that the life of a film-maker, even a successful one, comes at a huge personal cost. "You have to be determined to make a film, because everything is going to come at a cost," he says. "It's a commitment that you have to follow through, nothing can stop you. You have to be a little mad, I think, in a way. But it's a dangerous thing because it's to the exclusion of almost anyone else in your life, you have to make this film, you have to feel this strongly."
His new film could be seen as a look at the deadly sin of greed. He sees materialism and selfishness as the blight of modern America, a greedy place: "That's one of the reasons we made The Wolf of Wall Street, not to show the greed, but to be in the greed, to be part of it, part of the exaltation of it, part of the excitement of it and part of the destruction it causes." When Scorsese talks, as with many of his characters, his perspective starts with memories of childhood. A sentence is quickly followed by a qualifying sentence.
"I was born in 1942," he continues. "After the war, I remember America in the 1950s, yes it was more innocent, more quote/ unquote repressed, no doubt, culturally, to a certain extent. I don't remember, honestly, and we weren't taught a great deal in certain schools, in certain specific things about American history, but I don't remember them saying that the country was formed only so that everybody could get rich, I just don't believe it. That feels, for me right now, that is what it feels like."
Scorsese reminisces about the streets around the Bowery, seeing the homeless, the Christian support groups bringing food and saying a prayer with them and for them. "You look at a country by how they treat the poor," he emphasises. "I didn't say that I did it really well, but I was aware of them – they call it 'homeless' now, but these guys were drunk, crazy, crazy, drunk guys, and women too – I was with them, I know them. But now it's almost like it's blanked out completely from the minds of the young people in the country. It's really scary."
He is currently concerned about the attempts to derail changes to the American health system, the introduction of the so-called "Obamacare". "That might work!" he argues. "The absurdity of the whole thing is, what is the problem? There is a problem with the computer. Fix the computer! It's going to take what, a few months to fix the computer, let it kick in and then see what happens. You got to take care of them. You can't be in a country that big and not take care if somebody gets sick."
There are signs that, having entered his seventies, the director is taking measures to slow down. One step is taking more of a back seat in his attempts to restore old classic films. In 2007 he helped set up the World Cinema Fund for film preservation and he says that it's to merge with the Film Foundation in America: "My time is limited. I have got my own films. I have my family issues, so all of us will club together."
He does not watch much television, despite having worked on Boardwalk Empire for the last five years: "I don't have time to watch any other shows, the famous ones. I've seen a few episodes of some, in fact. I only watched The Sopranos once or twice. I just couldn't connect with it. People wonder why I can't do something with that world now, but it was a different situation to when I was growing up 50 years ago, a different world, the intent is the same, but I won't get the details right. Basically, I started watching Curb Your Enthusiasm, that is the key one, that is when I realised you could do something on television." Scorsese even appeared in an episode, playing himself in a season opener.
He also says he doesn't read much, sometimes the news. He instead prefers to watch movies. He recently showed Francesca, the youngest of his three daughters, Satyajit Ray's "The Apu Trilogy". His passion for cinema is clear from his jury duties. For much of his career the talk was of him continually being snubbed by the Academy until he finally won for The Departed.
"I started making my first major film in 1973, so from then until 2007, it's a long time not being recognised by the Academy in that way. The problem is that it's not about the prize. It's about being able to get films made. That is what I keep my eye on. When the actual statuette was awarded to me, and by the way, I didn't think The Departed would get anything, it came at a good time in my life, for personal reasons, for family reasons. It certainly helped me get financing for a couple of pictures, and I hope my next one, Silence."
The adaptation of Shusaku Endo's 1966 novel Silence is a project Scorsese has been touting for more than a decade. Set in 17th-century Japan, it's about the government clamping down on Jesuits and Catholicism. It's rumoured that Brit Andrew Garfield will play the lead role, but Scorsese didn't talk about casting. He does say though that he has around a dozen projects being prepared, one of which is a television series he is developing with Rolling Stone Mick Jagger about the music business in the 1970s. The other is with Robert De Niro, although this is not going to be Taxi Driver 2. Indeed Scorsese laughs at the suggestion that was even in the works. The film they are planning is called The Irishman and there would be parts for Al Pacino and Joe Pesci.
It's bound to kick-start the perennial debate about the merits of De Niro versus DiCaprio. "If I can be presumptuous enough to say they are interchangeable," weighs in Scorsese. "They might not think that, but I think that." And such is Scorsese's position that whatever he thinks, counts the most.
Join our commenting forum
Join thought-provoking conversations, follow other Independent readers and see their replies