The Countdown
Meryl Streep: Her 15 best performances ranked, from Sophie's Choice to Mamma Mia!
To celebrate the 21-time Oscar nominee's return to singing and dancing in Netflix's The Prom, the Independent culture team rank the very best work of the very best actor in Hollywood
Friday 11 December 2020 13:36 Comments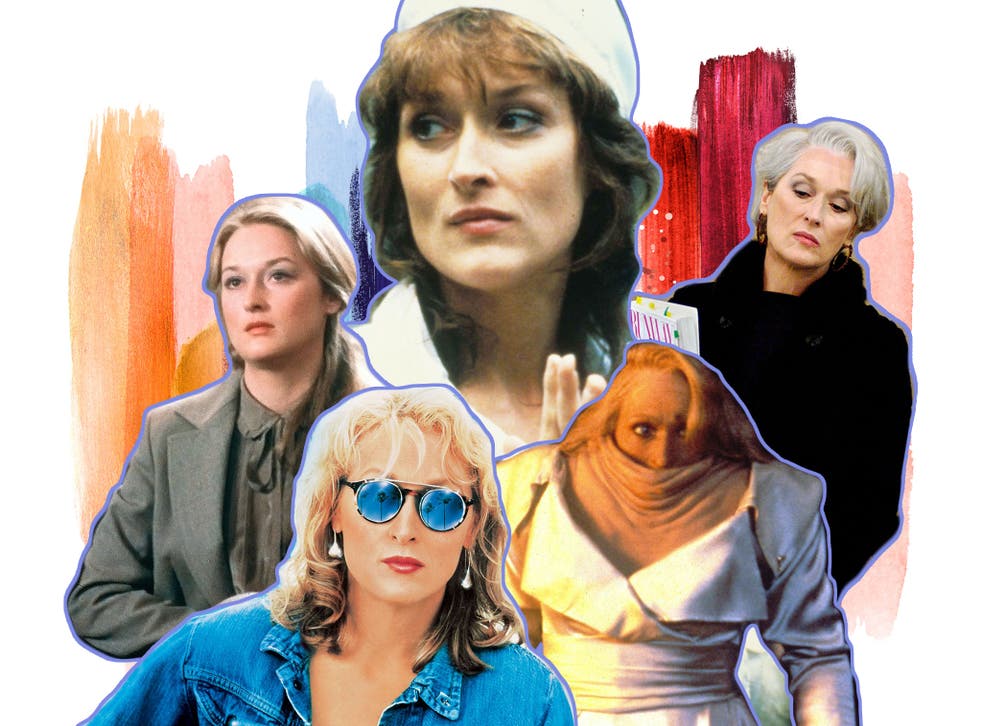 Such is Meryl Streep's supreme talent that choosing her best role is nigh-on impossible. Is it her flawed, frustrated mother in Kramer vs Kramer? Her ruthless ice queen in The Devil Wears Prada? Her bored, lonely housewife in The Bridges of Madison County? The decision is like Sophie's Choice. Which is, incidentally, another contender.
Streep, who this week stars in the Netflix musical The Prom, has earned 21 Oscar nominations over the course of her 45-year career. She made her screen debut alongside Jane Fonda and Vanessa Redgrave in 1977, but it was as the quietly torn Linda in The Deer Hunter a year later that she first caught people's attention. Streep brought an understated power and steeliness to the role – one that she held onto for the next four decades as she transformed from talented ingenue to cinematic royalty.
In honour of Streep's continued acting prowess, we've ranked her 15 best roles.
15. Death Becomes Her (1992)
Two women – a struggling writer (Goldie Hawn) and an ageing actor (Streep) – take a magic potion that promises to make them beautiful and young forever. While Streep's ruthlessly ambitious Madeline Ashton and Hawn's Helen Sharp are both cast as villains, it's easy to sympathise with women compelled to take drastic action to meet society's standards of beauty. And although it tanked at the box office upon its release in 1992, Robert Zemeckis's black comedy has become a cult favourite – particularly for the LGBT+ community – thanks to the sheer thrill of watching Streep and Hawn whack each other over the heads with shovels.
"This is absolutely through the roof, hyperbolic farce," Streep has said of the movie. "We would try to do one take that had some grounding in human experience, and then the sky was the limit." Streep achieves this, for despite the head-turning antics of her character you can still find something about the female experience to identify with. (Roisin O'Connor)
14. Mamma Mia! (2008)
Streep plays the singing and dancing Donna Sheridan in this Abba-inspired blockbuster, whose Greek hotel plays host to a trio of unexpected arrivals: her former lovers (Pierce Brosnan, Colin Firth and Stellan Skarsgard), one of whom is the secret father of her teenage daughter (Amanda Seyfried). Streep fans will know she's marvellous at both comedy and singing (check out 1990's Postcards from Edge and 2006's A Prairie Home Companion for more of that), but successfully doing the splits in mid-air came as a shock. What a show-off. (Charlotte Cripps)
13. Out of Africa (1985)
This epic romantic drama, directed and produced by Sydney Pollack, starred Streep and Robert Redford as doomed lovers in Africa. While the acting legends lacked an enormous amount of passion or electricity, the film is a breathtaking one. Pollack knew audiences were mainly there for the sweeping panoramic cinematography, and he appropriately delivered. (CC)
12. Defending Your Life (1991)
Streep is at her most sunny and luminous in this cult classic – so much that its main character is willing to stay dead just to be with her. Writer, director and star Albert Brooks is the recently-deceased LA cynic forced to justify his life's choices in order to advance to the next phase of existence. If he can't, he'll be sent back to Earth to try and lead a better mortal life all over again. Streep is a similarly deceased woman who's good behaviour on Earth means advancing to the great beyond is a breeze. She was reportedly so intrigued by the film's premise that she personally asked Brooks if there was a part in it for her. (CC)
11. Silkwood (1983)
Given that Streep plays real-life whistleblower Karen Silkwood, who was exposed to a life-threatening dose of nuclear radiation and died in a suspicious car accident at the age of 28, Silkwood could easily have been a grim, even turgid affair. But thanks to Streep's brilliant performance – her Karen is mischievous, flawed and heroic, flashing her co-workers and risking her life for the sake of justice all in one day – it is nothing of the sort. "It was magic," said Silkwood's boyfriend Drew Stephens when he saw the film. "It makes a human being out of Karen, instead of myth." (Alexandra Pollard)
10. The Deer Hunter (1978)
Cast in the role of Linda after Robert De Niro saw her in a stage production of Chekhov's The Cherry Orchard at the Lincoln Centre, Streep was a revelation in Michael Cimino's brutal treatise on the agony of the Vietnam War. In a film where the machismo is excessive, Streep exists as some kind of counterpoint, playing with great restraint a young woman torn between her commitment to her fiancé (Christopher Walken) and her desire for his best friend (Robert De Niro). Her mournful singing of "God Bless America" at the end has gone down in cinematic lore. (Patrick Smith)
Access unlimited streaming of movies and TV shows with Amazon Prime Video Sign up now for a 30-day free trial
Sign up
9. Postcards From the Edge (1990)
Has there ever been a feistier on-screen mother-daughter rivalry than Meryl Streep and Shirley MacLaine's? MacLaine plays a volatile, self-absorbed actor, with Streep her recovering drug addict daughter – also an actor, albeit a less famous one. The film is based on Carrie Fisher's revered semi-autobiographical novel of the same name, and Streep and MacLaine more than do it justice. Their chemistry is intoxicating, and Streep shines as a sweet screw-up trying to avoid a full-on breakdown. (AP)
8. The Bridges of Madison Country (1995)
Streep's most frequently overlooked role is that of bored housewife Francesca Johnson in Clint Eastwood's adaptation of Robert James Waller's bestselling novel. Francesca is the embodiment of loneliness and frustration – living with her husband and their children in an isolated farmhouse set against the vast stretches of land in Iowa, US. Streep takes the schmaltzy romance of the original material and transforms it into something with gravitas and passion. Where a lesser actor might not be as convincing, Streep persuades the audience that her character believes her affair with Eastwood's roaming photographer Robert Kincaid is necessary to help her escape her humdrum existence. A fierce, unhurried performance is what builds the superb tension in this film. (RO)
7. The Hours (2002)
This cinematic triptych, in which three women's lives are interconnected by Virginia Woolf's 1925 novel Mrs Dalloway, takes place over the course of a single day in three different decades. Nicole Kidman plays Woolf, Julianne Moore a troubled Fifties housewife who finds solace in the writer's tome, and Streep is Noughties New Yorker Clarissa, a modern-day embodiment of the novel's title character. As a woman whose life is slipping out of her control, Streep is commanding, tormented, elegant. (AP)
6. Sophie's Choice (1982)
False teeth, eerie accent, dramatic fireworks, check: this famously strange and tortured performance bagged Streep her first Oscar as a leading actress, three decades before her second as Margaret Thatcher in The Iron Lady. In Alan J Pakula's ponderous, emotionally pornographic adaptation of the William Styron bestseller, Streep's Sophie – a Polish immigrant and Holocaust survivor in a Brooklyn boarding house – is the one element that escapes mustiness, bringing fidgety life and neurosis to a part that had Oscar written all over it. (PS)
5. Julie & Julia (2009)
As beloved American chef Julia Child, "the woman who taught America to cook", Streep gives one of her most charismatic performances to date – one that goes beyond mere imitation. Nora Ephron cast Streep, an old friend, after the actor heard she was working on the project and immediately offered her best impression of Child's famous, high-pitched catchphrase: "Bon appetit!" What is most impressive about Streep in this Oscar-nominated role is her resistance to portraying Child as some kind of cartoon character (she had met the chef in person, and found her to be surprisingly difficult). In between the charming displays of joie de vivre are subtle glimpses of Child's heartbreak over her and her husband's inability to conceive a child. And you can see how Streep, who has recalled being told she was not "beautiful" enough for certain roles, could identify with Child's stubbornness at being told she wasn't good enough to attend the famous Cordon Bleu school of cooking. (RO)
4. Adaptation (2002)
Susan Orlean, the non-fiction writer who gets entangled in Charlie Kaufman's writer's block, was a chance for Streep to loosen up: she's light, funny and appealingly baffled by the film around her. The conceit starts with her obliviously going about her business, but then the script of Kaufman's imagination suddenly takes hold – and before you know it, she's working out her own fictional mid-life crisis in the most surprising ways. A shape-shifting part she layers with finesse, it coaxes out her mellow side, even if this is one of her wildest projects. (PS)
3. The Devil Wears Prada (2006)
Many would have been tempted to ham up the role as boss-from-hell Miranda Priestly, a ruthless fashion magazine editor who hires hapless Andi Sachs (Anne Hathaway) and pushes her to the brink, but Streep plays her as calmness personified. Why raise your voice when you can destroy someone's self-worth with the briefest of glances or the pursing of your lips? Streep was rightly Oscar-nominated for the role, and deserved to win for her cerulean sweater monologue alone. (AP)
2. Doubt (2008)
In John Patrick Shanley's adaptation of his Pulitzer Prize-winning play (set in the Bronx during the Sixties), Streep is the severe Sister Aloysius opposite the late Philip Seymour Hoffman's cheerful, slightly bumbling Father Flynn. As she stalks up and down the pews filled with Catholic children, she requires little in the way of make-up, props or costume to create a sense of foreboding – just the glint on her spectacles and the black bonnet that enhances her crow-like mannerisms.
Sister Aloysius is the last frontier between the old world she knows and understands – where fear is a necessary tool to set children on the path of righteousness – and the new one, in a film set shortly after the Second Vatican Council pledged to bring the Catholic church into the 20th century. This is (deservedly) one of Streep's most critically acclaimed roles, and earned her best actress nominations at the Oscars, Baftas and Golden Globes, along with a win at the Screen Actors Guild awards. (RO)
1. Kramer vs Kramer (1979)
Stepping into a role that was originally meant for Charlie's Angels' Kate Jackson, Streep won her first Oscar (for Best Supporting Actress) for Robert Benton's emotionally pummelling portrait of marital collapse. As Joanna, a frustrated spouse who walks out on her husband (Dustin Hoffman) and six-year-old son then returns 18 months later to fight for sole custody, Streep doesn't get much screen time but, boy, does she make it count. Hers is a performance that somehow makes you sympathise with Joanna's position, her face a mobile canvas onto which she paints angst, confusion and a deep melancholy. It's masterful. (PS)
Register for free to continue reading
Registration is a free and easy way to support our truly independent journalism
By registering, you will also enjoy limited access to Premium articles, exclusive newsletters, commenting, and virtual events with our leading journalists
Already have an account? sign in
Join our new commenting forum
Join thought-provoking conversations, follow other Independent readers and see their replies