Michael B Jordan: Star of Rocky sequel Creed on why he goes for roles written for white characters
'It's obvious that I'm black, but why do I have to be labelled as that?'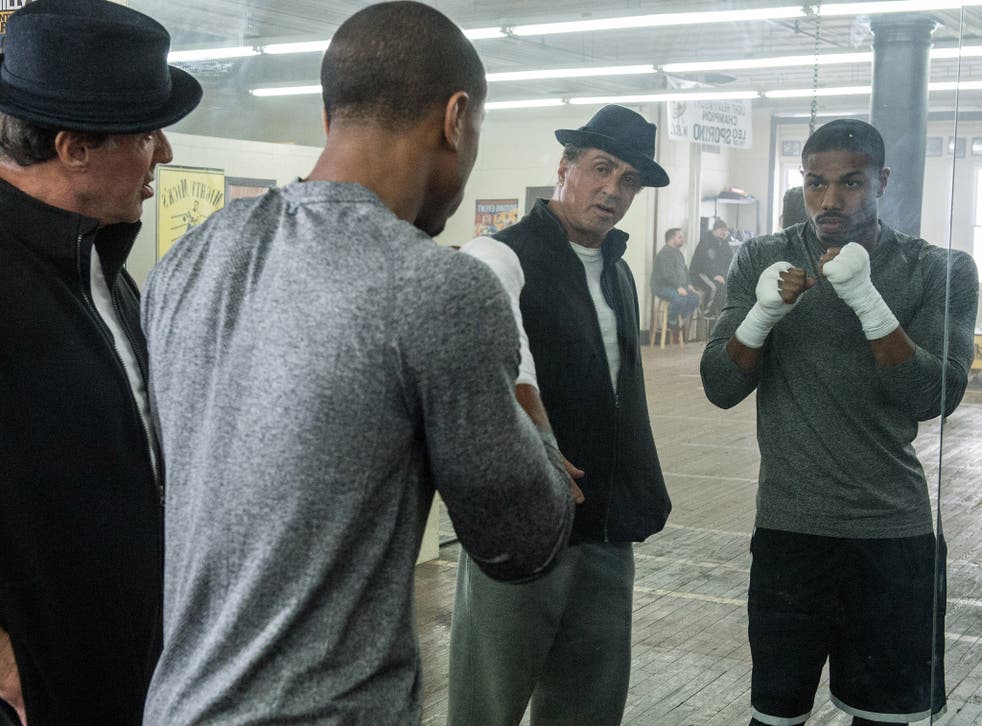 When your namesake's one of the world's most famous sportsmen, you better bring your A-game. "His name has put a chip on my shoulder, growing up over the years," laughs Michael B Jordan – the actor not the basketball legend – when we meet. "It's my motivation to get somewhere close to that!"
If Jordan really is using the other Jordan as a benchmark for success, then it's working. The 28-year-old actor is now one of Hollywood's most talked-about young talents, thanks to a carefully managed career that's seen him go from television shows The Wire and Friday Night Lights to much-talked about indie Fruitvale Station and now his first proper Hollywood leading role, in Rocky spin-off Creed.
Today, he's looking slim and sharp – he rocks a suit better than most 28 year-olds. "You've got to be a dreamer to be an actor," he says. "You've got to dream big." So far so good then; credits aside, Jordan has been in contention for everything from the newly released Star Wars: The Force Awakens (he auditioned) to the forthcoming Independence Day sequel (he met director Roland Emmerich, unofficially).
However Creed might be the making of him as a star, in a way that those other gigantic franchises never could be: the film has already been a critical and commercial hit in the US, taking around $100m on a $35m budget. It reunites him with Ryan Coogler, writer and director of Fruitvale Station, the 2013 Sundance-winning drama about the racially charged murder of Oscar Grant, who was killed by a transit police officer at a San Francisco Bay Area subway station.
During pre-production on Fruitvale Station, Coogler pitched the idea of a Rocky franchise spin-off to its star and creator Sylvester Stallone – with Jordan attached as Adonis, son to Rocky's late boxing rival, Apollo Creed. Stallone immediately said "no" but later relented – wisely as it turns out.
Jordan didn't grow up on the Rocky movies – he was just three when the last of the original series, Rocky V, came out in 1990. "I'd always heard of them, and I started watching them and loved them," he says. "It's classic, man. Yeah, it wasn't my generation, but you discover them as you get older. You hear about them." His favourites, he says, going against the received wisdom that the first Rocky is the best, are Rocky II and IV.
Trainwreck interview with Kata Mara and Michael B Jordan
Creed has a rougher edge to it than the ringside fantasies of previous Rocky films; and it is certainly a very different kind of reboot to 2006's hokey Rocky Balboa, in which a 62-year-old Stallone came out of retirement and got back in the ring. Here, a punch-drunk Balboa is relegated to trainer, while when we first meet his protégé, Jordan's Adonis, he's in a youth detention centre, getting into fights with other kids. Throughout the film, heavy themes loom, of struggle and social mobility, illness and death.
Jordan calls it an "honour" to take on a franchise that Stallone built his career with. "Sly did the biggest thing for me, which was to take that pressure off me, and not worry about competing or trying to live up to what the Rockys were – just to be myself and do what we were going to do." He nods to Coogler too. "I never felt more safe and willing to take risks and chances and experiment."
If there was a training montage of Jordan's prep work, there would be no running up steps or punching slabs of meat, Rocky-style. It was more considered: he studied boxers Timothy Bradley and Sweet Pea Pernell. "I loved his style, the way he evaded punches," he says of Pernell. He also worked with boxer Andre Ward, who takes a small role in the film, and his trainer Virgil Hunter.
Access unlimited streaming of movies and TV shows with Amazon Prime Video Sign up now for a 30-day free trial
Sign up
"I was surrounded with great boxing minds, and I was literally aspiring to try to pick up as much as I could from everybody, while we were still trying to find what kind of style Adonis was going to fight in, and what kind of fighter he was going to be. We just tried to pick out some memorable characters, memorable fighters that fit the character and we went from there."
Certainly, Jordan can relate to the film's depiction of working-class struggle. Born in Santa Ana, California, he was raised in Newark, New Jersey, attending the local high school where his mother, Donna, worked as a guidance counsellor. With his father, Michael, a caterer, Jordan and his brother and sister were more rags than riches. "I come from nothing," as he puts it.
After a brief stint modelling, he started acting when he was 12, appearing on Bill Cosby's TV show, before breaking out on The Wire as street-level drug dealer Wallace. "I'd just turned 16, and I didn't realise what I was doing at the time, and didn't realise the show was going to become what it is. It was the first time I fell in love with acting, the first time I lost myself in a role … it definitely set the tone for me at a young age. It set my taste buds." After a stint as quarterback Vince Howard on the well-liked American football series Friday Night Lights, Jordan then found himself courted by Hollywood.
His ambitions went further, though. From his role on The Wire to a recurring role on the soap All My Children and guest-spots on crime shows such as CSI or Without A Trace, Jordan had frequently been saddled with playing the troubled youth thanks to the way young black men are often stereotyped in film and TV. But when his film career took off in 2012, with Josh Trank's cult sci-fi Chronicle, he told his agents he only wanted to go up for roles written for white characters. "It's obvious that I'm black, but why do I have to be labelled as that?" he told GQ in a recent interview. These comments subsequently got misconstrued by fans who believed he did not appreciate playing black characters. The commotion was a reminder of just how difficult it remains to navigate the industry as a black actor. Indeed, Jordan felt the full heat of racial discrimination when he was cast as Johnny Storm in last summer's Fantastic Four. The Human Torch, as he's also known, has traditionally been white, and online trolls spluttered with incomprehension. Reuniting him with Chronicle director Josh Trank, the film was, unfortunately, a stinker but Jordan came out of the experience with credibility for defending his casting. "It's a continuity thing; people are used to consistency and the way things used to be," he tells me. "If I could be a part of change, why not?"
Certainly, that change is halting: while the generation above Jordan produced a host of African-American A-listers including Will Smith, Denzel Washington and Jamie Foxx, Jordan has no peers in his age bracket. "It's a little overwhelming, but it feels good to be on this journey," he says. "Not everybody has the opportunity to do the things I've done."
Living in Los Angeles for the past 10 years, he's just bought his first home. Otherwise, personal matters seem secondary. Just "friends" with Kardashian family supermodel Kendall Jenner – the Internet almost ruptured last summer when they were spotted leaving the Met Ball together, much to the chagrin of trolls, who believed he should be dating a black woman – he's not been in a serious relationship during his twenties.
He puts this down to his huge work ethic. "It comes from my parents," he says. "They've always worked hard, their entire lives and it's something that's rubbed off on me. And yeah, man, you've got to sacrifice. It can't be fun and games all the time. You work hard for a certain amount of time, and then you'll be able to relax a little bit, as time goes on, as you grow up, as you get older. That's always been my motto."
'Creed' goes on general release from 15 Jan
Register for free to continue reading
Registration is a free and easy way to support our truly independent journalism
By registering, you will also enjoy limited access to Premium articles, exclusive newsletters, commenting, and virtual events with our leading journalists
Already have an account? sign in
Register for free to continue reading
Registration is a free and easy way to support our truly independent journalism
By registering, you will also enjoy limited access to Premium articles, exclusive newsletters, commenting, and virtual events with our leading journalists
Already have an account? sign in
Join our new commenting forum
Join thought-provoking conversations, follow other Independent readers and see their replies