Michael Moore on 'Fahrenheit 11/9' documentary: 'Trump didn't create the mess we are in'
The filmmaker speaks to Geoffrey Macnab about his new documentary, the 'Trumpian' times we live in and why he feels sorry for Ivanka
Wednesday 17 October 2018 12:48 BST
Comments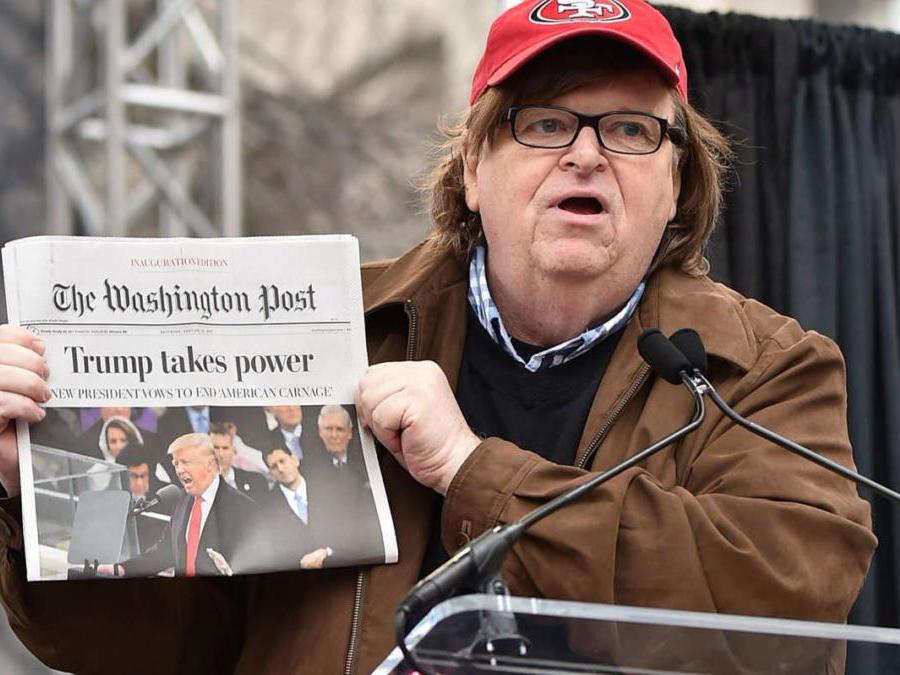 Michael Moore wants to make one point very clear. In his new documentary Fahrenheit 11/9, he is not comparing Donald Trump to Adolf Hitler. The film includes archive material of Hitler in full, deranged demagogue mode, giving an eyeball-rolling, arm-waving performance in front of the Nazi faithful – but out of his mouth come words spoken by the Donald.
"People said to me you're comparing Trump to Hitler," says the 64-year-old filmmaker, author, comedian and activist, in London for the documentary's UK premiere. "I said, no, that is a scene where Hitler is speaking like Trump. I am comparing Hitler to Trump, not Trump to Hitler. If you don't understand the difference, I can't explain it."
Obviously, says Moore, Trump is not Hitler. However, in making the documentary, Moore drew on Bertram Gross's 1980 book Friendly Fascism, which predicted that 21st century fascism wouldn't come with concentration camps and swastikas. It would come instead "with a smiley face and a TV show".
Tom Hanks or Oprah could beat Trump in 2020, says Michael Moore
Moore first had the idea for Fahrenheit 11/9 when he was in London promoting his previous film, Where To Invade Next, which came out in the UK last June, a few days before the EU referendum. He travelled all over Britain, "talking to a lot of working-class people, people who seem similar to me to the people I live with in Michigan. It was clear to us by the end of the week that this thing Brexit was going to pass. That sent a shiver down our spine." To Moore, the parallels with the then ongoing US presidential election were clear. "We knew we were going to see this six months from now except it will be called Trump, not Brexit."
"Here's what we saw," Moore continues. "Brits who didn't necessarily really want to leave [the EU], yet the system had so failed them, the [political] parties had so failed them, that Brexit represented a Molotov cocktail they were being handed. They could throw it into the system and blow it up so that somebody would listen."
Fahrenheit 11/9 is a sprawling, angry and often very funny film that begins with Trump's election (and the unlikely – and unwitting – part he thinks pop star Gwen Stefani played in setting him on the trail to the White House). But it also deals with school shootings, the poisoning of the water supply in Moore's hometown Flint in 2014, and the dirty tactics used by senior Democrats to ensure that Hillary Clinton was their presidential nominee rather than Bernie Sanders.
"We started out with a challenge to ourselves to not chase the news every day so that it didn't matter what Trump was doing," says Moore. Instead of being about "Trump per se", the film is intended to look at the "Trumpian" times that we live in and to ask how on earth they've come about.
"We got here not by Trump. Trump didn't create the mess we are in. When we get rid of him, we are still going to have the mess. We are still going to have mass shootings, we are still going to have people with no healthcare. The film became about the greater Trump and the Trump that is us, as Americans."
Moore chastises liberals and Democrats for not taking Trump seriously enough, for treating his political aspirations as a joke. "Just as you here [in the UK] treated Nigel [Farage] and the crazy guy with the hair." (Moore doesn't specify the identity of "the crazy guy with the hair" but Boris Johnson would be a good guess.)
Access unlimited streaming of movies and TV shows with Amazon Prime Video
Sign up now for a 30-day free trial
Sign up
Access unlimited streaming of movies and TV shows with Amazon Prime Video
Sign up now for a 30-day free trial
Sign up
There is a certain poignancy in Moore's fighting talk. He has made films about school shootings (Bowling For Columbine, 2002) and the chaotic state of the American healthcare system (Sicko, 2007) and in commercial terms, he is the most successful documentary maker in history. Yet his movies haven't managed to change things. Gun law hasn't been reformed. The American healthcare system is still in a parlous state.
"To be honest, for the last few films, I've had to ask myself 'why' and 'what's the point'," says Moore, reflecting on the fact that his movies, for all their popularity, appear to have had minimal social impact. "But I am a filmmaker, not a politician. I am making it for the art. First off, I want to make a great piece of cinema. If it can help people to think, if they cry, if they laugh – all the things that any filmmaker wants – I want those same things.
"Obviously, I have my own politics, my own agenda in terms of how I hope it will help the country but I can't make people change or do the right thing," he continues. "What I do know is that over these 30 years [Moore's breakthrough film Roger & Me, about the closure of the General Motors plant in Flint, was made in 1989], there have been enough young people who started watching my films at the age of 12 who are now in their 30s and their 40s. They have different politics than their parents and grandparents. Gradually, this will change. It is just not going to be overnight."
The new documentary includes a fascinating scene in which Moore is shown on TV alongside his then friend Roseanne Barr and Trump himself. They all seem to get on famously. In 2018, though, the chances of these three sharing a platform seem remote. Moore has fallen out badly with Roseanne (whose sitcom on ABC was cancelled following her racist tweeting earlier this summer). Moore speaks of the end of their friendship with obvious regret.
In 2004, he flew around the US with Barr, campaigning for John Kerry in the US presidential election against George Bush. "I had days and nights with her and her family," he says. They were very close but something "snapped". Barr started taking increasingly right-wing positions. "Then, she started attacking me on Twitter. I never attacked her back. On the day she was fired from the show, she began that morning with four tweets, one attacking Valerie Jarrett [Barack Obama's adviser], another attacking me." He responded by posting a message referring to her as a "damaged soul".
The American director also has some intriguing observations about his former business partner, the disgraced movie tycoon Harvey Weinstein. In 2011, Moore famously sued the Weinstein brothers over profits from his hugely successful 2004 documentary, Fahrenheit 9/11, about the presidency of George W Bush. The multimillion dollar case was eventually settled. In spite of the dispute, Moore had originally been planning to work with the Weinsteins again on Fahrenheit 11/9. Then came the sexual abuse allegations and Harvey Weinstein's spectacular fall from grace.
Why partner with the Weinsteins when you've already had to sue them once? Moore seems surprised by the question. After all, all they did was steal from him. He was perfectly happy to work with them again as long as he had a better contract and a better agent. "That's Hollywood!" he exclaims. "It was only money. If it had been other things, had I ever seen Harvey behave in the way that has been alleged and what he has been arrested for, oh my God, I would have had nothing to do with him. But this was just common Hollywood thievery that goes on all the time."
Moore's view of Harvey Weinstein is nuanced. His obvious disgust at the movie tycoon's alleged behaviour with women doesn't stop him from acknowledging other aspects of Weinstein's career.
"Harvey raised half a billion dollars for [Aids charity] amfAR. The people at amfAR, at least at the time, credited Harvey with being one of the key reasons why they were able to fund the research and get the AZT inhibitor that essentially means that anybody with Aids now is not going to die before his or her time. That's Harvey Weinstein. When the whole story is told, it is going to be a very interesting story. You have the politically left Harvey, who is right on all the issues. You have the Harvey who has saved tens, even hundreds of thousands of lives as the result of the work he did to help fund the research to provide medicine for people who have HIV. Then, you have this new Harvey we have all learned about and that none of us knew."
Moore has known Weinstein for years. When he was with him, he says Weinstein never exhibited casual sexism. "In the almost three decades of knowing him, I never once heard a comment like 'oh, she looks good today'." Now, he thinks Weinstein was "purposefully covering up".
There are disturbing moments in the new film in which Donald Trump makes salacious remarks about his own daughter, Ivanka. Moore has been unsettled by how audiences have laughed at the scenes. "It's so weird," he says. "My editor and I were like, 'oh, they're laughing. We meant this to be serious.' But it is such a late night comedian's joke. People are so engaged in laughing at Trump, as they have been since the beginning."
Support free-thinking journalism and attend Independent events
Moore has met Ivanka and reveals in the documentary that her husband, Jared Kushner, was one of the backers of Sicko. "I feel bad for her. I've met her and seen her at various functions over the years to support the right to have gay marriage, Planned Parenthood, all that stuff. She has always been really good about those things and I think she's a good person too."
Trump's "genius", Moore suggests, is that he does everything in "plain sight". That makes him all the more difficult to manoeuvre against. The elites on both sides of the American political divide hate him – and that perversely adds to his popular appeal, too. Moore isn't under any illusion that his film is going to change people's minds about him overnight but he hopes it will at least remind them of the mess they are in – and of how they got there.
He also knows precisely the audience he is trying to reach – those who voted for Trump as a protest against a political establishment that was ignoring and humiliating them. "I don't care about the 20 or 30 per cent that's way out there and are lost Americans," he says of the Trump supporters whose minds he hopes can still be changed. "I am talking about the 70 per cent who aren't lost."
'Fahrenheit 11/9' is released on Friday
Join our commenting forum
Join thought-provoking conversations, follow other Independent readers and see their replies