Michelle Yeoh: Crouching tiger, hidden dragon, political prisoner...
James Mottram on the Bond star playing Aung San Suu Kyi in a new biopic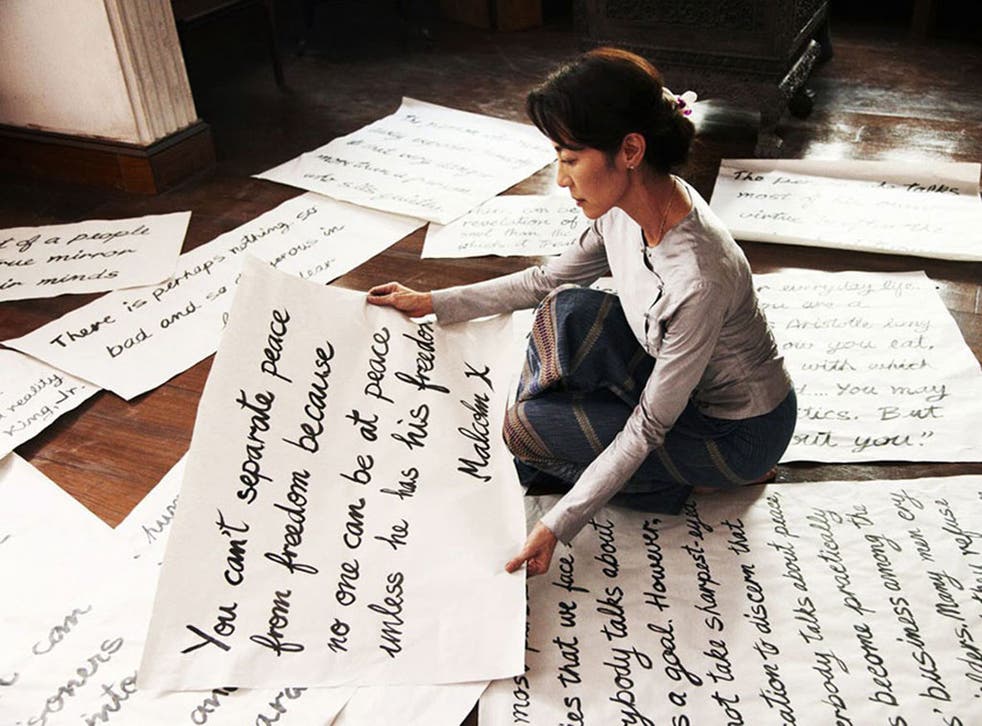 For an actress who has been, in her own words, "a geisha, an astronaut and a reindeer herder", Michelle Yeoh's already eclectic career has reached a defining moment.
Even playing a Bond girl in Tomorrow Never Dies and a Bafta-nominated warrior in Crouching Tiger, Hidden Dragon don't quite compare with being cast as Aung San Suu Kyi. Winner of the Nobel Peace Prize in 1991, the Burmese opposition politician dubbed "the female Mandela" after remaining under house arrest for 15 of the last 21 years is arguably the most daunting role of Yeoh's life.
We meet at Qatar's Doha Tribeca Film Festival, where The Lady, which covers just over a decade of Suu Kyi's tumultuous life, is the closing film. Dressed elegantly in a skirt and blouse, matching bangles on her wrists, Yeoh, 48, is a perfect ambassador for the film – modest yet fiercely passionate. When I ask her how she got away from the role, she snaps back, "I don't want to get away from it!" She hasn't had a holiday since completing the shoot. "I've taken this two years off from doing other films so that I can help this one. It's one of those movies that needs it."
Curiously, when I ask whether this was the toughest part she's ever tackled, she gives an ambivalent answer. "Yes, because it was an emotional ride in a very short time. We were living her life for 10 specific years, and had to demonstrate that in just over two hours. No, because when you're committed, and when it's coming from the depths of you, it all becomes easy." She stops for a second, realising what she's said. "Well, 'easy' isn't quite the word."
Not least of the problems she encountered was having to learn the Burmese language. "There were a few times when I called Luc [Besson, who directs] and said, 'I'm dying! I can't get my head around this!'" Indeed, the pressures of The Lady make her physical trials on Crouching Tiger... (she tore her knee ligaments) and 1996's Ah Kam (she fell 18 feet from a bridge, almost breaking her back and neck) seem like child's play. "She's a heroine," she admits. "And I'm in a privileged position to play her. Not just show her as a saint, but give a unique experience of what went on."
Born in Malaysia, where her father was a lawyer, the actress was well aware of Suu Kyi. After winning Miss Malaysia in 1983, life took Yeoh to Hong Kong, where she made her big-screen debut as a judo instructor opposite Jackie Chan in 1985's Twinkle, Twinkle, Lucky Stars. Marrying the film tycoon Dickson Poon, who had first cast her in a TV commercial, Yeoh remained in Hong Kong – just at the time Suu Kyi, heading up the National League for Democracy, won the Nobel Peace Prize. "That was like 'Woah, an Asian woman getting this?' I was very driven to find out more."
Whether the film offers much insight is open to debate. Most agree that Yeoh's performance is stellar ("a commanding screen presence," noted Variety, "[she] breathes poise and moral authority in every scene"). But from a director whose last portrait of a female icon was the flawed, flabby Joan of Arc (1999), this similarly stumbles in its attempts to dive beneath the serene surface of a woman whose forbearance came to represent the hopes of a nation. Enduring years of isolation during her house arrest, separated from her Oxford academic husband Michael Aris (played by David Thewlis) and their two sons, we rarely glimpse the inner turmoil this must have caused.
"Their love was so powerful, it gave her strength," Yeoh argues, and certainly the film works best if seen in the framework of her marriage to "the most loving husband in the world", as Yeoh calls him. Seeing his wife only five times during her incarceration, until his death from prostate cancer in 1999, Michael's support never wavers. "It makes you empathise with her, not just as this iconic figure – doing all these amazing things for the people of Burma."
While Suu Kyi was released from her latest period of house arrest in November 2010, the political situation there is still on such a knife-edge, that the making of the film had to happen "under the radar", with Thailand doubling for Burma. "Nobody talked about it," says Yeoh. "Everybody was respectful. You had, sometimes, two or three thousand extras, and Luc would go on set and say in French, in English and in Thai, with Burmese translators, 'Please do not take pictures, please do not post on Facebook, because it might affect the schedule of the filming.' And nobody ever did. That was the level of respect they gave us."
Access unlimited streaming of movies and TV shows with Amazon Prime Video Sign up now for a 30-day free trial
Sign up
Inevitably, though, word got out. Last June, the Burmese authorities banned Yeoh from entering the country again. Arriving for her second visit, Yeoh was stopped at immigration, despite having a visa. "They said, 'I think we have some immigration problems.' I said, 'But why?' But they wouldn't explain. They sat me down, and kept saying 'No, no, no ...'"
Sent back on the next flight, "a week later they made an announcement that I was blacklisted, without saying why". Fortunately, Yeoh had already achieved her primary objective. On her one unimpeded visit to Burma, last December, she met Suu Kyi. "It was very intimate. She makes you feel very at ease. Never for one moment do you feel, 'I'm in the principal's office! I better say the right things.' Right away she said, 'I'm so sorry. It's so messy here, people are coming in and out.' So you go, 'Phew – she's normal!' She's approachable. I love the fact that she's affectionate. She would hold your hand."
Speaking in flawless English, Yeoh gives off a similar vibe. Encouraged by her mother to pursue modelling, she thinks that "when you have parents who encourage you to be independent, it gives you a certain kind of confidence". She temporarily retired from acting in the late 1980s, at the request of her husband, but the moratorium ended when they divorced in 1992. Returning to her career, she has since broken with playing Asian action heroines – in everything from Memoirs of a Geisha (the geisha) to Danny Boyle's Sunshine (the astronaut) and Far North (the reindeer herder).
While Yeoh has never remarried, she has been engaged to former Ferrari CEO Jean Todt (some 17 years her senior) since 2005. The only thing she doesn't have is children. "I have five godchildren," she says. "So in my mind I do have kids. I have people who love me and a man that I love." You suspect it's this that's allowed her to empathise with Aung San Suu Kyi. "It's changed my life," she says of the role. "It's changed my views. It's made me, I hope, in many ways, a better person."
'The Lady' is released on 30 Dec
Register for free to continue reading
Registration is a free and easy way to support our truly independent journalism
By registering, you will also enjoy limited access to Premium articles, exclusive newsletters, commenting, and virtual events with our leading journalists
Already have an account? sign in
Register for free to continue reading
Registration is a free and easy way to support our truly independent journalism
By registering, you will also enjoy limited access to Premium articles, exclusive newsletters, commenting, and virtual events with our leading journalists
Already have an account? sign in
Join our new commenting forum
Join thought-provoking conversations, follow other Independent readers and see their replies