How Midnight Cowboy defied a political backlash and an X rating to win the Best Picture Oscar
As the Dustin Hoffman and Jon Voight film turns 50, Martin Chilton explores how the controversial box-office hit managed to win over the Academy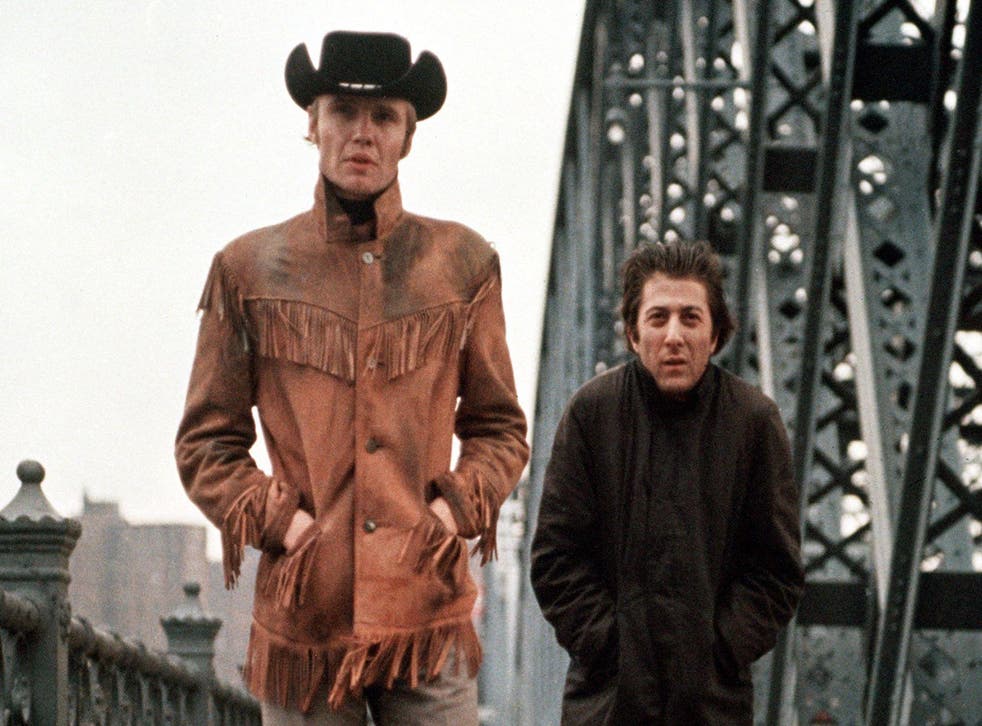 When Dustin Hoffman heard that his second major movie, Midnight Cowboy, had been given a dreaded X certificate, the actor was deeply apprehensive. "We thought this could end everybody's career," he later told Larry King. Director John Schlesinger's film is now regarded as a classic and 50 years on, the rumpus over its sexual themes seems like something from a bygone age.
Midnight Cowboy, which stars Jon Voight as the naïve male prostitute Joe Buck and Hoffman as the streetwise hustler bum Enrico Salvatore (Ratso Rizzo), came out on 25 May 1969 and remains the only X-rated film to win an Academy Award for Best Picture. Midnight Cowboy was a window into the counter-culture, through the eyes of an adult innocent. The story of a Texan dishwasher trying to find riches in New York – which featured bold themes about prostitution, homosexuality and drug abuse – was funny, bleak and moving, and full of sparkling dialogue.
The film was caught in a controversy even before its release, when the Motion Picture Association of America (MPAA) decided to change its initial R for restricted rating (under 16s not admitted without an adult) and impose, for only the third time, their harshest rating.
The 40 best film soundtracks

Show all 40
When the MPAA handed a film an X rating – as they did in 1969 with Medium Cool and Last Summer, both because of "language and nudity" – they did so because in their view the film was "not suitable for children". The system was created by MPAA president Jack Valenti, who had worked as a press officer for President Lyndon Johnson. Texas-born Valenti believed that X-rated pictures were usually "trash and garbage made by people out to exploit". He did not like the story of a gigolo from his home "cowboy" state.
Valenti was unhappy with the original classification for Midnight Cowboy and was particularly disturbed by a scene involving Buck and a young student played by Bob Balaban, who was appearing in his first film role. "It was heavily implied that I performed oral sex on Jon Voight in a Times Square movie theatre," recalled Balaban.
Balaban, who was 22 at the time, recalled telephoning his parents to tell them that his Hollywood career had started. "Do you have any lines?" his mother asked. "Not many," Balaban replied, "but at least it's with the star – I give him a blowjob." His uncle Barney Balaban, who was president of Paramount Pictures, watched a preview of the film. He refused to ever discuss it with his nephew, who went on to have a glittering career that included earning an Oscar nomination for producing Gosford Park.
The MPAA morality guardians were especially agitated by the thought that impressionable young adults might be swayed by the sexual exploits of the handsome, bisexual young Buck, in his western hat and boots ("I ain't a for-real cowboy, but I am one helluva stud," Buck shouts. The board were reported as saying they did not like the film's "homosexual frame of reference". According to Tino Balio's book United Artists Volume 2, 1951-1978: The Company That Changed the Film Industry, the film makers were told that the MPPA consulted with a Columbia University psychiatrist called Dr Aaron Stern, who warned that the homosexual scenes "could have an adverse effect on youngsters". His advice persuaded them to deliver the first X rating to a major studio.
Stern, who was a freelance advisor, had levels of influence over what constituted acceptable morality for public consumption that seem anomalous today. His rigid stance over Midnight Cowboy went down well with his paymasters, and two years later he was promoted to become chief of MPAA's Code and Rating Administration. When he appeared on the Dick Cavett Show a year after Midnight Cowboy's release, he warned, rather sinisterly, that those who made explicit films "have to pay the price for what they do". Mel Brooks, a guest on the same show, described Stern as "an old fogey".
In his new elevated role at the MPAA, Stern added an R rating to the film Garden of the Finzi‐Continis, because of a few seconds of bare breast. He advised that a shot of Jack Nicholson's tongue be cut from a kissing scene in A Safe Place and also warned writer-director Ernest Lehman that any emphasis on masturbation in the adaptation of Philip Roth's Portnoy's Complaint would earn that film the unwanted X certificate. Stern was still involved in films in the 1980s, reportedly earning more than $1,000 a day for advising studios on what behaviour during sex scenes would affect classification.
Access unlimited streaming of movies and TV shows with Amazon Prime Video Sign up now for a 30-day free trial
Sign up
In the late 1960s, there was little benefit to film companies from having a movie labelled X-rated. The small gain in notoriety was offset by more commercially damaging consequences. More than 50 per cent of cinemas in America refused to screen X-rated films, and the rating virtually precluded a sale to network television. In addition, many newspapers in America refused to carry advertisements for films marked X.
Midnight Cowboy also faced a political backlash, with campaigns aimed at dissuading people from seeing the film. Right-wing senator Ralph Hall, another Texan who was possibly antagonised not only by the film's homosexual content but also by Buck's fictional origins in a rural town in his home state, called for legislation imposing a "dirty movie tax" of 50 cents levied on the film. He said he was "disgusted" that people wanted to see Midnight Cowboy. One only hopes he never sat through the 1971 porn parody it inspired, Midnight Plowboy, about a promiscuous hillbilly called Buckalew.
James Leo Herlihy's graphic tale of a gigolo and his friendship with a lame hustler had been published in 1965. Herlihy, a friend of playwright Tennessee Williams, admitted that he was drawn to writing about "life's marginalised people". He wanted his novel to be a realistic account of New York's underbelly, including the prostitution and drug taking. Herlihy, who was working as a teacher in New York when the film was made, stayed out of the controversy over the X rating. After the film came out, he hardly wrote again and took his own life at the age of 66 in 1993.
London-born Schlesinger, who was gay and Jewish, had always felt like an outsider in New York. He was the ideal man to bring Herlihy's book to the screen. He chose his staff carefully, bringing in the former blacklisted screenwriter Waldo Salt to help adapt the novel. Michael Childers, who worked as a production assistant and photographer on the movie, said that Schlesinger did not hide his sexuality during the making of the film. "We were one of Hollywood's first out couples," Childers told Vanity Fair. "He took me everywhere. I felt a little bit uncomfortable at times, but John never did. He said 'F**k 'em.'"
Schlesinger was initially ambiguous about the casting choices for the main characters. He thought Hoffman was "too good looking" to play Ratso. United Artists initially considered Elvis Presley for the role of Buck, but his manager Colonel Parker did not like the ethos of the film and reportedly turned the offer down without consulting the singer. Michael Sarrazin was cast to play Buck, but could not get a release from a rival studio. He filmed They Shoot Horses, Don't They? with Jane Fonda instead.
The studio then turned to unknown actor Voight, who had impressed casting director Marion Dougherty in his screen test. Voight, then 30, was so desperate to play the role that he worked for scale: "Tell them I'll do this part for nothing," Voight recalled saying. "They took me at my word, and they gave me minimum for Midnight Cowboy." At the end of the shoot, they sent him a $14.73 bill for meals on the last day of filming.
Schlesinger sounded out friends and colleagues about his new project. His long-time producer, Joseph Janni, with whom he had worked on a number of films including 1967's Far from the Madding Crowd, declined to work on Midnight Cowboy. In the book Tales of Hollywood: Rebels, Reds, and Graduates and the Wild Stories Behind the Making of 13 Iconic Films, Milan-born Janni is reported to have told the director: "John, oh my God, are you crazy? This is faggot stuff. This will destroy your career."
Jerome Hellman, a former marine who had produced films starring Peter Sellers and Sean Connery, was brought in to oversee production. He said he thought the relationship between the two main characters was full of potential but cautioned Schlesinger that the content could spark a furore.
It was undoubtedly the themes explored in the film, rather than the minimal amount of actual nudity, that caused trouble. Even so, Schlesinger remained worried about the sex scenes in the film. Brenda Vaccaro, who portrayed the socialite character Shirley – a woman who pays Buck $20 for sex – said that the cast were aware of a possible backlash. "John's lament was 'Oh, good God! Everybody thinks I'm doing a blue movie,'" she later told Vanity Fair.
David V Picker, the president of United Artists, has said that among his greatest career achievements was taking the "risky" decision to stand by Schlesinger's authentic adaptation of the "terrific little book" by Herlihy. "There are movies I don't think would have been made had we not done them at United Artists. Certainly Midnight Cowboy and Last Tango in Paris are in that bracket," he said in 2013 in an interview about his memoirs. The only thing Picker and Schlesinger disagreed about was the soundtrack. Picker wanted Bob Dylan to sing the main tune, but in the end he went with Schlesinger's preferred choice of Harry Nilsson, whose magnificent version of "Everybody's Talkin'" went on to win a Grammy.
Schlesinger was delighted with the completed movie, especially the brilliant work of its debutant Polish cinematographer. Adam Holender, who had been recommended by Roman Polanski, captured the "gritty and realistic" nature of the seedier parts of 1960s New York.
Support free-thinking journalism and attend Independent events
The crew and cast were nervous about how their X-rated film would be received at its first low-key preview screening. Hoffman said they feared problems with the rating and recalled that he began to seriously worry "when people walked out in droves after the gay sex scene in the balcony between Balaban and Voight. We thought this could end everybody's career," Hoffman told King in 1994. "We felt it was a great movie. We knew they were walking out because they were simply offended."
The early reviews were also scathing. Variety called the film "generally sordid". Rex Reed, critic for The New York Observer, described the film as "a collage of screaming, crawling, vomiting humanity". Pauline Kael, the influential critical for The New Yorker, dismissed Midnight Cowboy as a "cult film" that relied on "grotesque shock effects and the brutality of the hysterical, superficial satire of America" to tell its story.
Everything changed on that Sunday night in May 1969, when the film opened exclusively at the Coronet Theatre on Third Avenue in New York. "There was a 10-minute ovation at the opening night premiere," Childers told Hollywood Tales. "The next day a friend of ours called and said, 'You've got to go down and check out the lines – they're all the way round to the 59th Street Bridge, like 14 blocks over.' John Voight said, 'I can't let anybody see me.' So I said, 'Hide in the men's department of Bloomingdale's and look at the lines through the window.'" The film's first week gross of $61,503 was the biggest for any film in the history of New York's East Side.
A buzz had been created and Midnight Cowboy soon had a limited nationwide release. The film split opinion in Hollywood. "Right-wing old-guard reactionaries were shocked that this movie could be made," Childers told Little White Lies magazine in 2018. "Rosalind Russell said it was filth. But at the same time, there were old-guard people like Joan Crawford, who wrote a beautiful letter about how moving Midnight Cowboy was. So did Lucille Ball, of all people, saying what an important film it was. Gregory Peck wrote a beautiful letter to John, and Gene Kelly loved it too."
It took time for the actors to accept that they would receive praise and reward for being part of such a contentious film. Hoffman's agent told his client that his involvement may have "buried his career" and made the actor "so frightened" that he was cajoled into appearing in a mediocre romantic drama called John and Mary, in which he played Mia Farrow's boyfriend. "They told me to appear in a love story where you look like a respectable person, because you could be finished otherwise," Hoffman told King. "I was talked into doing a movie I wished I hadn't done."
Hoffman's agent's warnings could not have been more misguided. When the 42nd Academy Awards were held on 7 April 1970, Midnight Cowboy was, in Hellman's blunt description, "a f**king smash hit". Midnight Cowboy won Oscars for Best Picture, Best Director and Best Adapted Screenplay (Salt). In addition, Voight and Hoffman were nominated for Best Actor, but lost out to macho cowboy John Wayne for True Grit. There were additional nominations for Sylvia Miles (Best Supporting Actress), and for the film's editor, Hugh A Robertson, the first African-American nominee in this category. He went on to edit Shaft in 1974.
Oscars: Every single film to win Best Picture at the Academy Awards

Show all 90
The Academy's stamp of approval was a problem for the MPAA, who were already taking flak for their puritanical approach. A 14-year-old girl even sued the Tedd Mann Circuit for denying her admission to a screening of Midnight Cowboy at one of their cinema chains in Minneapolis. Although she lost the case, her fight for the right to see the film went all the way to the Minnesota Supreme Court.
After the film's triple Oscars triumph, United Artists re-submitted Midnight Cowboy to the MPAA for a re-rating, after removing the film from cinemas for a requisite 60 days. The ratings board reportedly suggested symbolically deleting one frame from the movie to allow them to say it was "a re-cut version". Hellman and Schlesinger stood their ground and refused to cut a single frame. The MPAA reverted to its original decision to categorise the film R – a rating it retains. It went back out on general release and ended up grossing $44.8m at the box office.
Schlesinger remained proud of a film he believed was ahead of its time. On its 25th anniversary, the late director said it would not be approved in the modern era. "You couldn't make Midnight Cowboy now," Schlesinger said in 1994. "I was recently at dinner with a top studio executive, and I said, 'If I brought you a story about this dishwasher from Texas who goes to New York dressed as a cowboy to fulfil his fantasy of living off rich women, doesn't, is desperate, meets a crippled consumptive who later pisses his pants and dies on a bus… would you take it?'"
"I'd show you the door," the executive answered.
Join our new commenting forum
Join thought-provoking conversations, follow other Independent readers and see their replies