Mike Leigh on Mr Turner, high art and huge audiences
Mike Leigh's film about JMW Turner is the timeless tale of a flawed man and his sublime work, he tells Geoffrey Macnab
Geoffrey Macnab
Tuesday 14 October 2014 21:48 Comments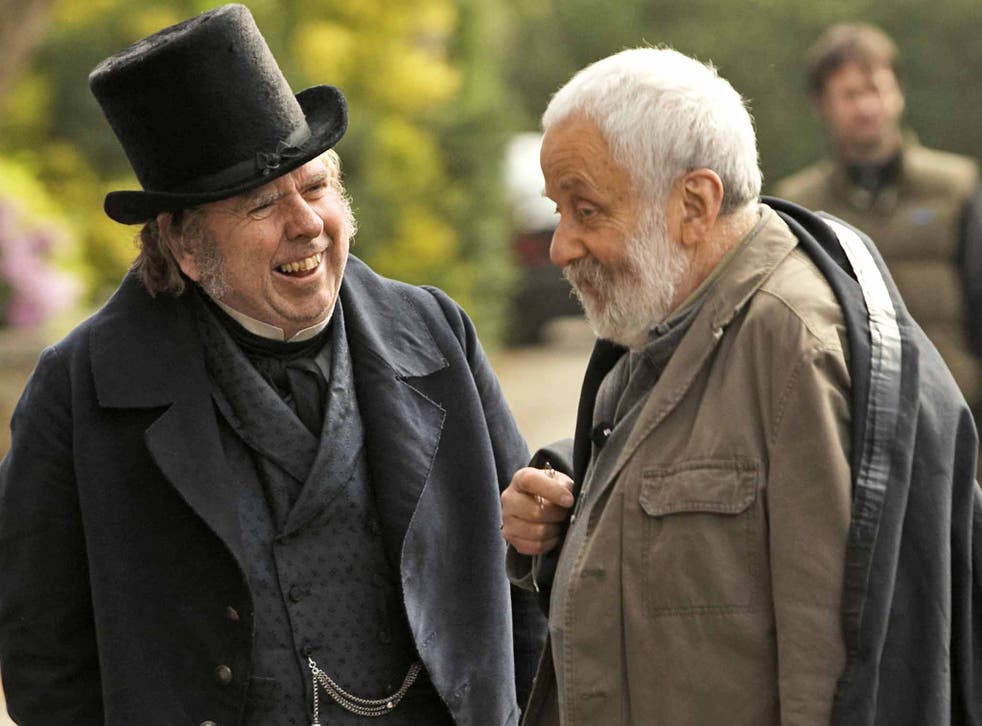 "It's going to be an interesting and hopefully fun experience," Mike Leigh enthuses of his latest project, a production of Gilbert and Sullivan's The Pirates of Penzance that he is mounting at the Coliseum next year for English National Opera.
"Fun" isn't a word that is always used in connection with Leigh. The 71-year-old writer and director of such films as Bleak Moments, Secrets and Lies, Naked and High Hopes is one of the greatest British film directors of his generation. No one would deny the humour and tenderness that runs through all his work but his methods are famously painstaking. There is never a script in advance. His films evolve through a process of exhaustive research and rehearsal. Critics sometimes write about this doctor's son from Salford as if he is an anatomist as much as an artist. They talk of his "peeling away the veneers" of his characters, of his "probing" and of his "incisive" pursuit of emotional truth.
On the morning I meet him, Leigh is in good humour. He has just returned from the New York Film Festival, where his new film Mr Turner (about the artist JMW Turner) was rapturously received. He came back via Iceland, where he received the Reykjavík International Film Festival's Puffin Lifetime Achievement Award from the country's President. Leigh, one guesses, is not the type of film-maker who cares to see his words misquoted, but even he seems quietly amused that when he described the Victorian art critic John Ruskin as "a prig" in a recent interview, the journalist thought he had said "a prick".
Ruskin appears briefly in Mr Turner, holding forth in pompous fashion about the shortcomings of Claude Lorrain until Turner (the magnificent Timothy Spall) puts him in his place by moving the conversation on to the more solid ground of veal and ham pie. "There have been various representations of Ruskin and they are always, by definition, incredibly dull. … I just thought it would be a good wheeze to render him in this way," Leigh states. "There is no suggestion on my part that that is a documentary representation of Ruskin."
Films to watch this season

Show all 5
Despite what some sensitive French reviewers may have felt, Leigh insists that the comic portrayal of Ruskin is not intended as a dig at contemporary critics. "There are great critics and there are lousy critics," Leigh says. "If I've got things to grumble and whinge about, it is not critics."
Mr Turner is the second 19th-century costume drama that Leigh has made, following on from his Gilbert and Sullivan film Topsy-Turvy in 1999. Leigh bristles at the idea that these films are a departure from his normal preoccupations. "You are familiar with my work and you know I am fascinated by everybody. … It fascinates me – what makes people tick."
In dramatising Turner's life, Leigh was drawn, in particular, to the "tension between this flawed, eccentric guy and this sublime work". Once he decided to make the film, the basic job was the same as on any other of his projects: "To get in there and explore it in as real and three-dimensional a way as I would a contemporary subject about anybody, including a bricklayer". Artists, he continues, are "people who do a job of work".
The pleasure, "the gas, the enjoyment, the succulent thing to get into and explore", as Leigh puts it, came from immersing himself in Turner's world. He wanted to make audiences "smell" the period and feel that "they were really there".
In making Topsy-Turvy, Leigh relished the paradox that Gilbert and Sullivan brought such seriousness to the matter of "being completely trivial – although the quality of the writing and the music is not in question." Turner, by contrast, was "a profound artist who is actually creating the profound". In the film, Turner is stung when Queen Victoria rejects his work and he is lampooned by music hall comedians for his move toward abstraction. He wants to please the public and yet isn't prepared to compromise his vision to do so.
Access unlimited streaming of movies and TV shows with Amazon Prime Video Sign up now for a 30-day free trial
Sign up
Ask Leigh about his own relationship with his audience and he makes it clear he wants his work to be seen as widely as possible. "I am in show business. People think that somehow some of us are up some kind of holy Trappist mountain. My influences may indeed have been great movie makers, arts and all of that, but I also went to pantomime, variety and circus as a kid. When I was eight, I wanted to be a comedian."
Leigh reminisces about his childhood love of Charlie Chaplin and Laurel and Hardy. "I make films for audiences. I don't know how I would make a film or a play without thinking about audiences."
The Turner we see in the film seems completely uninterested in his daughters. Is it an "either/or" situation for artists like Turner – a case of having to choose between the demands of their work and their family responsibilities? "I refuse to generalise," Leigh responds. "I personally, famously, work seven days [a week] when I am making a film. But if you talk to my sons – I don't suggest you do – they would leave you in no doubt that I've been a pretty good parent. It depends on the individual. There is no doubt that Turner is so driven he is capable of neglect and selfishness, but then he met Mrs Booth and that was a relationship that was positive for him."
In the early part of his career, Leigh was continually snubbed by awards committees. He was working primarily in television – and in the snobbish world of British cinema, that meant he wasn't taken altogether seriously. The consolation was that his dramas were reaching huge audiences. Famously, 16 million people watched a repeat of Abigail's Party during an ITV strike in the late 1970s. The irony is that when he became an international film festival favourite thanks to films like Naked, Secrets and Lies and Vera Drake, the work was venerated more but was seen by far fewer people.
"I am not in the business of esoteric, anti-populist, high art as such," Leigh states. "That's not what I am about." He can be very sharp with journalists who ask badly phrased or ill-informed questions but it is a point of principle that he never "condescends or patronises" his viewers. "Audiences are at least as intelligent as I am," he pronounces.
When the idea for Mr Turner came to him in the late 1990s, financiers were wary. "The joke of it, which is sadly sort of true-ish, is that we needed a huge budget to make the film." In the end, the film cost around £8.4m – a very big figure for an independent British feature but a tiny amount compared with what Hollywood might have spent on a similar costume drama. Only after taking Another Year to Cannes in 2010 did the project finally begin to attract the backing it needed. It helped that Tate Britain supported the film and that other owners of Turner's work were ready to waive their copyright so Leigh could use the images.
Leigh was appointed OBE for services to film in 1993 – before he won the Palme D'Or in Cannes and The Golden Lion in Venice. Given his extraordinary output over the past 20 years and his status within British cinema, it seems surprising he hasn't been offered a knighthood by now. I ask him if he would take one and for the first time in the interview he becomes a little coy. "I'd rather not discuss that."
He points out, though, that the OBE is a useful weapon in his work as chairman of the London Film School. He attended the school as a student in the Sixties, taught there in the Seventies and has continually championed its activities ever since. The school will soon move from Covent Garden to a new home at the Barbican and a fund-raising drive is under way. He takes his responsibility to young film-makers very seriously. "It involves a lot of committee stuff and negotiating and some hustling stuff. Actually, it is quite useful to be an OBE because that's when I wheel it out. I don't use it in any other context."
As for Leigh's film-making, that remains "a joy". He relishes actually making the movies and another part of the pleasure and the "pay-off" is the way they continue to connect with viewers long after their first releases in cinemas. A psychotherapist friend recently told him she encourages patients who have issues about adoption to watch Secrets and Lies. "That's what it is about. It is about people reacting to the films." He has noticed that his plays (with the exception of Abigail's Party) "kind of evaporate and become merely a memory, and a fading one at that" once their runs are over. The films, though, always "live on".
'Mr Turner' is released on 31 October
Register for free to continue reading
Registration is a free and easy way to support our truly independent journalism
By registering, you will also enjoy limited access to Premium articles, exclusive newsletters, commenting, and virtual events with our leading journalists
Already have an account? sign in
Join our new commenting forum
Join thought-provoking conversations, follow other Independent readers and see their replies