Mila Kunis - The black swan who spread her wings
Mila Kunis is following her breakout as a ballerina with a role opposite a talking teddy. There's no career masterplan, she tells Stephen Applebaum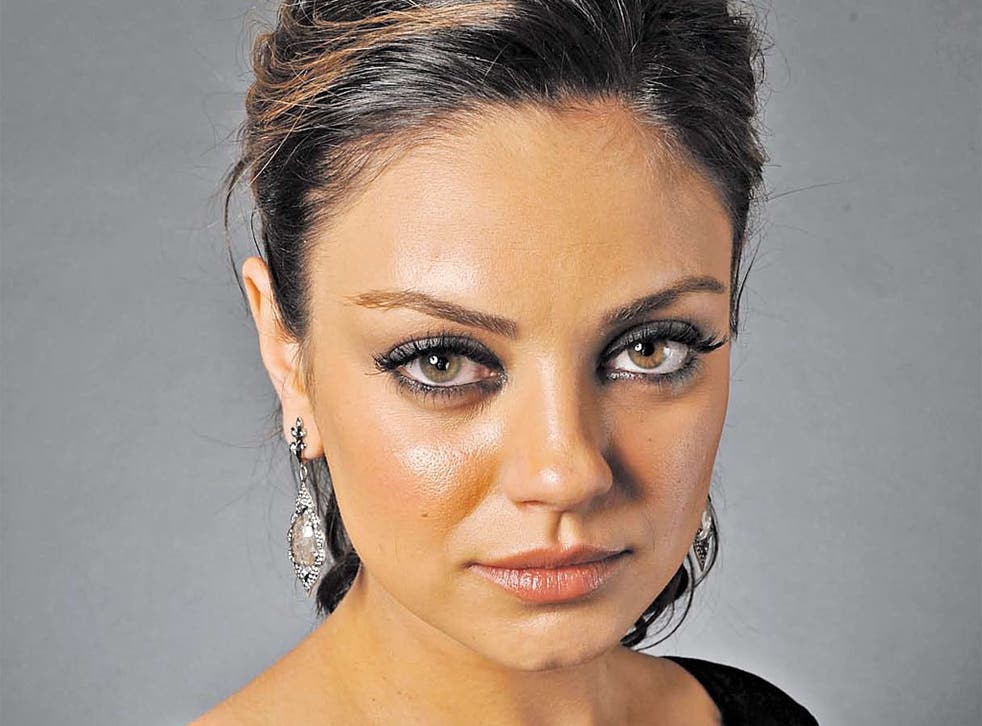 Mila Kunis is a big believer in things happening for a reason. Take her acting career, for example. The raven-haired beauty never set out to be an actress and yet today finds herself not only in the enviable position of being in high demand in Hollywood, but also of being financially secure enough, thanks to her TV work on That '70s Show and the cult animated series Family Guy, to take risks.
Last year, the BBFC received more complaints about her girl-on-girl sex scene with Natalie Portman in Black Swan than about anything else in 2011. Her latest film, Ted – the politically incorrect directorial debut of Family Guy creator Seth Macfarlane – in which she acts with a sweary, bong-smoking CGI teddy bear, is unlikely to have the same impact but is edgy nonetheless.
Cast as Mark Wahlberg's girlfriend, Lois, Kunis's humour and emotional honesty, round out what could easily have been a two-dimensional stock part. "If there's anything I try to bring to every character, it's honesty," she says. "I'm a very open person. When I go into meetings, it's not like I put up a wall and try to be something I'm not."
This is easier now than it was in the past. As a young girl growing up under Communism in Chernivtsi, in the Ukraine, she had to hide the fact that she was Jewish for fear of persecution. Even so, her parents made sure that she was raised knowing who and what she was, and the price that her family had paid during World War 2. "My grandparents were in the Holocaust [they survived, but other relatives weren't as lucky], and I'm very much part of that story," she says.
Born Milena, she was seven, and her brother 13, when the family moved to LA, for "a lot of reasons". Asked if anti-Semitism was one of them, the otherwise composed 28-year-old suddenly baulks. "That helped. Correct. I wasn't going to go there, but you can go there," she says firmly. "But yeah. My parents wanted us to have a future, and at that point, 1988, in Russia, there really was no future."
There is a moment in Ted where Lois's sleazy boss struggles to pinpoint her origins. Is she Baltic? Czech? Kunis's exotic features often create similar confusion in real life, although people usually think she's either Italian or Greek, she laughs. As for being Jewish, "Most people don't even know, and most people don't believe it [when I tell them]. It's the strangest thing; I'm trying to convince people I'm Jewish half the time. Sometimes they're like, 'Ha? Are you sure?' They don't give up and it gets to a point where I'm not going to even discuss it."
Ironically, when she was 10, Kunis auditioned for but failed to get the role of a Russian Jewish girl who moves to America in the film Make a Wish, Molly.
This was just three years after she'd arrived in America barely able to speak English. To help her learn, her parents decided to send her to an acting class. It was there that she met the woman who became her manager. Her parents, knowing the insecurity that actors face, really wanted their daughter to be a doctor or a lawyer, but agreed to let Mila pursue acting as an after-school activity. By the time she was 14, she had a regular job on the popular sitcom That '70s Show, with Ashton Kutcher – whom she's now thought to be dating – and Topher Grace.
Despite her early success, Kunis didn't see acting as her future until her 20s. "I thought when '70s was going to end, chances are I was going to be done and I was going to go to college and be whatever, and live a normal life. When I made the conscious effort to make this my career, that's when everything changed."
Access unlimited streaming of movies and TV shows with Amazon Prime Video Sign up now for a 30-day free trial
Sign up
She started looking at roles differently, and started thinking about "making something long lasting". "I just want to stand by everything that I do," she says, "and do films that I'm proud of, that I feel like I did for the right reasons. Whether they ever come out, or whether anyone ever sees them, it doesn't matter."
The Judd Apatow-produced comedy, Forgetting Sarah Marshall, brought her to a wider audience but it was Darren Aronofsky's dark psychological thriller, Black Swan, that proved to be the real game-changer, respect and status-wise. Physically and mentally, it's the toughest film Kunis has ever done. She dieted down to 98 pounds, hyper-extended her shoulder, tore a ligament, and scarred her back. She describes filming the movie's notorious bedroom scene with Portman as "nerve-racking", but insists that stories about them needing tequila to get through it are "completely false. We shot that scene in half a day. The end."
The actresses were already friends when they shot Black Swan, which made the "situation a lot easier to get through", she says. "But sex scenes are always going to be a little uncomfortable. Imagine me saying, 'Hey, nice to meet you. Now take off your clothes and let's have sex. With a hundred people watching.'"
Before Black Swan, the actress could go out and be virtually anonymous. Usually it wasn't until she opened her mouth, and Family Guy's Meg Griffin's voice came out, that she was rumbled. Now Kunis gets recognised without saying a word (she's a face of Dior, after all), which has encouraged her to pay more attention to her appearance in public. "It's terrible if you're in a T-shirt and baggy shorts and people come up to talk to you," she says. "I feel that I have to be more aware of the attention and at least try to live up to a certain image. It's weird but also flattering."
Things could get a lot weirder because her profile is set to rise even higher on the back of roles in Oz: The Great and Powerful, Hell & Back, and Blood Ties. Kunis is clearly a girl who likes variety, but does she have a plan? No, is the answer.
"The thing about this industry is it's not like chess. You can't really think five steps ahead. If you could you would be the master, and that's impossible. There is no plan. You take it one day at a time. You just try to make smart decisions."
'Ted' opens on 1 August; 'Oz: The Great and Powerful', 'Hell & Back' and 'Blood Ties' are all released next year
Register for free to continue reading
Registration is a free and easy way to support our truly independent journalism
By registering, you will also enjoy limited access to Premium articles, exclusive newsletters, commenting, and virtual events with our leading journalists
Already have an account? sign in
Register for free to continue reading
Registration is a free and easy way to support our truly independent journalism
By registering, you will also enjoy limited access to Premium articles, exclusive newsletters, commenting, and virtual events with our leading journalists
Already have an account? sign in
Join our new commenting forum
Join thought-provoking conversations, follow other Independent readers and see their replies