Milla Jovovich: Kick and make-up
Milla Jovovich is an actress, designer, and musician. But she tells Lesley O'Toole that martial arts are her real passion
Milla Jovovich: Kick and make-up

Show all 2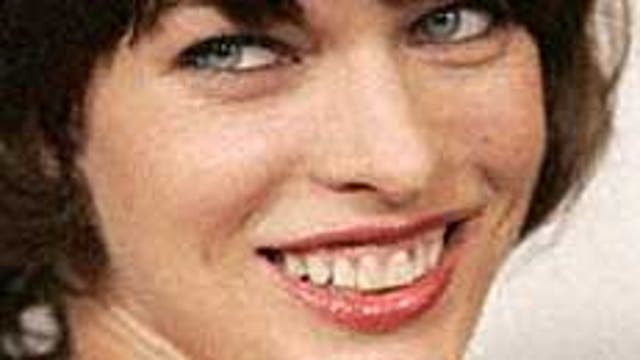 No one could accuse the Kiev-born actress-model-designer Milla Jovovich of trading on her looks. Now 30, Jovovich worked for a year merely prepping her new film Ultraviolet, is currently shooting the third instalment of her commercially successful comic book-adapted film series Resident Evil, and has her own clothing line. She is also an accomplished singer/songwriter.
Ultraviolet's Violet is her latest sci-fi kick-ass action heroine, though she is, of course, quick to point out that her new film bears certain distinctions from the Resident Evil films. "There are quite a few things in this movie that just from an action standpoint you have never seen in a Western-style martial arts movie," says Jovovich. Hence the protracted pre-filming training regimen, which encompassed six to eight hours of rehearsal, six days a week, for nearly three months before action was called, and six months of "practising at home" before that.
Jovovich says that her preparation was akin to "training for the Olympics". Were it an Olympic sport, her discipline would be wushu, a Chinese martial art emphasising speed, force and fluid style. "It's not so much about throwing punches as it is about deflecting things. Western action films are about hard punches and violence. This is much more about the look and the movement. And it utilises a whole cornucopia of swords and weaponry I'd never used before. We shot in China and, before I got there, I knew all the moves. There was just so much work I had to do in my own time because the moves are quite balletic and I kind of have two left feet sometimes."
It was not only the physical aspect that appealed. There was the fact that writer-director Kurt Wimmer wrote the role specifically for her, having been loosely inspired by the plot of John Cassavetes's 1980 film Gloria, in which a woman and child go on the run to escape the Mob. In Ultraviolet, Jovovich is a mutant infected with a disease but also imbued with superhuman intelligence, speed and stamina. "What I loved most is the storyline about meeting this sick child and having to decide whether to save his life or continue with her crazy mission," says Jovovich. "There was something really special in their relationship that I related to because I'm getting to that place where I want to think about kids and family and stopping the totalitarian machine that is my life. I'm 30 now and I still feel like a kid but my mother had me when she was 24."
Unlike many former child stars [she began her modelling career with a shoot for Revlon at the age of 11], Jovovich has nothing but kind words about her mother, and agent, Galina Loginova. "My mother wanted the best for me and wanted me to learn everything possible, and to educate me in everything possible," she explains. "Every last dollar was spent on lessons for me - acting, ballet, piano, anything you could imagine. I really felt the pressure of needing to create something to help my family. It was like I had to do my share of the work."
She says she never felt comfortable or accepted at school. "I think that because I was an immigrant [Jovovich and her parents moved to California when she was five], I just wasn't on the same level as the other kids. I was actually beaten up a lot. I never backed down but I got into a lot of fights with bigger girls and ended up crying a lot. It didn't help that I couldn't go and hang out at other people's houses because I had to work. I really knew I had to achieve something in this world."
And work she did, in a series of inconsequential roles in films ranging from good (Chaplin, Dazed and Confused) to forgettable (Kuffs). It was also the start of something of a wild-child phase for Jovovich, who has admitted to dabbling in drugs, shoplifting and even credit-card fraud as a teen. She also eloped to Las Vegas with her Dazed and Confused co-star Shawn Andrews when she was only 16, though her mother promptly had the marriage annulled. Jovovich then took a hiatus from films, recording an album called The Divine Comedy, released when she was 18, which earned her critical acclaim and favourable comparisons to Kate Bush and Tori Amos.
The Fifth Element (1997), in which she played the scantily bandaged alien Leeloo, heralded the start of a new phase of her film career and her second marriage (to its director, Luc Besson). She fell in love with Besson, 17 years her senior, while on set, and they married on her birthday just before Christmas in 1997. By 1999, Jovovich was divorced again, two failed marriages under her belt by 24. Though Besson has since remarried, Jovovich insists they remain great friends and hopes to work together again in the future.
"I'm friends with everybody I have been with because the people I love, and the people that love me, will always love each other. I don't think I've ever had an ugly break-up or an ugly memory of a relationship. Beautiful things have always overshadowed everything else and it's really important to have a sense of humour about stuff. Plus, they're all really cool guys."
Jovovich appears to have embraced the zen-like qualities of the Eastern philosophies that are a natural extension of more physical disciplines. "I really do try and practise the philosophy too because I think it's so important to have a physical and psychological balance in your life. I'm a big fan of New Scientist magazine and it's fascinating to me that finally Western science is having to find explanations for religion and why we need it. Obviously if we didn't need it, it would have been thrown to the wayside thousands of years ago. It's just a process of evolution, in the same way that we obviously didn't need wings. But we do need religion. And they have proved that people who meditate live longer, happier and healthier lives than non-meditators.
"Interestingly, too, my father was a huge fan of kung fu [her parents split shortly after the family moved to the US]. And I really need to start doing yoga because it's so good for the right brain. I want to be one of those old people who at 75 is limber, healthy and hiking all the time. I want to remain really active."
Throughout our conversation, Jovovich has been fiddling with the buttons on her filmy polka-dot blouse, part of last season's Jovovich-Hawk fashion line. She started the line with her friend of 10 years, the ex-model Carmen Hawk, because she says the pair couldn't find clothes they liked. "So we created them. The line is not so conceptual, it's not precious. It's really filled with classic looks that have a touch of irony."
Is it fair to say she is as obsessed with clothes as she is with martial arts? "Absolutely, totally obsessed. Even before I was designing, I was getting stuff to wear from designers but I just wasn't wearing things the way the designers might have imagined. I always have to give clothes my own little twist. Having said that, Miuccia Prada first encouraged me to move forward with a clothing line and even had some of my sketches made into samples."
Given the large rock on her unmanicured wedding finger, it appears that Jovovich is perhaps not far off wedding number three, though she refers not to a fiancé but her boyfriend. Has she made any new rules about not dating people she works with? "Like the two directors I've dated, you mean? Well, I'm still with one of them [the British director of Resident Evil Paul WS Anderson], so I guess not."
'Ultraviolet' opens today
Join our new commenting forum
Join thought-provoking conversations, follow other Independent readers and see their replies