Mira Sorvino on leaving dumb-blonde movie roles for The Intruders
Mira Sorvino, the Oscar-winning star of Woody Allen's 'Mighty Aphrodite', is the latest film star to take a leading role on television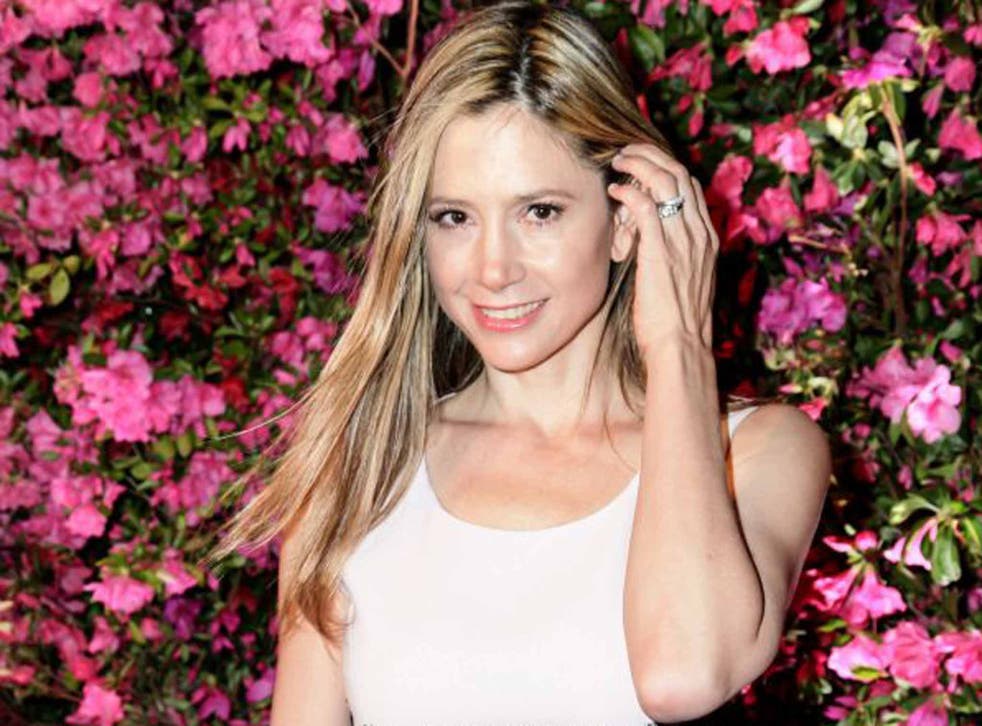 "I could talk about this for days," says Mira Sorvino, and I believe her. Unfortunately, we don't have days, and after the 47-year-old actress tells me about her work as a UN Goodwill Ambassador to Combat Human Trafficking – of meeting police and lawyers in Mexico, interviewing trafficked child virgins in Cambodia and lobbying Congress to abolish slavery in Darfur – I'm hoping I don't sound too frivolous when I steer the subject towards Woody Allen.
At the age of 28 Sorvino won an Oscar for her supporting role in Allen's 1995 comedy, Mighty Aphrodite, about a neurotic and snobbish sports writer (Allen; who else) seeking out the mother of his adopted son and discovering that she is a porn star-cum-prostitute (Sorvino) whose ambitions of becoming an actor are only slightly more absurd than her high-pitched, Minnie Mouse voice.
"He (Allen) asked me to do that voice," says Sorvino. "I knew Linda was a foul-mouthed prostitute and I had to dress accordingly so I found this crazy Jean Paul Gaultier dress with these bumblebee neon stripes. And he said: 'I want you work on the voice because not only is she cheap but she's stupid.' But I wanted to make her ridiculous in a heart-rending way."
Sorvino made the right call, rescuing a character that might otherwise have been tinged with misogyny. The scene where she mistakes Allen, who has tracked her down to her apartment, for a punter, is full of marvellous slapstick sexuality. Was she nervous of having to enact the seduction of one of the icons of American cinema?
"Everything about that shoot was unnerving," she says. "I had been a fan of his since I was 12 and when I was 16 I played the Diane Keaton role in Play It Again, Sam at my high school. So to actually be in one of his films in my twenties was mind-blowing. I was just so shy, but then he's shy too."
Was winning an Oscar so early in her career as much a curse as a boost? "I didn't see it that way. I made some maverick choices that may have cost me, but I don't think it had anything to do with the Oscar. More like I made three genre films in a row, but that was because I was dating Quentin Tarantino at the time...
"Having said that, I worked with Guillermo del Toro [in the 1997 horror film Mimic, in which she played an entomologist faced with killer insects] before anyone knew how great he was, and Antoine Fuqua [in the 1998 action film The Replacement Killers] who has since then directed people on to Oscars." She was ahead of the curve then? "Yes, but maybe the giant cockroach theme [in Mimic] was a little off-putting to some."
She might add that after her Oscar triumph, Sorvino deliberately avoided typecasting. "I did what I call my dumb-blonde trilogy," she says. "There was Mighty Aphrodite, Romy and Michele's High School Reunion, and Norma Jean & Marilyn Monroe for HBO where I got to play lovely Marilyn Monroe. After that I started turning down dumb-blonde roles."
In her latest project she is still blonde but dangerous with it. She plays the wife of a former LAPD officer (John Simm with an American accent) in BBC2's The Intruders, an intriguing eight-part TV drama from X-Files scribe Glen Morgan and directed by Eduardo Sánchez, co-creator of The Blair Witch Project. Sorvino summarises the show as "a noir psychological paranormal thriller with shades of Seventies conspiracy films and star-crossed love story".
Access unlimited streaming of movies and TV shows with Amazon Prime Video Sign up now for a 30-day free trial
Sign up
About a secret society that chases immortality by seeking refuge in the bodies of others, Sorvino's is inhabited by (among others) an erstwhile member of the tsarist secret police – calling for the actress to speak Russian. "I have lived and worked in Russia and picked up a bit but not nearly enough," she says. "I begged them for one of my languages to be something I actually did speak, so they put in some Italian."
Her father is Italian-American actor Paul Sorvino and she was born in New York. She was a high-flying Harvard scholar. "I got a summa cum laude on my thesis, which was about racial conflict in China," she says, "but I feel like this is sort of bragging…" The point is, I say, that there were other avenues open to her, especially as she had learned to speak Mandarin. "I might have become a Sinologist had Tiananmen Square not happened," she agrees. "I was going to get a job teaching English, but Tiananmen Square made it impossible to go – both morally and practically because you'd endanger your Chinese friends."
Sorvino has made her career in independent cinema. "The only reason to wish for a more mainstream career is to be a multimillionaire," she says. "I don't actually like extreme fame. The thing is now I have my four children [with her husband, the actor Christopher Backus] and that's the heart of my life, so my career is gravy for me."
Nowadays, like many other art-house cinema stalwarts, she is excited by the possibilities of cable television drama. "I was offered television series every year – ones that are very big and successful now – and I turned them down. But there came a point where the scripts became really daring and exciting – like independent films except with budget and reach. And I have been frustrated that you can make a fantastic film like Union Square [Nancy Savoca's 2011 comedy drama] that maybe has my best performance but no one saw it. Matthew McConaughey's turn in True Detective completely blew me away… that's some of the best male acting I've seen and it's on TV and the writing is superb. This medium is the brave new world."
'The Intruders' begins on Monday 27 October at 9pm on BBC2
Join our new commenting forum
Join thought-provoking conversations, follow other Independent readers and see their replies