Monica Bellucci interview: 'Love and sexuality is a matter of energy not age'
Bellucci is starring in On the Milky Road, a love story that unfolds amid the Balkan War. Here she talks to Kaleem Aftab about trusting directors, playing a Bond girl and why age is merely a number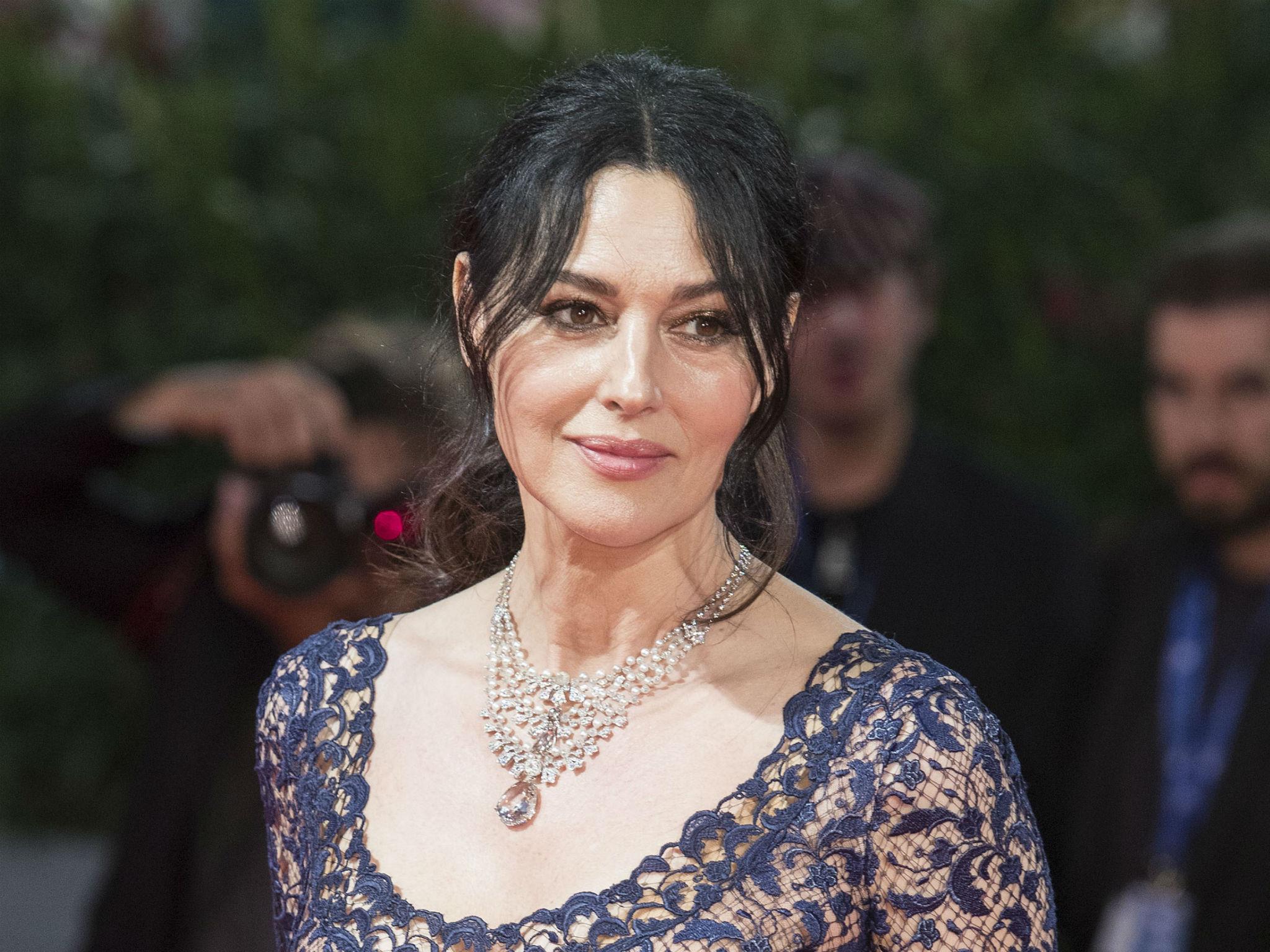 "I am shy, can you imagine what I'd be like if I wasn't shy!" protests the gregarious Monica Bellucci at the San Sebastian Film Festival after the premiere of her new film On the Milky Road.
Bellucci is the Italian bombshell that is making a mockery of the suggestion that when actresses reach a certain age, they can no longer play the love interest or sexy. Last year, aged 50, she became the eldest woman to wow James Bond and now in Emir Kusturica's On The Milky Road, set during the Balkan war, Bellucci plays the fantastical love interest of a Serbian milkman, played by the director.
As has seemingly been par for the course since Bellucci first started modelling as a 13-year-old, the film features a man going gaga at the sight of her. He even risks the wrath of a warlord to be with her. An experience that French bad boy Vincent Cassel can attest to, who married his co-star after meeting her on the set of The Apartment in 1996. That film also served to confirm Bellucci's transfer from the catwalk to the big screen. The actress was nominated for a Cesar Award for her role as a stage actress whose best friend destroys her relationship.
She is probably best known for her turn in Gasper Noe's time bending rape revenge drama Irreversible, which opened the Cannes Film Festival in 2002 and made headlines around the world for it's disturbing 9-minute rape scene. It was another role played alongside Cassel, with whom she has two children. When the couple split in 2013, it created Brangelina levels of reactions in Paris, where Bellucci still lives.
Able to speak four languages, she has done roles in French, Italian, English and Farsi. Her best known American credits include playing bored wife Persephone in The Matrix Reloaded and The Matrix Revolutions and Mary Magdalene in The Passion of the Christ.
So she was a bit surprised when two-time Palme d'Or winner Kusturica asked her to speak Serb: "I needed to have a [voice[ coach with me all the time," says Bellucci, "because I had to learn what I had to say [phonetically]. There was a lot of improvisation on set, as Emir used the script as a base and then things can change a lot with him."
She says that the director had more faith in her, than she did herself. An experience she says is not unusual in her career, in which directors have cajoled her to think outside the box: "When Emir gave me the film, I said to him, you do realise the whole film is in Serb, but he said, 'you can do it'. How do they know? Like when Sam Mendes came with Spectre. I mean it's not a normal day when a woman of 50 years gets to be a Bond girl. And now I've just finished a role where I play an opera singer in Mozart in the Jungle, and I've never done this in my life, so sometimes with directors, they see further."
Mendes for his part, said he thought Bellucci would be perfect because she has "mystery and depth...I just thought Monica Bellucci made sense for the story, the ages of the characters we are dealing with and she has an incredible seductive presence in life and in the movie."
Spectre in pictures
Show all 16

As for On the Milky Road, the film took four years to make, as Kusturica added a series of special effects that augment the magical realist elements, which he combines with his usual cacophony of loud music and crazy shenanigans. The film features a marvellous opening sequence that highlights the confusion of war with bloodied animals, most notably pigs heads and geese, and soldiers shooting from all sides, at whom and for what purpose is difficult to know.
Access unlimited streaming of movies and TV shows with Amazon Prime Video
Sign up now for a 30-day free trial
Sign up
Access unlimited streaming of movies and TV shows with Amazon Prime Video
Sign up now for a 30-day free trial
Sign up
Yet while the film has the Balkan War as a backdrop, it's largely forgotten as the love story unfolds. Bellucci and the film play up the human drama, rather than any political message that some may seek. "I've been for four years in this land of beauty and suffering, but I approached this project from a human and artistic point of view and not a political one."
Bellucci adds, "It's so difficult for us to make a judgment about what happened over there. I met so many people, and people who have been through so many horrible things, so while the film is set during the Balkan war from 1990 – 1994, it is not necessarily a political film. Even though there is violence, it remains a poetic and dreamlike world with a love story, of two adult people who have been through so many hardships. For me this film proves that love and sexuality is a matter of energy and not age."
Indeed, experience is an increasingly sexy attribute as far as the actress is concerned. She divulges, "And sometimes I meet women when they are 60, 70, 80, 90 and they are just amazing. Some men too. I remember when I worked with Helmut Newton and he was 81 at the time and we were sharing this experience together and it was just unbelievable, full of energy. He is an incredible man. I like a man that has had experiences and been through so many things in their lives and survived. These men are very sexy and it doesn't matter what age they are."
As if to prove the point about her sexuality not diminishing and seemingly obliterating her own assertion of being a shy person, Bellucci recently made headlines for posing nude in a swimming pool for Paris Match. She says she decided to do the shoot, because, "I like doing it. I come from the world of fashion and I love pictures."
Yet Bellucci can be coy when she wants to be. Asked about her forthcoming role in the much-anticipated Twin Peaks revival, Bellucci smile, takes her hand up to her mouth and clasps her fingers, so announcing she's staying mute. I don't even think a damn fine cup of coffee or cherry pie would induce her to say anything more. It seems the shyness arises, when it suits and it's Bellucci that is in control.
On The Milky Road is playing at the London Film Festival on 15 and 16 October. The London Film Festival will take place from 5-16 October.
Join our commenting forum
Join thought-provoking conversations, follow other Independent readers and see their replies