Morena Baccarin on struggling to be Brazilian and American and playing a prostitute in Deadpool
A certain TV show has made Morena Baccarin a  super-powered Hollywood actress. The passion comes from her Brazilian heritage, she says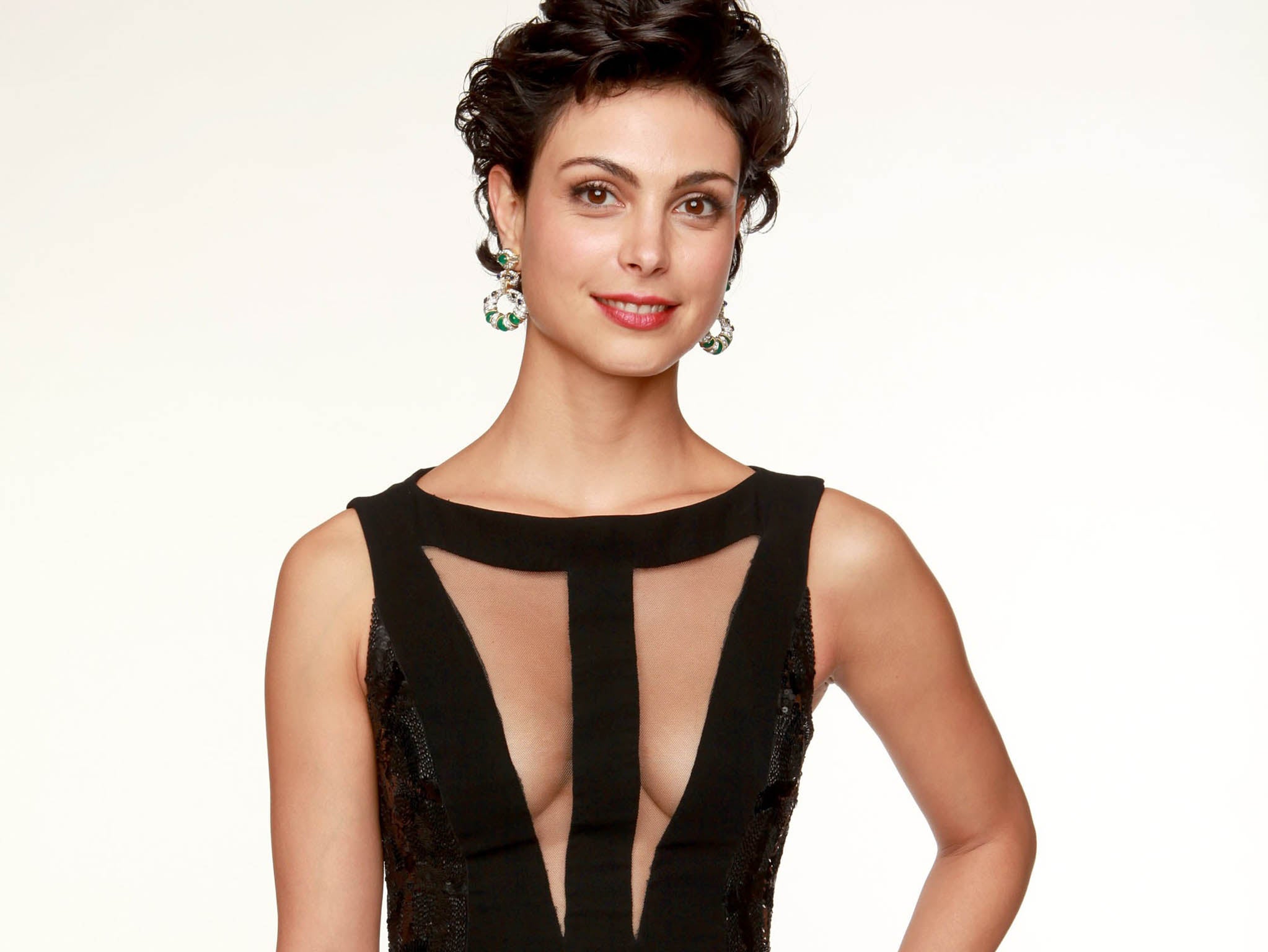 Morena Baccarin had many sci-fi admirers thanks to her roles in Firefly, V and Stargate Sg-1, but it was her nuanced performance in Homeland which brought her to wider attention.
As the smouldering wife of Damian Lewis's character – double-agent US Marine Sergeant Nicholas Brody – and a perfect foil to Claire Danes's manic CIA operative Carrie Matheson, the Brazilian actress was subtle and mesmerising.
At 36 years old, she is having a moment, cast as the female lead in the highly anticipated comic-book movie Deadpool, while also co-starring in the hit TV series Gotham.
"It's a really sweet time in my life," says Baccarin, who is expecting her first child with her Gotham co-star Ben McKenzie. When she signed on to play Gotham's medical examiner Dr Leslie Thompkins, she hadn't expected to fall in love.
Married to director Austin Chick in November 2012, the couple have a son Julius, now two-and-a-half years old, and news of her pregnancy with McKenzie was revealed after Chick filed for divorce last autumn.
When we meet, her baby bump is proudly dressed in a figure-hugging, grey Raoul cashmere dress. Born in Rio de Janeiro, she was 10 when she moved to New York City with her father, a TV editor, and her mother, an actress.
They enrolled her at a performing arts high school, the same one as her future Homeland co-star Danes. She later studied theatre at New York's renowned Juilliard School. "My mom would take me to the theatre and my uncles are actors, artists and directors," she says.
"I have this internal cultural struggle where there's a side of me that is very Brazilian that misses the food and culture, and a side of me that's very American that really loves the structure and predictability here. I feel that my drive and ambition is more American, while the passionate, laid-back side of me is all Brazilian."
Actors you think have won Oscars but haven't
Show all 14
It was the easy-going version of herself that helped her to snag her latest role as Vanessa, a prostitute who falls in love with Ryan Reynolds's mercenary Wade Wilson, aka Deadpool. "I'm Vanessa, I'm the girl, the woman. We meet in a bar, fall in love and then he gets cancer."
Access unlimited streaming of movies and TV shows with Amazon Prime Video
Sign up now for a 30-day free trial
Sign up
Access unlimited streaming of movies and TV shows with Amazon Prime Video
Sign up now for a 30-day free trial
Sign up
Not much of a comic-book fan, it wasn't until after the audition that Baccarin learned how Vanessa would ultimately morph into the shape-shifting Copycat, a role which stands to put her into an exclusive group of super-powered actresses that includes Scarlett Johansson, Jennifer Lawrence, Anna Paquin, Halle Berry and others.
"I was so dumb," she laughs. "It wasn't until I was having a costume-fitting with the director and he said, 'Well, you're going to play this iconic character', and I was like 'What are you talking about?' I thought I was just the girlfriend. I had no idea Vanessa turns into somebody else.
Tim jokes about how I seemed totally unfazed at my audition, dropping all these F-bombs and talking to them like I was their friend, whereas all of the other girls were super-nervous."
Is there a super-power she covets? "The ability to cut through bullshit would be really great – and to not get in trouble for it." She prides herself on her tough skin. "You learn to not take things personally and to just let it roll off of you.
"Of course you get upset about things. How could you not be affected by being fired from a job or getting told you're not right because your hair isn't blonde or your butt's too big or your legs aren't skinny enough? But it's just somebody's opinion and you can't believe everything."
Certainly she believes that women get the short end of the stick. "You get scrutinised for every aspect of your body and your mind and anything that comes out of your mouth. A guy who behaves badly is sexy. A woman who behaves badly – or just behaves like she wants to behave – is slutty or looked down upon."
She filmed the Deadpool role in a chilly Vancouver when her son was just 18 months old, and she unconsciously touches her growing belly when she says that she wouldn't want her children to follow her into showbusiness.
"My career has been very good to me but, really, the odds are really slim. It's a tough life and you deal with a lot of rejection and unemployment, and if you're lucky to have a career it's not easy. So you just want to protect your kids from the pain of rejection."
Thankfully, her own mother wasn't of the same persuasion and cast her in a church play, Mother Mary, when she was 14. "She was great and whenever I felt, 'I don't know if I should do this. I'm not working. I haven't had a job in two months', she would always say, 'Don't worry about it. It's going to turn around. It is what it is'."
Consequently, despite some major career troughs, Baccarin never considered quitting. "There was no real alternative. I thought I could supplement my career with waitressing but I don't have another skill. Acting is what I do. I don't know whether it's dumb luck, but I have been able to support myself doing this."
Her role in Homeland was a real game-changer. "I think it took everyone by surprise," she says "Jessica Brody could easily have been perceived as a victim, but the writers were wonderful in giving her substance and strength so she wasn't just this poor, suffering woman."
Surprisingly, Homeland didn't lead to typecasting. "No, I didn't get too many mom roles after that," she says. "In the supermarket, I can spot a Firefly fan from a mile away. Homeland fans are typically more mature and reserved. They're not going to 'fan' out, instead they'll say something like 'I enjoy your work'. V fans tend to be fanatical."
A little-known fact is that she once shot a pilot for the US sitcom It's Always Sunny In Philadelphia playing a transgender woman. It's a role she still wishes she could have taken. "I know those guys really well because we went to college together, and they were shooting this themselves before it became a show or a pilot and we were all unemployed in Los Angeles.
"I thought it was hilarious. When am I ever going to get cast as a chick with a dick? That's never gonna happen. So I was 'Hell, yeah, I wanna play that.' We had a blast but, unfortunately, when the show got picked up I was shooting something else, so I couldn't do it."
She now divides her time between Los Angeles and New York, mostly living in NY where Gotham is filmed. She bought an duplex in Santa Monica with her first big pay cheque, renting out the second apartment to Mad Men actress Jessica Pare.
"We lived next door. GQ depicted us as having pillow fights together every night, which made me laugh because that's really not went on."
Outside of her career, her main passion in life is her son and, of course, her unborn child. "I also love cooking," she says. "I like the simple things in life, sitting with friends and having a glass of wine, a nice meal and taking those moments that you rarely get.
"I feel as if everything has gotten so rushed with social media and phones and tweeting and texting and emailing; you never have a free moment and, when you do, you're on your phone just trying to get stuff done. If an hour goes by, people are like, 'Did you get my thing?' Sometimes it's nice just to forget everything for a second."
Second to supermodel Gisele Bündchen, she may be one of Brazil's sexiest exports. "I don't know Gisele, although I like that we're in the same sentence because she's quite beautiful."
'Deadpool' is released on Wednesday
Join our commenting forum
Join thought-provoking conversations, follow other Independent readers and see their replies