Movies You Might Have Missed: Monty Python's The Meaning of Life
The British musical sketch comedy film might have been a disappointment to the Monty Python troupe, but it still contains some of the funniest scenes ever committed to film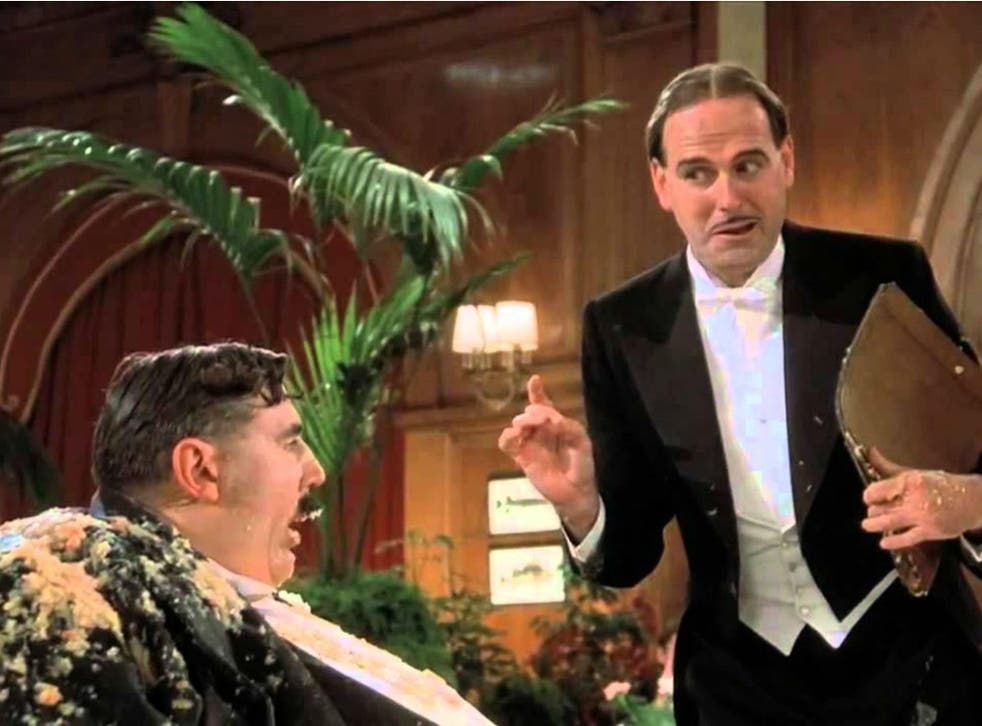 Terry Gilliam recently spoke movingly about his namesake and Monty Python colleague Terry Jones. The latter has been suffering with dementia and Gilliam said: "You see a friend, somebody you know really well, kind of disappearing ... It's really sad because there's nothing one can do about it."
The pair co-directed Monty Python and the Holy Grail before Jones took on sole directing duties with Life of Brian and the troupe's final movie The Meaning of Life (1983). While not as acclaimed as its predecessors, perhaps as a result of its sketch format, The Meaning of Life still contains some of the funniest scenes ever committed to film.
The writing process was far from easy. The two previous Python films had employed loose structures but retained a narrative of sorts. With their final film, Michael Palin has said they opted to "give it the loosest structure, the meaning of life" since they had lots of material but no obvious through line. John Cleese believes the film was "a bit of a cock-up" and the other Pythons have also suggested it was not up to their previous big-screen efforts. Despite this, it was awarded the Grand Jury Prize at the 1983 Cannes Film Festival and has several iconic moments.
The first sketch, The Miracle of Birth, includes the song "Every Sperm is Sacred", a satire of the Catholic attitude towards reproduction presented as a Lionel Bart-style musical number. Jones and Palin co-wrote the lyrics and the latter, ever the gentleman, was sensitive to the child actors on set and said, "those little rubber things on the end of my sock" with a ruder word replacing "sock" in post-production.
Other highlights include Cleese's school teacher taking a very practical approach to sex education, and the infamous Mr Creosote sketch, arguably Jones's finest hour, in which an obese restaurant patron consumes a ludicrous amount of food while vomiting repeatedly. The conclusion of the skit, in which Creosote is persuaded to eat an after-dinner mint and promptly explodes, remains almost impossible to watch decades after its release. Quentin Tarantino, no less, has said it is the only time he has been disturbed by graphic violence on screen.
Since Python, Jones's career as a filmmaker has been something of a disappointment, but the invention and ambition on show here mark him out as a truly remarkable talent. That's not to mention co-writing the script and the film's iconic song as well as starring in the standout sketch. All that, and the film actually concludes with the meaning of life. This might be third in the canon of Python feature films but it's a good third with incredible moments.
Register for free to continue reading
Registration is a free and easy way to support our truly independent journalism
By registering, you will also enjoy limited access to Premium articles, exclusive newsletters, commenting, and virtual events with our leading journalists
Already have an account? sign in
Register for free to continue reading
Registration is a free and easy way to support our truly independent journalism
By registering, you will also enjoy limited access to Premium articles, exclusive newsletters, commenting, and virtual events with our leading journalists
Already have an account? sign in
Join our new commenting forum
Join thought-provoking conversations, follow other Independent readers and see their replies