Mr Turner: Exploring Margate and tracing the inspiration behind Mike Leigh's latest film
The great Romantic painter JMW Turner spent much of his time in Margate and his time there is the subject of Mike Leigh's latest film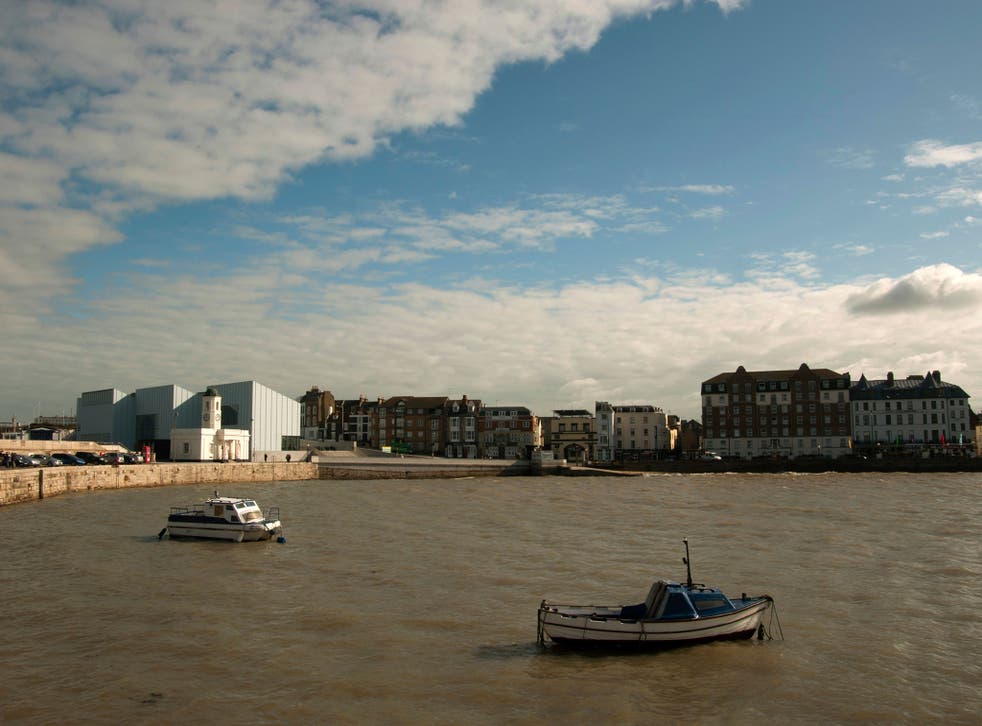 "The light there is extraordinary," says Georgina Lowe.
"You could see exactly why he liked the town." The producer of Mr Turner, Mike Leigh's new film, vividly recalls her initial recce of Margate; a place that the romantic artist Joseph Mallord William Turner returned to again and again, and where much of the movie's action is set.
In the end, Kingsand in Cornwall stood in for Margate during filming (the Kentish town was judged to have changed too much since Turner's time for it to be used) but it's still possible to trace the artist's legacy here. And while Timothy Spall as JMW Turner arrives in the Kent town via steamer (it used to take nine hours by sea from London), today it can easily be reached by train from London in just 90 minutes.
I start my pilgrimage at the most obvious point – the Turner Contemporary gallery, which gave the town a new sense of purpose when it opened in 2011, on the spot where the artist once lived with his landlady, Mrs Booth, in her since-demolished harbourside boarding house.
"All of Turner's practice was about light, and the quality of the light we get here is superb, because Margate is north-facing. It's less aggressive; steadier," says Victoria Pomery, director of the gallery. And as she speaks we both find ourselves unable to take our eyes off the view, with the endless sea meeting infinite sky, and a narrow strip of pale sand.
Squinting out from here, the scene could be Turner's 1840 painting, New Moon; there is even a dog frolicking on the beach. "London, like today, was incredibly busy, and here he might have got a sense of open space," Pomery continues.
The gallery's current exhibition, Jeremy Deller: English Magic, which was unveiled at the Venice Biennale, is all about iconoclasm, and in this setting includes some of Turner's Venice paintings selected by Deller. They're as radical and different as his paintings of Margate, capturing an atmosphere rather than a place.
Leaving the gallery, I walk up a staircase that leads to the flat rooftops of the buildings on Margate's Harbour Arm, where the boats once landed from London. Mr Turner depicts these as busy docks, with sails aplenty and a bustling fish market. All this open space feels exhilarating; where the painter once roamed, there are now cafés and small art galleries.
Turner is not the only artist to have been inspired by Margate. Almost a century later, TS Eliot, while recovering from nervous exhaustion, wrote some of The Waste Land in a seafront shelter: "On Margate Sands/ I can connect/ Nothing with nothing", perhaps suggesting that the trip didn't do much for his state of mind. And, decades later again, Tracey Emin grew up here and has referenced the town in several of her works.
Artistic inspiration aside, Turner had another motive for regularly returning to Margate – his landlady-turned-lover, Mrs Booth. In Mr Turner she is a reassuring, down-to-earth presence, but when I find her at the end of the Harbour Arm, she is an assertive, nine-foot-high bronze. Ann Carrington created the sculpture as an overgrown version of Margate's kiss-me-quick "shell lady" souvenirs – with a scallop-shaped crinoline and bonnet. Seagulls whirr and caw overhead as Mrs Booth gazes eternally out to sea. She and Turner lived together, moving to Chelsea in 1846 until his death in 1851.
Access unlimited streaming of movies and TV shows with Amazon Prime Video Sign up now for a 30-day free trial
Sign up
Wandering back into Margate's centre, I discover a kernel of well-kept 18th- and 19th-century buildings. The town's edges remain somewhat desolate, but the old quarter is a quiet cluster of pavement café tables on Market Square, with antiques and vintage shops almost everywhere I look.
A short walk away is the blue plaque marking where Turner went to Coleman's School. Professor Michael Rosenthal, an expert on the artist, tells me that this is one reason that the town was so important to him, adding that the prospect of anonymity could also have been a factor.
"In Margate you were on the geographical edge of where the UK meets the rest of the world. He was also a very private person, so if he could pop out of London, get off the boat at Margate and be lost, then that suited him down to the ground," Rosenthal explains. Turner used to come here under a pseudonym: first Mallard and later Mr Booth.
Who knows if, thus disguised, the artist may have visited Margate's mysterious Shell Grotto, which was discovered in 1835, a few years after he first stayed with the Booth family. It's still the town's standout sight, so I descend the rough tunnel that leads to more tunnels and rooms decorated in floral patterns made up of 4.6 million shells.
No one knows when or why the grotto came about – theories of its origins range from a Phoenician temple to a Georgian folly. The interior is almost silver, the shells' natural colour dulled by the Victorian gas lamps that used to illuminate the way.
As I emerge into the light, a local tells me to stay harbourside to see a proper Turner sunset, and recommends Rickus Cocktail Bar, whose terrace looks out to sea. As the sun goes down, its canvas tinges orange, vermillion and tangerine, with smeared clouds that could have been applied with the painter's thumb. The sky here is bigger than anywhere else, it seems, and the sunset is a nightly work of art.
'Mr Turner' is in cinemas from Friday
Register for free to continue reading
Registration is a free and easy way to support our truly independent journalism
By registering, you will also enjoy limited access to Premium articles, exclusive newsletters, commenting, and virtual events with our leading journalists
Already have an account? sign in
Register for free to continue reading
Registration is a free and easy way to support our truly independent journalism
By registering, you will also enjoy limited access to Premium articles, exclusive newsletters, commenting, and virtual events with our leading journalists
Already have an account? sign in
Join our new commenting forum
Join thought-provoking conversations, follow other Independent readers and see their replies