The Independent's journalism is supported by our readers. When you purchase through links on our site, we may earn commission.
Mulholland Drive interview: Star Laura Harring offers her own interpretation of David Lynch's masterwork
The critically-acclaimed film returns with a brand new restoration, set for release on DVD and Blu-ray 22 May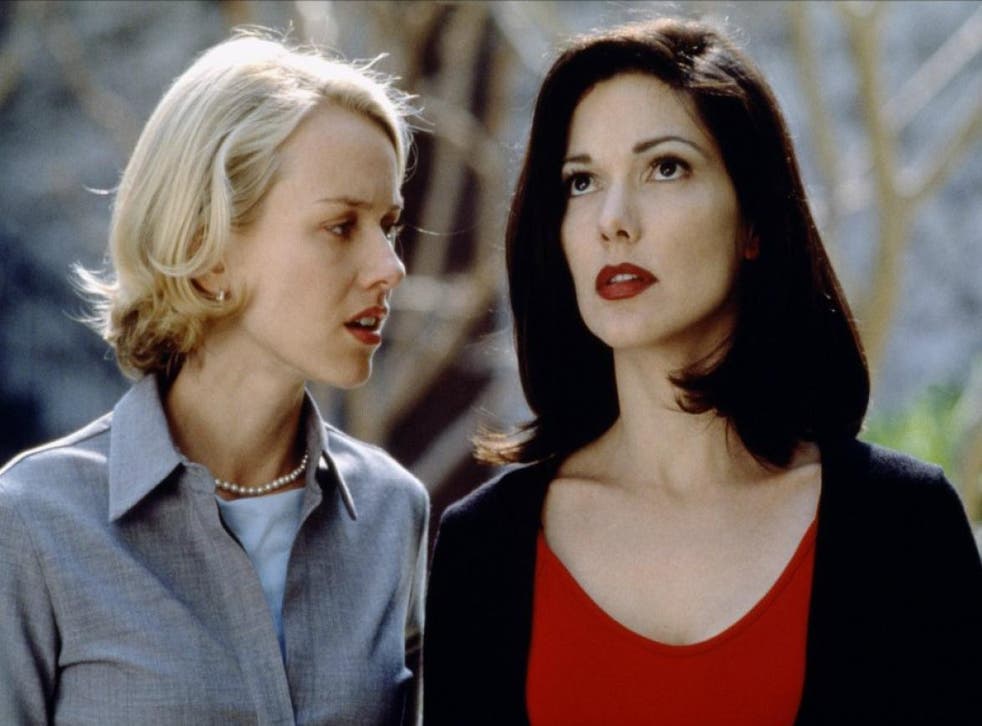 "I don't ever have to work again," Laura Harring laughs warmly: she's referring, of course, to her role in David Lynch's Mulholland Drive, which premiered 16 years ago at the Cannes Film Festival.
Though Harring has worked steadily for over 30 years in the industry, it's the role of the dreamlike, troubled brunette Rita (or was it Camilla?) that picked her up and threw her into the celestial gallery of cinematic immortality.
Reckoning with that feeling, that idea of permanence, seems a momentous notion for one person to take in, especially looking back now with over a decade-and-a-half having passed by. "I just feel very honoured," Harring chimes. "I never expected it. I mean, when I saw it, I thought it was a masterpiece. But to have critics vote it the best film of the 21st century and, then, in two different polls? I'm in awe."
Lynch's 2001 work did, indeed, top both BBC Culture and Film 4's lists of the greatest films from 2000 onwards. It's a measured success, certainly, considering it's a century only just breached, yet there's something fascinating about tracking its journey through the cultural canon. How will it be considered in 10 years? In 20 years? In 100 years?
To see Mulholland Drive's growing canonical appreciation is like watching a journey of maturation, with each passing year and each critical reconsideration seeing its power escalate and its reputation become only more hallowed.
"I left my mark in Hollywood," Harring reflects. "I'm in a classic. It's a meaningful film that is timeless. And it messes with people's heads in the sense that it makes you have all these different interpretations. Every single time you see it, you have a different interpretation. To me, that's film. That's the reason why we do it."
Lynch's integral sense of inscrutability is perhaps, too, why his cult TV show Twin Peaks returns now to screens with such a sense of self-fuelling anticipation. Its marketing campaign seemed barely needed, not compared to its brethren remakes and revivals, since we flock almost compulsively both to Twin Peaks and to Mulholland Drive with the draw of any real-life mystery.
Unsolved murders, conspiracy theories, UFO sightings: their undying popularity is driven by the belief that, through solving unanswerable questions, the world seems just a little less like some existentially ungraspable place. The same, arguably, goes for Lynch's work.
Much of Mulholland Drive's own mystery rests on its third act reveal that what we've clung to as the reality presented by the film's narrative so far has, in fact, been nothing but the fevered imaginings of Diane (Naomi Watts). We fall out of the glimmering, hopeful world of Betty (also Watts)'s quest to aid Harring's mysterious Rita uncover her identity, and straight into Diane's embittered existence.
Access unlimited streaming of movies and TV shows with Amazon Prime Video Sign up now for a 30-day free trial
Sign up
We slowly come to understand that Diane has grown wild in her attraction to, and obsession with, a woman named Camilla (also Harring), and it's the rejection that drives her delusions to the film's bleak conclusion. Diane, hallucinating, clambers onto her bed and grabs a gun from her bedside table, ending her life. Superficially so, at least, as Mulholland Drive really exists only through personal interpretation.
"It's like when you read a book," Harring offers. "You feel so fulfilled, because you pictured the words in your head. And I think Mulholland Drive is like that. You see the film and you picture all these meanings. What does the box mean? What about the cowboy? What happens?"
"Who was killed? Was it Diane? Was it Camilla? Was it Rita? Was it Betty? Who was on that bed at the end? And, when you think about it, it could be any one of them; the film works with any character. It's very interesting the way David put this together in such a mysterious way, so that people could have their own journey. I've received letters from psychologists, from psychiatrists, from doctors who write a thesis on the meaning of Mulholland Drive, and I find that fascinating."
Harring's own interpretation, certainly, has mutated and developed over multiple viewings. "I still think part of it is a dream, and whose dream it is, well, every time I see it, I have a different theory on that," she explains. "But, I think what I saw this last time, that I hadn't seen before, was that, you know, I think he's talking a lot about the ego. How much we suffer when we compare ourselves to other people. How much we suffer when we feel like someone has a better career, is prettier, has a better body, whatever it is – comparison brings suffering."
"We're meant to be this expression of the great universe," she continues. "Of this beautiful, powerful intelligence that created this world. And the planets, and the galaxies. Which are all different expressions, there's not one better than the other. And I think that's the interpretation I got on this the last time. I think that the dead body at the end is the death of the ego, and how we can really be free at the end."
It's fascinating, in a way, to hear the star of a film trying to interpret her own work in such a way. It begs the question: how did Harring deliver such a profound, connected performance if she was never privy to Lynch's ultimate game plan?
"He was very mysterious," she notes. "But he directed me in metaphors and similes." A few examples she offers: "like a dark cloud hovering over you at all times and it's scary and it's creepy and you don't know what it is, but it makes you scared", "walk like a broken doll", and "walk like a kitty cat".
And, though Harring will always be remembered for what she gave to Rita – that sense of ethereality, that classic Old Hollywood grace, masking something darker within – she's still humble about her own performance: "It was his direction, it was in the words that he said. That was all David."
'Mulholland Drive', in a new digital restoration of a 4K transfer, is out on DVD and Blu-ray 22 May.
Register for free to continue reading
Registration is a free and easy way to support our truly independent journalism
By registering, you will also enjoy limited access to Premium articles, exclusive newsletters, commenting, and virtual events with our leading journalists
Already have an account? sign in