Naomi Watts on 'While We're Young', her roots and being a mum
Naomi Watts explores the questions of age and identity in her new film, pertinent topics for an actress in her prime. She talks to Gill Pringle about her role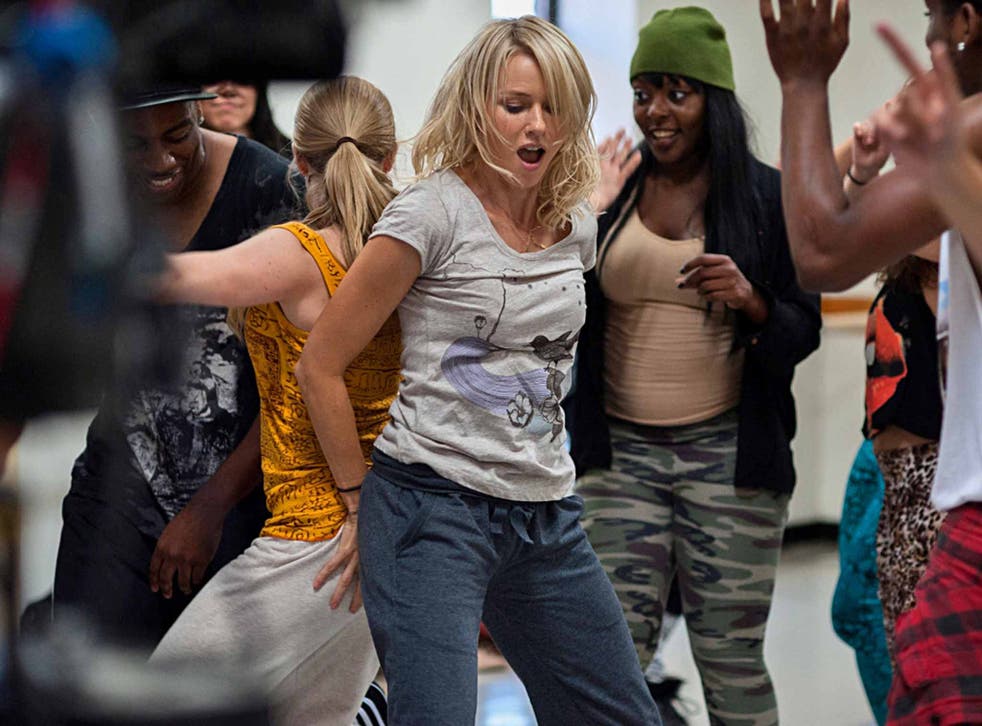 Middle-aged? Naomi Watts? Absolutely not.
"I know it's silly but I still think I'm 28," laughs the actress, confessing to the many occasions when she feels the full extent of her 46 years.
"Just like this morning, when I'm trying to read my phone," she says reaching for her neon-green iPhone, holding it aloft and demonstrating her best squint.
If age isn't something one normally discusses in polite conversation with an actress over the age of 30, then today it's perfectly acceptable, with Watts starring alongside Ben Stiller in Noah Baumbach's While We're Young, a Woody Allen-esque tale about a middle-aged New York couple whose thespian feathers are ruffled when they are befriended by a couple half their age.
It's another beautiful day in Los Angeles when we meet, and Watts is a spring vision in a blue floral Anna Sui dress and white Jimmy Choo sandals. I tell her she looks anything but middle-aged, and she smiles: "You're very kind. I think young kids keeps me and Liev very young; the need for silliness still is very much in operation because your kids want you to roll around on the floor and be goofy with them," says the actress, who has sons, Alex, seven, and Sammy, six, with her partner of 10 years, actor Liev Schreiber.
"I'm not sure why I still think of myself as 28 – maybe that's the point where you start growing up and then you just feel the same for evermore. Of course, there are horrible reminders like in the morning when you get out of bed and 'Ow my back!' or, God help us, when you catch yourself in the mirror and go 'Oh right, I am that. I am a fully mature woman.' "
In While We're Young, she portrays a married woman who has chosen not to have a child but, after reaching an age where it's no longer an option, changes her mind.
It's a hot-topic issue and she doesn't hold back. "I don't know that any woman could ever not think about it, at some point; even making the choice not to do it and getting to the place of peace of choosing not to be a parent, there would have still been some struggle in between. I'm completely respectful of anyone who chooses not to have children. It's hard work being a mum, so you've got to want it," she says, relating her own recent experience after returning from shooting the thriller Shut In in Montreal.
"I'd been gone 10 days, which is the longest time I've ever been gone from my kids, and I got back after shooting in sub-zero temperatures all through the night. I arrived pretty much a wreck; no sleep, shooting all night, and came back home to my boys who are just go, go, go! So physical. So extreme! And I realised I'm not cut out for this! As much as my kids keep me young, they also have the reverse effect when I don't have the energy."
Like her While We're Young character, she wishes she'd begun her family sooner, to this day yearning for a daughter. "I wish I'd started having kids sooner so I could have had a few more," she says wistfully.
Access unlimited streaming of movies and TV shows with Amazon Prime Video Sign up now for a 30-day free trial
Sign up
Best known for her roles in low-budget independent films – co-starring in this year's award darlings, Birdman and St Vincent – when we meet she's basking in the glow of unexpected box office glory in Insurgent, the second film from the popular Divergent franchise.
If Australians often claim Watts for their own, then she is equally affectionate of her British birthplace, experiencing her formative years in the UK before moving to Australia, aged 14.
"Look, it's the million dollar question I just cannot answer," she says, apologetically. "And if I ever attempt to answer it, I'm going to upset somebody. The truth is that I've spent more time in America out of all three countries. I spent the first 14 years in England, just under 10 in Australia, and then the rest in America.
"I've still got only one passport and that's British and my mum still lives between there and Australia. I feel very much a part of both countries. Filming Shut In in Canada, the director is English and the boy who plays my son is from up north and ... all these expressions come out that I'd forgotten existed and they just warm my heart. It makes me feel good inside, like that's who I am."
The daughter of Welsh-born costume designer Myfanwy Roberts and one-time Pink Floyd road manager Peter Watts, she was born in Shoreham, Kent. "We moved around a lot and lived in London for a while. I went to boarding school in Suffolk and we lived in Wales because that's where my grandfather is from, and we also lived in Cambridge," she recalls.
Seven years old when her father died from an apparent heroin overdose, she was taken to Australia when her mother emigrated and Watts and her elder brother Ben spent time with their grandparents in Sydney. "I left England kicking and screaming. I had a very serious boyfriend and of course your first love is so important. I was only 14, but we were madly in love."
To this day, her father's premature death makes her cautious. "I grew up with a parent missing so I've no interest in jumping out of planes and stuff like that. I shudder at the thought. I did things like that in my twenties, but the daredevil side in me since I've been a mum has definitely dissipated."
Nursing a cup of green tea, she leads me to a pair of comfy seats in an otherwise austere conference room on the curtained second floor of a Beverly Hills hotel.
There's a scene in While We're Young where her character takes part in a shaman-led ayahuasca ceremony; participants imbibing on a psychedelic brew which allegedly helps people reach enlightenment.
Perhaps it's the memory of her own father's lifestyle, but she trembles when you ask her about it. "No, that kind of thing does not appeal to me at all. The idea of sitting in a roomful of people and watching them throw up. I'd rather stick needles in my eyes," says this eager proponent of transcendental meditation and Buddhism. "I discovered meditation a long time ago and that really clears my mind. I am not religious at all."
Urged by her long-time best friend Nicole Kidman, Watts moved to LA in the mid-1990s, struggling in small roles until David Lynch plucked her from obscurity, casting her in his critically-acclaimed thriller Mulholland Drive in 2000. Roles followed quickly, and she achieved box-office success with the 2002 horror movie The Ring, falling in love with her co-star Heath Ledger a year later in Ned Kelly. They dated for nearly two years.
Her biggest box office to date remains 2015's King Kong, receiving Oscar nods for her roles in 21 Grams and The Impossible. Critics were harsh of her portrayal of Princess Diana in 2013's biopic Diana, and today she is more wary of her choices, grateful to the Divergent franchise for opening new horizons. "That certainly helps if I want to do something that's a little weird where people are not so quick to jump at financing something that's a little off-centre."
Though Baumbach's While We're Young continues to redefine what it means to be middle-aged, Watts echoes the voice of the baby-boomer generation. "It's interesting because I don't think of myself as middle-aged, especially because we have young kids ... We kick a ball with our kids - perhaps they force us out of it? Maybe we would be moving more slowly if we didn't have them. I'm not sure."
While We're Young opens on 3 April
Register for free to continue reading
Registration is a free and easy way to support our truly independent journalism
By registering, you will also enjoy limited access to Premium articles, exclusive newsletters, commenting, and virtual events with our leading journalists
Already have an account? sign in
Register for free to continue reading
Registration is a free and easy way to support our truly independent journalism
By registering, you will also enjoy limited access to Premium articles, exclusive newsletters, commenting, and virtual events with our leading journalists
Already have an account? sign in
Join our new commenting forum
Join thought-provoking conversations, follow other Independent readers and see their replies