No mystery why we've loved Kristin Scott Thomas for so long...
Kristin Scott Thomas's latest, wonderfully puzzling role is the perfect fit for this most enigmatic of actresses, says Kaleem Aftab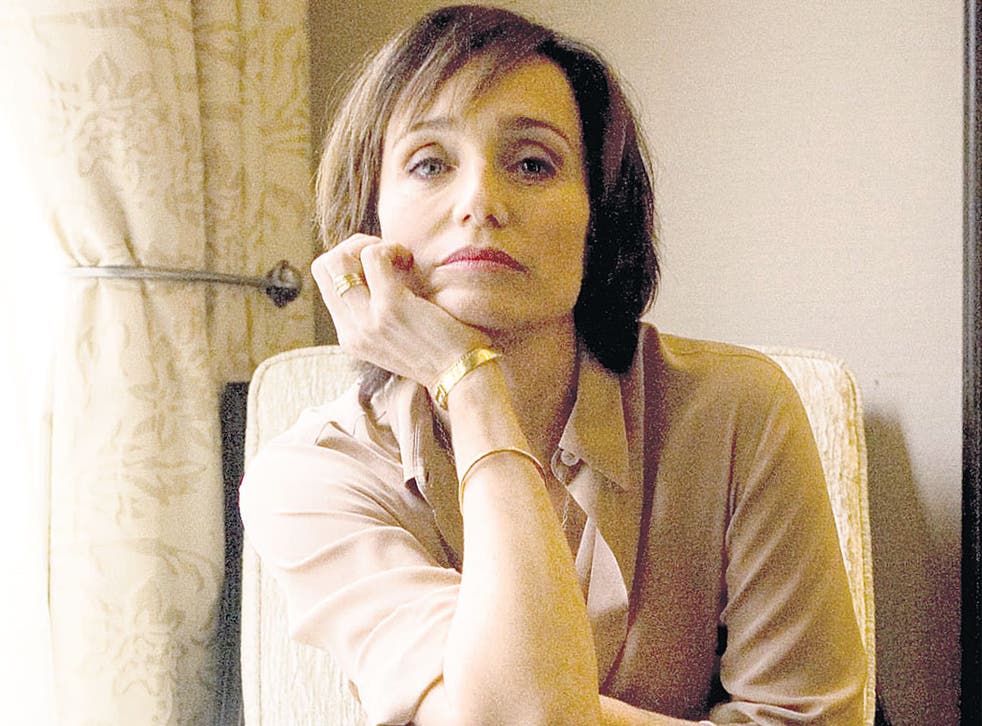 'Was it difficult to play an enigma wrapped up in a mystery?" posits Kristin Scott Thomas as we sit in the lavish surrounds of the Hotel Mandarin in Paris chatting about her role in The Woman in the Fifth. "It was an interesting challenge because it's true that this character doesn't make much sense as far as characters are concerned. It's just sort of layer after layer of fantasy; she's a mother, she's a muse, she's a sexual partner, an inspiration and a danger."
The actress could just as easily be describing herself rather than the ethereal character she plays in Pawel Pawlikowski's adaptation of the novel by Douglas Kennedy. The "Fifth" of the title refers both to the arrondissement and the fifth dimension, the mathematical construct of a hypothetical space. This double entendre is played within the plot's central conundrum, questioning how much of the action is real or taking place in the head of the American author played by Ethan Hawke.
The 51-year-old has always been the most intriguing and enigmatic of British actresses. Born in Cornwall, she's lived in Paris for more than 30 years and says, "I do consider myself as being French, I suppose." She was awarded the Légion d'Honneur, the highest civilian award in France in 2005.
Yet on screen, in her English-language roles at least, she seems to embody the classic English rose, not just because of her beauty and high cheekbones, but also because of the icy comport that has audiences convinced that the characters she plays are totally in control of their emotions. In French-speaking parts she often gets the opportunity to play more vulnerable and confused characters.
The Woman in the Fifth seems to be a middle ground between her French and English-speaking parts. Although it's set in Paris, it's a world full of non-French protagonists, a situation she can readily relate to in her own life. "Recently I've made a lot of new friends in Paris and they're all foreign and you create this other world. There are so many non-French people living in Paris now, no one can afford to live here anymore. So many of my English friends have little apartments, it seems like this land, swivelling, a plaque tournante."
She then pauses, wondering what the word for a plaque tournante is in English, highlighting how thinking in French comes most naturally to her. She then adds that Paris is, "Like a waiting room where people are waiting for something else to happen. Like in Casablanca."
One of her new non-French friends in Paris is the Polish-born director Pawlikowski. His debut feature, Last Resort, made him a director to watch and his career seemed set to enter the stratosphere when he moved to Britain and launched Emily Blunt's career with the hit film My Summer of Love in 2004. However, his career got sidelined when his wife died suddenly of an illness; part of his process of getting back on his feet was to move to Paris.
"I think there is something we kind of touched on in the film," she adds. "There is this expat thing, the estranged people; people are kind of on islands where they create their own little worlds. People aren't where they are meant to be – they're slightly rootless and they have made a life somewhere that is 90 per cent comfortable and sort of okay, yet there is also a pull to somewhere else. I can definitely relate to that."
Playing Margit, Thomas hosts lavish social events with the movers and shakers of Parisian life. Dressed today in a fabulous leopard-print dress, it's easy to imagine the actress hosting such lavish affairs herself. It's far harder to accept the fact that the eternally beautiful woman sitting with her right leg folded underneath her in a yoga-like pose is the divorced mother-of-three.
Access unlimited streaming of movies and TV shows with Amazon Prime Video Sign up now for a 30-day free trial
Sign up
The actress has also got her fair share of English-language roles coming up. As Virginie Walters in Bel Ami she plays against type. Her character starts off as a Scott Thomas archetype, cold and ruthless, but then goes gaga over Robert Pattinson, behaving like a teenage fan of Twilight.
I ask if she wanted to play against type. "Not really; I wasn't aware of doing that," comes the initial reply. Yet she soon talks herself around to my way of thinking. "I know people think that I always play these characters who are in control and can chop someone's head off with a look. Maybe you are right in a way; that part was particularly enticing to me because she's a woman who loses all her dignity. But I also wanted to do the film because Nick Ormerod and Declan Donnellan were directing. I'd met Declan on many occasions and we'd tried to make theatre together, but it had never really worked out; so this was an opportunity."
She then reveals that she had agreed to star in an adaptation of Guy de Maupassant's Bel Ami years ago, when Vincent Cassel was cast in the lead role and she was to play the controlling female Madeleine Forestier. Coming full circle she ends by adding, "Piffle! I don't think the way that people see me in French film is so different to how they see me in English films. To do Pawel's film is great because I'm allowed to go to both places, which is exciting."
She is also in Salmon Fishing in the Yemen alongside Ewan McGregor and Emily Blunt. She plays a government spin-doctor who sees the opportunity to help a Saudi sheikh create a salmon farm in the desert as a perfect good news story for the government. "Everyone loves to hate a spin doctor," she states. "I read the book, but the screenplay departed a lot from it; most obviously, the character I play was a man in the book and was completely like Alastair Campbell. It's a real back-stabbing role."
As she chats about the different roles, she quips, "You can see how confusing it is for a person when you go from corseted nut to mysterious enigma to a nightmare panto bad person. The only thing I can remember about it are the hairstyles – and to make matters worse, two of the films were costumed by the same person. You see, actress, no brain. And every time it's the last time I'm making a film."
'The Woman in the Fifth' is released on 17 February. 'Bel Ami' is released on 9 March. 'Salmon Fishing in the Yemen' is released on 20 April
Join our new commenting forum
Join thought-provoking conversations, follow other Independent readers and see their replies