Darren Aronofsky interview: 'Noah is an odd choice for me, I admit'
The writer-director on making the most controversial biblical film yet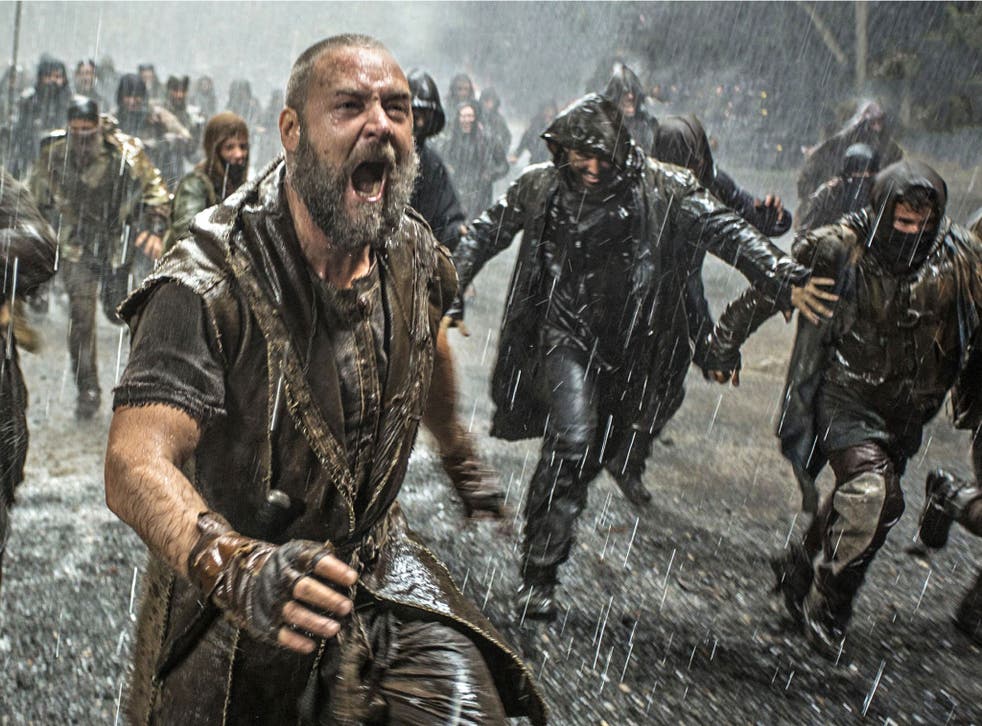 As film directors go, Darren Aronofsky's the independent peg who stubbornly refuses to fit into the Hollywood hole. "Every film I've done up to this point, no one has wanted to make but me and the film-makers," he says.
In his voice there's more defiance than resignation. His last film, the ballet-horror Black Swan, was rejected all over town, even more firmly than when he proposed to resurrect Mickey Rourke's career with The Wrestler.
It went on to gross $329m worldwide and be nominated for five Oscars, including best picture and best director, with Natalie Portman winning the best actress award.
Given this blend of cachet and cash, you might think Aronofsky deserved a break. But then venturing into the studio system with Noah was never going to be easy. "It's been my dream to do this, bring an original take on this content and bring it out to the world," the 45-year-old Aronofsky says of his retelling of the Old Testament tale.
In the end, it's been more like a nightmare – from production delays due to Hurricane Sandy to squabbles with the studio, tussles with religious groups and a marketing offensive to ensure the $125m-film doesn't sink in a flood of bad publicity.
Noah: Picture Preview

Show all 8
Never mind that the film has Gladiator star Russell Crowe as the titular ark-building, animal-saving emissary from God, and a supporting cast including Jennifer Connelly, who plays Noah's wife Naameh, Anthony Hopkins (as Methuselah) and Ray Winstone (as the evil king Tubal-cain). Nor that the Biblical epic suddenly seems hip again, with Ridley Scott making Exodus: Gods and Kings, with Christian Bale as Moses. Even Aronofsky admits Noah is "pretty odd" and out there. "I still think it's strange for people."
Since late last year, there have been rumblings that this was going to be a tough sell. Concerned Paramount executives took an unfinished cut to screen to Christian groups – much to Aronofsky's annoyance. "I was upset – of course," he says. "No one's ever done that to me." Reports were mixed, with people uncertain of Crowe's portrayal of Noah – glimpsed in one scene in a drunken stupor (despite the fact that this appears in the Bible). The studio tried half a dozen cuts – including an 86-minute version that finished on a Christian rock song. None of them worked.
Reluctantly reverting to Aronofsky's original version, the director estimates the studio "98 per cent supports everything I want in the movie". The question is, will everyone else?
Religious movies are notoriously tricky; already the film has been banned in several countries: Qatar, Bahrain, the United Arab Emirates and most recently Indonesia – the official explanation being that it contradicts teachings of the Koran. But at the same time, the studio knows a sizeable audience exists, judging by the $611m box-office that Mel Gibson's The Passion of the Christ claimed.
Access unlimited streaming of movies and TV shows with Amazon Prime Video Sign up now for a 30-day free trial
Sign up
Paramount is evidently worried enough to produce a video that solicits various opinions, including that of Jim Daly, president of Christian advice organisation Focus on the Family. "This cinematic vision of Noah's story gives Christians a great opportunity to engage our culture with the biblical Noah," he says.
While a private audience with Pope Francis was denied, Crowe, a shaven-headed Aronofsky and others from the film went to Rome to attend the general audience that takes place in St Peter's Square in Vatican City, receiving a brief blessing.
Early reviews have been mixed, ranging from Indiewire calling it "an epic misfire" to Variety arguing it's " undeniably bold, personal and visually extravagant" – which might just as easily have been cut-and-pasted from the reactions Aronofsky got from his last major studio venture, 2006's metaphysical mish-mash The Fountain. Better, though, than the vitriol poured on his Hubert Selby Jr adaptation Requiem for a Dream. "Variety attacked me personally, they said I needed therapy. People were telling me I raped them."
At least that hasn't happened with Noah, a story that has always intrigued Aronofsky. Back in his teens, growing up Manhattan Beach, the son of two conservative Jewish teachers, he was instructed to write a poem on the subject of peace in one class. Focusing on the story of Noah releasing the doves from the ark, it won a writing contest – and the chance to read it out at the UN. While he went on to study social anthropology at Harvard, it stayed with him from then on. "The first film I pitched after [his 1998 debut] Pi was Noah," he says. "But I was very, very young and had no idea what I was getting involved in."
Instead, he switched to Requiem for a Dream (2000) and followed it with The Fountain, arguably the most personal film of his career. He made it at a time when both his parents had been diagnosed with cancer (thankfully they survived), and this is reflected in the story of a woman dying of a brain tumour.
The film starred his then-fiancée, British actress Rachel Weisz (with whom he had a son, Henry Chance, now seven). While she went on to marry Daniel Craig, Aronofsky is now engaged to Canadian producer Brandi-Ann Milbradt.
Despite its enormous scale, Noah also has the feeling of being a personal project for Aronofsky. It has taken him back to where he was raised and still lives, with the two arks used for the shoot housed in Brooklyn and Oyster Bay, Long Island. When 2012's Hurricane Sandy temporarily shut down production, he was more devastated about the effect on the neighbourhood than his film. "The beach was three blocks in! Everyone lost their basements. The first day, me and my girlfriend filled a car with pizzas and just went down there and started delivering pizzas. It was really sad to see what happened."
Aronofsky has expanded and freely interpreted Noah's story, which covers only a few pages in Genesis.
"When you read the Bible, there's very little story there about it," he says. "The main perceptions we have of it in the West are more as a toy. A lot of kids get the Noah toy – an old man with a beard and animals, two-by-two, on a boat." Judging by the presence of fantasy-like creatures and a bold box-like design of the ark – described in the Bible as a "storage device" – he's more than happy to challenge received perceptions of the story.
"It felt like a good place to start to try and understand what the story means for the present day," he continues, referring to the film's strong ecological message – with the flood sent by the creator ("God" is never mentioned) to wash away mankind for abusing the Earth. Aronofsky may have pulled out of making Batman: Year One, but this is his equivalent. "I think Noah is the first superhero… well, the second superhero. Adam and Eve are the first ones. It's not a superhero film, there are no super powers, but it's very much a similar thing."
In the end, Aronofsky's Noah is akin to his other obsessive characters. From the numerology-searching mathematician in Pi to Natalie Portman's ballerina striving for perfection in Black Swan, they all teeter on the brink of madness for what they believe in.
"I like that kind of tightrope walk between sanity and insanity. I think that often demonstrates what's sane – seeing when people go slightly over the edge. You can look back and see everything that's come before you." After completing Noah, he probably feels the same.
'Noah' opens on 4 April
Join our new commenting forum
Join thought-provoking conversations, follow other Independent readers and see their replies