Octavia Spencer interview: The Help star and Oscar winner on becoming James Brown's aunt
Spencer: 'Let me tell you, my career went from zero to 900. Its hard keeping up with that pace but I wouldn't trade it for anything else in the world'
Gill Pringle
Friday 07 November 2014 13:01 Comments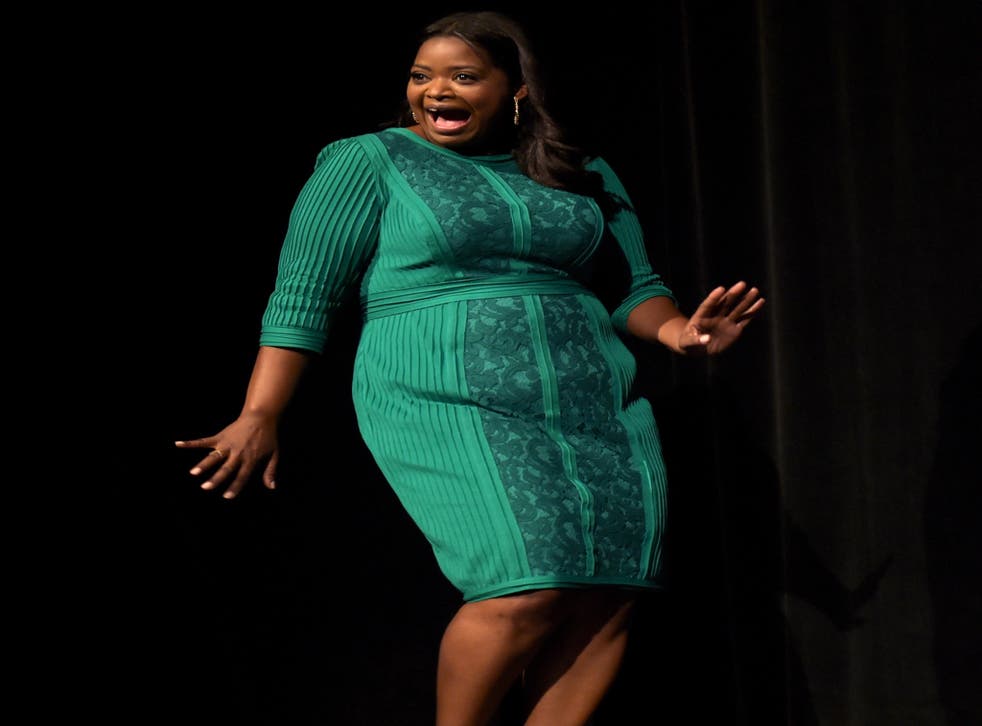 I'm Sitting with Octavia Spencer in a chic hotel.
A waiter proffers a glass, offering to fill it with ice before pouring her coke. "If it's cold, I'll drink it from the can. I'm from Alabama, that's how we do things," she teases, her sweet sassiness immediately reminiscent of Minny, the outspoken maid she portrayed in Tate Taylor's civil-rights kitchen drama The Help.
Her life, she insists, has not changed since she won the Best Supporting Actress Oscar for that role in 2012. "My life is exactly the way it needs to be," she says, inspecting her grey silk snake-skin print blouse and smoothing her hair.
Her career, however, is another matter. "Let me tell you, my career went from zero to 900. Its hard keeping up with that pace but I wouldn't trade it for anything else in the world. But I'm a lot more tired and under-sexed, let me just go on the record with that!" laughs the actress today featuring in Get On Up, a biopic of soul legend James Brown, also directed by Taylor and co-executive-produced by Mick Jagger.
It was almost 20 years ago that Spencer was bitten by the film bug, while working as a production assistant on Joel Schumacher's hit drama A Time to Kill, starring Matthew McConaughey and Sandra Bullock. That movie proved pivotal in her life for two reasons: Firstly, Schumacher cast her in a tiny role as Bullock's nurse and secondly, she became best friends with another lowly film assistant, Tate Taylor, who had dreams of writing and directing his own movies, something he would later achieve with The Help, of course, casting his old pal in the role of a lifetime.
"My idea of success is not Oscars. Am I glad I have that little trinket? Yes I am. But it depends on how you define success. The minute I got my first professional cheque from Joel Schumacher I was successful. Somebody's paying me to act!" she reflects, her voice booming.
Born and raised in Montgomery, Alabama, she is the sixth of seven children. "Both my parents are deceased. I lost my mom when I was 18 and my dad when I was 13," she says softly.
None of her five sisters and one brother ever doubted her dramatic ability, and were unsurprised when she graduated with a liberal-arts degree from local Auburn University. "My mom taught us that we could do or be anything we dared to dream. Being a part of a large family is just like a little society; those who fight to the top of the heap. We relied on each other and still do. They never discouraged me or told me to get a proper job." And nor were they remotely surprised when she announced she would be moving to Los Angeles with her new friend Tate Taylor, the pair having forged an immediate bond on the set of A Time to Kill.
"In truth, Tate had gotten a house-sitting gig and was going to be living in LA for free and I was, 'you can't move to LA without me!' " recalls the actress who arrived in town on New Year's Day 1996, becoming Taylor's house-mate for the next seven years. "We were both staking our claim in the gold rush that is Hollywood, knowing that you just have to stay mining and looking for things that help you grow as an artist while being a part of a community. That's what we were to each other and still are."
There was no way Taylor would make another film without including his lucky talisman. The way she tells it, Taylor wanted to cast her in a different light when it came to divvying up roles in Get On Up. "He suggested I play Honey, saying that she was kinda sexy with an edge. I told him: 'You had me at sexy!' I'm just glad I got to do something a little bit outside of the box," says Spencer, whose character, Aunt Honey, is a madam.
Access unlimited streaming of movies and TV shows with Amazon Prime Video Sign up now for a 30-day free trial
Sign up
Spencer would have taken any role just to be a part of this film, be it a wife, girlfriend or even Brown's mother, the role which ultimately went to her former Help co-star, Viola Davis. "James Brown was so iconic and his music transcended race and any sort of box that people wanted to put him in. He was not a 'black' musician to me, just a good one, and he did things in his unique way," says the actress who recently starred in Fruitvale Station and Snowpiercer, is next appearing in Kevin Costner's highly anticipated drama about race, Black and White, and has a role in next year's Insurgence, the second instalment in hit franchise Divergent.
"It also felt good to know that there's still a few interesting roles out there for a chubby, hot... and I'm going to let that word 'hot' land... I'm not going to be offered Macbeth and I get that."
Now 44, she believes she's just getting started. "It took me 15 years to become an overnight success," she smiles. "I think for character actors, a lot of us hit our stride when we turn 40 and, if you're an ingénue, well there's only a small window when you can [be an] ingénue, after that, you can't fake it. The shelf life of a character actor is much longer and you do have the ability to be a late bloomer.
"There's only a few archetypes that women get to play. The ones that usually line up for me are the nurturer, the mother or someone who is heart-sick for a child or the sassy whatever."
Her Oscar hasn't completely safeguarded her from disappointment. There was a blow earlier this year when a proposed remake of TV series Murder, She Wrote starring Spencer in the role made famous by Angela Lansbury was scrapped following criticism of Spencer's casting from Lansbury herself.
"There were just too many things that didn't line up," she says carefully. "But I'm glad it didn't happen because I do enjoy having a life and I became a part of a project that means a lot more to me so everything happened as it should," she says in reference to her current role as a paediatric nurse caring for terminally ill children in acclaimed TV drama Red Band Society, co-executive produced by Steven Spielberg.
"I get to call him Uncle Steven. I lovingly call him that and it's cute and he knows me and thinks it's funny." She has no children of her own. "Sure. I pursued my career and then you wake up and a lot of the time, its gone by," she concedes. "If it happens, great. If it doesn't happen, I'm not going to be that upset." But she wouldn't have it any other way. "I have love in my life, I have friends in my life and a job that I love.
"Other people's idea of success might be 19 beemers [BMWs] and a crazy wardrobe but I don't get caught up in that because at the end of the day I want to still be the person who's in charge of this ship, and that way I'm always happy."
'Get On Up' is released on 21 November
Register for free to continue reading
Registration is a free and easy way to support our truly independent journalism
By registering, you will also enjoy limited access to Premium articles, exclusive newsletters, commenting, and virtual events with our leading journalists
Already have an account? sign in
Join our new commenting forum
Join thought-provoking conversations, follow other Independent readers and see their replies