Oscars 2014: The long, expensive road to Academy Award glory and the tips for successful campaigning
Campaigning for an Oscar has never been so costly or complex. As this year's awards race reaches its final stretch, Tom Teodorczuk tells us how it's done
Tom Teodorczuk
Sunday 26 January 2014 01:00 Comments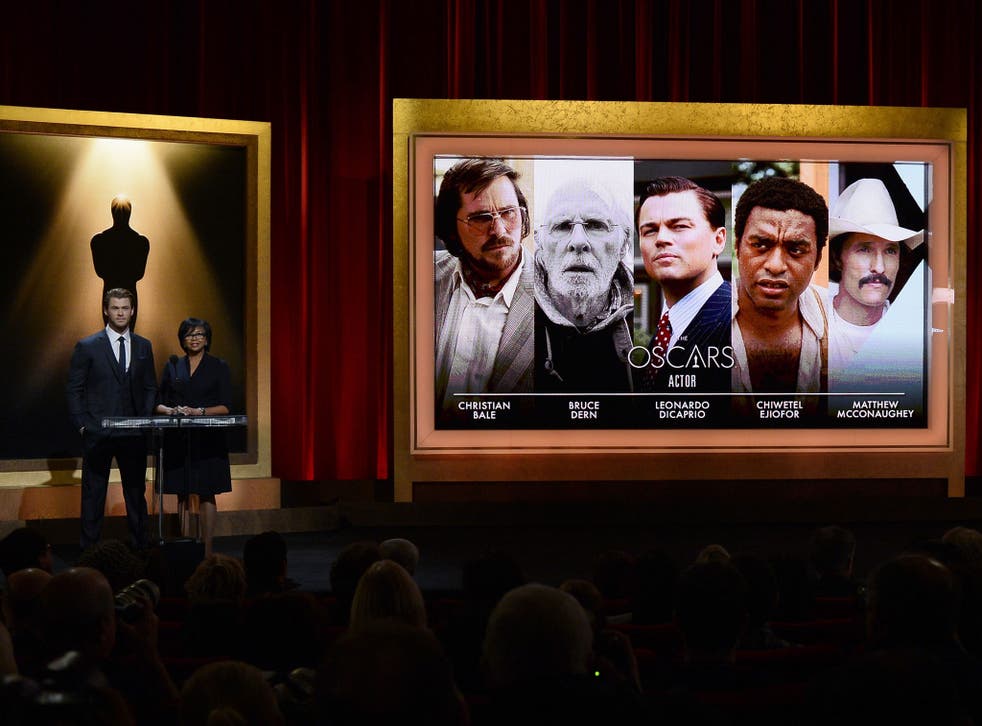 "I have to go to Washington to show the film to President Obama." So said Leonardo DiCaprio 10 minutes after his arrival at a Wolf of Wall Street Oscar campaign lunch in a New York restaurant in December. As excuses go, it wasn't bad. It's not known what the President made of this epic folly of fiscal excess but it picked up five Academy Award nominations earlier this month. And news that the White House would be watching the much-debated film can't have harmed its awards allure.
Welcome to the annual Oscars race: this year I've seen at close quarters the ways leading filmmakers and actors maximise their chances of glory. The consensus is that this year's build-up has been the most interesting in years, with most awards still lacking an overwhelming favourite. But how did the main contenders get to be in the running? Here's the lowdown on how to run a 21st century Oscar campaign.
Get your timings right
The typical Oscar campaign these days is a six-month slow-burn, kicking off in August and September when contenders screen at one or more of the Venice, Telluride and Toronto film festivals, as was the case with the last six Best Picture winners. Next, the hopefuls open in limited release while the feverish lobbying of academy members begins with "For Your Consideration" adverts in industry publications, lunches, dinners and screenings on East and West Coast. "The studios now view a campaign as a strategic exercise in empowering academy members to become advocates on behalf of their picture," says Hollywood PR consultant Bumble Ward.
Distributors roll the films out on a wide release only once they have bet on awards word-of-mouth reaching the general public. Take 12 Years a Slave, the narrow Best Picture favourite. It originally opened in the US on 18 October in 19 cinemas, before expanding in November; then, post-nominations, it was given another push, and this weekend is playing in 1,231 cinemas. "With this attention, people will go to see the movie," director Steve McQueen told me at a lunch for the film at Manhattan's 21 Club. "We don't have a lot of money for promotion. We can't put a big billboard on Sunset Strip."
Take a look at the films they're talking about
Oscar predictions 2014: The main contenders

Show all 16
Another tactic used by higher-profile contenders is to bypass the festival season and opt instead for an aggressive December launch – the idea being that they can rely on making an immediate splash, and that academy members will have them freshly in mind when voting. Such an approach reaped dividends this year for leading nominees The Wolf of Wall Street and American Hustle, with the latter benefiting from a particularly starry ensemble, including actress du jour Jennifer Lawrence.
Show them the money
The quest to win an Oscar doesn't come cheap. Spending varies for each film but the average cost for a campaign is $5m ($3m on advertising and marketing and $2m on entertainment and travel costs). Money doesn't necessarily buy awards glory, though. Two of this year's big spenders were the Coens' Inside Llewyn Davis and making-of-Mary Poppins drama Saving Mr Banks: the former staged two elaborate folk concerts showcasing music from the film while the latter held an evening of Poppins songs at LA's Polo Lounge – yet the former received two minor nominations and the latter just one.
However, you need to cough up cash to have a fighting chance as proven by the number of acclaimed indie films that, despite early buzz, don't end up getting much love. This year, that fate befell Robert Redford sea-survival drama All is Lost, with Redford blaming insufficient campaigning and distribution on the part of studio Lionsgate for his perceived snub in the Best Actor category. Smaller films need big promotional campaigns to get on to the radar of the members of the Academy of Motion Picture Arts and Sciences (to give it its full title). Yet unless their productions pick up consistent nominations on the pre-Oscars awards circuit, smaller studios won't gamble on expensive marketing, instead hoping that enough academy members watch their film of their own volition when they receive it in the post – something that doesn't happen as much as it should. "The deep, dark secret is that a lot of academy members don't watch a lot of the movies," says Scott Feinberg, Awards Analyst at The Hollywood Reporter. "To get them to watch the movies is the biggest challenge."
Remember it's political
The Oscars race is akin to an election campaign: you create an appealing message for your film to solicit votes without saying anything indiscreet. Steve Coogan, nominated this year for Best Adapted Screenplay for Philomena, concurs: "You've got to be really on your toes because the subject matter of this film [about the Irish Catholic Church's "adopted baby" scandal] is contentious to some people. It's as much about avoiding banana skins [as anything else]. So far, I'm still standing up." Oscar tactician Harvey Weinstein made the relationship between politics and campaigning explicit last year by calling on Stephanie Cutter, President Obama's former Deputy Campaign Manager, to help promote Silver Linings Playbook. She was alleged to have been paid to tweet about the comedy and flag it up as "politically significant" for its treatment of mental health issues; this year she has been tweeting positively about the Weinstein Company's Philomena.
Meanwhile, why not go one better and get the Prez himself on your team? In recent years, key Oscar hopefuls such as Lincoln, The Help and Mandela: Long Walk to Freedom have enjoyed official White House screenings. Though in November a story suggested the President was cutting back on these high-profile events in order to stay out of Oscar politics: indeed, Leo DiCaprio left his aforementioned lunch early to present the leader of the free world with a screener, not watch the film with him.
Access unlimited streaming of movies and TV shows with Amazon Prime Video Sign up now for a 30-day free trial
Sign up
Then there are the dirty tricks, with rivals purportedly orchestrating whisper campaigns against each other. This year, much mud was slung at Saving Mr Banks over its supposedly cleaned-up portrayals of both Mary Poppins author P L Travers and Walt Disney, with matters coming to a head at the National Board of Review Awards, when Meryl Streep shocked attendees by calling Disney racist and sexist while presenting an award to star Emma Thompson. Thompson, long expected to be a Best Actress nominee, was a surprise omission. As in politics, contenders are not always entirely scrupulous in their assertions. Actor Michael Fassbender publicly vowed to eschew campaigning this year and yet a PR consultant that I spoke to spotted him "working the room" at the Bafta Tea Party in California held on the eve of the Golden Globes. Fassbender received a Best Supporting Actor nod for 12 Years a Slave.
Expect the unexpected
So, you've landed the nomination and you're riding a wave of buzz – but watch out for the mistake that could derail you in the final stretch. One Oscar campaign consultant highlights the case of Dallas Buyers Club stars Matthew McConaughey and Jared Leto, who were criticised for not mentioning Aids in their victorious Golden Globes speeches; minutes after they received Oscar nominations, however, they paid tribute to Aids victims on the film's Facebook page.
At this point too, more whimsical narratives can play on academy members' minds. Jeffrey Wells, who writes the industry blog Hollywood Elsewhere, thinks this is why, in the Best Actor category, the long-favoured Chiwetel Ejiofor might eventually miss out for his harrowing performance in 12 Years a Slave. "Both Matthew McConaughey and Bruce Dern [nominated for Nebraska] have excellent personal stories that resonate," he says. "McConaughey is saying after almost going under by being in all those stupid romcoms, 'you too can change and make a difference'. Dern is saying after years of playing supporting roles he finally gets to be the lead – 'you too can be the leader in your own life'."
As to who will win Best Picture? 12 Years a Slave is still favourite but film journalist and awards pundit Anne Thompson thinks American Hustle could clinch it. "[It's] nominated for all four acting awards which is a sign of extreme strength since the actors' branch of the academy is by far the biggest."
After this strategic whirlwind, the ceremony itself, this year on 2 March, will come as a relief to those in contention. When I asked Steve McQueen whether he was looking forward to it, he replied: "My wife is going to be wearing a nice dress so I'm very happy about that!"
Register for free to continue reading
Registration is a free and easy way to support our truly independent journalism
By registering, you will also enjoy limited access to Premium articles, exclusive newsletters, commenting, and virtual events with our leading journalists
Already have an account? sign in
Join our new commenting forum
Join thought-provoking conversations, follow other Independent readers and see their replies