Can Roma become the first foreign language film to win Best Picture at the Oscars?
It has the best chance of any foreign language feature in history of achieving the accolade
Christopher Hooton
Tuesday 11 December 2018 12:23 Comments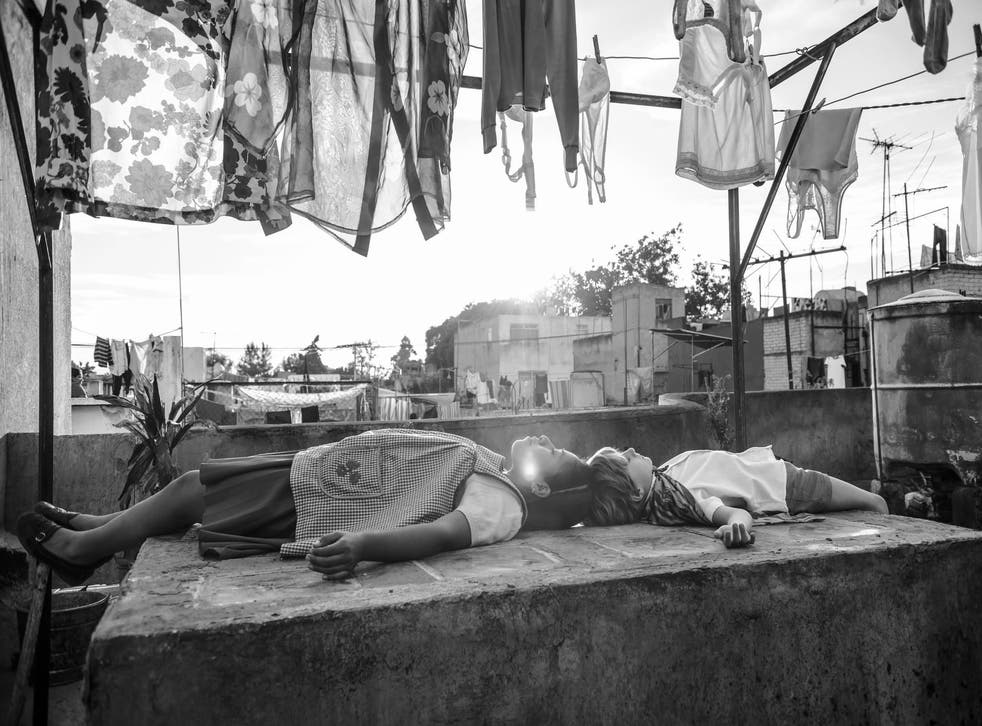 In their 90-year history, the Academy Awards have never seen a Best Picture winner in any language other than English. The Artist came close in 2011 in that it was a silent film with French intertitles, but it was also one set in Hollywood. Had the characters spoken, it would have been "heys" not "saluts".
Alfonso Cuaron's Roma has a strong chance of breaking America's unblemished run at the 91st ceremony, however. The Spanish/Mixtec language drama is a shoo-in to beat Cold War to the Best Foreign Language prize at this point, and creeps closer to upsetting A Star is Born in the Best Picture category with each passing week. Roma was named Best Film by the Los Angeles Critics Association on Sunday, and was previously given the same or equivalent honour by critics bodies from Chicago, New York, San Francisco and Washington DC.
Only 10 foreign language films have ever been nominated for Best Picture, and the four most famous ones, Crouching Tiger, Hidden Dragon (2000), Letters from Iwo Jima (2006), Babel (2006) and Amour (2012), never really stood a chance of winning. The wall of Americentrism that surrounds the ceremony's biggest prize is difficult to overcome, but Roma has the best shot yet due to its deceptively powerful story, which is rooted in Mexican culture and yet completely universal.
Roma tells what is on the surface of it a very unremarkable story. Cleo (Yalitza Aparicio, a sensational find) is a maid to a middle-class family in 1970s Mexico City and a mere employee to them; a background character who they don't stop to consider has thoughts and feelings and desires too. As the family go through a difficult time, however, Cleo becomes a kind of guardian angel to them. It's a personal film for director Cuaron in all senses of the word. Not only is it semi-autobiographical, but he photographed and edited the film himself and was the only member of the crew to see the script ahead of shooting.
Roma stands as an unparalleled portrait of Mexican life, but is also a reminder of the bond that can be established between humans when we simply bear witness to each other's pain. It is this truth that the film finds and which allows it to fully break through the language barrier. Had Roma been released in any of the past three years it could well have beaten winners like Spotlight or Moonlight – perhaps even The Shape of Water – as it has a technical prowess to back up the swelling wave that is its story.
It's pure cinema, but the problem is that so is A Star is Born. The two films couldn't be more different, and yet they both have an Oscar-friendly feel to them. There is a version of the 91st Academy Awards where A Star is Born collects the bulk of the awards – acting, music, editing etc – with Roma ducking in at the end to take Best Picture. A Star is Born is so strong in all areas of production, however, that it could steamroll the ceremony like other films about LA/the entertainment industry have before it. After all, if there's one thing that Hollywood loves more than a noble period epic like Roma, it's a movie about itself.
Register for free to continue reading
Registration is a free and easy way to support our truly independent journalism
By registering, you will also enjoy limited access to Premium articles, exclusive newsletters, commenting, and virtual events with our leading journalists
Already have an account? sign in
Join our new commenting forum
Join thought-provoking conversations, follow other Independent readers and see their replies