The Nazi shame of the first ever Best Actor winner at the Oscars
Martin Chilton delves into the hidden history of the very first Academy Awards
Tuesday 14 January 2020 12:10 GMT
Comments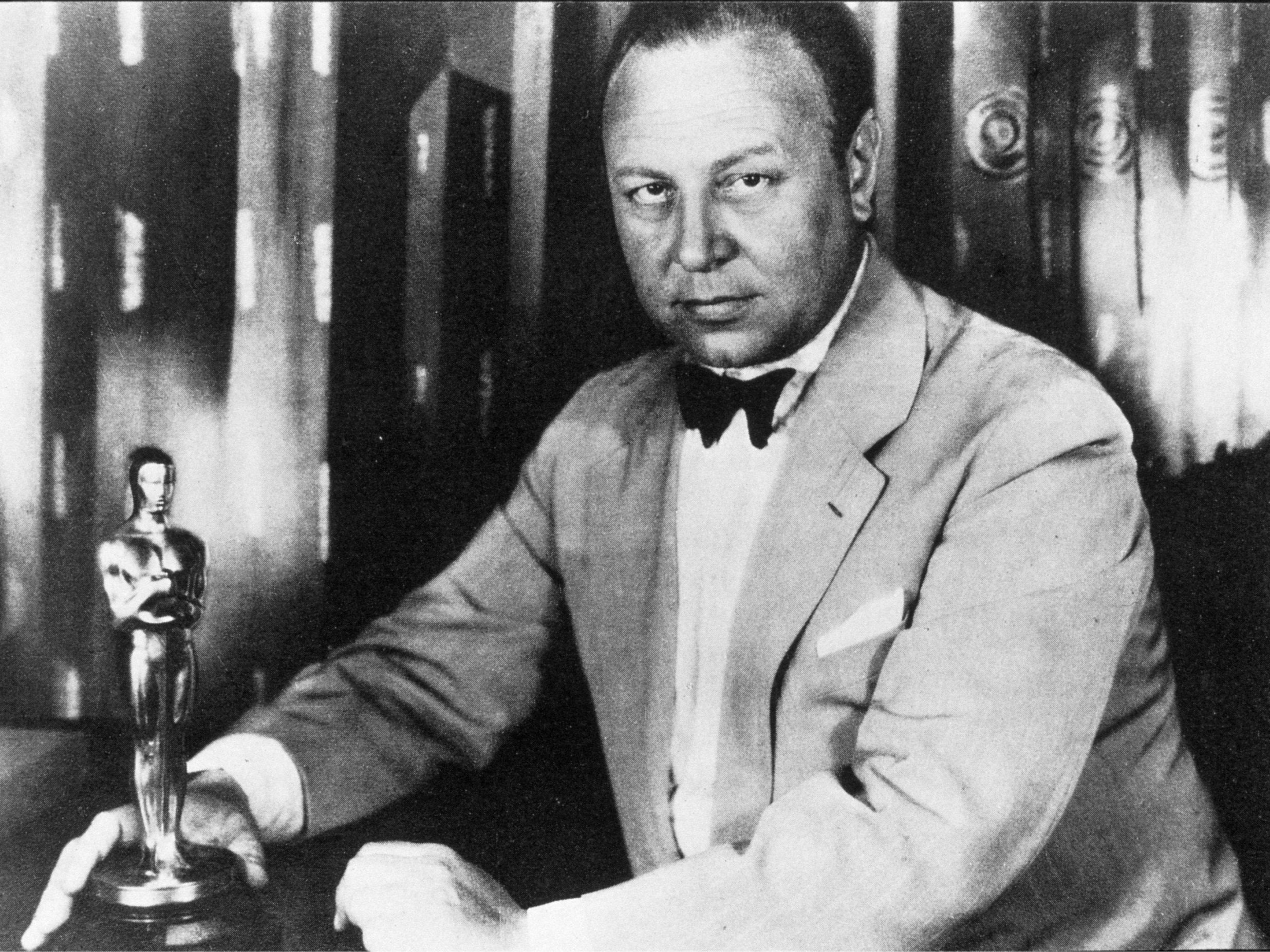 When the ballot results came in to decide the first winner of the Oscar for Best Actor, the Academy of Motion Picture Arts and Sciences realised they faced a tricky problem. The "actor" who had collected the most votes was actually a dog called Rin-Tin-Tin, who had starred as Rinty in popular films such as A Dog of the Regiment and Jaws of Steel. The film board were concerned that awarding the first statuette to a canine would hardly give credibility to their new awards. To avoiding appearing to be barking mad, they diverted the 1929 Oscar to Emil Jannings.
The academy awarded some honours in their inaugural year for performances in more than one film. Jannings won for his portrayal of both a bank clerk in 1927's The Way of All Flesh, and for playing Grand Duke Sergius Alexander in the 1928 film The Last Command.
Looked at through the long lens of history, the decision backfired. A committee who were so worried about the embarrassment of honouring a dog ended up commemorating a man whose career ended in ignominy as a reviled propagandist for Adolf Hitler. The Oscars snubbed a German shepherd and got a Nazi poodle instead.
At the end of the Second World War, with Hitler and his minister of propaganda Joseph Goebbels dead, Jannings is said to have rushed towards the allied troops marching into Berlin, clutching his golden statuette and yelling: "Don't shoot, I have won an Oscar!" He was not imprisoned, but his reputation was in tatters. The man once considered the world's greatest actor never worked again. Ninety years on from that historic award, it's no surprise that the academy don't talk much about their first Best Actor winner
The 37 best actors who have never won an Oscar
Show all 37
The strange story of Jannings began in Rorschach, Switzerland, with his birth on 23 July 1884. His father Emil, a well-to-do American businessman from St Louis, died when the future actor was a child. His mother, Margarethe, moved the boy, who was christened Theodor Friedrich Emil Janenz, to Görlitz, in the far east of Germany.
Jannings ran away from home at 16 to become a sailor, but quickly decided that he wanted to be an actor. His first break came when he joined Max Reinhardt's theatre company in Berlin in 1906. He landed his first film role in 1918 when, using the name Emil Jannings, he starred in Die Augen de Mumie Ma (The Eyes of the Mummy). He quickly established himself as one of the talents of the German silent film industry, starring in acclaimed films such as Othello (1922), The Last Laugh (1924) – which Alfred Hitchcock described as "almost the perfect film" – and Variety (1925).
His work attracted the attention of Hollywood and, in 1927, he was lured to America with a lucrative contract from Paramount Pictures. Paramount gave him extraordinary control over scripts, roles and choice of directors. In the next two years, he made six silent films in America, including Betrayal with Gary Cooper. Betrayal, along with The Patriot and Street of Sin, is considered lost forever. He was popular with American movie fans, and he sought to overcome any doubts about his place in American society by dissembling, telling the press he was born in Brooklyn.
Jannings fitted in with the social whirl of Hollywood – there are pictures of him sitting with a swimsuit-wearing Greta Garbo – but to some of the actors with whom he worked closely, he was a moody despot. German-born Fritz Feld, who appeared in 140 films including Hello, Dolly! and Herbie Rides Again, told film writer Michael Dobbs that during the making of The Last Command Jannings took him aside and said he wanted to sack director Josef von Sternberg and put Fritz in his place. Fritz declined to behave treacherously and Jannings screamed "You fool! You god-damn fool!" at him.
When The Last Command was made, Jannings was 44 and carried the baggage of three short-lived marriages that had ended in divorce. He was estranged from his two children. Although he wed again, to a former Berlin cabaret performer and actress called Auguste Maria Holl (who was always known as "Gussy'), it didn't stop him from making advances towards other actresses.
Access unlimited streaming of movies and TV shows with Amazon Prime Video
Sign up now for a 30-day free trial
Sign up
Access unlimited streaming of movies and TV shows with Amazon Prime Video
Sign up now for a 30-day free trial
Sign up
Evelyn Brent played William Powell's love interest in The Last Command. In her biography, The Life and Films of Hollywood's Lady Crook, she recalls that after being snubbed, Jannings went round telling the film crew that Brent "wasn't his type". When she heard about his slurs, the 32-year-old, who had been appearing in films since 1917, confronted him. When he asked why she was not interested in a love affair, she replied coolly, "because you're 10 years too old and 40 pounds too fat".
Brent said he was a temperamental and spoilt man. "Emil Jannings could get sulky over trifles," Brent said. "He didn't like the fur coat I was wearing in one scene, and when I took it off and laid it aside on the set, he used to go over and kick it, for all the world like a petulant kid."
His bizarre behaviour extended to male colleagues. Paul Henreid, the Austrian-born actor who played Victor Laszlo in Casablanca, was a teenager when he acted with Jannings that year. In Michael Druxman's book Hollywood Snapshots, Henreid said he had a minor role as a character who was killed.
In a subsequent scene, Jannings was scripted to stand beside a closed casket supposedly containing the remains. Jannings told Henreid that it was essential he got the "right feeling" to play the scene and ordered the nervous novice to lie in the coffin with the lid closed. Henreid remained there for half an hour before finally summoning the nerve to look out. Jannings had gone to lunch and left him in the coffin.
Oscar nominations for Best Picture announced
Jannings won his Oscar for his performances in The Last Command and 1927's The Way of All Flesh, another film that is presumed lost, apart from five minutes of extant footage that is held at the UCLA Film Archive in Los Angeles. When the first Oscars were officially presented, on 16 May 1929, the winners were revealed three months ahead of the ceremony, by which time Jannings was already back in Germany. A photograph showing him holding the statuette had been taken months before by the Paramount publicity department.
The Oscars night he missed was a very different affair to the global extravaganza of modern times. There were only 270 guests in the Blossom Ballroom of the Hollywood Roosevelt Hotel that first year, and the ceremony was not broadcast on radio or television. Janet Gaynor, the 22-year-old winner of the first Best Actress award (she was nominated again in 1937 for her role in the original A Star is Born), wore an off-the rack dress she had purchased months before. Gaynor, incidentally, had her own sad postscript when she died in 1984 from abdominal injuries suffered in a collision with a drunk driver.
When he posed with his Oscar, Jannings seemed to have a bright future. His commanding stage presence and skills as a wonderfully expressive actor had made him an acknowledged great of the silent era. Even Brent conceded that he was "a splendid actor". But many of the actors eating their broiled chicken that first Oscars party knew that storm clouds were gathering.
All the gossip was about the success of The Jazz Singer, which had won two Oscars, and what the first talkie would mean for the industry. It was clear that actors would now be required to talk on screen. Although Paramount screen-tested Jannings, they quickly decided that his thick German accent was not what they wanted. He rejected their offer to over-dub his voice.
Sensing that his career in America was doomed, Jannings returned to make films in Germany. In an article in April 1929 in the Los Angeles Times, film critic Edwin Schallert described him as "the king of the European film stars", adding that "his going marks the close of a picturesque phase of Hollywood's history".
At first, it seemed as though things might turn out well in his homeland. In 1930, Jannings made Der Blaue Engel (The Blue Angel) with Marlene Dietrich. He earned plaudits for playing an elderly professor who is destroyed by his infatuation for a cabaret singer called Lola-Lola. In the book Modern Times, Stanley Kubrick says that one of the greatest moments in film history was "the way Emil Jannings took out his handkerchief and blew his nose in The Blue Angel". Dietrich, however, came to loathe Jannings and dismissed his acting skills as that of an "old ham".
Hitler's inexorable rise to power in the early 1930s coincided with a decline in demand for Jannings's services. In March 1933, by which time Hitler had assumed a grip on Germany, Goebbels was appointed as Reich minister of public enlightenment and propaganda. Goebbels believed that Jannings would be a useful tool for the Nazis and suggested he work on propaganda films. The first to come to fruition was 1935's Der alte und der Junge König (The Old and the Young King), in which Jannings portrayed Prussian King Friedrich Wilhelm I. This historical biopic was intended to extol the idea of Führerprinzip, which, simply put, is the concept of blind obedience to the leader (Führer).
The Berlin-born director Veit Harlan was in Goebbels's good books after divorcing a Jewish actress called Dora Gerson (who was later killed at Auschwitz, along with all her family) and he was chosen to draw a strong performance from Jannings in 1937's Der Herrscher (The Ruler), another film aimed at promoting Führerprinzip.
Jannings was still considered an actor of renown in Europe and The Ruler was shown in England. Graham Greene, who was working on his novel Brighton Rock, reviewed the film for The Spectator and mocked the star actor's depiction of the loyal boss of a munitions firm. "In Der Herrscher, Herr Jannings has the meaningless gaze of a sea lion with huge sloping shoulders and watery whiskers to whose emotions we apply for want of anything better, such human terms as pity, anger, terror, though we cannot tell, on the evidence of those small marine eyes, whether he is really registering anything more than a dim expectation of fish," wrote Greene.
Back in the Fatherland, though, the film pleased the Führer, who had previously gone out of his way to praise Jannings's performance in Traumulus (The Dreamer). The close ties between actor and dictator were sealed when Jannings campaigned for Hitler in the 1938 elections, the final ones for the Reichstag during Nazi rule. His show of loyalty earned him a lavish lifestyle and career advancement.
Goebbels placed Jannings on the board of Tobis Films and gave him "overall artistic control" of the state studio's films. His first project for Tobis was to produce and act in a biopic about the German microbiologist Robert Koch, who experimented on colonial African subjects.
The 1941 wartime film Ohm Krüger (Uncle Krüger) was to prove the most controversial of all Jannings's films. Goebbels wanted something to stir up German audiences in advance of a possible invasion of Britain. He allocated a budget of around 6 million Reichsmark (around £22m now) for a film celebrating the life of Paul Kruger, the man who led the Second Boer War fight against the British at the end of the 19th century.
Jannings, who was the producer, launched a press campaign to promote his portrayal of Kruger. He described British imperialism as "a pernicious disease" and put his name to the forward of a reissue of Kruger's diaries. "President Kruger was the first conscious champion against England, he is an example for us Germans who are now leading the fight against British imperialism. I played him because he was chosen to start a struggle which shall be concluded in our lifetime," Jannings is quoted as saying in David Welch's book Propaganda and the German Cinema, 1933-1945.
Hitler and his cronies adored the film and Goebbels named Jannings "Artist of the State". Jannings was also awarded the "Ring of Honour of the German Cinema". Further afield, Italy's fascist leader Benito Mussolini praised the film and Ohm Krüger won the Mussolini Cup for best foreign film at the 1941 Venice Film Festival.
In the next release, Bismarck's Dismissal, Jannings played the 19th century Prussian leader Otto von Bismarck who, in 1871, helped unify the German empire. Hitler admired the so-called "Iron Chancellor" and was delighted by Jannings's flattering comparison of the two leaders.
Hitler was just like Bismarck, said Jannings, because they both "represented the same historical situation – one man against the world". Jannings had become a full-blown propaganda gun for hire. Fritz Hippler, who ran the film department in the Propaganda Ministry, directed the antisemitic film Der Ewige Jude (The Eternal Jew). When Hippler published his book Contemplations on Filmmaking in 1942, Jannings wrote the preface.
German historian Frank Noack, who wrote a biography of Jannings in 2012, says that Jannings's Russian-born mother, who was living in Berlin during the war, had Jewish origins. Although this was never openly discussed in the German press, he speculates that keeping his mother safe was perhaps a factor in his willingness to work for the Nazis.
British and allied military officials who quizzed Jannings after the war rejected claims that he had worked reluctantly for Hitler. Jannings was not helped in his pleas of innocence by the contents of Goebbels's diaries. The minister for propaganda specifically praised the actor's commitment to the Nazi cause. "He works as though possessed on his Boer film. Jannings outdoes himself. Kruger is as much of an anti-England film as one can only hope for," Goebbels wrote in April 1941. The allied command in Berlin halted the shooting of his last film – Wo ist Herr Belling? (Where is Mr Belling?) – and decreed that he was subject to "denazification". He was officially banned from making another film.
Jannings retreated to live in Austria, where he was interviewed by a New York newspaper, The Rochester Democrat and Chronicle. The interview was carried out by staff writer Klaus Mann, who had known him in his Hollywood days, and was published on 25 June 1945. Mann described the actor's "picturesque Lake Wolfgang home" and said that Jannings had "flourished under the Nazis". When he asked him directly about his involvement with the Nazis, Jannings replied: "Open resistance would have meant a concentration camp". He claimed he was "ordered" by Goebbels to make the propaganda films.
In his autobiography Life and Me, published by Zimmer and Herzog in 1951, Jannings devoted only 72 words to an oblique defence of his work for the Nazis. "There are things one cannot talk about – things that pull us in opposite directions at the same time, as they appear to the head in a different way from the way they appear to the heart, which would like to be in unison with the soul. As my heart and soul belonged to the art of acting, they ordered my head not to worry about things that were none of its concern."
The 10 best Oscar Best Picture winners
Show all 10
It took some years for the full truth about his propaganda role to become clear to people outside Germany. Even in February 1960, he was still highly enough regarded in America to earn a star on the Hollywood walk of fame, although their present-day website makes no mention of his Nazi past. In November 2004, his Swiss birthplace of Rorschach honoured him with their version of the star. His past was brought up and the subsequent outcry ended with the commemoration being removed a few days later. The official academy website has a section dedicated to their inaugural 1929 awards. They include a picture of Best Actress Gaynor but not of Jannings. In the place where the best actor photograph would seem to naturally sit, there is instead a photograph of Joseph Farnham, winner of the "title writing" Oscar.
Jannings has not been entirely airbrushed from history, though. He features as a character in Quentin Tarantino's war film Inglourious Basterds, played by Hilmar Eichhorn. Jannings appears in a scene in which Goebbels gets him to show the "Ring of Honour" he was awarded for Ohm Krüger to soldier Fredrick Zoller.
Tarantino's fictional Jannings is killed during an attack on the Nazi leadership. In reality, the actor's final days on earth were painful, dismal and drawn out. He had taken Austrian citizenship and converted to Catholicism, but nothing seemed to bring him peace. He sought solace in heavy drinking, a factor in his death from liver cancer on 2 January 1950 at the age of 65. "He died alone, bitter and in disgrace," said his biographer, his body ravaged and his legacy tainted forever as a salesman for the Nazis.
"The joys and the infinite sorrows, they all end," reads the epithet on his grave. His Oscar, meanwhile, is on exhibit at the Berlin Film Museum.
Support free-thinking journalism and attend Independent events
Join our commenting forum
Join thought-provoking conversations, follow other Independent readers and see their replies