Interview
Parasite's Song Kang-ho: 'When you're rich, it's much easier to be generous'
Bong Joon-ho's exquisite black comedy thriller is a frontrunner in the Oscars' Best Picture race. One of its stars, Song Kang-ho, talks to Alexandra Pollard about awards, class and why this is a film without villains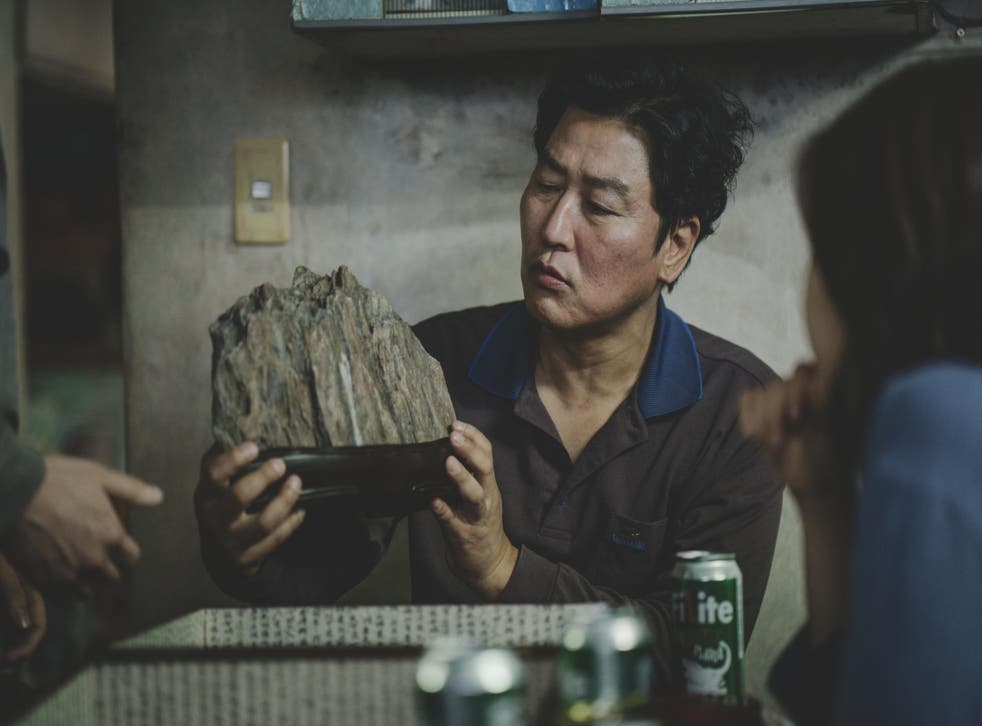 One of the most important exchanges in Parasite could easily be missed on first viewing. The Kim family are bundled around a table having dinner, discussing their wealthy new employers, the Parks. "Even though she's rich, she's nice," says Song Kang-ho's Ki-taek between mouthfuls of noodles. "She's nice because she's rich," shoots back his wife. Soon, their meal is interrupted. As the film evolves into violent farce, that line is left behind – but its sentiment hangs in the air.
"That may sound like wordplay, but it's a crucial line," explains Song, speaking through a translator at London's Korean Cultural Institute. "When you're rich, it's much easier to be generous, and that translates to being nice. When you're less affluent, even if you want to be generous, it's very difficult."
Then again, nobody is really "nice" in Parasite. In Bong Joon-ho's exquisite black comedy thriller – a frontrunner in the Oscars' Best Picture race – the impoverished Kim family finagle their way into the lives (and home) of the much more affluent Parks, with increasingly brutal consequences. The cruel complications of class and wealth abound in a thrilling genre movie with a deliberately murky morality.
We first meet the Kims as they are folding pizza boxes for petty cash in their basement flat, son Ki-woo (Choi Woo-shik) roaming the tiny rooms as he tries to poach a neighbour's wifi. But when his friend, about to go abroad to study, suggests that Ki-woo takes over his job as an English tutor for the well-to-do Parks by faking the right qualifications, the family spots an opportunity. Through some pretty inventive scheming, Ki-woo becomes the tutor, his sister Ki-jung the "art therapist", his mother the housekeeper, and his father the chauffeur.
They are moving up in the world. Literally. The Kim's own flat is half-overground, half-underground, a sunken place frequently flooded with clouds of fumigation gas (one of several sideways glances to the "parasite" of the title). The Parks' house, an architectural marvel built specifically for the film, is resplendently above ground, its upstairs the most coveted space of all. "It's amazing symbolism," says Song, "because the basement flat expresses the hope but at the same time the despair. You're half overground, so there's a potential to move up, but there's also the potential to go to the absolute basement. There's this irony that the film is dealing with, and I find it very powerful."
Song's performance is powerful, too. A huge star in his native South Korea, having starred in several other Bong films including The Host (2006) and Snowpiercer (2013), the 53-year-old is known for playing a kind of pushed-to-the-brink everyman. He's not dressed like one today – he's clad in a cyan mohair jacket and a patterned silk scarf – but that strange mix of otherness and familiarity is there. Song's face, with round cheeks that contradict the rest of his sharp features, has a defeated, hangdog air about it when at rest. But it can change in a flash to delighted; cheeky; wily. At one crucial point in Parasite, it is shot through with undiluted rage – though mercifully I don't see this today.
Though Parasite has made history as the first Korean movie nominated for Best Picture at the Oscars, none of its actors got a look-in. The New York Times Magazine's E Alex Jung suggested that "there's an old prejudice at work here that sees Asian people as technical workers – hence the praise for Bong Joon-ho – and refuses to see us as fully human". When we meet, the nominations are yet to be announced, but Song demurs when I bring up the subject. "That's Bong Joon-ho's thing," he says, "but it's very honourable to receive certain awards."
Back to the film, then. One of the film's key relationships is between Song's Ki-taek and his boss, Dong-ik (Lee Sun-kyun). They have a cordial, even affable, dynamic on the surface. But it is ultimately transactional, and when Dong-ik thinks his driver can't hear him, he talks about him as though he is subhuman, cruelly but casually denouncing his smell. It is "like an old radish", he tells his wife. "No. You know when you boil a rag? It smells like that." It's a comment that will later trigger one of the film's most violent confrontations.
"The smell is something invisible," says Song. "That's where the horror lies in this film. Because there's something very powerful, but you can't see it, but it determines the relationship. That's where the horror lies, and that's where the power of this lies."
Access unlimited streaming of movies and TV shows with Amazon Prime Video Sign up now for a 30-day free trial
Sign up
Oscars 2020 Best Picture contenders

Show all 9
Still, he insists there are no villains in Parasite. "I don't think Park is a bad person," he says. "He's relatively thoughtful, kind and considerate... but behind all this facade, between them there's a sense of hurt, and his pride constantly gets threatened and challenged, and this accumulates over time."
So who is the parasite here? "I think in some sense," says Song, "every character is a parasite. The rich family rely on the driver, the housemaid and other people, so in a way, they are parasites as well. So no particular character is a parasite. I think everyone is. This film is about how we can live together, and how people can build symbiotic relationships, rather than pointing at someone and calling them a parasite."
To Song, there is no better summation of this than the statement Bong released when Parasite first came out. "This film is a comedy without clowns, a tragedy without villains, all leading to a violent tangle and a headlong plunge down the stairs," he wrote. "Who can point their finger at a struggling family, locked in a fight for survival, and call them parasites?"
Parasite is out in UK cinemas on Friday
Join our new commenting forum
Join thought-provoking conversations, follow other Independent readers and see their replies