Penelope Wilton interview: 'I can't turn into other people if everyone knows my inside leg measurement'
The 'Downton Abbey' actress is going up in society – not only has she just been made a dame, but she is also playing the Queen in Steven Spielberg's 'The BFG'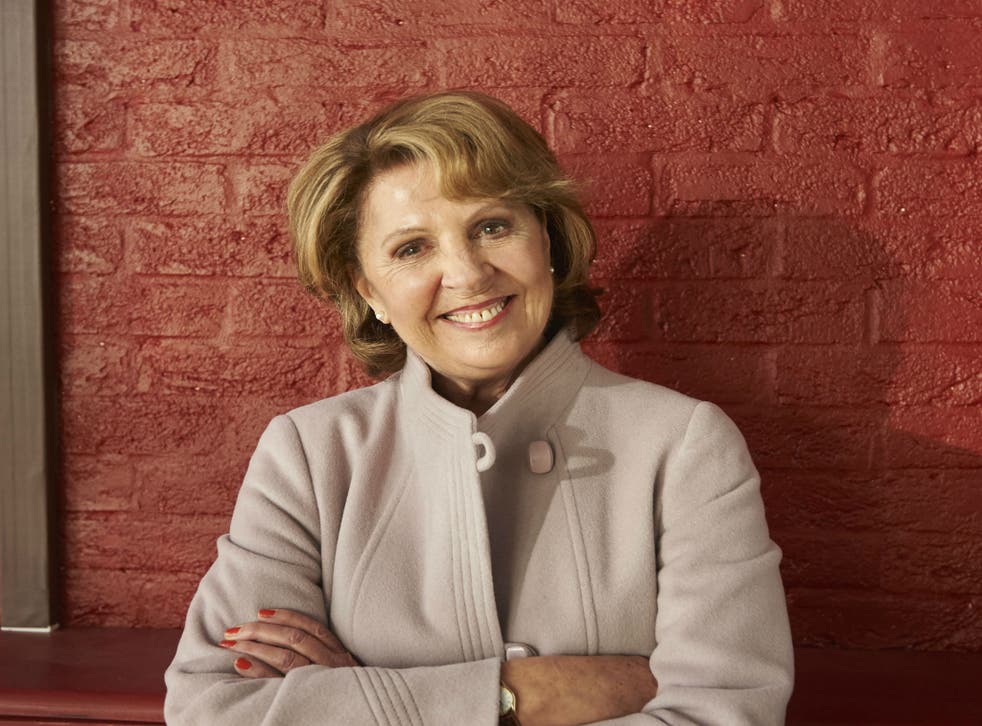 Three days after I met Penelope Wilton, it was announced that the actress had been made a dame in the Queen's Birthday Honours, joining the exalted company of her Downton Abbey co-star, Dame Maggie Smith, and her The Best Exotic Marigold Hotel co-star, Dame Judi Dench.
If Wilton was bursting to tell somebody her news, she obviously wasn't going to choose a journalist – in fact she isn't keen on the whole celebrity interview process, feeling that the less the public know about her, so much the better for her art. "I don't think I can turn into other people if everyone knows my inside leg measurement", is how she puts it.
Wilton has spent the last 44 years turning into other people, with films as diverse as the 1987 apartheid drama Cry Freedom, the John Cleese comedy Clockwise, Calendar Girls, Shaun of the Dead and the Keira Knightley version of Pride & Prejudice. She has been Olivier Award nominated six times for her stage performances, finally winning last year for Taken At Midnight, playing the mother of a Jewish lawyer arrested by the Gestapo.
But it is for two television shows that Wilton is best known: the 1980s BBC sitcom Ever Decreasing Circles (in which she was unhappily married to Richard Briers's controlling busybody) and as Isobel Crawley in Downton Abbey – the world-beating costume drama founding careers of a lot of its younger cast members. Has it also helped Wilton, I wondered, considering that she is already so well established?
"I've just done The BFG – the Big Friendly Giant – with Steven Spielberg and I'm doing it because he saw Downton Abbey", she says, referring to Spielberg's upcoming big-screen version of Roald Dahl's children's classic, in which she plays the Queen of England.
"He [Spielberg] hasn't seen me in the theatre, although he might have seen The Best Exotic Marigold Hotel but I don't think that would immediately lead you to think 'Oh, she'll play the Queen'... I don't know. But apparently he really liked Downton Abbey and that's why he cast me as the Queen."
Adapted by the late Melissa Mathison (who also scripted ET), and starring Wolf Hall's Mark Rylance as the giant, Spielberg's mix of animation and live action won some rave reviews when premiered at last month's Cannes Film Festival, with Wilton singled out for her "beautifully underplayed" performance as the Queen.
"I liked playing the Queen", she says, adding that it was by no means a Helen Mirren-like impersonation of our monarch. "I mean it was Roald Dahl's queen and Quentin Blake's queen, with a little bit of Steven Spielberg's queen and then I threw in my ten-penny worth."
Before The BFG reaches cinemas, television viewers can catch Wilton in a very different guise – playing a lonely middle-class 1980s housewife finding liberation through selling erotic lingerie and sex toys. The cheerfully punning title of ITV's new comedy drama, Brief Encounters, belies a nuanced and genuinely funny tale (co-written by Smack the Pony and Green Wing alumni Orianne Messina and Fay Rusling) loosely based on the memoirs of Ann Summers CEO Jacqueline Gold, Good Vibrations.
Access unlimited streaming of movies and TV shows with Amazon Prime Video Sign up now for a 30-day free trial
Sign up
Wilton plays Pauline, a childless housewife in 1982 Sheffield married to an ambitious and largely absent butcher, Brian (Peter Wight) whose main aim in life is to be accepted by the local Rotary Club. When Pauline's cleaner Steph (Sophie Rundle from Peaky Blinders) becomes an Ann Summers' party planner, Pauline agrees to throw one of the soirees at her home.
"I thought it was very wittily written," says Wilton. "Comedy that makes me laugh now is difficult to find. And it had a naivety and freshness about it that I liked. The Ann Summers connection is used at the beginning but essentially the series is about the ladies' friendships and the complex relationships that happen."
With a cast that also includes Angela Griffin and Sharon Rooney (My Big Fat Diary) and a nostalgic soundtrack of 1980s hits, Brief Encounters promises to be deservedly popular, especially with the lack of female-facing alternatives in a summer so far dominated by football. The Sheffield setting allows for the women's liberating experience as party planners to be contrasted with the fast vanishing job opportunities for men in a city traditionally geared to an embattled steel industry.
Wilton is herself from Yorkshire, born in 1946 in Scarborough – her mother, Alice, a former actress whose brother was Ring of Bright Water actor Bill Travers, and her father, Clifford, a businessman who spent much of the Second World War as a PoW in Italy and then Germany.
"He never spoke about it", says Wilton. "He tried to escape, actually his two friends they built a tunnel, but my father was a very big man and had to go back, filling in the hole behind him."
By 1982, when Brief Encounters is set, Wilton herself was appearing in George Bernard Shaw's Major Barbara at the National Theatre, having risen steadily through the acting ranks in the 1970s. She was married at the time, to fellow thespian Daniel Massey, and struggling with childcare for her five-year-old daughter, Alice, named after her mother. "It wasn't the easiest time," she remarks.
The couple divorced in 1984, Wilton having to negotiate the delicate situation whereby Massey went on to marry her younger sister, Linda. Her own second marriage, to actor Ian Holm (Alien, Chariots of Fire and the old Bilbo Baggins in The Lord of the Rings movies) lasted ten years until 2001.
Earlier this month she celebrated her 70th birthday quietly with daughter Alice, who lives nearby in west London, and although reluctant to call herself an out-and-out feminist, says that she "leans towards that".
"I believe that women should have an equal chance at everything, especially education, and I think one of the things women find very difficult is when you've had children, finding childcare that's affordable and you feel quite happy about. Men are much better now, the younger generation, but generally it's the women who deal with most of that domestic situation, even now.
"Also, as soon as you give up work people go 'Oh, she's having a baby' and you're seen as a sort of write off, and actually that's not fair because who else is going to have them? You can't go through life saying I'm not going to have children because I want a career. Men don't have to make that choice... why should women?"
I wondered whether retirement sounded like an attractive option, perhaps the chance to spend some more time with her second grandchild, a girl who was born last month.
"Not in the least – it sounds very, very unattractive. I mean what on earth would one do if one didn't work?".
Even if work sometimes means slipping into some rather dodgy underwear, like the pink outfit she sports in Brief Encounters. "The Royale you're talking about", she says, "which is a nightie with a negligee over the top and a great big split up the side, which I guess might come in handy. I'd be very shocked if Isabel Crawley wore it... What can one say?
'Brief Encounters' begins on ITV on 4 July at 9pm; 'The BFG' opens nationwide on 22 July
Register for free to continue reading
Registration is a free and easy way to support our truly independent journalism
By registering, you will also enjoy limited access to Premium articles, exclusive newsletters, commenting, and virtual events with our leading journalists
Already have an account? sign in
Register for free to continue reading
Registration is a free and easy way to support our truly independent journalism
By registering, you will also enjoy limited access to Premium articles, exclusive newsletters, commenting, and virtual events with our leading journalists
Already have an account? sign in
Join our new commenting forum
Join thought-provoking conversations, follow other Independent readers and see their replies