Peter Jackson interview: 'Harvey Weinstein was a real bully – it was mafia thuggery'
The Lord of the Rings director speaks to Jack Shepherd about his four-year absence from cinemas, making the First World War film 'They Shall Not Grow Old', and his new project, 'Mortal Engines'
Wednesday 12 December 2018 12:41
comments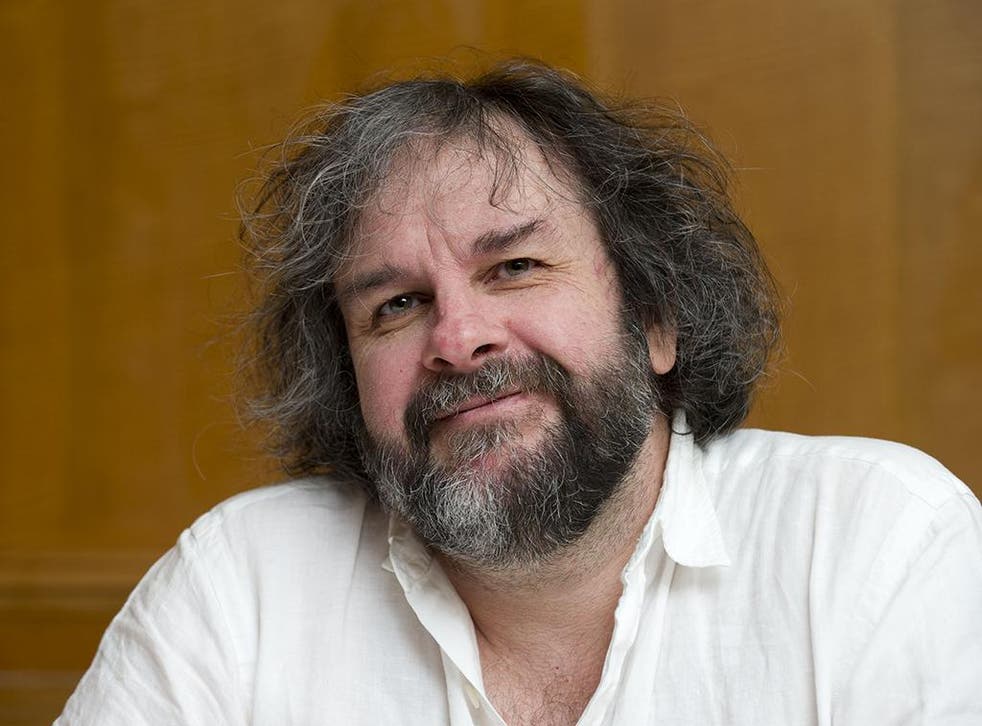 Were Peter Jackson one of JRR Tolkien's Lord of the Rings characters, he would surely be the introverted hobbit Bilbo Baggins.
Not because the director measures 5ft 7in (the same height as Bilbo actor Martin Freeman), nor because he also has a tendency to speak his mind no matter the occasion, but because the two have the same knack for telling a good story. Where Bilbo wrote the fictional book There and Back Again about his journey to the Misty Mountains, Jackson brought the adventure to life with his record-breaking cinematic adaptations.
Also, like Bilbo, the 57-year-old has a habit of disappearing down a hole in the ground for a few years at a time.
"One of the things that happens after you finish a big movie is you get the bloody flu," Jackson says after being asked about his four-year absence from cinemas following the release of 2014's The Hobbit: The Battle of Five Armies – the final part of his Hobbit trilogy. "Sometimes I think: 'God, it's been four years, what have I been doing.' But what people don't quite appreciate is that I've been involved in quite a few projects."
In fact, he's been really busy. After recovering from directing his sixth Tolkien adaptation (three Lord of the Rings and three Hobbit films), Jackson spent the better part of a year creating an immersive trench experience for New Zealand's Dominion Museum to celebrate the centenary of the First World War. Then he came to England to rifle through the Imperial War Museums' archives in hopes of making a half-hour documentary. The result was They Shall Not Grow Old, a remarkable feature-length film consisting of restored and colourised war footage of British soldiers.
Alongside both these, he also co-wrote and produced Mortal Engines – an adaptation of Philip Reeve's fantasy book and the reason Jackson has ventured from the pleasant pastures of his home country to this London hotel room. The film's story takes place in a post-apocalyptic world where cyberpunk cities, mounted on huge moving machines, devour each other for sustenance. Big cities eat smaller cities, and London – governed by a populist leader played by Hugo Weaving – is the biggest of them all.
Mortal Engines official trailer
The allegory seems clear: should mankind continue to destroy the planet through industrialisation, the results will be catastrophic. Curiously, the same message was present in The Lord of the Rings, where magical trees rebel against a domineering wizard. Yet Jackson dismisses the idea that he overtly tries to teach audiences any lessons with his films.
"It's nice that they're there but you just want to make entertaining films that are escapist," he says. "Any film set in the past or the future, it's bound to have some sort of allegory."
Jackson speaks like a panicked hobbit whose home has been invaded by dwarves, his words coming quickly and his sentences rolling into one another. He slouches uncomfortably, his face buried in an unkempt beard, and he only looks forward when he eventually lands on a point he knowingly wants to make.
Access unlimited streaming of movies and TV shows with Amazon Prime Video Sign up now for a 30-day free trial
Sign up
"My favourite quote, which I think describes me, comes from when Alfred Hitchcock was asked about this sort of thing," he says, leading way to a rare moment of eye contact. "He said: 'Some people's films are slices of life, mine are slices of cake.' I've always thought that's what I want to do."
And how does Jackson achieve Hitchcock's goal? Mortal Engines' director Christian Rivers, who has been a storyboard artist on all of Jackson's films since 1992's "splat-stick" zombie film Braindead, has the answer.
"Peter has a limitless imagination, but that's also combined with a highly intelligent and innovative mind," Rivers says. "He was always saying this: 'Audiences want to go to the cinema to see something new. That doesn't necessarily mean Hollywood thinks that, but they do. And the only way to show something new is to be innovative, either in how you shoot it or how you're telling the story.'"
Films to watch before you die

Show all 35
Rivers also brings up Jackson's ability to "keep it human", which seems relatively at odds with his filmography. Consider Jackson's first feature film, 1987's Bad Taste, a gory comedy that centres on a town overtaken by aliens. Two years later, Jackson directed Meet the Feebles, a darkly humorous musical with a cast of puppets. Then, of course, there's his masterpiece: The Lord of the Rings trilogy, in which hobbits, elves, wizards, dwarves and men bind together to defeat the forces of evil.
The key to keeping the story relatable, Jackson says, comes from world-building and trusting the audience with the story. "What we're trying to do is have depth to these characters," he explains. "You want to feel like they're fighting for something and you want it to feel realistic. If it's a vacuous world where nothing feels realistic it will feel boring. You give it some weight and history to make it feel authentic."
Although he's a master of creating mythical worlds, getting these stories to screen has consistently been an upward battle. His most famous struggle came before directing the Hobbit trilogy – a set of films Mexican director Guillermo Del Toro was initially meant to helm. After almost 18 months of production and planning, Del Toro dropped out.
"There was a responsibility," Jackson says of his decision to step in, his eyes now squarely on the floor. "The thought was that I might make Mortal Engines during The Hobbit. But when he left the project, a lot of money had been spent. Do we hire another director to jump into this project cold and delay everything? Or can I just slip in?"
Jackson's eyes start to quickly dart around, as if searching for the right words to say. "Because we had spent a lot of money with Warner Bros and Guillermo had been our idea, we just felt a responsibility to not go with someone else who may decide to leave," he continues. "And I was left with virtually no prep time. I had never gone into a film without storyboards, animatic, pre-visuals. I was thinking on the seat of my pants every single day, which makes you stay quite tough. At least I had enough experience to get through. But the onus was on me."
Was he happy with the result? "Yeah, I think so. I always make the film I want to see, and those were the films I wanted to see. I'm not making films for anyone else. You want them to be successful. But what's interesting about The Hobbit is, we had some people staying with us recently, some young seven- or eight-year-olds, and their parents were making their way through The Hobbit movies." Jackson leans forward. "These kids were going nuts for it. Rather than doing Lord of the Rings first, these kids were just watching it as a story. That's the purest way to enjoy those films. For most people they were prequels, but for these kids they were in order."
Those Lord of the Rings films, the third instalment of which won 11 Oscars, likewise had a difficult journey to the screen. During development, they famously went through multiple incarnations, with one infamous producer wanting to take the films away from Jackson and give them to Quentin Tarantino. That producer was Harvey Weinstein, the disgraced mogul accused of sexually assaulting numerous women and who allegedly convinced Jackson to blacklist the actors Ashley Judd and Mira Sorvino from his films (Weinstein has denied all of the allegations made against him).
"What we got was a real bully, a very unpleasant experience," Jackson says now. "Purely because they had this mafia thuggery, and that's no exaggeration. We ultimately left them and were happy to leave them. Me and Fran [Walsh, Jackson's wife and co-writer] promised never to work with them again. I haven't spoken with Harvey for 20 years."
As our conversation continues, Jackson's press minder steps in and begins to tower over him, as if she's Gandalf trying to prevent Bilbo letting slip information about the One Ring. But Jackson, mischievous, doesn't stop talking. Will justice be served to Weinstein? "It's up to the courts and the justice system to find out what's true. If he's done anything like what he's been accused of justice should be brought, it's black and white for me."
I have one more question for him. "If it's anything on that subject then no," the minder says, now looming above us both. The billion-dollar director has shuffled to the other side of his chair, away from her, and offers me a guiding hand – "I don't mind but I'm really not that tuned into it." Well, I would be remiss not to talk about Jackson's interest in the First World War. Has his recent research, along with the phenomenal reaction to They Shall Not Grow Old, inspired him to make a film based on the First World War?
The words tumble from Jackson's mouth once more as he discusses his extensive collection of war materials, including tanks and artillery. "But I've never had a desire to make a World War One film because it's an interest outside of filmmaking. Making a film would contaminate that. This was a different exercise. If this is my World War One film, then I'm very happy because I ended up making the one I think I should have made and not a Hollywood one."
The response, he continues, has been amazing, and Jackson hopes it inspires young people to ask their grandparents about the war. "There are hundreds of books and documentaries available to anybody, but what's not available is your family's experiences. A lot of that's oral stories told down. My dad was in the Second World War, and he died 20 years ago, and there are so many questions I wish I had asked him that I never did."
Our time together is drawing to an end, with the minder now trying to hurry everything on. Yet Jackson's stubborn behaviour is infectious, and I share a true story: that I recently discovered that my own great, great grandfather died during the Battle of the Somme.
They Shall Not Grow Old – trailer
"You need to go and research that," he responds. "I'm going to tell a quick story, because it is important."
He tells me about learning about his uncle Sid, a sniper who died during the Second World War. After discovering where Sid likely died – near Mousetrap Farm in northern France – Jackson ventured to the location and there, after walking around, he incidentally came across three spent .303 British shells dating back to the war – the same type of ammunition Sid may have used. "It's incredible how close you can get to these people," he says. "It gives you chills."
My one question has turned into story-time with Peter Jackson, and the director has begun speaking with the calm cadence of Bilbo when telling a story to a group of younger hobbits. His magical command of narrative is in full force, and no looming wizard can stop him.
Mortal Engines is released in UK cinemas on Friday 14 December
Join our new commenting forum
Join thought-provoking conversations, follow other Independent readers and see their replies