Interview
Peter Sarsgaard: 'Racial injustice has been going on since America's founding. Wouldn't you riot?'
The actor talks to Louis Chilton about entrenched racism, his new psychological horror The Lie, hatred towards his beloved bats and why being in the new Batman doesn't stop him being an indie film star at heart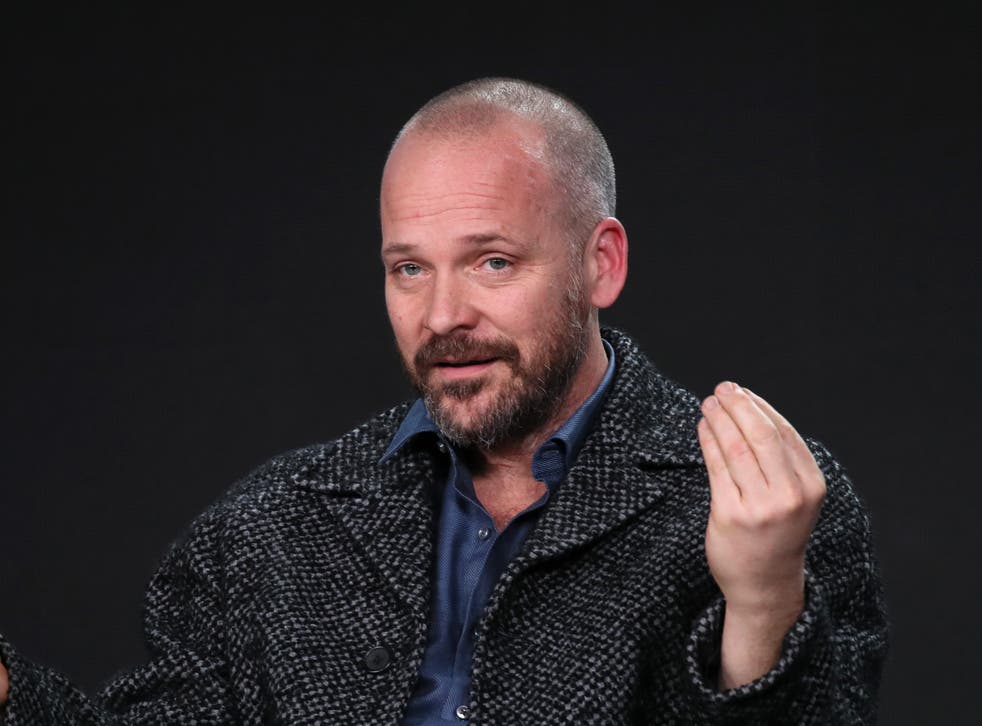 A bat is the only mammal that has achieved the dream of flying," says Peter Sarsgaard, rather poetically. He is referring not to Batman – although he is set to feature in the forthcoming Batman outing, alongside Robert Pattinson's dark knight – but about the animal, of which he houses 200 in a bat house at his Vermont home. "People are afraid of bats," he tells me. "People think bats started Covid. There's a lot of hatred towards bats at the moment. Though you're not going to get injured by one."
Sarsgaard, too, knows what it is to be cast as a villain. The Illinois-born actor rose to prominence playing loathsome characters in films such as Boys Don't Cry (1999), Flightplan (2005) and An Education (2009). While his screen career has since encompassed a broad spectrum of personas and moralities, he still revels in roles with more than a touch of sin.
One such role comes in the form of The Lie, a psychological horror in which Sarsgaard plays Jay, the father of a teenage girl (Joey King) who commits a sudden and unconscionable murder. Sarsgaard is speaking with me from Greece, ahead of the film's forthcoming Amazon Prime release. Boasting a large, statesman-like beard and radiating calmness, the actor seems a far cry from the desperate, guilt-stricken man I watched on screen just days earlier. 
He explains that he came to the project because of the director, Veena Sud, with whom he had previously worked on the US remake of The Killing. But it was also the challenge of the premise that drew him to it – "trying to piece together how I could make this sequence of events work, how to make them plausible". 
"I've messed up as a parent here and there," he adds, alluding to his two daughters, 14 and eight, "but I wouldn't believe that my children were capable of anything like that at all." I presume this is quite the understatement.
For all its twists, turns, and "a plot that really requires you to take large leaps", The Lie is a slow-moving film in places, filled with fraught silences and tense, lingering takes. It's a mode of filmmaking that's familiar to Sarsgaard, who, despite the occasional Hollywood blockbuster, remains an indie star at heart. The patient, protracted filming schedules for big films "make it hard", he tells me. "I get lulled, and it's hard for me to keep my creative energy up. I'm someone who likes to get shot out of a cannon."
He is full of praise for filmmaker Kelly Reichardt, with whom he worked on 2013's Night Moves, a sublime (and sublimely slow-paced) indie thriller focusing on a group of eco-terrorists who sabotage a dam. "So much of the time, as actors, we're asked to abbreviate things," he says. "With her, it's like, if you're going to be putting ammonium nitrate into the boat, and that's what's happening in the scene, you're going to actually fill up the boat." He laughs. 
"I remember a director once asking me, 'Is it possible for you both to just take off your clothes faster before you have sex? Because it's boring to watch you take off your clothes – but don't do it like you're eager or like you're racing.' Well, Kelly Reichardt would probably be more interested in the disrobing. Or putting your clothes back on, even, as in Don't Look Now – not the actual act. And I love that. That's my taste also."
Though Night Moves is only seven years old, it seems pointedly prescient given the urgency of the climate crisis and well-publicised activism of groups such as Extinction Rebellion. "It's always been something that I've had in my mind," he replies. "The fact that it's more in people's minds now is surprising to me, because the state of emergency that we've been in for so long is wildly apparent. I can't believe there are people that still haven't come around. It's mind blowing to me." 
Access unlimited streaming of movies and TV shows with Amazon Prime Video Sign up now for a 30-day free trial
Sign up
Night Moves isn't the only film in Sarsgaard's recent past that hits especially hard in 2020. Experimenter (2015) saw Sarsgaard play Stanley Milgram, the psychologist behind the 1960s experiments in which volunteers were instructed to "electrocute" subjects at the behest of an authority figure. It was a film, says Sarsgaard, about "obedience to malevolent authority" – a theme that takes on particular power amid the current backdrop of populist right-wing governments, police violence and sadistic immigration policies. Authority has seldom seemed more malevolent; the question is whether it will continue to be obeyed.
I ask if it's important to him that his work engages with the times we live in. "Yeah," he says, "but I also think that artists are particularly sensitive. Sometimes, when you go to make something, if it seems really obvious to you that it's the time to make it, it might take a while for it to become something that is on CNN night after night. It's almost like people have to be bludgeoned with something until it becomes obvious.
"Just the other day, a Greek person was talking to me about the problems with racial injustice that we have going on in the United States, and I told him, 'that's been going on since the founding of the country'. This is just another cycle of it, which will hopefully have a different result. But this is something that is so deeply entrenched, it's been there forever. Of course, people are going to be protesting. But I would also say, of course people are gonna be rioting. Wouldn't you riot?"
Sarsgaard will soon finish up work on The Batman, the DC comic adaptation in which he will play Gotham City's district attorney, Gil Colson. He says that he took the role mostly to please his younger self ("I almost imagine teenage Peter sitting in the audience"). He also voices a desire to work with Yorgos Lanthimos, the idiosyncratic filmmaker behind The Favourite (2018) and The Lobster (2015), and Christopher Nolan ("actors have fun in his movies, it looks like, to me"). 
As well as Reichardt and Sud, Sarsgaard has worked with women directors throughout his career, including Isabel Coixet (Elegy), Lone Scherfig (An Education), Agnieszka Holland (Mr Jones), and, most recently, his wife Maggie Gyllenhaal, in the forthcoming Elena Ferrante adaptation The Lost Daughter. He has done so in an era when male actors are increasingly called out for the lack of gender diversity among their collaborators; I ask whether this was a conscious decision on his part.
"It's always a conscious decision on my part to work with someone who's got a different perspective," he responds. "And if you're really reading closely and paying attention when you meet the person, you're gonna end up working with people of colour, women, you're not just gonna work with a bunch of white American males.
"If what you're really out for is someone with a different eye, with a different way of seeing the same thing that you see, then that's just gonna naturally happen. So I didn't specifically seek that out, it just happened. It happened because of what my taste is," he adds.
"I appreciate great white male masters – there are some – but I don't need every movie to be like that. Not every movie's a Clint Eastwood movie."
The Lie is released on Amazon Prime Video on Tuesday, 6 October
Join our new commenting forum
Join thought-provoking conversations, follow other Independent readers and see their replies