Pixar's Soul: 'This film is really gonna heal a lot of things for people'
The animation studio is taking on life after death in its latest film, about a jazz musician who kicks the bucket. Clarisse Loughrey spoke to co-directors Pete Docter and Kemp Powers, composer Jon Batiste and producer Dana Murray about a production that fought to overcome the way "caricature has been weaponised against Black people" and replaced it with joy and compassion
Wednesday 23 December 2020 11:35
Comments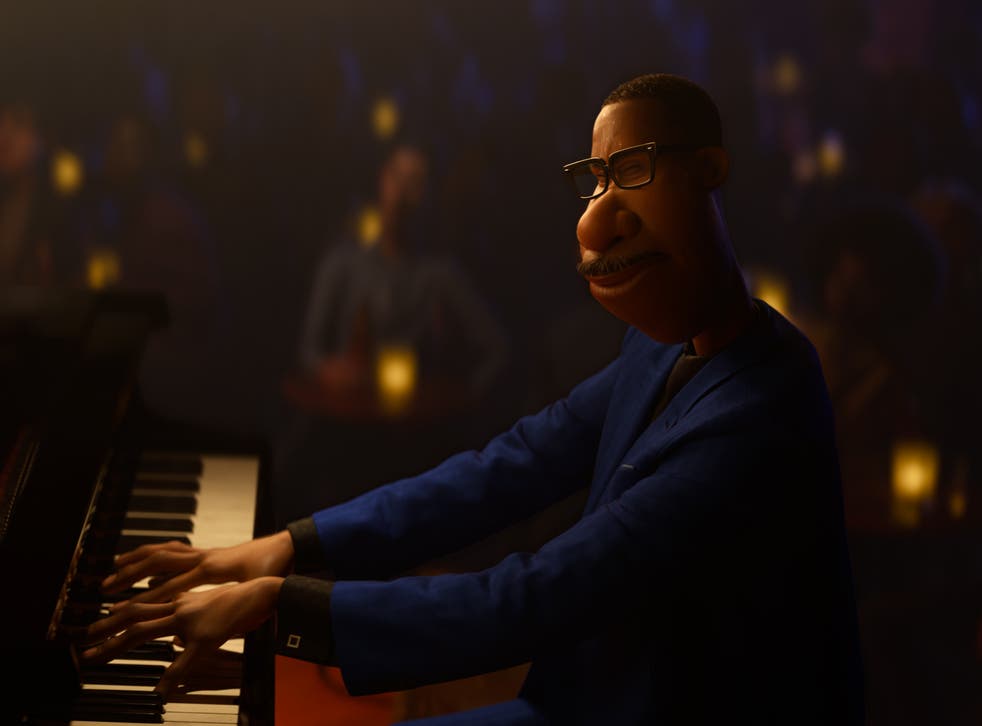 We try to make films that are intelligent enough for kids, but simple enough for adults," says Pixar's Pete Docter, an impish grin plastered across his face. The sentence reads as both whimsical and profound – exactly the kind of tagline you'd imagine was cooked up in the animation studio's headquarters, in the same rooms where it was decided that toys and cars could talk, rats could cook, and robots could fall in love. It's also where, in 2017's Coco, they came to the conclusion that no one truly dies as long as they exist in another's heart; and, in 2015's Inside Out, that happiness cannot thrive without sadness.
In Pixar's latest, Soul, directed by Docter, the studio seeks to answer the biggest question of them all: what is the meaning of life? When a wannabe jazz pianist, Joe Gardner (Jamie Foxx), dies on the day he finally gets his big break, he tumbles down a manhole and kicks the bucket. His soul, transported to the Great Beyond, is left to wonder: what are the ingredients of a life well-lived? Soul is, undoubtedly, Pixar's most ambitious film. But, considering the studio's track record, it was never really at risk of alienating its audience, which is both young and old.
"It's usually the adults that say something like: 'My kid's not going to understand that or they're not ready for that,'" says producer Dana Murray, speaking over Zoom. "But kids ask really big questions and have really big things going on in their heads already." It's never been the case that Pixar's storytellers have to talk down to their audience; they explore what matters to them most and trust that they'll find the right way to bring everyone else along for the ride.
Docter, in 2016, had just won an Academy Award for Inside Out. But the celebrations could only last for so long. Suddenly, he was struck by the feeling of: "Now what?" Had his whole life's purpose really been animation? Was that the best way to spend his precious few years on Earth? His kids were nearly fully grown, and, Murray explains: "He was thinking about how, when they were born, they kind of showed up with all this personality of who they already were. And so he created, in his imagination, a place named the Great Before, where each soul is assigned its particular quirks and characteristics."
It's here that we meet 22 (Tina Fey), a soul who refuses to be born – and who considers human existence to be a pretty tiresome exercise. At first, the film took place entirely within the Great Before, but as Murray explains: "We realised, well, how do you prove to a soul that doesn't want to live that life is worth it if we don't go down to Earth?" And so, Joe came into creation. He was nearly an actor or a scientist or (even) an animator. "And then we landed on jazz," Murray continues. "It feels like a noble passion. You don't go into it to get rich and famous."
Pixar reached out to Dr Johnnetta Cole, an anthropologist and the former director of the Smithsonian Institution's National Museum of African Art, who described jazz to them as "Black improvisational music". It became immediately obvious that Joe himself should be Black. Kemp Powers, whose debut play, One Night in Miami, has been adapted into a potential Oscar contender, was hired as co-writer. He was bumped up to co-director when his contributions proved invaluable. Not only is he coincidentally a "middle-aged Black man from New York City", but he spent years as a journalist and music critic, before dropping everything to pursue his dreams of becoming a screenwriter. "The very first scene that I wrote was a scene between Joe and his mother," Powers says, describing a pivotal confrontation with Libba (Phylicia Rashad) over her lifelong disdain of her son's artistic ambitions. "And, honestly, a lot of that is the conversation that I had with my own mother about pursuing creative writing as a career."
Joe Gardner is Pixar's first Black lead – and Jon Batiste, who provided the film's jazz score, believes wholeheartedly that "it's really gonna heal a lot of things for people". The musician, known for his protest music, sees a grander purpose in films like Soul, that celebrate Black voices and Black talent. "I do believe that excellence is a form of protest. Joy is a form of protest," he explains. "People who are against your best interests are really trying to diminish your humanity. And this film is so loving and compassionate and humane. It presents people with something that is undeniable." The way Soul openly embraces Black culture on screen is both a celebration and a declaration.
Pixar clearly understood what was at stake. For Coco, the studio had brought together an internal culture trust to ensure the accuracy of its Mexican afterlife. Here, Docter and Murray sought out the contributions of Pixar employees; musicians like Batiste, Herbie Hancock, and Terri Lyne Carrington; cast members Questlove and Daveed Diggs; and cinematographer Bradford Young, who advised the studio on how to properly light Black skin.
"I think, right off the bat, the thing I learned was: 'You don't know what you don't know,'" says Docter. Kemp Powers was responsible for a scene where Joe visits the local barbershop – it's as much a social call as it is part of his grooming routine. "Really, I don't even cut my own hair," Docter jokes. "The barber is not a thing for me, but I had to trust what he was bringing in. And thank goodness I did, because I think it really added so much depth." The culture trust also helped steer the look of the costumes, jewellery, and hair – plus countless other details that were crucial to a sense of lived-in authenticity.
Access unlimited streaming of movies and TV shows with Amazon Prime Video Sign up now for a 30-day free trial
Sign up
It was hard at first. No one wanted to upset or offend or cause a fuss amongst their colleagues. "Not only were the culture trust members playing it safe, I think Pete and I were playing it safe because we didn't want to say anything wrong either," says Murray. She credits Britta Wilson, Pixar's VP of inclusion and diversity, with helping to kickstart a few honest conversations. Two story artists, Aphton Corbin and Michael Yates, put together a presentation for the crew, which detailed how caricature had been weaponised against Black people throughout history. "I felt a real shift in the culture at that point," Murray says. "Of people being able to open up and speak to what was maybe not feeling good to them."
"Having a culture trust, having so many voices, it slows the process down," says Powers. "It makes the process harder. But that's good, because a lot of it is born of laziness – this idea that you just want people to rubber-stamp what you're doing. That's how you end up making these egregious errors again and again." And it's vital, too, he stresses, not to treat the Black experience as some singular entity. His colleagues in the culture trust represented all ages, genders, and regional backgrounds. "Our tastes were wildly different," he says. "And we disagreed on so many different things." Pixar plans to use the same process for all its upcoming projects, even those where its director is able to offer a personal perspective – that includes Enrico Casarosa's Luca, about a little boy growing up in an Italian coastal town, and Domee Shi's Turning Red, about a Chinese-Canadian girl who involuntarily turns into a giant red panda.
The studio also reached out to various religious leaders during the design process for the Great Before, hoping to land on some universally agreed-upon concept of the human soul. "Of course, most people say it's invisible," Docter says. "It's non-physical and ethereal and that was not very helpful. But we tried to nod to that in the design of the characters as sort of foggy and fuzzy and less solid than the human characters on Earth." For the look of the place, the team avoided drawing from any single culture. Their references were clean and utopian – the World's Fair, Disney's Epcot theme park, and Swedish sculpture.
Docter will often repeat the same story about Miles Davis, shared by jazz legend Herbie Hancock in an online masterclass – an anecdote he claims was a major source of inspiration for Soul. One night, when the two were playing together, Hancock hit a bum note in the middle of Davis's trumpet solo. The musician barely reacted. He took a breath, improvised, and delicately shaped the tune so that Hancock's mistake no longer sounded like one. A great jazz musician learns to roll with the punches. The story turned out to be an oddly prescient one for the makers of Soul, after the film's theatrical release was repeatedly delayed in response to the pandemic, then cancelled altogether – it will now debut on Disney+ on Christmas Day.
"We've settled in a place of just feeling super grateful that the film is coming out, and that we have Disney+ as a platform to reach people around the world, so that people can see it safely," Murray says. "Because it's pretty easy to focus on what we don't have right now." There were seven weeks left of production when California's Bay Area, where Pixar's studios are located, first went into lockdown. Animators took their equipment home and, somehow, the team were still able to finish the film on time. For the film's closing credit tune, a cover of The Impressions' "It's All Right", Batiste recorded each instrument in his own living room.
The effort was worth it – Soul is a film that takes on a life of its own in a year like 2020, when it's more important than ever to treasure the small, quiet pleasures that life brings us. "Pete was the one who was saying, 'You know, on my deathbed, I'm not going to look back and go like, man, it was really cool to meet that person at the Oscars,'" says Powers. "That's not where we go in our darkest moments. We go back to moments with people we love, experiences that we cherish. And I think, with the film, we were just trying to capture a little bit of that."
Soul comes to Disney+ on Christmas Day.
Register for free to continue reading
Registration is a free and easy way to support our truly independent journalism
By registering, you will also enjoy limited access to Premium articles, exclusive newsletters, commenting, and virtual events with our leading journalists
Already have an account? sign in
Register for free to continue reading
Registration is a free and easy way to support our truly independent journalism
By registering, you will also enjoy limited access to Premium articles, exclusive newsletters, commenting, and virtual events with our leading journalists
Already have an account? sign in
Join our new commenting forum
Join thought-provoking conversations, follow other Independent readers and see their replies