The Independent's journalism is supported by our readers. When you purchase through links on our site, we may earn commission.
Pulp Fiction: 20 years on
Two decades ago, Quentin Tarantino's ultra-violent comedy-thriller changed cinema. But was that for good or ill?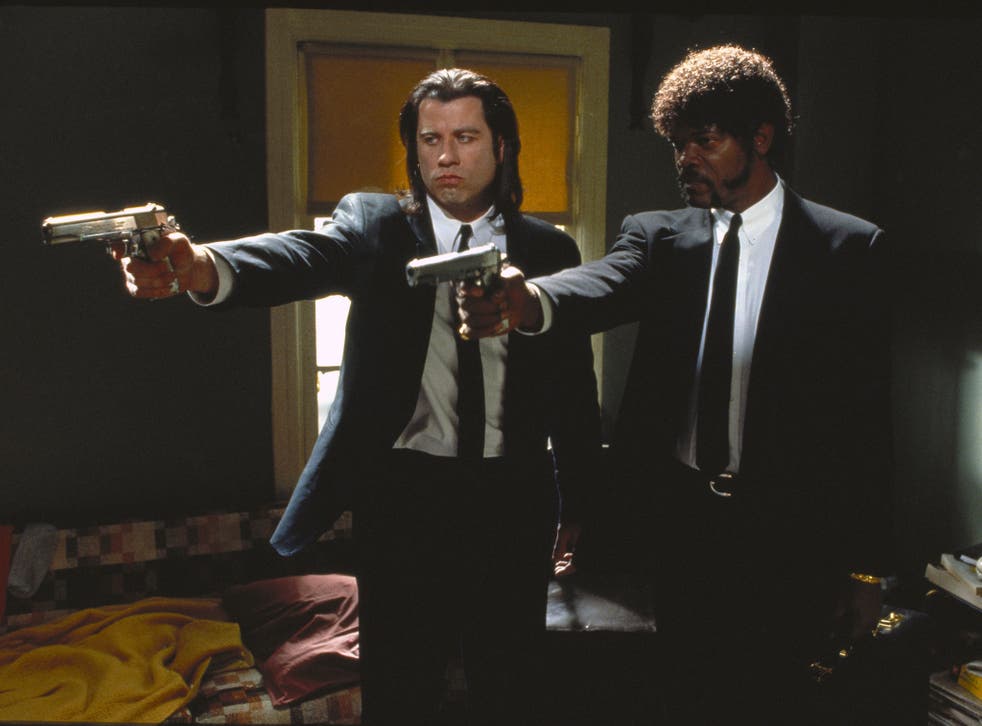 20 years ago this month, Quentin Tarantino's second film, Pulp Fiction, won the Palme d'Or at Cannes. And that was just the beginning: the $8 million production went on to gross over $200 million worldwide, while at the 1995 Oscars Tarantino and his co-writer, Roger Avary, won for their screenplay, and the film itself earned a Best Picture nomination.
Its competitors? Forrest Gump, Four Weddings and a Funeral, Quiz Show and The Shawshank Redemption. That's a stronger selection than most of the period's Best Picture shortlists, but it's clear that Pulp Fiction was in a different universe from its fellow nominees. It was a non-linear anthology of three stories, with an additional prologue and epilogue. It contained shocking bloodshed alongside snappy screwball banter. And it featured a cast of criminal low-lifes who gave as much thought to discussing foot massages as they did to shooting dead their victims.
There was only one film that offered any useful comparison, and that was Tarantino's 1992 debut, Reservoir Dogs. But while Dogs introduced most of the writer-director's game-changing ideas, it was Pulp Fiction that went on to be, in the assessment of the late American film critic Rogert Ebert, "the most influential film of the decade".
But the question remains: is that influence something to be celebrated? For every film enthusiast who believes that Pulp Fiction put a bullet in the brain of fusty, stuffy, mainstream Hollywood, there is someone else who sees it as the first in a long line of cheap and nasty, adolescent gangster fantasies. Two decades on, it's time to take another look at the various aspects of its legacy, and judge whether Tarantino's crime saga has had a positive or negative impact on cinema history.
Postmodernism
Pulp Fiction is a triumph of self-conscious allusion in which innumerable elements are taken from Tarantino's vast repository of film, television and music knowledge: think of the 1950s diner, the glowing briefcase lifted from Kiss Me Deadly, the Modesty Blaise novel read by John Travolta's character, and the passage from Ezekiel recited by Samuel L Jackson's character, which Tarantino swiped, not from the Bible, but from the opening of a Japanese martial arts movie, Karate Kiba. Tarantino's detractors contend that his films have nothing to do with real life: every moment in them has been filtered through someone else's imagination – which is why he was so beloved in that most backward-looking of decades, the 1990s.
Verdict: Positive. Through Pulp Fiction and beyond, Tarantino's nerdish homages have turned countless people on to films and songs that they might otherwise never have encountered. If Tarantino has prompted his fans to investigate Louis Malle, Sonny Chiba and the surf-guitar of Dick Dale, is that such a bad thing?
Pop-culture dialogue
Tarantino's pop-cultural obsession was shared by his characters – not least Jackson's hitman Jules Winnfield. He calls one victim "Flock of Seagulls" because of a haircut reminiscent of the Eighties New Wave band. He calls another "Ringo" because of his English (although not Liverpudlian) accent. And he compares himself to "Caine in Kung-Fu", the Fonz, Super Fly TNT, The Guns of Navarone and "what Jimmie Walker usta talk about". (Walker is a comedian whose catchphrase was "Dy-no-mite!")
Verdict: Negative. In 1994, it was refreshing to meet characters who had spent as much time in front of the television as the rest of us, but now pop-culture references are the crutch of lazy screenwriters, or rather, lazy improvisers. Almost every new Hollywood comedy is padded with unfunny mentions of whichever films drift into the actors' minds: namechecking Ghostbusters is, unfortunately, not hilarious in itself.
Cartoon violence
Pulp Fiction invites us to laugh when Travolta's Vincent Vega accidentally shoots someone in the throat, and laugh even louder when he and Winn-field bicker about the mess he's made of their car. As a result, countless imitators went on to peddle hip, quipping gangsters and stylised, flippant ultra-violence – the irony being that Tarantino is actually one of the more thoughtful and moral of American writer-directors when it comes to violence. After all, Vega is shot while emerging from a toilet, an imperious crime-lord ends up in an S&M dungeon, and a pair of hold-up artists are held at gunpoint themselves: we're supposed to laugh at the bad guys, not laugh with them.
Access unlimited streaming of movies and TV shows with Amazon Prime Video Sign up now for a 30-day free trial
Sign up
Verdict: Negative. Alas, the wannabes tend to miss the message behind Tarantino's jokey violence. It's time for someone to "strike them down with great vengeance and furious anger".
Blaxpoitation
With his pimp-rolling swagger and afro, Winnfield embodied Tarantino's love of 1970s blaxploitation movies, but not everyone was convinced by this homage: Spike Lee took exception to the character's use of the "N" word. Tarantino argued that he was being true to the argot of LA's demi-monde, but Lee wasn't appeased, and similarly complained about Jackie Brown. "What does he want," asked Lee. "To be made an honorary black man?" Later, Lee boycotted Tarantino's Django Unchained, tweeting, "American Slavery Was Not A Sergio Leone Spaghetti Western. It Was A Holocaust."
Verdict: Positive. Pulp Fiction brought the funky urban thrills of blaxploitation back into fashion: Tarantino went on to cast Pam Grier (of Foxy Brown fame) in the title role of Jackie Brown, while Jackson went on to star in John Singleton's Shaft reboot. More significantly, Marvel Comics redesigned one of its white characters, Nick Fury, so as to resemble Jackson, who has played the role in several of the studio's superhero blockbusters. That casting alone has arguably done more to empower black children than Lee's entire oeuvre – and it wouldn't have happened without the film that made Jackson an icon.
Indie power
Reservoir Dogs wasn't a hit in America: it was just a low-budget independent movie, after all. But Pulp Fiction proved that indies could make a fortune, win prestigious prizes, boost flagging reputations (such as Travolta's), create superstars (Uma Thurman) and provide Hollywood idols (such as Bruce Willis) with their best roles in years. Meanwhile, the film's independent distributor, Miramax, became a major player, nabbing Best Picture nods at every Oscar ceremony from 1996 to 2004. Other studios hurried to launch their own Sundance-friendly indie divisions. More importantly, a generation of film geeks realised that they, too, could get into the business.
The downside? The Weinsteins became as notoriously tyrannical as any old-school Hollywood moguls, and it's difficult to argue that subsequent "indie" successes such as Miramax's Shakespeare in Love struck a blow for rebellious film-making.
Verdict: Positive. Hollywood needed a shake-up, and this newspaper can hardly criticise any cinematic movement defined as "independent".
On Tuesday 'Pulp Fiction' will screen exclusively at Cineworld cinemas nationwide to mark its 20th anniversary
Pulp facts: Five things you might not know about Pulp Fiction
The casting
Of all the alternative castings that might have been – Mickey Rourke as Butch, Daniel Day-Lewis as Vincent – perhaps the most intriguing is Julia Louis-Dreyfus, who was apparently offered the Uma Thurman role of gangster's moll Mia Wallace but had to turn it down because she couldn't take time out from shooting Seinfeld.
The car
The 1964 Chevrolet Chevelle Malibu in which Vince and Mia head out for the evening was in fact Tarantino's own car. It was stolen during production of the film, but resurfaced 19 years later, in 2013, in the San Francisco Bay area after two men were caught stripping it and police checked its vehicle identification number.
The briefcase
Diamonds? Marcellus Wallace's soul? An orange light bulb? What exactly was hidden behind that 666 code that Vince stares at so intensely, his face illuminated in orange? According to co-writer Roger Avary, they originally imagined the briefcase containing diamonds, but Tarantino thought that was too much of a cliché, given that his previous film Reservoir Dogs also had diamonds at the centre of the plot. So, he simply left it for the audience to decide for themselves.
The dance
Vince and Mia's epic, prize-winning twisting? Well, it isn't prize-winning in fact. Despite a scene showing them carrying home the trophy, a news report faintly coming out of a car radio in another storyline mentions a man and a woman having stolen a trophy from a dance competition at Jack Rabbit Slim's.
Where are the cops?
Interestingly, there is not a single policeman featured in the movie, even in plain clothes, despite all the criminal behaviour on show. Sadistic rapist Zed arrives in uniform ... but he's a security guard.
Mathilde Ive
Join our new commenting forum
Join thought-provoking conversations, follow other Independent readers and see their replies