Ready Player One star Ben Mendelsohn: 'The Governor or the Boss. That's what he's known as - it's hardly a state secret. He's Steven Spielberg'
Interview: The Australian actor fulfils a lifetime dream to work with Spielberg in his sci-fi VR action adventure 'Ready Player One' as the Machiavellian Nolan Sorrento, a screen adaptation of Ernest Cline's 2011 best-selling dystopian novel 
Gill Pringle
Wednesday 21 March 2018 15:15 Comments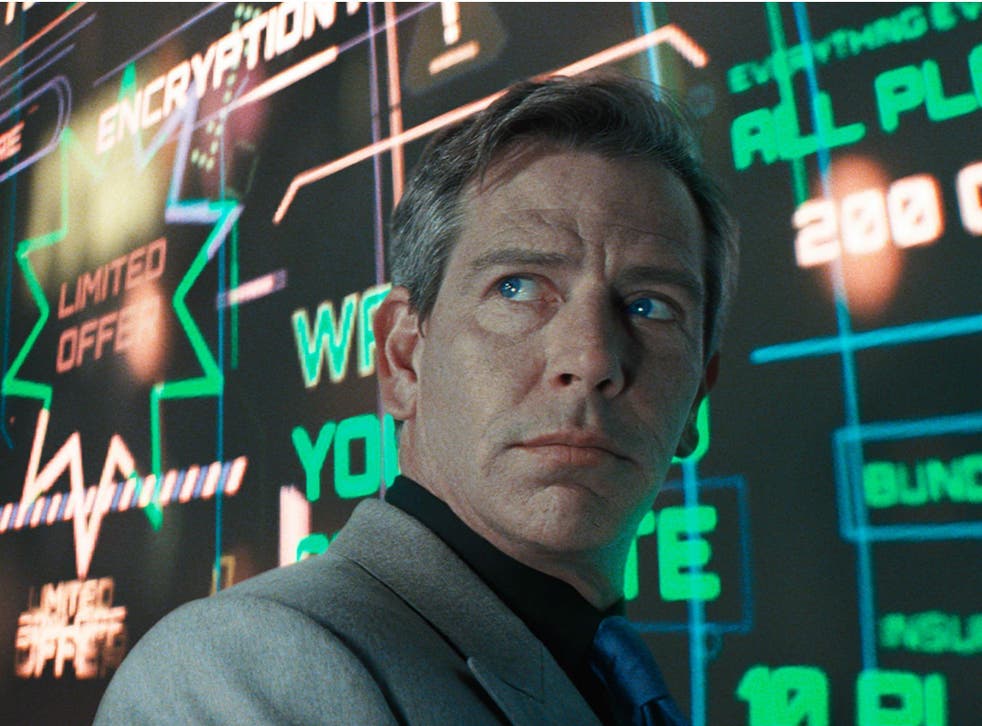 Along with a brown suede jacket and frayed jeans, Ben Mendelsohn wears a look that says he's been up to no good, his mouth poised halfway between snarl and playful smirk below a pair of smiling blue eyes.
He can't help it.
"It's just my face," he pleads.
"But that's always been the case. Thankfully, I got old enough to go from a boy who looks like he's been up to mischief, to a man who looks like he's been up to mischief," says the Australian actor who brings a nuanced brand of malice to all his villainous roles, be it his Emmy-winning performance as the sexy black sheep in Netflix series Bloodline or as a psychopathic brother in Animal Kingdom.
Then there was his career criminal in British drama Starred Up and menacing white-caped Director Orson Krennic in Rogue One: A Star Wars Story. This summer will see him step into the tights of another legendary baddie, playing Sheriff of Nottingham to Taron Egerton's Robin Hood.
But, before then, he fulfils a lifetime dream to work with Steven Spielberg, starring with Mark Rylance in sci-fi VR action adventure, Ready Player One.
"I grew up with Mr Spielberg's films so I was happy to get that meeting. But I was also very shy, and did a lot of looking at the ground," admits Mendelsohn, 48, modelling both his gregarious and shy personas when we meet on the back-lot of Warner Bros Studios in Burbank, California.
"I said, 'Look, I don't know if you want to give me the job or not. But this is good enough. Whatever happens from here is jam'."
As a boy, he was traumatised by Spielberg's Jaws. "Jaws for Australians? Terrifying. Because we got 'em. I don't care about Amity Island. We got sharks! My mum took me to see Jaws at the drive-in and I couldn't make it over the seat."
To this day you won't find him joining his surfer countrymen Chris Hemsworth or Hugh Jackman in the ocean. "I can swim in a pool – but I'm only alright if I can touch the bottom. I blame Jaws for that."
Unsure whether he had made a good impression on the fabled director, he waited three months to learn he'd won the role of Machiavellian Nolan Sorrento in Spielberg's much-touted screen adaptation of Ernest Cline's 2011 best-selling dystopian novel.
Access unlimited streaming of movies and TV shows with Amazon Prime Video Sign up now for a 30-day free trial
Sign up
He doesn't hold back in describing his megalomaniac alter-ego. "Nolan is a dickhead; a jerk-off, a little wounded vanity suck that just wants everyone to tell him how beautiful he is. He's a corporate arsehole. One of those reprehensible types with Stalinistic leanings."
His awe of Spielberg continued onto Ready Player One's UK set where Leavesden Studios doubled for Columbus, Ohio, referring to the director as "The Governor" or "The Boss".
"That's what he's known as – it's hardly a state secret. He's Steven Spielberg. I don't expect to see another director like him in my life. He's singular. He's extraordinary, and gentle too."
Working in the UK reaped other unexpected benefits. "Better tea. You're always gonna get the best tea in a British production."
Born in Melbourne, Mendelsohn and his two brothers led a gypsy childhood, travelling between boarding schools in the UK, US and Germany as his neuroscientist father followed a successful career in medical research, his late mother working as a nurse.
"There was a lot of moving around and I suppose that's part of where you learn to adapt to fit in. Oh, it was rough and tough," he sighs running hands through a mop of floppy grey hair.
In a 2010 interview with The Age he described his upbringing as "troubled", revealing how he was expelled from school, aged 13, for setting fire to property.
Salvation came in the form of acting, signing up for drama class in high school, at aged 16 winning recurring roles on Aussie soaps The Hendersons and Neighbours, opposite Kylie Minogue no less.
By 18 he thought he had it made following his critically-acclaimed role in coming-of-age film, The Year My Voice Broke.
"Being a movie star wasn't something I dreamed about. Living in the suburbs of Australia, it wasn't really a dream that anyone had."
Together with contemporaries Guy Pearce, Russell Crowe, Joel Edgerton and Jason Clarke, he became a Los Angeles frequent-flier on the audition circuit. However, unlike his counterparts, nothing seemed to click until 2010's Animal Kingdom which transformed his career overnight. In 2011 alone, Chris Nolan cast him in The Dark Knight Rises while enjoying prominent roles opposite Ryan Gosling in The Place Beyond the Pines and with Brad Pitt in Killing Them Softly.
In tandem with a renewed sense of acceptance came his 2012 marriage to British writer Emma Forrest and a daughter Carolina, four, although the couple had separated by the end of 2016. He also has a 15-year-old daughter from a previous relationship.
If it bothers him that he's become typecast as a complicated bad guy, he doesn't let on, pointing to his recent portrayal of King George VI in Darkest Hour opposite BAFTA and Oscar-winning actor Gary Oldman.
"It was really ballsy of Joe Wright to cast me as George VI. I didn't expect it. But he and Gaz had seen me in Starred Up so I guess they knew I could do the accent. But still, I was very surprised. And delighted," he says in broad Aussie twang.
"But, you know what? It's more fun to play the bad guy. You get to behave in ways you might want to behave in normal life, but can't. So I don't mind being a specialist in bad."
An affable chap with a ready laugh, he's hesitant to colour in the details of his life although his passions are evidenced within odd analogies to boxing, football, cars – and other things.
Taking director's notes is "very much about playing football for the coach."
On acting: "You're in the ring and off you go; try and land a couple of blows, get hit and fall over. Repeat."
On his slightly comedic take on Ready Player One's Nolan: "Its the right fit for the vehicle; the right exhaust system for the engine."
In common with all his projects, he won't be checking social media to see how well Ready Player One is received. "I don't go online. I wouldn't dip my toe into that crazy torrent. You get too swept away. And I can't go back and change it. Its done. Walk away and do the next job. That's the discipline. Like a bank robber. That one's fresh out the pot; that's the first bank robber acting analogy," he grins.
With its immersive virtual universe where the humans of 2045 escape their miserable existence by living in avatars, Ready Player One is arguably a role he was born to play.
"I've played video games for most of my life although pinball was my first love in the 70s. I grew up right in the sweet spot for this. I had a TRS-80 and a Commodore 64 so I know the turf."
He's still a regular gamer although he's not about to divulge his player name. "I may have a few names," he teases. "Do you think I'm going to tell you them? Pleeease? I'm not having some bunch of little troll-y freaks coming up to me. I think that's part of the joy of that world isn't it? That you get to go in and be what you wanna be. On the internet, nobody knows you're a dog," he says quoting Peter Steiner's wry cartoon comment on internet anonymity published in The New Yorker in 1993.
Mendelsohn doesn't take his second career start for granted. For the first time in his life, fans now recognise him in his adopted home of Los Angeles, smiling warmly despite the fact they usually only know him as the bad guy. "But I've never had anyone want to attack me over that. Never. Other reasons? Yeah, but not that," he says with theatrical pause. "People have been pretty alright with me. They don't expect to see someone from Star Wars on the streets.
"And I still get moments of 'Wow...'. I get very emotional about how good things are and where life is for me."
He doesn't even object when you ask the same question twice in hope of provoking a more revealing response. "There's no good question that's not worth asking twice," he laughs. "Like, 'Do you love me?' Now that's a question you always need to ask more than once."
He knows he's finally hit his stride and even the fact that his Star Wars role was limited to one film doesn't bring him down. "I am just happy that I built the Death Star. They can't take that away from me."
'Ready Player One' opens on 29 March
Register for free to continue reading
Registration is a free and easy way to support our truly independent journalism
By registering, you will also enjoy limited access to Premium articles, exclusive newsletters, commenting, and virtual events with our leading journalists
Already have an account? sign in
Join our new commenting forum
Join thought-provoking conversations, follow other Independent readers and see their replies