'A lot of people hate Jean-Luc Godard': 'The Artist' director Michel Hazanavicius on making 'Redoubtable'
The Oscar-winning director and his star Stacy Martin discuss Jean-Luc Godard's legacy, as the French auteur's latest film also opens in Cannes
James Mottram
Tuesday 08 May 2018 11:26 Comments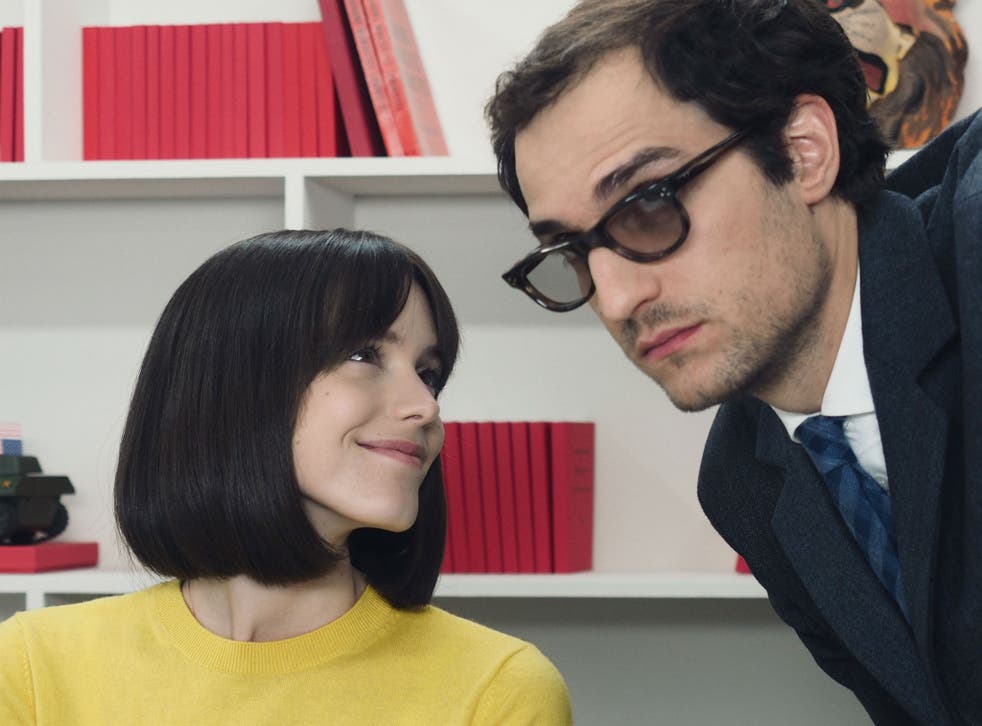 The story goes that, when Jean-Luc Godard heard that there was a film of his life being made, he declared: "I don't like it… stupid, stupid idea."
The one-time rebel of French cinema is now 87 years old, and doubtless has little interest in seeing a story about his marriage to actress and muse Anne Wiazemsky brought to the screen some 50 years after the fact. But at least it's in the safe hands of Michel Hazanavicius, the Oscar-winning director behind The Artist.
I'm sitting in a Mayfair hotel room with the bearded French director and Stacy Martin, the Anglo-French actress who got her big break in Lars von Trier's Nymphomaniac. In Redoubtable, she plays Wiazemsky, opposite Louis Garrel (who shot to fame in The Dreamers) as Godard.
The period is 1967-68, when student demonstrations littered Paris. Godard was then revered as a key intellectual figure after his time as the figurehead of the French New Wave movement, directing films like Breathless and Vivre Sa Vie.
"He's constantly requestioning what he's doing and what's happening around him," says Martin, dutifully. "In France, he's almost a messiah."
This year Godard returns to Cannes – the festival he managed to help shut down in 1968 in sympathy with demonstrators – with his latest experimental effort, The Image Book, which plays in competition. But Hazanavicius is unlikely to be queueing up to see the director's work these days.
"I wouldn't say he's one our best directors," he shrugs. "He's one of the most free. He's taken a very interesting path. But I do not consider him as one of the best."
Sacré bleu! Such sacrilege, no? Hazanavicius thinks France is divided over Godard.
"Some people want to protect him. He's like a totem for a certain part of society in France, which I think is ridiculous," he says. "But a lot of people hate him because they don't understand him, because they are afraid of him, because he's always an opponent – he's anti a lot of things. A lot of people hate him for it, because they think he's an intellectual and part of the elite."
Godard has lived away from France – in Rolle, in Switzerland – with his partner Anne-Marie Miéville since 1978. Did Hazanavicius make the pilgrimage? "No. You have to go to Switzerland, you have to knock on his door, and then he won't open so you have to come back!"
Access unlimited streaming of movies and TV shows with Amazon Prime Video Sign up now for a 30-day free trial
Sign up
For him, researching Godard through books, articles and his own movies was enough. "When you do research on a director and you rewatch their movies, it's amazing how much it tells about them."
Hazanavicius had an even greater resource in Anne Wiazemsky, whose 2015 book Un an après (One Year After) – a memoir of her time with Godard – became the basis for Redoubtable.
"I respected the point of view of the book, and I thought it was a very smart way to tell the story. And also she respected the young lady she was at that time. She didn't [write] with a lot of distance. In the book, I thought there was a right balance between her lucidity, and the fact she was in love with him."
Wiazemsky died last year in October of cancer, aged 70, and one of her last public appearances was at the Cannes premiere of Hazanavicius' movie. Martin met her at that event, but not before.
"I thought if I meet her [during the shoot], I'm going try and do something that isn't the film," she says. "We're making a film that is totally in the world of Michel's cinema. We're not making a Godard movie. I wanted to keep that distance and freshness as well."
According to Hazanavicius, Wiazemsky initially declined to grant him the film rights to her book. But when she realised he intended to find the humour in her relationship with Godard, she changed her mind.
"After five minutes, she said, 'OK, I trust you, do whatever you want'. Then she said something funny: 'You come from another planet, so I accept.'"
Hazanavicius was good to his word too, creating a playful film that pokes fun at the petulant and self-absorbed Godard.
Particularly comical are the scenes of Martin and Garrel in frequent states of undress, as Godard parades naked around the bedroom after lamenting the way directors frequently resort to gratuitous nudity in their films.
"I always have concerns about nudity but these scenes… I thought it was so genius," says Martin, who adds that it was especially apt given she made her breakthrough in Nymphomaniac. "The comedy of it and the situation of it is really funny."
So how do you prepare for a film with copious nude scenes like this? "You just do it," says Martin, with a laugh. "You just wash yourself. Make sure you're clean. Do a bit of exercise. Make sure everything is in place! As an actor, your body is an instrument."
You lose all your inhibitions? "I wouldn't say that. It's a closed set most of the time. So you're not just walking around naked like a crazy person. It's very different for Louis." Hazanavicius interrupts. "He had to do push-ups!"
For all the humour, the portrait of Godard's time with Wiazemsky engages emotionally. Following the end of his first marriage to Anna Karina, the star of many of his early movies, Godard wed Wiazemsky in 1967 (they stayed married for 12 years, although as the film shows, they broke up after 18 months).
As Godard made 1967's La Chinoise with Wiazemsky, he became increasingly radical in his political and artistic ideals. Specifically embracing Maoism, he rejected the old – which inevitably included Wiazemsky – in favour of the new.
"It's not because of age. It's not because of sex. It's not because of a lack of love. It's that one of them – Godard – conscientiously decided to change because of a [Maoist] revolutionary concept," explains Hazanavicius. "He wants to change, he changes, and in doing this he kills everything that was behind him before he was revolutionary.
"At the end, he destroys himself. So she can do nothing, but look at him, killing himself… she can't love him. I think this love story touched me."
The film's recreations of the May 1968 demonstrations, as student protests against capitalism and consumerism turn ugly, are also particularly effective.
"We had 500 extras and none of them had been there in 1968, but they had this energy… it connected for them with what was going on today," says Martin, referring to recent demonstrations in France about labour reform. "I loved shooting those; it's an energy I find less in England. English youth is less politicised than French youth."
As for Godard and his comments that Redoubtable was "a stupid idea", Hazanavicius doesn't take offence. He thinks it was a "humble" thing for Godard to say: that he doesn't want to be the centre of attention anymore. "I don't think he's a megalomaniac."
How would Hazanavicius react if someone ever made a film about his life? "It's such a different period now. I really don't think it's interesting," he says.
Then he grins. "I think it's a stupid idea!"
'Redoubtable' opens on 11 May. Jean-Luc Godard's 'The Image Book' screens in competition at the 71st Cannes Film Festival
Register for free to continue reading
Registration is a free and easy way to support our truly independent journalism
By registering, you will also enjoy limited access to Premium articles, exclusive newsletters, commenting, and virtual events with our leading journalists
Already have an account? sign in
Join our new commenting forum
Join thought-provoking conversations, follow other Independent readers and see their replies