Revenge: The ultra-violent rape thriller that flips the male gaze
Actress Matilda Lutz and director Coralie Fargeat discuss how the movie upends cinematic cliches of female objectification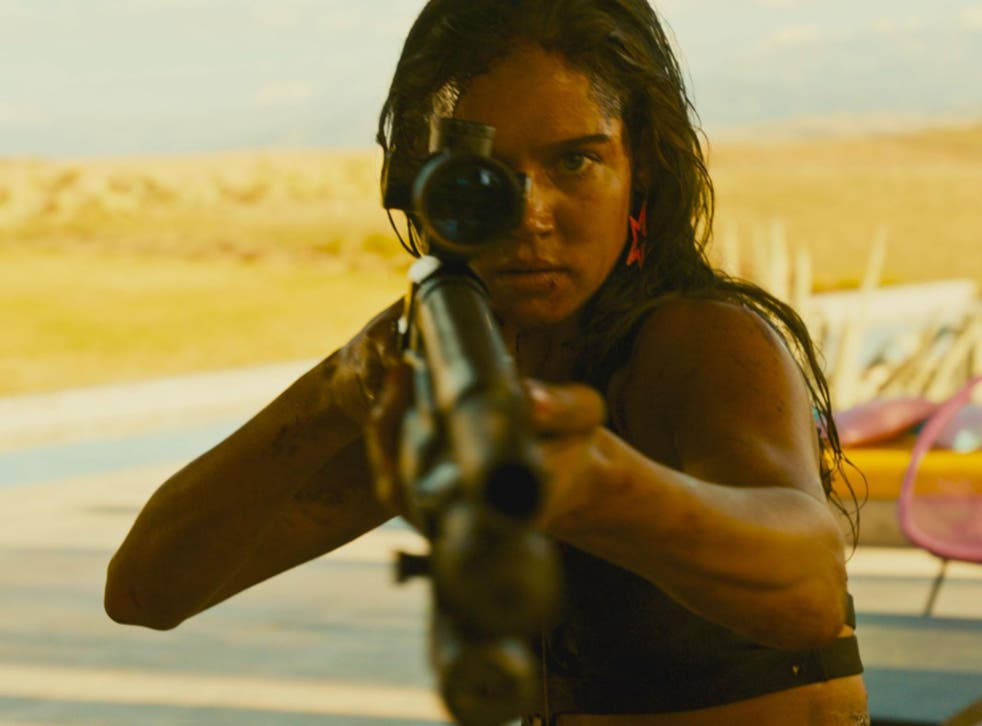 Hype has been building around Revenge since the ultra-violent and stylised feature debut by French director Coralie Fargeat premiered in the Midnight Madness slot at Toronto International Film Festival last autumn.
It's gory: for its finale, in which a man and a woman chase each other around a villa slicked with their vital fluids, Fargeat personally applied blood to the walls and actors.
Yet even more striking than the violence of this rape-revenge western is the way the camera's gaze suddenly flips from the male to the female gaze.
The story begins with Jen (Matilda Lutz) enjoying a sexy retreat to a remote desert love shack with married hunk Richard (Kevin Janssens), until they are interrupted by the arrival of his hunting buddies, Stan (Vincent Colombe) and Dimitri (Guillaume Bouchède).
Early scenes are filmed to mimic the gawping perspectives of the three men. Jen is styled like a coquettish and confident adult Lolita: what little clothing she wears is pink and the camera lingers on every inch of her body.
It scans like an over-the-top pastiche of female objectification – until Jen is raped and left for dead, impaled on a spike which protrudes from her body like a giant phallic metaphor.
When she arises, Jen's body is filmed from a different perspective. Her golden blonde hair looks darker and her body, although still exposed, is no longer sexualised, seeming athletic and capable instead.
"She wants to be seen, she wants to be noticed, she lives with her image and defines herself with that – but the real problem is not this, but the fact that the male gaze is going to treat her in a certain way because of that," says Fargeat.
Asked if this opening stretch is a true representation of Jen's character or merely an illustration of how she is seen by the men, Fargeat responds that it is both. "Women should be able to be sexy without being considered as a slut, or all those words that don't exist for men. Men can use their bodies how they want and there are not specific words created for that which are pejorative."
Access unlimited streaming of movies and TV shows with Amazon Prime Video Sign up now for a 30-day free trial
Sign up
For the lead actress, 26-year-old Matilda Lutz, who grew up in Milan and now divides her time between Italy and LA, the opportunity to play a character who is comfortable flaunting her sexiness was liberating.
She admits to having previously judged women who unabashedly show their bodies, citing sobering early life experiences as the reason. Amongst these was an incident at the age of 14, when she was coming back from a church get-together and two men tried to shove her into their car.
Lutz says that Italy has been comparatively backward in taking the abuse of women seriously, citing an instance in the #MeToo movement.
"When the Weinstein case was exposed and the Italian actress Asia Argento came out with her story everyone was against her. They were telling her that she's not a saint, she's not a nun and that she deserved it because she behaved in a way that allowed the guy to take advantage of her."
Lutz carried awareness of how the dehumanisation of women can be normalised onto the Revenge set and initially felt paranoid about shooting in a bikini: "I saw a guy taking a picture and was very concerned about him putting this picture I don't know where."
However, as shooting continued, the confidence of her character began to seep into Lutz, and has even carried over into her real life.
"I used to be very afraid of what people thought of me, especially men. If I was walking down the street and saw a man look at me in a certain way I would change my side of the road or put my head down so he didn't make eye contact," she says. "That's changed a little bit. I realised that when you change your behaviour and feel empowered, strong and confident, they change the way they look at you. But it's a slow process, it doesn't happen just from one day to another."
Inasmuch as Fargeat and Lutz both champion the right of women to parade their bodies as they wish, the bulk of Revenge focuses on a female form that is shot like a lithe huntress. Clad in a black bikini, smeared with dirt, and slinging a gun, she takes on the role of predator, rather than prey.
"It's like an animal losing a skin and living in another skin," says Fargeat. "Part of her dies, the part that defines her existence through the gaze of other people and through the male gaze. That was her way of existing, that was her way of getting attention, that was her way of getting love.
"When she almost dies she has to get rid of this because this is what gave the men the sensation that they could do everything they want with her. She has to recreate a new self within the same body."
Although Fargeat's film fits the bill of a "rape revenge" movie, the writer-director has no affinity with a subgenre she describes as "grounded in reality". Instead, her inspiration was genre movies in which "you can go out of reality into the extreme and have a phantasmagoric aspect".
There is nothing subtle about Revenge, but it makes a virtue of its boldness, with each image crafted to be a deliberate provocation to the patriarchal status quo. Perhaps the most satisfying moment comes in the bloody finale, in which the lead oppressor, the chiselled alpha brute, ends up naked and scared.
In a callback to earlier comments about Jen's peachy butt, his own butt is filmed to show its delicious curves as he scrabbles about terrified in a river of blood.
"When I started to write the scenes and thought about the idea of the nudity for the male character I was struck that there are almost no movies with male nudity," says Fargeat. "We are not used to it so instantly it becomes a very striking element and brings some kind of tension and originality. Also it's a way to reverse the usual cliche where the woman ends up naked."
"I like the idea that the powerful alpha guy who is used to the world bending to his will, who is used to buying everything with money and has all those outfits of power – leather jacket, motorbike, car and guns – at the end it's just him, naked, he doesn't have anything anymore, and he's facing her. It's a really pure fight between the two of them, just being themselves."
Although Revenge positions men and women on opposite poles, in a destroy-or-be-destroyed scenario, Fargeat seems surprised when I ask if she thinks reconciliation between the sexes is a hopeless dream.
"Not at all! For me feminism is a path to peace and towards a world where everybody has an equal place and nobody can take advantage of someone based on gender," she says.
"The film is a symbol of a women taking power over her own life and claiming her part of the world. We have to claim our part of the world. We are 50 per cent of this humanity and we should be able to inhabit this planet the way that men do."
'Revenge' is in cinemas from 11 May
Register for free to continue reading
Registration is a free and easy way to support our truly independent journalism
By registering, you will also enjoy limited access to Premium articles, exclusive newsletters, commenting, and virtual events with our leading journalists
Already have an account? sign in
Register for free to continue reading
Registration is a free and easy way to support our truly independent journalism
By registering, you will also enjoy limited access to Premium articles, exclusive newsletters, commenting, and virtual events with our leading journalists
Already have an account? sign in
Join our new commenting forum
Join thought-provoking conversations, follow other Independent readers and see their replies