Banal, unfunny and not as dangerous as he thinks: It's time we stopped glorifying Ricky Gervais at the Golden Globes
As Golden Globes host, Ricky Gervais has cultivated an insincere image of outrageous unpredictability, which the media has long helped inflame. When he returns to the show in 2020, we shouldn't play along, writes Adam White
Wednesday 13 November 2019 14:20
comments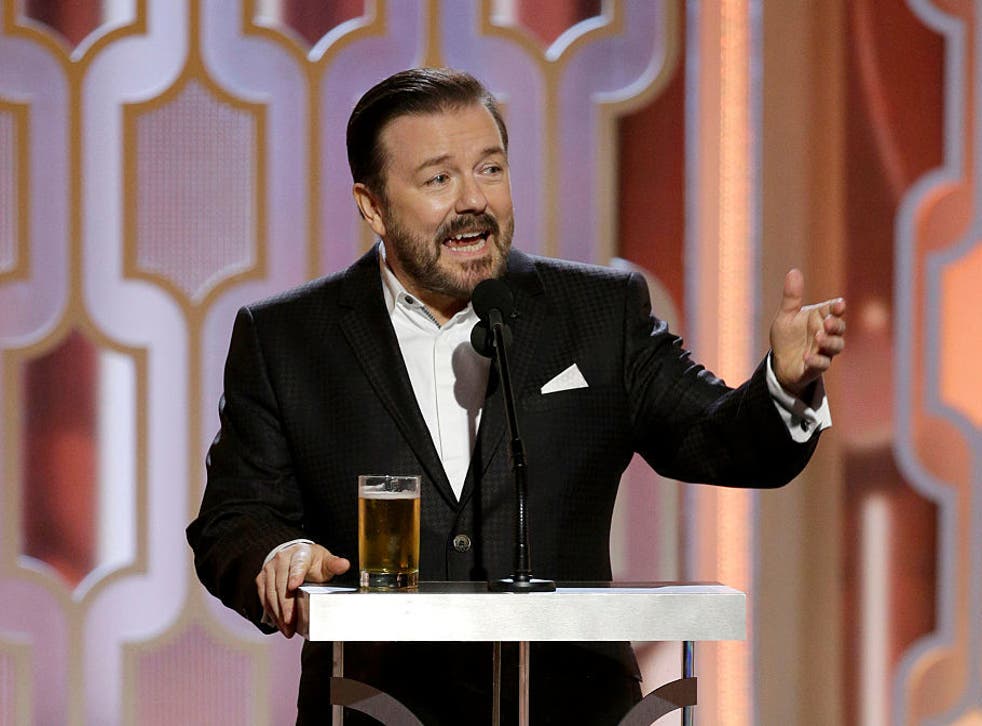 There have been a number of Golden Globes hosts funnier than Ricky Gervais. There have also been ones that are meaner. Yet it is Gervais who has always been considered particularly radical and unflinching as an event emcee – a quasi-"man of the people" who dares to take the elites down a notch. As he's announced to return to the Golden Globes in 2020 for a record fifth time, much of the same dialogue has kicked up again. It's still maddening.
"Good on yer Rick for taking the piss out of those over-privileged, ridiculously rich, please-stroke-my-massive-ego narcissistic celebs!" reads a top comment on a YouTube compilation of his Globes gags. "Brought the t**ts down a peg or two, didn't he? Genius!"
Oddly, this kind of language wasn't used when three-time Golden Globes hosts Tina Fey and Amy Poehler said that they trusted Zero Dark Thirty director Kathryn Bigelow to appropriately handle the subject of torture as she was once married to James Cameron. Or when they joked that Gravity was the story of George Clooney preferring to float away and die than spend one more minute with a woman his own age. Or, if we're going back further, when Oscar hosts including Steve Martin and Whoopi Goldberg poked fun at the egos and personal lives of the movie stars squirming in front of them, and the silliness of awards shows in general.
Instead, it has been Gervais who has been unfairly credited with injecting ridicule and naughtiness into awards shows, his "bad boy" reputation one endlessly regurgitated regardless of little of it making sense. There he is, posing with devil horns in official Globes photographs. There he is, spoken of as a mercurial menace with the power to bring down Hollywood with a simple gag. Look at how "dangerous" he is, invited to eviscerate Hollywood'​s glitterati not once, not twice, but on four separate occasions since 2010.
It also conceals the fact that Gervais has predominantly made a habit of exclusively going after low-hanging fruit at these things, joking about Charlie Sheen, Mel Gibson, Kim Kardashian, Sex and the City 2 or Scientology. All easily mockable entities, with little institutional power or genuine clout in the more rarefied corners of the Hollywood machine today. And when he does go after bigger names, it has always taken the form of incredibly obvious references – that Angelina Jolie has adopted a number of foreign children, or that Jennifer Aniston has played variations on Rachel Green throughout her career.
Ricky Gervais Golden Globes performances, ranked

Show all 4
In fairness, the media hasn't helped. We have collectively treated Gervais as shocking and outrageous for more than a decade, amplifying groan-worthy gags until they reach unearned mythological status. When Gervais joked at the 2016 Globes that Caitlyn Jenner, shortly after she was involved in a multi-car collision that left a woman dead, hadn't done much for the reputation of women drivers, it was met with cries of transphobia.
Ricky Gervais jokes about Caitlyn Jenner at the Golden Globes
But the outraged reaction, debatable in itself, ultimately played directly into Gervais's hands. By 2018, Gervais had fully embraced a reputation as a comedy wrecking ball, attacking "cancel culture", making jokes about identifying as a chimp and endlessly deadnaming Jenner in his Netflix stand-up special. We were left with an exhausting comic monster that we, tragically, had helped to create.
His Golden Globes persona has also always tapped into the strange hypocrisies and oddities of class in the UK. Gervais has a reported net worth of $110m (£86m), but has been widely embraced as a veritable representative of the working class despite his earnings. Gervais is still, it's claimed, "one of us", largely because he swears, resents "PC comedy" and demonstratively rejects any form of compassion (unless, going by his Twitter account, it's when people of colour from a foreign nation eat a specific animal he finds cute). That such a personality is regarded as somehow more salt-of-the-earth and authentic is, in itself, a grim distillation of how warped our sense of class in this country remains. In Gervais's case, it's also entirely performative, too. It's there in the pint of lager slammed oh-so-casually on the Globes podium, or the way he always manages to slip off his suit-jacket and loosen his tie at the event's midpoint. So over it! So unbothered! So eager to come back five times!
Year after year, cultural institutions fall for Gervais's shtick. So for 2020, when he makes his oh-so-timely gags about Matt Lauer or Meghan Markle or Mel Gibson (again), let's not give him the attention and the outrage he's so nakedly hungry for. And bring back Tina and Amy. They were spectacular.
Join our new commenting forum
Join thought-provoking conversations, follow other Independent readers and see their replies