Robocop's Gary Oldman: 'My dog has more dignity than the Kardashians'
Gary Oldman on raising children solo, becoming the highest-grossing actor in film history and the 'social decay' of reality TV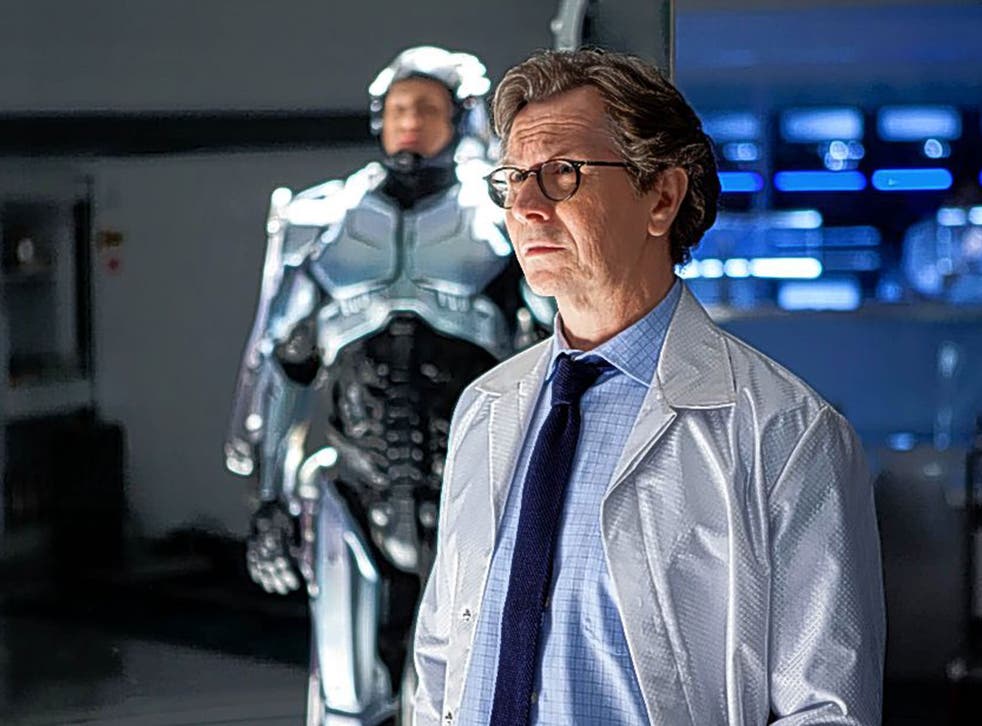 Ask any movie buff to name the highest-grossing actor in the history of motion pictures, and chances are they would name Tom Cruise or Bruce Willis. Or perhaps Harrison Ford or Tom Hanks?
But they would all be wrong. For, according to the Hollywood Reporter, that particular accolade goes to Britain's own Gary Oldman whose roles in box-office favourites like the Harry Potter franchise and the Dark Knight trilogy have resulted in his unexpected title.
Meeting Oldman today, at the chic SLS Hotel in Beverly Hills, a half hour's drive from his Hollywood Hills home, he cringes slightly at the honour. "Someone asked me recently what it felt like and I said 'I feel richer for it inside'," he smiles.
"But seriously, people can't believe I'm the biggest-grossing actor in cinema history. I don't think there's anyone who can even catch up with me because they'd have to be in all those things," says the soft-spoken actor whose repertoire includes a diverse array of characters including Dracula, Beethoven, Lee Harvey Oswald, Joe Orton and Sid Vicious.
"I was actually No. 1 about three years ago but then Sam Jackson overtook me for a little bit. But what with Planet of the Apes now, I think I'm safe for a while," grins Oldman, 55, who today adds to his legend starring in Jose Padilha's remake of Paul Verhoeven's 1987 sci-fi thriller RoboCop.
Reflecting on his storied 30-year career, he has a surprising response when asked to name his single greatest accomplishment. "I've been married, or re-married I should say, for five years but I was a single dad for 10. That's just the way it happened. I have two kids to raise. Being a single dad has been the most challenging thing I've ever done; the hardest thing I have ever done.
"And so I look at those boys and how really great they are, and they are my greatest accomplishment. That gives me a sense of, you know, I've got something right. I take great joy and peace from that. It helps me sleep at night knowing that hopefully they're going to be OK," says the actor who made songwriter Alexandra Edenborough his fourth wife in 2008.
First wed to British actress Lesley Manville, with whom he has a son Alfie, now 25, he was briefly wed to actress Uma Thurman before marrying Donya Fiorentino with whom he has sons Gulliver, 16, and Charlie, 14, taking custody of the boys following their 2001 divorce.
Marriage, he says, was not a role he was cut out for as a younger man. "I'm not proud to say that though. But I've had a few goes at it now, so I've probably learnt something from the first three," he says running hands through messy grey hair. "Practice makes perfect. Isn't that what they say? I'm not proud that this is my fourth marriage. But this is a good one. Hopefully, my last one," says Oldman who has lived in the US for more than 20 years, and slips effortlessly between British and American accents.
Access unlimited streaming of movies and TV shows with Amazon Prime Video Sign up now for a 30-day free trial
Sign up
He's somewhat amused by his latest role as a bionic scientist in RoboCop. "This guy is very smart, pioneering technology for amputees and veterans whereas I'm from the analog generation. I have an iPhone but if anything goes wrong with it, I give it to my kids. They can figure something out in seconds that I would take weeks to understand – and if I figure it out sooner, its usually just by accident," he says likening himself to Bill Nighy's character in Still Crazy in a scene where he has a meltdown with a remote control.
"It's the struggle between man and machine. I love and hate it, but I do think all this is taking over a bit. Have you noticed how when you stop at a light and look across at the other drivers, everyone's head is down. Who the f*** are we talking to? What can't wait? It used to wait, do you remember? I didn't even have a phone growing up in New Cross. We used to get change and go to the phone box, and when we did have a phone, if they called you and you weren't in, if they needed you badly enough, I guess they would call back," says the actor who admits he researched his RoboCop role courtesy of YouTube.
"Its strange that we're connecting more, but not. And it's spawned a whole generation of bullies and everybody's a critic; things they would never say to your face; people hide behind it. I just feel it's all going to shit, like when you look at reality TV which is the museum of social decay."
Igniting his fury by citing the Kardashians as the biggest culprit, he sighs, "Yeah you look at these people. My dog has more dignity than those f***ers. Really. You look at the manners of people, there's no grace any more, there's no respect. The way they talk about people is shocking. I don't know where we're heading."
Later this year he features in Dawn of the Planet of the Apes which will doubtless add to his box-office kudos. It's an achievement which he doesn't deny is largely due to his supporting rather than starring roles. "Really good leading roles are few and far between. Alan Bennett isn't writing Prick Up Your Ears every year so there's a quality of writing that doesn't exist any more. I think the times are changing and you just have to cope and change with the times.
"A role like Smiley in Tinker Tailor doesn't come along very often, and it's also to do with the stories that people are telling. Plus, there's a whole new generation of actors. I'm over 50 now and Smiley was in his 50s, but I don't want to be playing Thor's dad just yet," he says referring to Anthony Hopkins's role in the high-grossing superhero franchise.
"They asked me to do that one and I said 'No, I'm far too young for that.' I wasn't going to run around with the grey beard going 'Son, you will be cursed'," – he puts on a hilarious gravel-voiced elder-statesmen voice. "I'm still a bit too sprightly for that stuff."
While most actors flinch from discussing money, Oldman actually volunteers the fact that he's on to a cushy deal. "All these roles have been deliberate in so far as you can earn more on a Potter and a Batman movie than you can let's say on an independent. You'd have to do five movies in a year as opposed to just going away once, earning enough money to live comfortably and cover school fees. So I could do a Harry Potter for two months and then fly back and spend the rest of the year at home. I can be involved and take the kids to school and pick them up. In that sense, it's deliberate but it's also lucky because I never even chased Harry Potter," says Oldman.
Asked if he's found happiness today, having battled with alcoholism in his past, he says. "You know, it's taken me a long time, but I have. I am happy. I had a few girlfriends over the 10 years before meeting Alex, but I never really let them in because you can't have a conveyor belt of different people. You can't keep bringing women in when you have kids. But when I met Alexandra I just knew. I knew with her that it would be OK."
'RoboCop' is on nationwide release
Register for free to continue reading
Registration is a free and easy way to support our truly independent journalism
By registering, you will also enjoy limited access to Premium articles, exclusive newsletters, commenting, and virtual events with our leading journalists
Already have an account? sign in
Register for free to continue reading
Registration is a free and easy way to support our truly independent journalism
By registering, you will also enjoy limited access to Premium articles, exclusive newsletters, commenting, and virtual events with our leading journalists
Already have an account? sign in
Join our new commenting forum
Join thought-provoking conversations, follow other Independent readers and see their replies