Rupert Friend talks Hitman: Agent 47, possible sequel, blagging and Homeland
From period-drama pin-up to born killer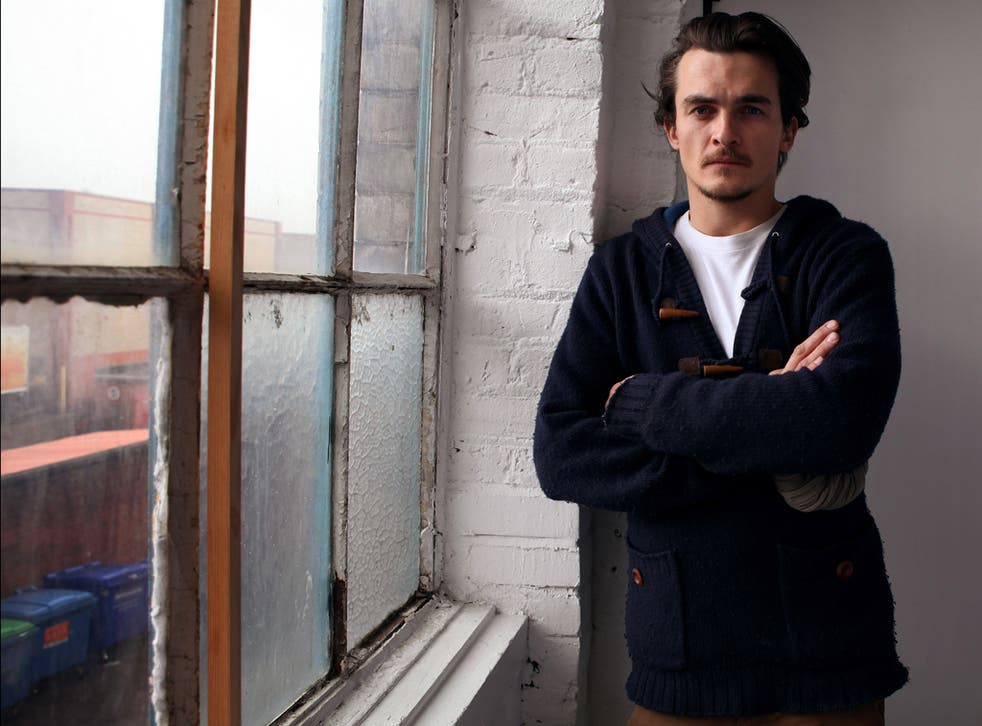 "I've been a big blagger all my life," declares the actor Rupert Friend. "I'm still doing it. Look at me here – I'm pretending I'm some baldy assassin dude and it's all a blag ... it's like Del Boy going on in some corner or other."
Friend confesses this by way of explaining his fascination with con artistry that will soon manifest itself in Barton & Charlie & Checco & Bill, a film about confidence tricksters which he wrote and will star in and direct. The "baldy assassin" to whom Friend refers is the title role he plays in Hitman: Agent 47, a new Hollywood studio thriller derived from the Hitman video games, in which he plays the protagonist alongside Star Trek's Zachary Quinto.
It's the second time a blockbuster has been based on Hitman (there was an underwhelming 2007 version) and you sense that Friend's turn as calculating CIA black-ops agent Peter Quinn in hit television drama Homeland was instrumental in landing him the role after the film's original star, Paul Walker, died in a car crash in 2013. It's the latest phase in an intriguing career that has seen Friend become a period-drama mainstay (Chéri, Pride and Prejudice, Young Victoria) and a credible stage thesp (he played a closeted gay actor opposite Tamsin Greig and Gemma Arterton in The Little Dog Laughed in the West End, and received rave reviews in Dennis Potter's Brimstone and Treacle at the Arcola Theatre in Dalston, east London.)
Many actors playing cold-blooded killing machines would have stressed they sought to be fun company on set. Not Friend. "I was quite solitary for Hitman," he says. "I was quite apart. He struck me as a very sad individual. There was a mournful quality there."
During his early career, much of the attention paid to him was due to his relationship with Keira Knightley, whom he dated for five years. But when I meet him at a New York hotel, he's very much his own man: intelligent, playful and determined to do things his way. Our exchange is more akin to a meandering, diverting tutorial than a celebrity trying to promote a film. Questions are thrown back at me, stray words challenged.
With Hitman: Agent 47 and Homeland, Friend has cornered the market in no-nonsense killers. "It's curious that these two things have happened at the same time," he notes. "It's an odd zeitgeist cornering of assassins. I have no idea why. But in this business, it's like buses. Things tend to come along in twos or threes. There's a bunch of Dorian Gray movies and then there will be a bunch of gladiator movies."
In the production notes for Hitman: Agent 47, producer Charles Gordon compares Friend to Bruce Willis when he made Die Hard. He laughs when I bring up the comparison, insisting he's not about to become an action hero. "I like to shake it up. Becoming that guy who does one thing is not very interesting. I'm lucky and proud to have been involved in period films and action films. I feel like there's a little farcical side that has not been tapped yet."
Indeed Friend says he's a huge fan of Monty Python and that Barton & Charlie & Checco & Bill, which will also co-star Emily Blunt, will be a US-set comedy. He also reveals that there has been talk of a feature based on Steve, a 2010 short he directed, starring Colin Firth as an eccentric loner. "Colin called me to say he and his producing partners really want to do a feature of it," Friend says. " I would be very happy to ... if the BFI wants to get their finger out of their arse and provide a decent tax break. The fact that British people complain there's no film industry, and yet they don't offer any incentives to filmmakers, is bananas."
The post-credits scene in Hitman: Agent 47 sets up a franchise for his character, but Friend says it's "premature" to discuss being in a sequel if it's a hit: "One of the things I noticed in my career that gave me a lot of happiness early on was realising we don't have any control. So, talking about, 'Shall I in three years do X, Y or Z?' ... there are only four or five people in our business who can actually decide that – big stars. Everyone else is at the mercy of so many different factors." Would he like to be among those four or five? He hesitates. "I think it's not as easy as it looks. People say they're rich or famous and they can do whatever. But they can't do whatever they like because some of those guys can't go out for a cup of coffee without being mobbed. I don't know if that's a good trade-off."
Access unlimited streaming of movies and TV shows with Amazon Prime Video Sign up now for a 30-day free trial
Sign up
You get the sense that Friend is too private to ever be comfortable with mega-celebrity. Perhaps because he's so discreet, some misconceptions have recently been printed that he's keen to clarify. Friend hasn't written a novella, has never wanted to quit acting, and he's from Cambridge, not Oxfordshire. He's on Twitter, he says, only "because somebody rightly asked, 'Well, do you want someone else to be tweeting as you?'" But he's underwhelmed by social media.
Friend is equally bored by the idea of watching his own films. When I ask what he thinks of Hitman: Agent 47, he replies: "I haven't seen it. I don't watch my films. I have no interest in it all. I'm interested in research, preparation and doing the best job I can." Even with Homeland, Friend says, "I saw the first season – that I wasn't in – but nothing since then."
Since the departure of Brody (Damian Lewis) at the end of Series 3, Quinn has been the show's male lead. How many more Homeland series will he do? "It's not up to me. It's this curious thing where my fate is in another's hands." Is he ahead in terms of knowing what happens on the show? "Very rarely. The creative process is remote. It's done out of LA and it's handed down. We sort of do what we're told. It's done by committee, but the committee is in LA and we're all in Berlin so there's a disconnect there."
Both Homeland and Hitman: Agent 47 were filmed in Berlin, a city Friend seems ambivalent about. "It's a diverse place filled with artists, debate and argument but it struggles with its history and the reinvention of itself." When I ask whether he has acquainted himself with the city's famed nightspots, specifically techno institution Berghain, he says not. "I'm not a big night-clubbing guy, but Zach [Quinto] has been. Zach had a season ticket!"
At one stage, Friend brings up Benedict Cumberbatch's recent plea to fans not to film him in Hamlet at the Barbican, by way of bemoaning audiences' inability to enjoy the moment. Would Friend like to play Hamlet? "No. I don't want to do the theatre," he says, surprisingly given his stage work. "It's not something that interests me. I have a very short attention span. I'd do it once … for one night only."
At the Hitman: Agent 47 New York premiere, two days earlier, he looked at ease posing with his American fiancée, former Paralympic athlete turned model Aimee Mullins. Is he now more used to the public eye than during his relationship with Knightley? "It's one of the most nerve-racking things to walk along a strip of red carpet which looks so fun and glamorous while 40 or 50 flashbulbs go off," Friend contends. "It is surreal, invasive, horrible, violating and necessary, so to hold somebody's hand while you're doing it makes it a lot better."
Born without fibula bones, Mullins had both knees amputated when she was a baby. She received international acclaim in 2012 for a TED Talk she gave on redefining disability. Is she an inspirational person? "That is an overused word," he says. "There's an argument for a moratorium on the word, there's a kind of cult of 'inspiration porn' which TED has been guilty of," – though he adds that he likes their talks.
Friend tells me the pair met in New York, where he now lives. As for when they are getting married? "I'm happy for it to be as much a surprise for us as it is for everyone else" – a response which might be a deflection but seems fitting for a man who places a premium on unpredictability.
'Hitman: Agent 47' is released on 27 Aug; 'Homeland' returns to Channel 4 later this year
Register for free to continue reading
Registration is a free and easy way to support our truly independent journalism
By registering, you will also enjoy limited access to Premium articles, exclusive newsletters, commenting, and virtual events with our leading journalists
Already have an account? sign in
Register for free to continue reading
Registration is a free and easy way to support our truly independent journalism
By registering, you will also enjoy limited access to Premium articles, exclusive newsletters, commenting, and virtual events with our leading journalists
Already have an account? sign in
Join our new commenting forum
Join thought-provoking conversations, follow other Independent readers and see their replies