Journey's End Sam Claflin: I can't forever play a completely different character, but no character I play should have the same haircut
The 'Hunger Games' actor stars as Captain Stanhope in Saul Dibb's First World War drama about life in the front-line trenches in northern France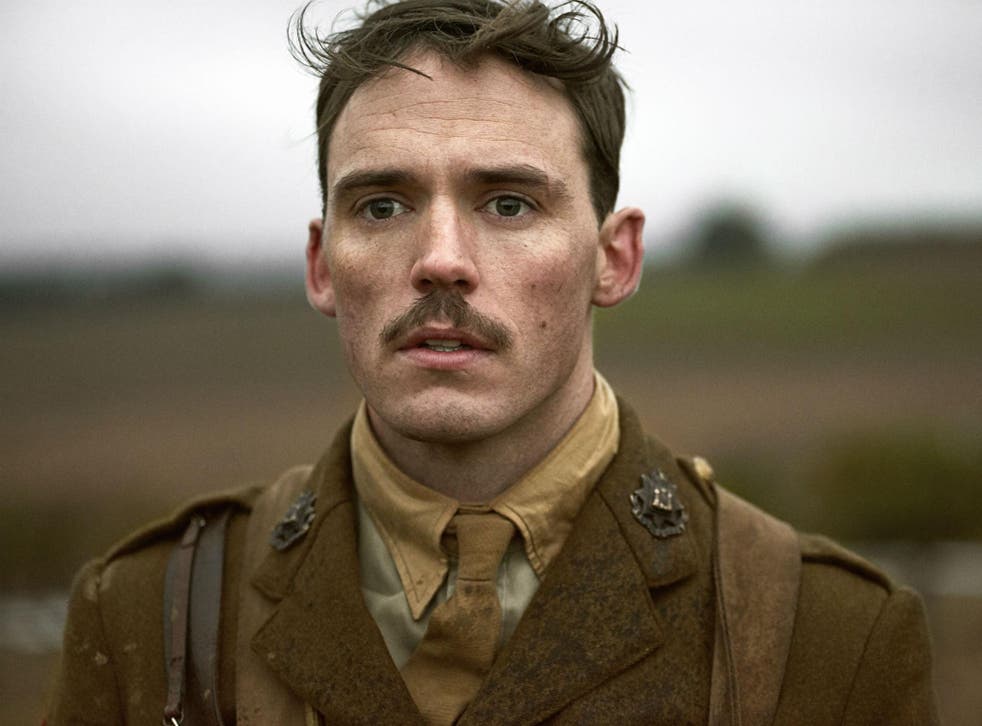 British star Sam Claflin likes to drink vodka and hates whisky. Nonetheless, on particularly hard days on the set of First World War drama Journey's End he would start the day by reaching for the water of life.
"I hate whisky so much," he complains. "I had a shot of whisky on some days during filming because it makes me kind of harden and kind of a bit aggressive, and just a little taste of whisky on the lips, it gave me fire."
It was also a way for the charming actor to tap into the character of Captain Stanhope, a man living on the edge of the abyss who has witnessed atrocities that have ensured whisky has become his closest companion in the trenches.
Journey's End is an adaptation of RC Sheriff's anti-war play set in the trenches of the Aisne in March 1918 as the Germans are closing in and the smell of death hangs in the air. In Saul Dibb's movie version, timed to coincide with the centenary of the events depicted, Claflin's Captain Stanhope is already war-weary, way before the arrival of Raleigh (Asa Butterfield), whose elder sister used to dote on Stanhope when they were at school together.
The other cast members depicting life underground included Paul Bettany, Stephen Graham, Tom Sturridge and, playing the cook, Toby Jones. Claflin would reach for the source on days he needed intensity for a scene but other than that would remain quiet, almost stoic on set. "Paul Bettany took the reins of being the class clown, if you will, but generally I tried to remain sombre and quite quiet and observe," he says.
It was while growing up in Ipswich that the third of four sons discovered he had no taste for alcohol. His dad, a finance officer liked whisky. "So I grew up with whisky around the house and you only have to taste it once," he says.
For the actor the film is also an important reminder about the First World War, a conflict he feels is dying from the collective consciousness. "Everyone says it's the one war that brought everyone together, bizarrely more so than the Second World War. My reasoning behind why no one really knows much about the First World War is because people kept it to themselves, I don't know why, it was just the regiment and there was also the fact that trench warfare was a very different kind of war."
He spoke to solders and ex-serviceman who have suffered from post traumatic stress disorder in order to get into the mindset of Stanhope. One of the men he spoke to who was stationed in the Falklands opened up about having to kill someone with a bayonet during hand-to-hand combat.
He also thinks that in the past everyone knew someone at war, whereas modern warfare means that he himself has no friends or family who have been to Iraq. He talks of it being a different relationship to war in today's society. "We live in a bubble. We turn to page seven and you might see someone died, no one is talking about it as much as they used to."
Access unlimited streaming of movies and TV shows with Amazon Prime Video Sign up now for a 30-day free trial
Sign up
The 31-year-old actor is best known for his portrayals of Finnick Odair in the Hunger Games series, Philip Swift in Pirates of the Caribbean: On Stranger Tides and as paralysed Will Traynor in Me Before You, roles that scream teen heartthrob more than thespian.
He says that moving away from franchises is now allowing him to explore different characters and he seems to be finding more joy in his work than ever before: "I just enjoy variety, and I can't forever play a completely different character, but I don't believe any character I play should have the same haircut."
He's married to actress Laura Haddock with whom he has two children, and has a number eight tattoo on his arm because that's his son's favourite number. So it's perhaps no surprise that he wants to essay roles with more gravitas and he's excited about the two projects he has coming up, which should confirm his status as one of Britain's most exciting actors.
The first is The Nightingale, which is by Australian director Jennifer Kent, who made the breakout horror hit The Babadook, "It's basically about when the English went over to Tasmania and kind of got rid of the Aboriginals," he says. "I play a young officer who is in charge of a female prisoner and is just not a great man."
The Nightingale was another film shot in less than ideal conditions with him complaining that it was "brutally cold, miserable and dark". That was in sharp contrast to Adrift, which involved sailing boats in Fiji. "It co-stars Shailene Woodley and is about a shipwreck. This young couple that gets caught up in a hurricane, it's again very different, but something I thoroughly enjoyed. I suppose what I'm trying to say is despite the variety and no matter what kind of genre it is, I always sort of somehow manage to have fun."
While his movie career is booming, he admits he's had less luck when trying to get stage work. "I've been keen to do theatre since leaving drama school, it's not like I've said no it's just, for me, I feel like if I step away [from cinema] to do stage, and it wasn't the right project, I'd regret it. So, I've just kind of been quite picky and choosy, and also I haven't got a few of the plays I've auditioned for."
He believes that the lack of success in stage auditions might be because he doesn't know what directors and casting agents are looking for. "With stage, they don't want you to learn your lines, and I don't even know what they're looking for, whereas for film you prepare your scene, you go in you do it the way you are going to do it on the day, pretty much, without costume, but you sort of do it.
"Anytime I've auditioned for a play they've just kind of had me sat down, and just sort of reading from the script. But how do they know if I can actually do it or not? But, maybe that's just my experience, maybe the second I walk into the room they go "He's wrong, we'll just get him to read it make him feel better and get him out'."
'Journey's End' is out on 2 February
Register for free to continue reading
Registration is a free and easy way to support our truly independent journalism
By registering, you will also enjoy limited access to Premium articles, exclusive newsletters, commenting, and virtual events with our leading journalists
Already have an account? sign in
Register for free to continue reading
Registration is a free and easy way to support our truly independent journalism
By registering, you will also enjoy limited access to Premium articles, exclusive newsletters, commenting, and virtual events with our leading journalists
Already have an account? sign in
Join our new commenting forum
Join thought-provoking conversations, follow other Independent readers and see their replies