Sam Rockwell interview: 'Playing George Bush in Vice, I began to find him really charming'
The Oscar-winning actor talks to Maureen Dowd about the surprising depths to be found in his characters, and his latest role as choreographer and film-maker Bob Fosse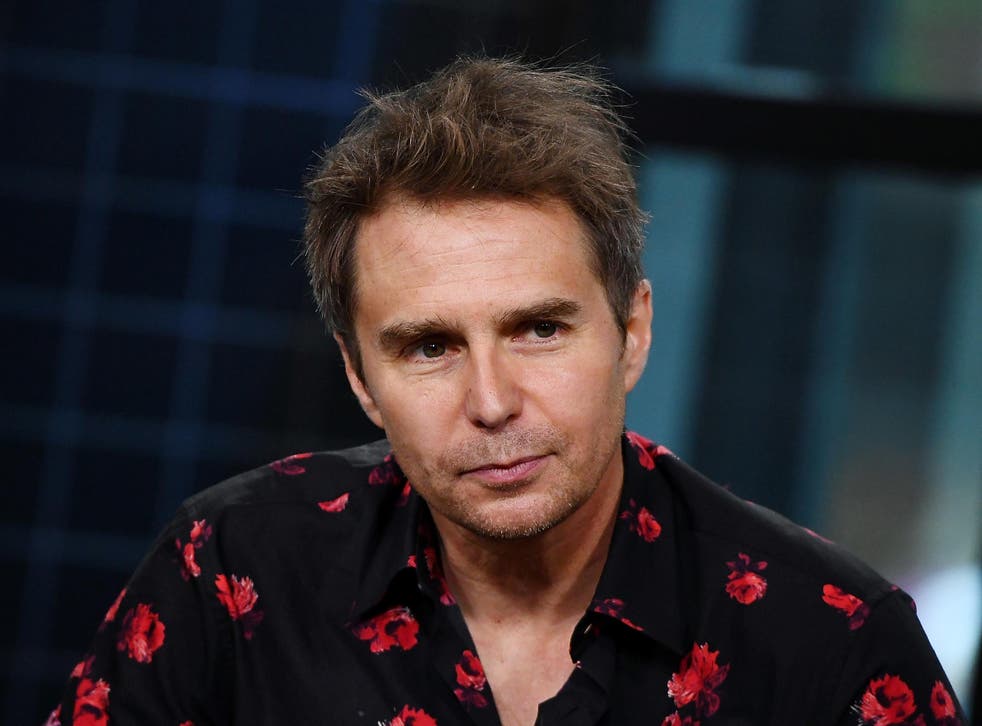 No one playing Bob Fosse could feel like a good dancer.
Not even Sam Rockwell, who can shimmy so well that many of his movie characters cannot make it to the end of a film without busting a move. He improvised slinky malefactor slides for his villains in Charlie's Angels and Iron Man 2. The way he grooved through a diner in a Flight Facilities music video was reminiscent of Christopher Walken's cool dance number for Fatboy Slim's "Weapon of Choice".
Rockwell danced his Saturday Night Live monologue with top hat and cane and did a split in a fitted suit on The Tonight Show. And at the Vanity Fair Oscar party in February, he and his girlfriend, actor Leslie Bibb, kicked off a dance circle that led to Glenn Close tearing up the floor in a glittering jumpsuit.
"Leslie's a pretty good hoofer," Rockwell says about Bibb, who played Will Ferrell's wife in Talladega Nights and has an upcoming series on Netflix as a superhero mum. "She's got that kind of Ann Reinking frame, and she can actually krump a little."
I meet the actor one Saturday afternoon at the Bowery Hotel in New York to talk about his latest project, Fosse/Verdon, an eight-part series. It also stars Michelle Williams as Gwen Verdon, and was conjured by Lin-Manuel Miranda and Thomas Kail, who directed Hamilton and In the Heights, and producer Steven Levenson. Nicole Fosse, the daughter of the two dancers who embodied Broadway razzle-dazzle, is also a producer. It is based on Sam Wasson's biography Fosse.
Verdon, Wasson says, was "the greatest musical comedy star of all time, arguably", winning four Tonys in six years in the 1950s. Fosse was the only person to win an Oscar (Cabaret), Tonys (Pippin) and Emmys (Liza with a Z) in the same year.
Rockwell had gone to SoulCycle that morning to stay lean while playing the sinuous Fosse, who had an addiction to work, women, Camels, Dexedrine and Seconal, not to mention his lifelong satyriasis. And then Rockwell had gone to a four-hour rehearsal.
45 films you never realised were banned

Show all 46
Rockwell ambles in with his "old lady", Sadie, a German shepherd. He is wearing a beanie he kept from his movie with Hilary Swank, Conviction, a brown print Prada shirt, black dance pants and dance shoes, and a kneepad like Fosse used to wear. Sadie, wearing a vest labelled with the word "service", is an emotional support dog.
Rockwell orders two different Amaros, one sweet and one bitter, and asks me if I want a sip of Fernet. "It settles your tummy," he says, his hazel eyes earnest.
Like Fosse and Verdon, Rockwell was exposed to showbusiness early. Both parents were aspiring actors. He picked up some moves in middle school in San Francisco. He wanted to get away from "a white supremacist group", and started hanging out with "a crowd that wanted to dance. We went to high school dances, and it was when Footloose and Michael Jackson's Thriller album was out. And breakdancing. It was a way to meet girls, and I just kind of got into it, got into James Brown."
Access unlimited streaming of movies and TV shows with Amazon Prime Video Sign up now for a 30-day free trial
Sign up
When they began making the series, Rockwell recalls, "I was cocky and I said, 'I can dance,' so I went into this room and I tried to keep up, and it became apparent pretty fast that I am not a real dancer. And even though I have rhythm and I can move, picking up choreography like that is a different thing. Doing ballet, jazz, tap since you were six is different than what I do."
He went for intensive lessons in fundamental tap dancing and Fosse 101. "Tap is hard," he says. And he had to shave his head to accommodate the hairpiece of Fosse's stringy combover.
Fosse changed movies and Broadway forever, inventing an original American dance idiom: syncopated, tiny, isolated movements with shades of burlesque and showbiz with a capital S. "He added a dark sparkle, which is a hard thing to do in dance, to add negative feelings to something exuberant and vital," Wasson says.
Just as Fosse was influenced by Charlie Chaplin (the bowler hat and Sweet Charity moves), Groucho Marx (the walk in "Steam Heat" in The Pajama Game) and Fred Astaire ("I Wanna Be a Dancin' Man"), he influenced many others; homages easy to discern in videos by Beyoncé, Usher, Justin Timberlake, Madonna, Lady Gaga and Jackson, who tried to get Fosse to direct the "Thriller" video. (See Fosse play the Snake in The Little Prince to see what Jackson adapted.)
The show's creators know that the thrice-married, always-unfaithful Fosse, who was constantly seducing his own dancers, is a dicey character to build a show around in the #MeToo era. That's why they've elevated Verdon to the title and focused on her collaboration.
Fosse manipulated but also wore his heart on his sleeve, telling women exactly who he was. Plagued by death, failure, self-contempt and his memories of being sexually abused in his early teens by hard-bitten burlesque dancers, he depicted an increasingly nihilistic view of humanity.
"I learned about dancing from his demons because in his material, he was therapeutically raking himself over the coals,'' says Andy Blankenbuehler, choreographer of Fosse/Verdon and Hamilton. "As he got deeper into his own style, drawn to stories about broken people, heartbreak and abusive situations, his style was like a crushed Coke can. Shoulders more and more slumped forward, elbows pinched in, stillness on the outside but a dark engine rotating fast inside."
I read Rockwell something about Fosse's brutally truthful autobiographical masterwork, All That Jazz: it's about "a man furiously driving his failing body like a worn-out sports car, throwing pills into it like a high-octane fuel, packing it with more and more girls, until he smashes it into the wall at the end of the world".
Rockwell agrees. "Because he was essentially, you could say, molested when he was 13, he had a complicated relationship with women. He revered them. His style certainly shows that. He's not so much sexual as he is sensual. He celebrates women's sensuality. He doesn't demean it in his dance style. But at the same time, he had a lot of anger towards women."
He says that his acting coach referenced Dead Ringers, the movie in which Jeremy Irons plays creepy twins, as a good model for Fosse and Verdon.
"It's a complex romance," Rockwell says. "It's almost like they're twins. There's a symbiotic thing with them that transcends, not just a romantic relationship, it's almost like they're joined at the hip."
Just as Verdon left her baby son with her parents to return to dancing, Rockwell's mother moved back to New York to pursue her performing career after her divorce, leaving five-year-old Sam to be raised by his father, except in summer, when Sam joined her in New York. He would go along when she did singing telegrams. (Once, she sang to Jack Lemmon.)
Kail notes the irony that the great success of Verdon and Fosse in Damn Yankees provided the template for the couple's Faustian bargain. Fosse helped create Verdon as a leading lady when he choreographed her "Whatever Lola Wants, Lola Gets" dance as the devil's temptress seducing an older baseball player in Washington to sell his soul to regain his youth.
That's when the dancers fell in love and he left his second wife, Joan McCracken, also a musical comedy star on Broadway. He hurt Verdon with his other women, but she kept working with him and she was with him when he died in DC at 60 from a heart attack just before the opening night of a Sweet Charity revival.
Rockwell, who has now transcended his reputation as the quirky sidekick, is drawn towards grey. He was surprised by the backlash at the idea that his racist cop in Three Billboards Outside Ebbing, Missouri seemed to be redeemed at the end of the movie (the role won him a Golden Globe and an Oscar for best supporting actor), but says: "I can't worry about that.
"I grew up on the movies, the American films in the Seventies. They were all antiheroes. Midnight Cowboy, Taxi Driver, Five Easy Pieces, Badlands, Silkwood, Sophie's Choice, Raging Bull, Mean Streets. These are all movies about antiheroes. You don't see a lot of that now. You see a lot of superheroes, archetypes. I think antiheroes are really fun to play. They're just more interesting characters. Like the guy in Five Easy Pieces is kind of an ass. You know?"
He padded himself up again for Best of Enemies, out in US theatres next week, playing another porky racist who tangles with a strong woman and comes out a better person. There is unlikely to be the same blowback because Rockwell is playing a real person, an exalted grand cyclops of a Ku Klux Klan group in Durham, North Carolina, who becomes a convert to civil rights activism thanks to an African-American woman played by Taraji P Henson.
"Taraji is supercool," he says. "We graduated high school the same year. We know the same songs." They bonded over a shared appreciation of music, especially Doug E Fresh's 'La Di Da Di'."
He says they were moved by the scalding spectacle of Charlottesville, Virginia, to make the movie. "Obviously, racism is still very much alive, you know?" he says. "And you have to continue to tell these stories. I know that Do the Right Thing and Mississippi Burning had a big effect on me when I grew up. So if I can contribute in that manner, then that's a good thing."
As Rockwell likes to say, you don't have to be an ass to play an ass. Maybe because he played a 10-year-old Rick once in an East Village improv comedy skit to his mother's Ilsa, the actor is a great proselytiser for therapy. He even asks his shrink for advice on how to think of his characters.
His partner in crime in Charlie's Angels, Kelly Lynch, says Rockwell is "a doll" whose strength is his combination of "super-chill" and vulnerable.
"He can slide into dark characters because he doesn't judge them," she says. "A lot of actors would say, 'Ick, I don't like this guy.'"
Rockwell said he doesn't believe that his character in Three Billboards is truly redeemed. "I think he's on his way to something. But it's like the end of Good Will Hunting, when Matt Damon cries in Robin Williams' arms, and then he drives off to find Minnie Driver. It's like he's done working on himself. Like, 'Oh, no more therapy'. You know? You don't just cry and then not go to therapy anymore. So it's the same thing with Dixon. He's on his way to trying to be a better person. But he's not done working on himself, and certainly Frances' character has a lot of work to do on herself. They're both screwed up."
I ask him what he thinks happened to the characters played by him and Frances McDormand on that road trip to track down a rapist.
"My theory is, maybe they went to a bar to get a little liquid courage to kill the guy, then they ended up getting drunk and making out," he says. "I don't think they killed the guy."
I ask Martin McDonagh, the director and writer of the movie, what he thinks about that coda. McDonagh recoils. "I don't want to picture them fooling around," he says. "That would be a dangerous little romance."
Rockwell has said he would let himself be eaten alive by rats to work with McDonagh. The Irishman says he admires Rockwell because, while he is "the loveliest, nicest guy I've worked with, so smart and generous and a joy to be around", he brings a "frisson of danger" to his performances.
George Clooney seconds this sentiment. He gave Rockwell his breakthrough role, in Confessions of a Dangerous Mind, in which Chuck Barris, creator of The Gong Show, claimed to be a CIA assassin. "Sam is easily one of the best actors I've ever seen," Clooney says. "His ability to make you root for characters that ordinarily would be despised is uncanny. He makes it all seem so effortless. Come to think of it, I hate him."
Kail compared Rockwell to a jazz musician, who only makes surprising riffs after "he takes every scene and examines it and scrutinises it and marinates in it."
That explains his pitch-perfect portrayal of George W Bush in Vice, for which he was also nominated for a best supporting actor Oscar. "I began to find him really charming," Rockwell says, adding that the key to impersonating Bush was adding "a little Elvis, a thing in the lip. It actually gave me a little bit of a muscle twitch in my chin."
Bibb joked on the red carpet for the Golden Globes about how disturbing she found it, when he was playing that role, to be sexually attracted to Bush.
Rockwell says that the thing he loves about Bibb, who sold her place in Los Angeles to move into his East Village apartment, is that she makes him laugh. When he first saw her act in a short film, he says, it seemed as though "Jessica Lange and a young Mary Tyler Moore and Carol Burnett all had a baby." He adds: "She's a pistol. She definitely gives me a run for my money, challenges me. It's never boring."
When they met more than a decade ago, in the lobby of Chateau Marmont, they flirted, and he left his number with the maitre d' to give to her. "I was like, oh boy, I'm in for it now. She better be a good actress. You can't date a bad actor. Not long term, anyway." They agreed to go on a date, but when Bibb suggested a day at the Getty Museum, Rockwell rolled his eyes and reluctantly agreed. They had such a good time, Bibb said, "Let's get a drink. Let's go to El Compadre and get a margarita."
But, Rockwell says, he had a "backup plan", because he was "very single at the time" and he figured, "first date, nothing's really going to happen on a museum date. And I was, you know, trying to be a man about town, but I was not succeeding at doing that. She knew I had a backup plan, so I said, 'I just got to get my cigarettes and my coat, call my friend and tell him I can't,' and she knew. She still makes fun of me about it. And then we went and got a drink.
"I was never really good at being single. You have to stay up late. You have to drink when you don't want to drink. You have to, you know, dating is horrible. You have to go through all these dates to get with somebody you want to talk to."
I wondered if he ever tried online dating. "I never had that swipe thing," he says. "It's dangerous." In fact, the only stuff he does on his phone is texting and getting Ubers.
He says that with two actors, it's tricky. "You have to take turns being Elvis and Cher. You know what I mean. Like today, I'm on doggy duty."
Support free-thinking journalism and attend Independent events
I ask if he still doesn't want kids. "Yeah, me and Leslie, we're not doing the kid thing," he says. "It's not my jam. It's not my thing. I'm more of an uncle type." I wonder if it has to do with his childhood, when his parents broke up and he stayed with his father in San Francisco, while his bohemian mother moved to New York to pursue her acting career. (New York Magazine once wrote that Sam Rockwell had the air of having been raised by wolves "but very considerate wolves who write thank-you notes after they've eaten all your sheep".)
"It could be, but these days everybody comes from a broken home," he replies. "My mum, she really is a good mother, and she did the best she could. I think I'm too selfish to be a father. I think I know what it takes. You know? I just don't want to put a kid through – my lifestyle is a little crazy, and I think Leslie feels a similar way – and frankly I'm too selfish. I want to have my life and wake up when I want to wake up. I'd rather take care of the dog and take care of Leslie and take care of myself." What if he was with someone who wanted kids? I wonder. "It probably wouldn't have worked out," he says with a shrug.
I note that not much seems to have changed since his Oscar. He's still in the same East Village pad. "I play jazz in the morning," he says. "This guy, Ahmad Jamal, I like. You know, Stan Getz. I have a little vinyl. It's nice to play in the nighttime. Put on some Bill Evans, Fleetwood Mac. Chet Baker, I love. Miles and Coltrane. With vinyl, sometimes you got to put a penny on the needle."
And with that, Sam and Sadie shimmy off. Bibb has dinner ready.
© The New York Times
Register for free to continue reading
Registration is a free and easy way to support our truly independent journalism
By registering, you will also enjoy limited access to Premium articles, exclusive newsletters, commenting, and virtual events with our leading journalists
Already have an account? sign in
Register for free to continue reading
Registration is a free and easy way to support our truly independent journalism
By registering, you will also enjoy limited access to Premium articles, exclusive newsletters, commenting, and virtual events with our leading journalists
Already have an account? sign in
Join our new commenting forum
Join thought-provoking conversations, follow other Independent readers and see their replies