Sam Taylor-Johnson interview: Fifty Shades of Grey director on bringing the hit to the screen
The adaptation of the mega-selling novel is one of 2015's most anticipated films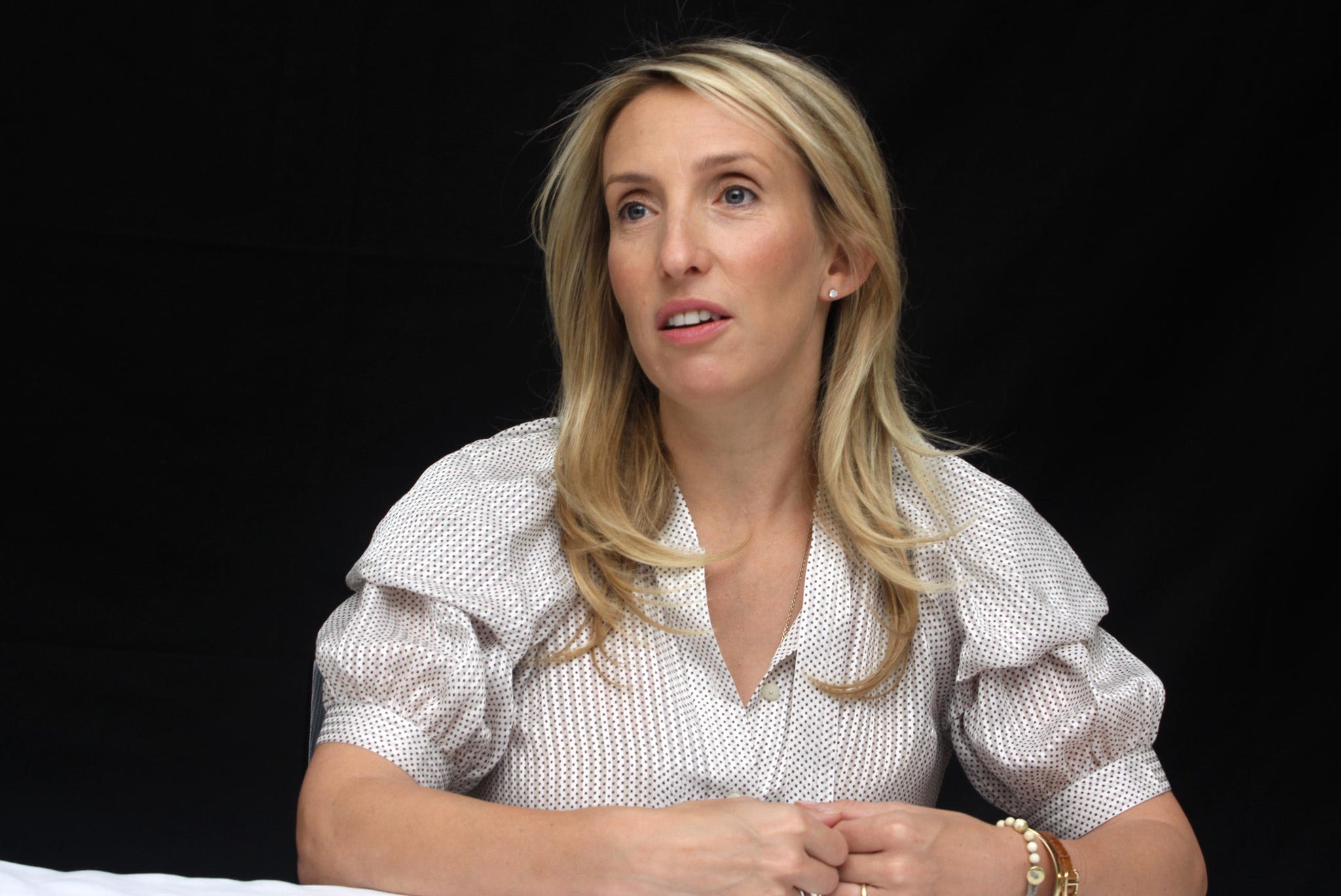 Sam Taylor-Johnson is knackered. The day before our interview, the 47-year-old film-maker finally finished the biggest job of her life, locking the last edit on her adaptation of 50 Shades of Grey, one of the most hotly, sweatily awaited movies of 2015. The shoot was intense, the weight of expectation even more so: earlier in the day, it was announced that advance tickets have sold faster than for any other R-rated film in US box office history.
This morning, she says, she could barely lift her head off the pillow. But she managed to make it from her bed in the Hollywood Hills to the terrace of the Chateau Marmont hotel, where she is stoically chugging cups of hot water with honey, lemon and ginger. It's 18 months since Taylor-Johnson, who had never directed a Hollywood movie, was hired for the film version of EL James's mega-selling erotic novel. The news was announced the day after she made her pitch to executives at Focus Features and Universal, who had won a fierce bidding war for the rights to 50 Shades.
Fifty Shades of Grey film stills
Show all 24
"I went in for the meeting, and I thought they liked my vision and approach," she recalls. "But the call came at eight o'clock the next morning: 'OK, you got the job – we're announcing it at midday.' It was like jumping onto a high-speed train and the doors locking behind me. And I'm only now about to get off... I'm not that seasoned a director, and I had a few moments when I thought, 'This is way bigger than I can handle.' But I'm also not a quitter."
The level of security surrounding the film is such that no journalist was permitted to watch it ahead of its Berlin premiere on 11 February. For Taylor-Johnson, that secrecy is a source of frustration. "I haven't been able to show it to anyone," she says. "It's the most frustrating thing ever to not be able to get feedback." One of the few people to have seen it is her husband, actor Aaron Taylor-Johnson: "Aaron has seen it a thousand times. He worked on it from the script right through. I needed someone that I could trust to bounce ideas off."
Despite the studio's cloak-and-dagger release strategy, the book's many fans can rest assured that the 50 Shades plot remains intact. Jamie Dornan plays the titular Christian Grey, a business magnate with a BDSM habit, while Dakota Johnson is his unsuspecting love interest, Anastasia Steele. James, a regular presence on the set, was rigorously protective of her material.
That said, some of the novel's graphic sexual details were necessarily omitted from the film. Dornan recently told an interviewer that his "todger" was contractually obliged to remain off-camera, while an infamous episode from the book, commonly referred to as "The Tampon Scene", will not make it to the screen. "Those scenes had to be about sexuality and sensuality, but you can't film it exactly the way it is on the page," the director admits. "Although, to their credit, Focus and Universal left me alone and said, 'Shoot it exactly how you want it, and we'll edit it if we need to.'"
Working within the Hollywood studio system was a new experience for someone who, by her own admission, has spent most of her career as an auteur. Taylor-Johnson (formerly Taylor-Wood) first achieved prominence as a photographer and video artist, one of the celebrated YBAs – Young British Artists – of the 1990s. She was nominated for the Turner Prize in 1998, shortly after undergoing treatment for colon cancer. She overcame a bout of breast cancer two years later.
The Londoner's first foray into narrative film-making was the short Love You More, with Andrea Riseborough and Harry Treadaway as teenage lovers bonding over a mutual adoration for the Buzzcocks. It debuted at the Cannes Film Festival in 2008, the same year Taylor-Johnson's YBA contemporary Steve McQueen was there to unveil his first feature, Hunger. "Steve and I were both on the red carpet at Cannes," she recalls, "and I said to him, over-excitedly, 'God, look at us! Isn't this so ridiculously exciting!' Steve just looked at me like I was some stupid schoolgirl. He shamed me with his look! He was definitely born to be a great director."
The following year, she directed another musical coming-of-age tale, the wonderful drama Nowhere Boy, starring Aaron Taylor-Johnson (formerly Johnson) as the young John Lennon. The director and the actor, who was 19 at the time, fell in love and announced their engagement at the film's 2009 premiere. They have since had two children, while Taylor-Johnson also has two older children from her first marriage, to art dealer Jay Jopling.
Access unlimited streaming of movies and TV shows with Amazon Prime Video
Sign up now for a 30-day free trial
Sign up
Access unlimited streaming of movies and TV shows with Amazon Prime Video
Sign up now for a 30-day free trial
Sign up
After a period of "babies, family and the more important things in life", she returned to work – but, like any other business, show business proved difficult to break back into after motherhood. "I'd go to meetings and they'd ask what I'd been up to since Nowhere Boy, and I'd say, 'I just had my fourth baby' – and I could feel myself being shuffled out the door. I was reading scripts I thought were great, and the agents would say, 'Well, after they've asked David Fincher and Alejandro González Iñárritu...' and I would be about seventh or eighth on the list."
Directing 50 Shades, she says, was in part a "Machiavellian" tactic, "to move myself further up the list, so that I can do the films I want to do". It should be noted that while the book was a rousing commercial success, it was not a critical one – and though Taylor-Johnson wants to honour 50 Shades fans' expectations, she also hopes that critics "will think I did a good job".
She first got word of the project on the press tour for her husband's 2012 film Anna Karenina, while making small talk with the CEO of Focus. She hadn't read the book, but was aware of the growing 50 Shades phenomenon. "He said they'd acquired the rights, and I thought, 'Wow, that's a challenge for someone to direct. It would be interesting to try to pull it off cinematically, to make it mainstream but dark, romantic but fucked-up.'"
The casting process was subject to frenzied speculation and some incredibly wishful thinking by Ryan Gosling fans, but the film-makers always planned to pick two relative unknowns. Dakota Johnson – daughter of Don Johnson and Melanie Griffith – aced her audition with a monologue from Ingmar Bergman's 1966 movie Persona. And after Taylor-Johnson had seen "hundreds of devastatingly handsome men", the title role eventually went to British actor Charlie Hunnam.
Weeks later, however, Hunnam pulled out, saying the shoot would come too hot on the heels of his TV drama, Sons of Anarchy, for him to comfortably segue into Christian Grey. "50's going to be massive," he told US Weekly. "I really didn't want to fail on such a grand scale.
For Taylor-Johnson, the news came as a blow. "Charlie and I were working really well together," she says. "But signing up for one film is very different from signing up for a trilogy. As the process got bigger, I started to sense his fear. On the day he called me to say that he just couldn't do it, I knew it was coming, but it was very sad. But then, I truly believe Jamie was meant to be Christian Grey – so, things work out for a reason."
Casting Christian was not simply a case of finding a suitable actor, she adds, but someone "who could carry the weight of what would come next... Jamie has so much humour, and nothing seems to bother him or penetrate his psyche too deeply. He seems to take everything and roll with it – so to speak." She chuckles, and then checks herself: "When you make a film like this, everything becomes a double entendre."
To prepare for the film's BDSM scenes, Taylor-Johnson consulted a professional dominatrix, whose client list was largely composed of millionaire businessmen like Christian Grey. "I learned a lot from her," she says. "Particularly about how the world of BDSM is incredibly strict and structured. There are lists of things you can and cannot do; a contract that you sign. Once you sign the contract, you know your parameters. That takes you to a place of intense trust, and to an incredible bond, which can turn into quite a powerful love."
For some readers, 50 Shades of Grey was reportedly an effective masturbatory aid. Might the film have the same effect? "The sex scenes are pretty intense, so I'm sure people are going to feel aroused – but I've seen them so many times that I tend to forget," Taylor-Johnson replies.
"I recently had to go to Beyoncé's house to get her approval to use a song over a sex scene, and I just switched it on without really thinking. And then I suddenly realised, having a fresh pair of eyes, that actually it was pretty hard-core and explicit, and there I was sitting with someone I'd never met in my life, of whom I've always been a fan, and I needed her approval. I thought, 'Dear God, this is so embarrassing.' I was in a cold sweat as the thing played out. There was total silence, and then Beyoncé turned to me and said, 'That was hot'."
Making 50 Shades has been an all-consuming experience, and not one that Taylor-Johnson is in a hurry to repeat. Her husband has tickets to the basketball tonight and, as our interview comes to an end, she's clearly buoyed by the prospect of rest and relaxation. "I had a few days off last week and I shot a video for The Weeknd, who wrote the song for the end titles of the movie," she says. "What was great about it was that no one was overseeing us, it was just he and I making a video together. That was so much fun – it felt like being an artist again.
'50 Shades of Grey' is released on 13 February
Join our commenting forum
Join thought-provoking conversations, follow other Independent readers and see their replies