Sandra Bullock: 'Society still makes single mothers feel they are not the complete package'
The actor talks to Alexandra Pollard about being a single mum in real life and in the post-apocalyptic horror Bird Box
Wednesday 19 December 2018 09:30 Comments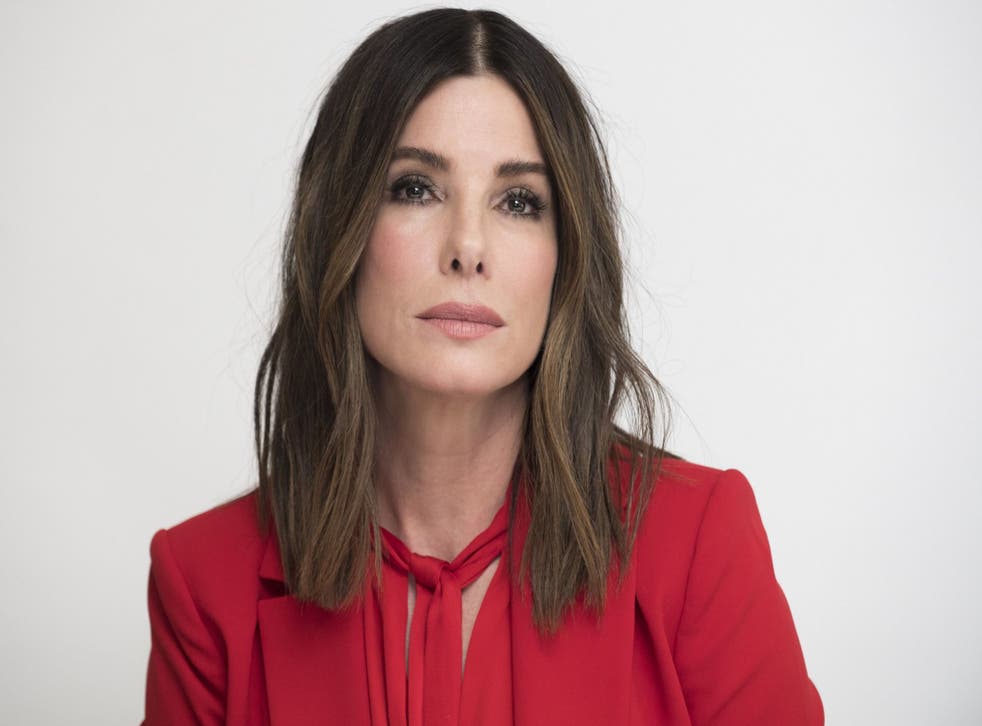 Sandra Bullock can charm her way out of even the most disastrous roles. When stalker romcom All About Steve earned her a Worst Actress "Razzie" in 2009 (the same year she won an Oscar for The Blind Side), she turned up to accept the award with a wheelbarrow of DVDs. "Everyone gets a copy," she announced. "Watch the movie, and consider if it was really and truly the worst performance. And then I will come back next year, and I will give back the Razzie."
Actually, the film really wasn't very good, and I suspect Bullock knew it – but it was hardly the first critical calamity from which she emerged unscathed. For every brilliant, beloved film she has starred in – Speed, Miss Congeniality, While You Were Sleeping, The Heat, Gravity – there has been a Speed 2, a Miss Congeniality 2, or an All About Steve. Even in those, though, Bullock's intense likeability renders her bulletproof. Equal parts goofy and glamorous, the 54-year-old is a proto-Jennifer Lawrence, a Hollywood star we could never possibly emulate, but who somehow convinces us we could.
She likes to be self-deprecating, she tells me, as she settles into the sofa of a hotel room in Berlin. She's here to promote her new film, Bird Box, but made sure to take her kids to the Christmas market this morning. "If you're not, things will get to you in a way that will just take your spirit away. I like my spirit, I don't want my spirit to go anywhere."
But work, she says, she takes very seriously. In fact, she has hardly stopped working since 1994 sleeper hit Speed – an action thriller in which she played a passenger on a bus packed with explosives – made her a household name.
From there, she has played an FBI agent posing as a beauty pageant contestant in action comedy Miss Congeniality (2000), a racist housewife in controversial Oscar-winning drama Crash (2004), a Canadian executive facing deportation in romantic comedy The Proposal (2009), and a stranded astronaut fighting for her life in sci-fi thriller Gravity (2013). Now, having decided that "before I die I wanna do every genre, just so I can say I did it", she's turned her hand to post-apocalyptic horror.
In Bird Box, directed by The Night Manager's Susanne Bier, Bullock plays Malorie, a woman in the late stages of pregnancy. "It's just me," she says when someone asks where the father is – and no more is said of it. When Malorie leaves a check-up to find a mysterious force has gripped the country, prompting everyone who sees it to kill themselves, she finds herself holed up with a ragtag group (the truly bizarre ensemble includes Jacki Weaver, John Malkovich, Lil Rel Howery, Moonlight's Trevante Rhodes and rapper Machine Gun Kelly), only able to venture outside if she wears a blindfold. The film doesn't exactly hold up to much close scrutiny, and tonally, stumbles as often as Malorie does, but it is an exhilarating, viscerally tense film – in the same vein as this year's A Quiet Place.
The strange force, Bullock explains, causes people's greatest fear to materialise in front of their eyes. When her eight-year-old son Louis found this out, he went up to everyone on set and asked them to tell him theirs. "Everyone went, 'huhhhh'," she says, drawing a deep, comic breath in. "But he was very intent on knowing. He knew what mine was. Mine is something happening to my kids." It's a prospect that sometimes consumes her. "I live in such a fearful place," she says. "I'm so afraid all the time. I think becoming a mother has made me that much more fearful."
The film isn't getting a wide cinematic release and is being made available almost simultaneously on Netflix – but Bullock is confident that "cinema is not going anywhere". "I know it struggled," she concedes, "but the streaming world has elevated the bar for cinema. [Before], if you were a superhero, you were able to get a movie made; anything else was not getting made. Now, with streaming, we have all kinds of work available, so we can act again. This wonderful business is changing, and providing so many more opportunities for women, and people of colour. There's a great change happening."
There are plenty of people, though, who resist that change. In 2015, it was announced that Bullock would star – alongside the likes of Cate Blanchett, Rihanna, Mindy Kaling and Anne Hathaway – in the all-female Ocean's trilogy spin-off Ocean's 8, directed by Gary Ross. The news wasn't met with the levels of vitriol the all-female Ghostbusters reboot was subjected to, but it didn't escape the trolls entirely. "We got some backlash," said Bullock when the film premiered earlier this year, "but boy, I'll tell you, we've got some feisty women that will fight back."
Access unlimited streaming of movies and TV shows with Amazon Prime Video Sign up now for a 30-day free trial
Sign up
"We started Ocean's 8 before the #MeToo movement," says Bullock now, "and ended during. I saw a noticeable difference." On Bird Box, she noticed the difference too – one that was exacerbated by the presence of a female director. (Bier, incidentally, recently suggested that Ocean's 8 should have been directed by a woman: "It's so obviously wrong. I don't know why they made that decision.")
"Because the boss was a woman," says Bullock of Bird Box, "I did see a lot of fear in our crew members. The men were walking on eggshells. So I said: 'Guys, you're allowed to joke, we'll tell you when you've gone too far.'" I don't doubt Bullock's willingness to do so. During a press conference later, a male journalist asks how old her character is supposed to be. "Does it matter how old she is?" she shoots back. "I would look at that as a sexist question." There's an interminable pause. "Sexist and ageist."
Stay on her right side, though, and Bullock exudes the same charm she does on screen. It's the sort of charm, in fact, that might be paralysing if she didn't take such careful steps to cut through her own star power. Wearing a black, polka dot dress with one billowing sleeve, she is poised but playful – veering off into comedy bits, lamenting the fact that she "will never have the talent of anyone in Hamilton", and rejecting any suggestion that what she does is particularly important. "I don't feel that what I do is life-saving in any way, shape or form," she laughs. "I'm an entertainer."
But she has bursts of disarming earnestness, too. Particularly when she's talking about her children. She brings up a line in Bird Box that would make her break down in tears every take. "You have to love them, even though you might lose them," says Trevante Rhodes's Tom, referring to the children Malorie has named Boy and Girl in a futile effort to stay detached. "If you really think about that," says Bullock, "it's saying you have to let go, and be so deeply in love with your children, even though they could die." She starts to tear up. "I can't. I can't."
Though Bullock believes that had her own mother not been so strict, she "would have been a mother at 17, with a loooottttt of kids", it wasn't until she was 46 that she actually became one. Even then, her plans were nearly scuppered. "My life took a trajectory that wasn't very pleasant," she says calmly, "but I feel like it had to happen in order for me to fully understand what family was about."
That unpleasant trajectory was splashed across the tabloid press in 2010, when Bullock's then-husband, motorcyclist and TV host Jesse James, was accused of having multiple affairs. "There is only one person to blame for this whole situation," James said in a statement at the time, "and that is me. It's because of my poor judgement that I deserve everything bad that is coming my way." Bullock filed for divorce, but decided to go ahead with the adoption process she and James had begun years earlier. The result was her son, Louis, and five years later, a daughter, Laila.
For a while, it scared Bullock that her life didn't fit the nuclear family mould. "Society's hard," she says. "Society still, as open-minded as we've become, has these rules that quietly say: 'This is the way it goes.' They're saying: 'It's a man and a woman, and then you have a baby, and that's the family.' I go: 'Oh my god, I'm a single parent. With a child. How am I…' I felt less than. I felt: 'I'm not the complete package.' And then I realised… this is the complete package." Now, it's her mission to tell others the same. "It breaks my heart when I see people saying: 'I can't have that.' Why not? Why can't you have it?"
Though her life didn't go the way she imagined it would at 17, Bullock wouldn't change a thing. "My life went the way it went because it was supposed to be that way," she says. "Sometimes you have to open up your mind and wait. I can say that, because I see the bigger picture, but when you're in it, you're like: 'When is my family coming?' I was there. I know what that feels like. And at some point you almost let go of the idea, and when you do, all of a sudden the universe goes: 'Oh, you finally let go? Here you go. This is it.'"
She leans forward. "And you go: 'Oh my god, that's more beautiful than anything I ever imagined.'"
Bird Box launches on Netflix on 21 December
Support free-thinking journalism and attend Independent events
Register for free to continue reading
Registration is a free and easy way to support our truly independent journalism
By registering, you will also enjoy limited access to Premium articles, exclusive newsletters, commenting, and virtual events with our leading journalists
Already have an account? sign in
Join our new commenting forum
Join thought-provoking conversations, follow other Independent readers and see their replies