Saoirse Ronan on Lady Bird: 'Everyone's dealing with their own stuff. Everyone has an issue, everyone has a sadness'
The Oscar-nominated actor on flawed role models, self-discovery and Greta Gerwig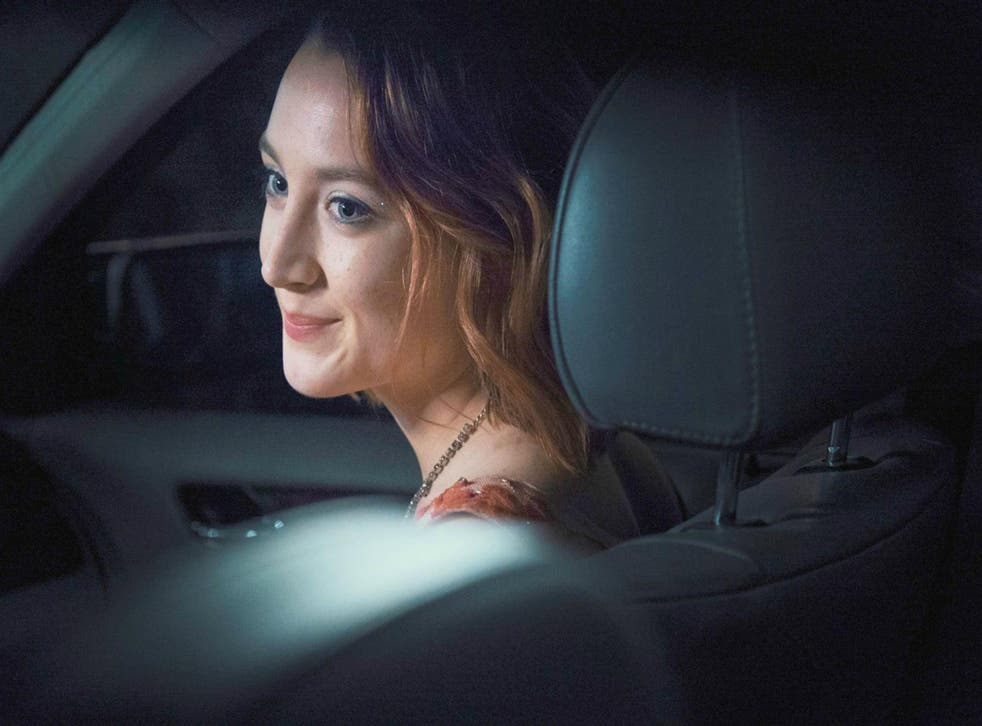 Lady Bird is a deeply personal film. Not only to its director, Greta Gerwig; not only to its star, Saoirse Ronan – it belongs to anyone who may want to stake a claim to its emotions. Who may want to flip through its unfolding moments like the pages of a photo album, only to come across our own memories: of our youth, our struggles, of saying goodbye, and of finding our place in the universe.
Its story has its specifics: a Sacramento teenager, Christine "Lady Bird" McPherson (Ronan), feels dejected by her own surroundings, keen to escape to the intellectual haven she imagines exists within those storied East Coast colleges ("where culture is," she argues), all while ignorant to the extent of her parents' financial struggles.
Lady Bird may not have lived your life, your childhood, but Gerwig still encompasses so many of the wider emotional milestones of late teendom, that it can't help but feel achingly familiar in its approach. Nostalgia in its traditional sense: a fond, sweet memory of a time that fled by too fast. Of moments we wished we had the wisdom to treasure, decisions we regret not having the experience to navigate.
It's quietly profound to see a film achieve so much, to witness how different viewers have found their moment of poignancy in so many different scenes. An argument in a thrift store where Lady Bird asks of her mother (Laurie Metcalf), knowing that she's loved, "But do you like me?" Or rushing in to support her best friend (Beanie Feldstein) in her own despair in the only way she knows how: together consuming every single piece of cheese in the house.
For Ronan, it's the pain of a farewell that hit closest to home: "Everyone in the car not really knowing what to say. Just sort of sitting there and having a bit of small talk, because whoever is in the car is just dreading having to say goodbye. That goodbye is something that I can relate to big-time."
It's a small moment, but Lady Bird is all about small moments. It's here that the power of Gerwig's film lies. In its opening scene, Lady Bird complains that she wants to "live through something". We're lost in the idea that our lives are wholly shaped by earth-shattering moments, but this film – the way it's been received, the way it's talked about – proves our protagonist wrong. The quietest of moments can shape who we are today.
As frustrated as Lady Bird may be with her surroundings, they are still the things that created her, and it's a lesson that she (and most of us) are in danger of learning too late. But that regret can almost be a rite of passage. "You do spend time running away from the thing that you're used to," Ronan says. "And you're running away from yourself because you think that's the best way to find yourself. And maybe it is. I think home is a really good metaphor for that. Like, where you grew up; we do spend so much time, most of us do, when we're younger, desperately wanting to escape it, because that's what represents being a child and security and your parents. And you need to leave it in order to be able to come back to with a fresh outlook."
As a side note, it's a little strange to talk of Lady Bird's search for her own self-identity, as she cycles masks (theatre kid, cool kid), without noting the irony of Ronan's own childhood. A professional actor from the age of nine, that exploration was essentially a built-in factor of her career. What is acting, after all, other than an opportunity to momentarily escape ourselves? Yet, just as Lady Bird finds small revelations in each departure from herself, Ronan herself has found something almost therapeutic in her work.
Lady Bird actress Saoirse Ronan describes Greta Gerwig as a role model
"I have definitely felt, because I've grown up doing this, playing the characters I've played here helped me to understand myself more, because you're having to get to know another person so intimately," she explains. "And, no matter what, there are different elements of you that come out and different parts of your personality that you didn't necessarily know where there. And I do think it's a really good practice of empathy and understanding. And so, yeah, definitely going away to do a job and delving into another character and another person and another life, and way of thinking – it can give you a clearer outlook on who you are."
Access unlimited streaming of movies and TV shows with Amazon Prime Video Sign up now for a 30-day free trial
Sign up
Admittedly, Lady Bird's journey isn't a selfless one. Gerwig doesn't shy away from admitting that our teendom explorations of self can, at times, find moments of narcissism. Many of the film's small conflicts derive from it: that by so demonstrably rejecting herself, Lady Bird rejects also those who have shaped her – her family, her friends. As Ronan enthusiastically notes, she's no hero, but "just a person".
And she believes that's wildly important for young people to see as, "it shows that a person can have flaws and not be perfect, and still be really special. And have something to offer. And still be a good person, you know? Because one of the things that I got from watching it as an audience member was just that, everyone's dealing with their own stuff. Everyone has an issue, everyone has a sadness. And even if you don't see that straight away, it doesn't mean it's not there and it doesn't exist for someone. So, it's a really empowering thing."
Whether in the flaws of Lady Bird, or in the brilliance of her Oscar-nominated creator Gerwig, we're in need of role models that can both be a reflection of ourselves – even in our most uncertain, most wavering moments – and a witness to our own potential. Lady Bird and Gerwig have become forces intertwined, in conversation with each other. Of importance, especially, when these kinds of influences are so rare for young women. It's been moving, certainly, to see how Ronan found even her own moment of revelation here, admitting during a Q&A that Gerwig had inspired her to pursue directing in the future.
"This is why, obviously, there's so much talk about more diverse pieces of work coming out, because it's really important, especially for young people, I think, to see themselves in someone," she says. "And kind of go, 'Oh, they did it; maybe I could do it too.' I think even when Hillary [Clinton] was running for president, the effect that would have had on girls in America, who thought, 'Oh, I've never seen a woman do that before. Maybe that means I could do it, too.' And I think something about seeing Greta be so brilliant, and be so passionate about it and do so well at it, meant that, I guess, I could see myself doing that too in a way that I hadn't done before."
This the all-encompassing power of Lady Bird. Past, present, future – reflected back to us with such warmth, such love.
Lady Bird is out now