How the Saw movies influenced everything from Marvel to Star Wars to Bond
Beyond the gore of the horror franchise were bizarre storytelling techniques that seemed unlike anything else at the time – but now everything is 'Saw', says Adam White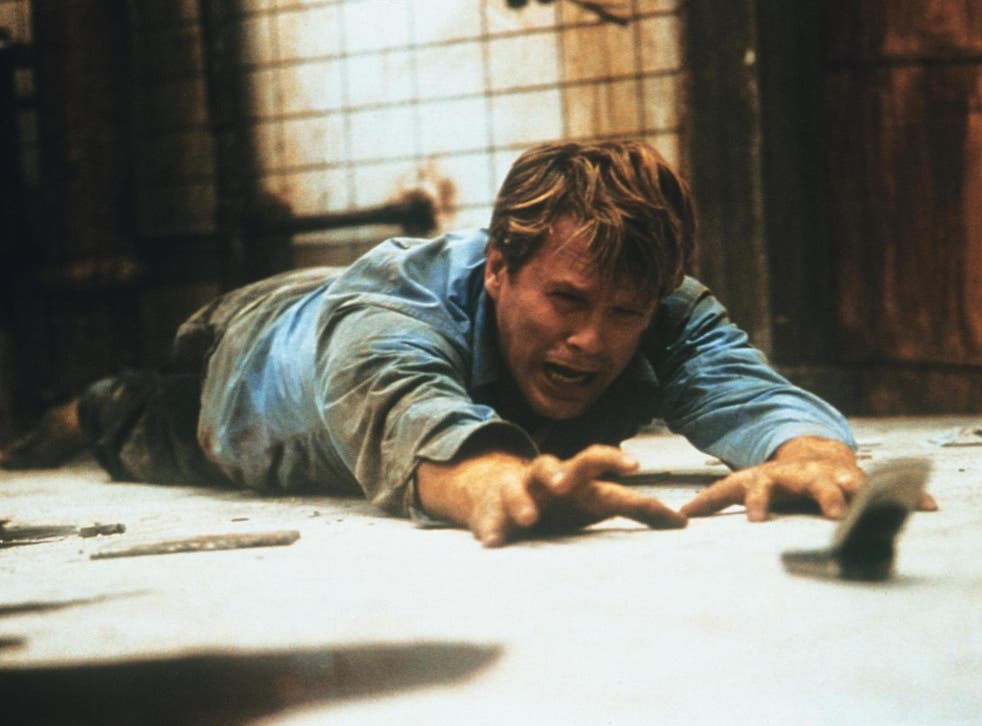 We don't talk about the Saw movies much anymore, primarily because they were never enormously good. Always grungy and visually unpleasant, they had the aesthetics of a Korn video, stars straight out of a DVD bargain bin and a propensity for unnecessary violence. As a result, they were lumped in with the age of "torture porn" – a horror sub-genre driven by acts of cinematic depravity and gory set pieces, exemplified by films such as Hostel (2005).
But they were also some of the most influential movies of the 21st century. Not, intriguingly, in the horror genre, but on everything else. Saw's plotting, in all its startling complexity, can be found all over modern storytelling, from the sweeping serialisation of the Marvel movies, to the endless narrative loop-de-loops of James Bond and Star Wars. Everything today is Saw, or at least bears its fingerprints. And that's despite one of its co-creators leaning far in the other direction.
Leigh Whannel, who masterminded Saw with James Wan, has become more famous in recent years for writing and directing taut suspense thrillers. His 2018 revenge movie Upgrade was a superhero tale by way of Cronenbergian body horror, while this week he reimagines the famed cinematic monster The Invisible Man as a violent stalker beamed straight out of the Julia Roberts vehicle Sleeping with the Enemy. They also feel like cleaner bits of storytelling. They're linear, concept-driven and standalone, worlds away from the overwhelming noise of Saw.
Somewhere between the exposed ribs and hacked-off feet, the Saw franchise was fascinating in its perpetual knottiness, inspiring more visits to Wikipedia than your average episode of a Damon Lindelof show like Lost or Watchmen. It's an apt comparison, for the Saw movies were always more of a TV serial than a collection of movies – a labyrinthian house of cards made up of flash-forwards, subplots, interconnected characters and cliffhanger endings.
Saw is the story of a terminally ill man driven to madness by the selfishness of others. John Kramer, played with slithery menace by Tobin Bell, adopts the persona of Jigsaw to teach lessons to those he deems unappreciative of life – addicts, assholes or criminals, whom he places in elaborate traps that test their willpower. There is also an endless rotation of cops on his tail, a similarly vast legion of devotees eager to mimic his work, as well as a pig mask and a tiny puppet on a bicycle named Billy. Kramer also died in Saw III but still heavily factors into Saws IV through eight (which dispensed of roman numerals altogether), providing the biggest indication that there was often more to this series than met the eye.
37 horror films that are genuinely scary

Show all 37
Beyond the gore, those responsible for Saw recognised early on that the franchise's own, vaguely impenetrable, mythology was its most distinctive element. This is a series in which events taking place in entirely different films (specifically Saw III and Saw IV) are slowly revealed to be occurring concurrently. It's a series that fetishises specific locations, notably the grimy bathroom that the majority of the first Saw takes place in, and returns to them repeatedly through multiple films – using them to anchor plot twists or to demonstrate that the Saw timeline has been deliberately cut into pieces.
When the original Saw was re-released in 2014, to celebrate its 10th anniversary, Whannell and Wan made it clear in interviews that their intentions for the movie were very different from the reputation Saw eventually earned. "I felt people ended up concentrating on certain things that were not necessarily, for us, what the film was about," Wan told the AV Club. "Like the blood and guts of the trap. I keep reminding people that the reason why I think the first film works so well was because it was fresh, it was unique, and it had a really cool twist ending that made people say: 'My God, did you see that?' And I felt some of that was kind of lost in the process."
It is true that the Saw movies largely drifted far away from its original premise – that of two strangers tied up in a bathroom, with one ordered to kill the other. It's debatable, however, whether the franchise would have lasted as long as it did, and had its own video games and rollercoaster rides, if it hadn't expanded outward.
Horror movies typically sustain themselves via their villains, the likes of Michael Myers and Freddy Krueger becoming the star attractions of their respective franchises at the expense of their other, non-murderous characters. Saw likely could have done the same with Jigsaw, but there was always something grandiose about the franchise's ambitions – particularly once Whannel and Wan departed the series after 2006's Saw III, leaving it in the occasionally capable hands of Patrick Melton and Marcus Dunstan.
Access unlimited streaming of movies and TV shows with Amazon Prime Video Sign up now for a 30-day free trial
Sign up
Under them, characters began to drip in and out, minor players became enormously important, murders were reversed, and Jigsaw himself, in the wake of his own death, came to linger in flashbacks or on menacing audio messages. He also got a wife, herself a glorified extra who became fundamental to the mythology of the series, too.
For a while, this was a mode of storytelling largely unique to Saw, and something that proved baffling to the critics of the era. "The sequels, instead of using the original conceit as a jumping-off point for broad reinventions, have become contraptions in and of themselves," wrote IndieWire's Drew Taylor in his review for Saw 3D (2010), the seventh movie in the franchise. "[It makes] absolutely no sense and leaves everyone involved confused and bewildered."
But while the horror genre has turned further and further away from the cheap-and-gratuitous blood and guts of Jigsaw and his acolytes, it's worth asking whether Saw is even still as unique as it once was. Unique for horror, sure, which has largely resisted serialisation in favour of sequels only tied together by a villain, but not for the rest of Hollywood.
Like Saw, the Marvel Cinematic Universe is heavily serialised, one of its unspoken rules being that you'll need to watch every instalment (including its TV spin-offs and short films) to understand what on earth is happening. Like Saw, they typically end with cliffhangers or set up mysteries that are only answered two or three movies down the line. Like Saw, they're relentlessly episodic, blurring the lines between two-hour movies and blobs of feature-length content, released in instalments once a year.
Modern plot twists also look a lot like Saw's, too. Today, a twist is less a surprising incident and more about casting – a surprise cameo here, or a character-driven shock that will only make sense to long-term fans. Think Christoph Waltz in Spectre (2015), introduced as someone named "Franz Oberhauser" but revealed to be Bond's historic nemesis Ernst Stavro Blofeld at the film's midpoint. Or even Star Wars, which has become less a series of movies as a running collection of franchise call-backs and surprise re-appearances.
It also helps make this summer's Saw reboot, dubbed Spiral: From the Book of Saw, seem a lot less weird. When it was announced last year that a potential revival of the franchise was being spearheaded by Chris Rock, who himself would star, eyebrows were raised. Chris Rock, a dramatic actor? And in a franchise best known for a scene in which a woman with a bear-trap on her head had to root around in a dead man's stomach to find the key to unlock it? Surely not!
But dig into what Saw was, and its fixation on narrative trickery and steadfast refusal to bend to the whims of time, and you could see its appeal to Rock. After all, Saw can be anything – a police procedural, a slice of torture porn, a meditation on fate and life itself, and an exhaustingly complex maze that could only be unravelled with the help of a book of notes you've made along the way. Why wouldn't it attract even the most unexpected of creatives? Particularly when it's already turned so much of modern filmmaking into its lighter, brighter mirror.
Register for free to continue reading
Registration is a free and easy way to support our truly independent journalism
By registering, you will also enjoy limited access to Premium articles, exclusive newsletters, commenting, and virtual events with our leading journalists
Already have an account? sign in
Register for free to continue reading
Registration is a free and easy way to support our truly independent journalism
By registering, you will also enjoy limited access to Premium articles, exclusive newsletters, commenting, and virtual events with our leading journalists
Already have an account? sign in
Join our new commenting forum
Join thought-provoking conversations, follow other Independent readers and see their replies