interview
Sofia Coppola: 'It's hard for me to watch my 18-year-old self'
The director had a baptism of fire with her role in the Godfather trilogy, but has since made her name as one of the most visionary filmmakers of her generation. As she releases a new comedy, she talks to James Mottram about motherhood, her father Francis and the genius of Bill Murray
Thursday 22 October 2020 17:41 BST
Comments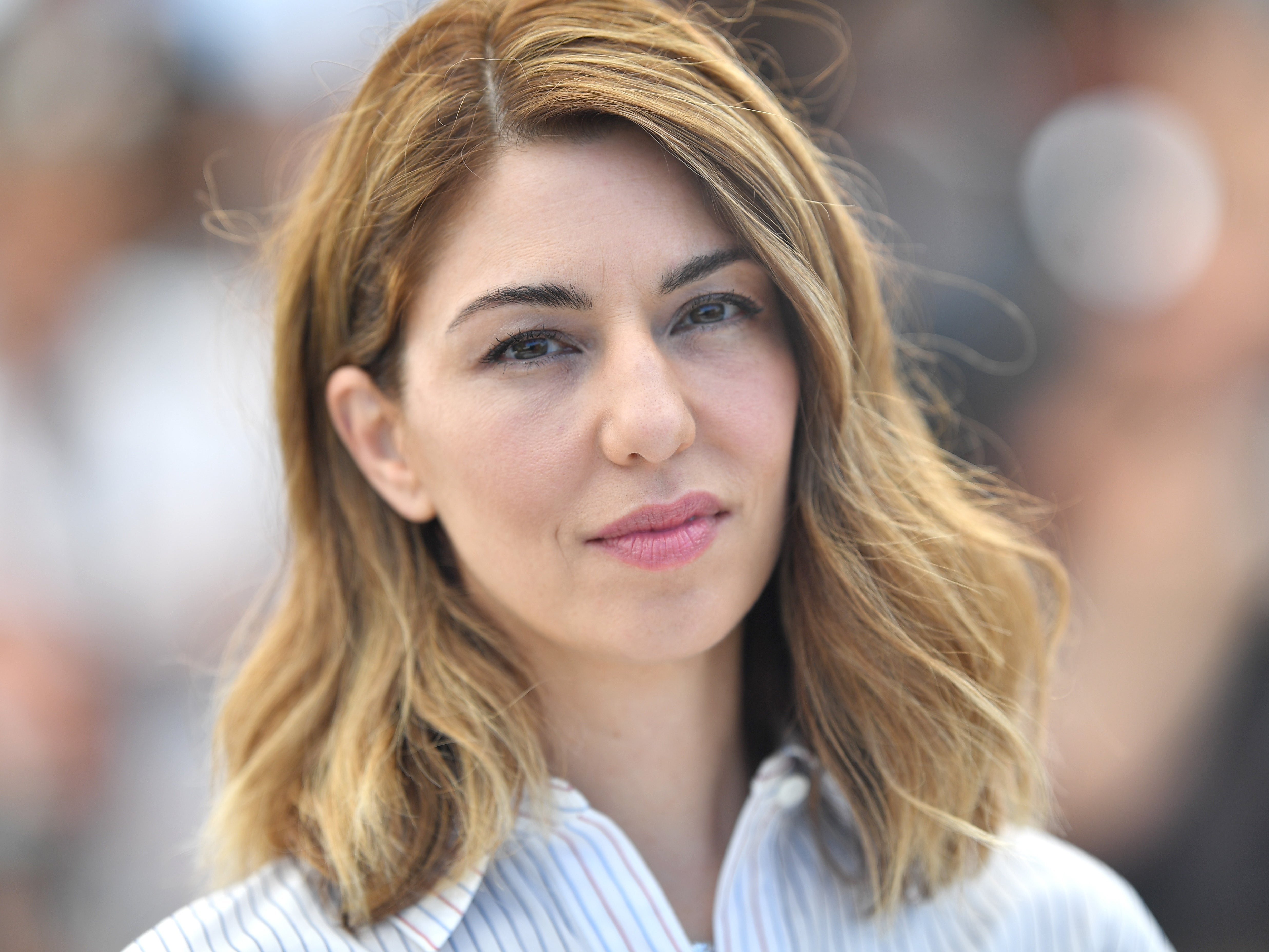 If ever there is a director who sounds – literally – like her movies then it's Sofia Coppola. The softly spoken 49-year-old has a gentle, mellifluous voice that immediately reminds you of her work. More often than not, Coppola makes mood movies, wrapping you up in delicate atmospheres, whether it's the jet-lag haze of Lost in Translation or the sun-kissed suburbs of her 1999 debut The Virgin Suicides.  
Her contemplative films sit far from those of her larger-than-life father Francis Ford Coppola's, like The Godfather and Apocalypse Now. Likewise, she expresses none of the hot-button intensity of her actor cousin Nicolas Cage. Hers is one of American cinema's great filmmaking dynasties – brother Roman and niece Gia – but Sofia's work stands up in its own right and has seen her emerge as one of the most visionary directors of her generation.
Over the past 21 years and seven pictures, she's emerged as a uniquely voiced writer-director. She won an Oscar for the screenplay for Lost in Translation, just her second movie. Somewhere took Venice's Golden Lion. And 2017's remake The Beguiled claimed her Best Director in Cannes. Even the failures, like the spiky Marie Antoinette, have been reappraised. "I think it's nice when things are appreciated that at the time were strange," she says.
When we talk – first by Zoom, then by phone – Coppola is in Paris, a change of scene from New York where she lives with her family, French musician husband Thomas Mars and daughters Romy, 13, and Cosima, 10. "I was worried coming here because I heard it was shutting down," she says. "But it feels pretty normal. It's nice and calm here." (This, admittedly, is just days before the horrifying events of this week, with another extremist attack on French values.)
Largely, she's escaped the worst of Covid-19. She finished the sound mix on her latest film, comic odyssey On the Rocks, before lockdown, and while it has also screened in cinemas, she's struck a deal with Apple TV+ to stream it too. "I do value the communal aspect of seeing a movie all together in a theatre," she says, but with so many of us at home, "I feel like we all need something to watch right now."
On the Rocks is also well-suited to streaming; an "easy-going" film to "watch at home in a cosy way", she says, "it's not an epic you have to see on a big screen or anything." I watched it curled up in bed, I tell her, and she coos her approval. "There's a channel in Paris that my husband and I used to watch called The Comfort Channel. Every time you turn it on, you knew it would be some kind of romantic comedy that was…[for] when you're just in that mood."  
Her new film is the closest she's come to a Woody Allen-like New York tale. Parks and Recreation's Rashida Jones plays Laura, an author struggling with juggling motherhood, work and marriage. She begins to suspect her husband Dean (Marlon Wayans) of cheating and, egged on by her roguish art-dealer father Felix (Bill Murray), starts to spy on him. "It's sort of a ridiculous idea that I tried to approach with some realism," Coppola says. Classic screwball farce, in other words.
Souffle-light the film may be, but Coppola also wanted to look at motherhood, and the compromises you inevitably make. "I'm just trying to take where I was at that moment in my life where my kids were younger…that adjustment. I think you go through an identity crisis [when you become a parent] and I thought it would make sense that she could be vulnerable and insecure enough to go along with this crazy plan, if she's in that state."
The life change of going "from being able to just write all night to now having to wake up early" became a topic amongst her and other artist friends. Was she worried after having kids she'd lose her mojo? "No, I never really thought about it," she replies. "But you start to realise how you have to be more organised with your time. And it's kind of the opposite of an artist, [where] you need to just meander. It's not like something you can do within the hour. For anyone creative, it's a definite adjustment."
Access unlimited streaming of movies and TV shows with Amazon Prime Video
Sign up now for a 30-day free trial
Sign up
Access unlimited streaming of movies and TV shows with Amazon Prime Video
Sign up now for a 30-day free trial
Sign up
The big selling point here is Coppola's reunion with Murray, who famously starred in Lost in Translation, his only Oscar-nominated role to date, as a washed-up actor wistfully flirting with Scarlett Johansson's student in a Tokyo hotel. They stayed friends, Coppola even directing him in comedy special A Very Murray Christmas a few years back. "I think we all need a little Bill Murray right now!" Coppola says. "He has so much heart and he's so funny and in a way that is so unique to him."
If Murray infuses the character with much of his effortless comic charm, Coppola says that the womanising Felix also comes from an old school generation of men "that drink martinis and smoke cigars". In the post #MeToo world, she is patently aware that such patriarchal dinosaurs don't play well. "There's also a lot of critique on [them]... they don't fit into modern life," she says. On the Rocks doesn't exactly take them to task, more limply slaps them on the wrist.  
More compelling is the film's father-daughter dynamic, which has surfaced in her work before – whether it's James Woods's over-protective Dad in her 1999 debut The Virgin Suicides or Stephen Dorff's debauched actor reuniting with his 11-year-old offspring, played by Elle Fanning, in 2010's Somewhere. Even "Life Without Zoe" – the segment of 1989 anthology movie New York Stories that she wrote with her father – sees a daughter trying to reunite her mother with her estranged dad.
"I guess it's a big theme to me," she concedes, "but I think for probably a lot of women, that has a big impact on shaping how you relate to men in the world, and probably having a big father-figure, it's something especially in my mind, but I think it's universal." Even so, her father's impact on Coppola remains enormous. During her California upbringing, he'd take her "to places that kids don't normally go", she fondly recalls. "He taught me how to play craps in a casino!"
Was she tempted to draw from her own father to depict Felix? "It's not like my dad's personality at all," she says. "But I think just the love between them and the bond between them… when he's talking about her as a baby… those come from my life. But that character is really a combination of lots of characters. It's not my dad's personality. It's not my dad. But of course, you draw on things from life to try to make it feel real and connected."
Intriguingly, her father, who is now 81, has just re-cut The Godfather Part III for a 30th anniversary reissue. "He's really happy [with it]," she says. As a teen, she was drafted in to replace Winona Ryder, who dropped out, as Mary Corleone; the reviews were tough on her. "It's hard for me to watch my 18-year-old self," she admits. "So much time has passed but it's just weird to see yourself with all that baby fat. It was strange to see… it's almost like another person."
After that, she spent time finding her own voice, whether it was popping up in Madonna's music video alongside Udo Kier for "Deeper and Deeper" or designing a line of clothes in Japan with musician Kim Gordon. It was Sonic Youth's Thurston Moore who recommended Coppola read Jeffrey Eugenides's novel of The Virgin Suicides, though a story of five daughters in a suicide pact did not exactly scream "commercial hit".  
"When I was starting, it was really hard to get that made," she says. Even afterwards, for years, Coppola felt like a lone female voice in American cinema. Does she feel Hollywood has changed for the better? Is there greater representation behind and in front of the camera? "Yeah," she nods. "It's changed a lot since I started 20 years ago. And so I think all this conversation is helpful to have more points of view out there, for sure."  
What about the gender pay gap, a subject raised so vividly by Patricia Arquette when she collected her Oscar in 2015? Has it been achieved? "I know it's been talked about," she says. "I'm not up on the research of how much it actually has changed. I hope that it has. It's hard for me to tell in my work. But, of course, I hope that is really, actually changing."
So what's next? Her "escape from reality" in lockdown has been adapting Edith Wharton's tragicomic tale of social climbing, The Custom of the Country, again for Apple TV+. "It's a book that I've always loved," she says. "This one is lesser known, but it's very beloved for people that know her work." A sideways look at the world through a quietly admired novel – that fits Sofia Coppola very neatly.
On the Rocks streams on Apple TV+ from Friday 23 October
Join our commenting forum
Join thought-provoking conversations, follow other Independent readers and see their replies