Spider-Man: Homecoming director Jon Watts: 'I'm not really sure how I got this job'
The American superhero film based on the Marvel Comics, starring Tom Holland as Spider-Man, is a big leap for the indie director with only two low-budget film credits to his name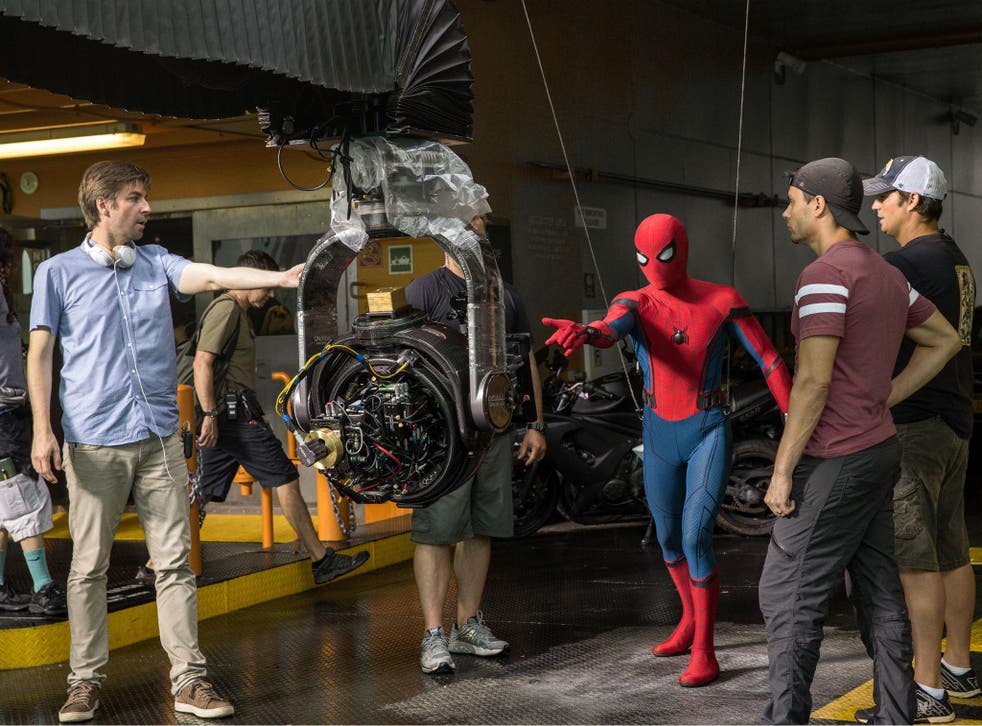 "Have you ever seen the video of the kid with the Spider-Man piñata?" Jon Watts, the enthusiastic, articulate director of Spider-Man: Homecoming, is asking a serious question. It's on YouTube, in case you're interested. In his backyard, a small boy is given a stick to hit the aforementioned Spider-Man toy. "He just sets the stick down, walks over and gives the Spider-Man piñata a hug. He doesn't want to hurt his Spider-Man. He loves him! And I think that's a universal feeling towards Spider-Man. You just can't help but love him."
In charge of the third movie incarnation (in the past 15 years alone) of Marvel's web-slinging superhero, it's certainly this 36 year-old director's overriding emotion. His only two previous features were 2014's Clown, a low-budget supernatural horror, and Cop Car, an efficient thriller made a year later starring Kevin Bacon.
"I'm not really sure how I got this job, to be perfectly honest," he admits, a little bewildered at how he's come to be in charge of a (reported) $175m (£135m) movie. "I really didn't think I was going to get it until the very last moment."
Still, it's a tactic that has worked well for Marvel Studios already, casting enthusiastic directors from the indie universe. Currently, New Zealand-born Taika Waititi (Hunt For The Wilderpeople) is in post-production on Thor: Ragnarok, while Anthony and Joe Russo (who started out on 2002's comedy heist Welcome To Collinwood) are filming Avengers: Infinity War and its as-yet-untitled follow-up. It was this sibling duo that reintroduced this latest version of Spider-Man, as played by the now 21-year-old British actor Tom Holland, in last year's Captain America: Civil War.
Watts was on the Russos' set, ensuring "everything they were doing would transition smoothly" into the script for Homecoming (which he co-wrote with five other credited writers). Civil War showed Spider-Man's boyish alter ego, the young Peter Parker, plucked from obscurity by Tony Stark's Iron Man (Robert Downey Jr) to help battle against his one-time ally Captain America. "I was there when they were shooting that," says Watts. "You see Tony Stark and Peter Parker together and it just feels like magic."
Homecoming is set to continue the Stark/Parker relationship. Indeed, as Holland recently revealed, this pairing has been secretly layered into the Marvel Cinematic Universe (MCU) as far back as 2010's Iron Man 2, when Stark saves a kid in an Iron Man mask from a killer drone. That anonymous child, apparently, was always meant to be Parker, explaining just why he's been an Iron Man fanboy. With Parker now living with his Aunt May (Marisa Tomei), much of the emotional grist in Watts' film comes from Spider-Man's encounters with Stark.
But is Stark not quite the hero Parker believes him to be? "It's just this feeling of when you're a kid, you have these ideas about the world and about people in your life that don't always hold up as you get older and start to realise that things are more complex than you might've realised," explains Watts. "That's always a big part of a coming-of-age story. It works both ways for Peter and for Tony in this movie. It's about them both coming to understand each other and the world in a way they didn't necessarily at the beginning."
Already, the enthusiasm for Watts's film is huge (industry data suggests the film will open in the US to over $100m; there's no reason why it can't match the $1.1bn worldwide gross of Civil War). Why? Because, as the "homecoming" title suggests, this is Spider-Man brought back into the Marvel Universe. In the original Stan Lee/Steve Ditko comics, he was frequently intermingling with the other Marvel heroes. "One of the first things he tried to do in the comics," says Watts, "was join The Fantastic Four. They're like 'Get out of here!' And he gets into a fight with Johnny Storm."
It was rather more complicated on film, with Sony owning the rights to the character, and producing the previous modern incarnations – Sam Raimi's celebrated trilogy, starring Tobey Maguire, and Marc Webb's two-film reboot, with Andrew Garfield, which rather needlessly retold the character's origin story. This time, Sony have collaborated with the Disney-owned Marvel Studios, allowing Spidey to be reintegrated into the wider MCU. If, like the Colorado-raised Watts, you were a fan of the comics growing up, it's what you've been waiting for.
With Chris Evans's Captain America also returning for this outing, this seamless interweaving of multiple heroes looks set to be hugely successful. But what about the villain? Watts went for Adrian Toomes, aka The Vulture, as played by Michael Keaton. "In the comics, he's an older guy who gets screwed over by his business partner and has to turn to robbing banks to make ends meet," says Watts. In Homecoming, Toomes is a blue-collar worker who begins developing super-weapons from the alien debris left over from the Civil War fallout.
This time, Toomes gets screwed over by the government when suits try and shut down his operation. "If Spider-Man is your ground level superhero, I wanted to come up with a ground-level villain," says Watts. "I wanted to figure out if I could turn a regular guy into a super-villain. And whenever I would watch these big Marvel movies, or any massive action movie, all I could ever think about is what are the other people in this world doing? You get to see the penthouse level of these worlds, but you never get to see the regular Joes and what their day-to-day life is like."
While Spider-Man will return in the Russos' forthcoming Avengers double-header (the second of which will hit screens in May 2019), the character will then almost immediately reappear in his second standalone movie, due in July 2019. It will be the first film of the so-called Phase Four of the MCU, set after the Avengers have battled their mortal enemy, Thanos.
Naturally, Watts is in the driving seat to direct, though nothing is official yet. "I feel like what we've done in Homecoming is really scratching the surface with Spider-Man," he teases, "there are a lot of places we can go." Like that kid on YouTube, you can expect a lot of people to be hugging Spider-Man after he's done.
'Spider-Man: Homecoming' is on general release on 5 July
Join our new commenting forum
Join thought-provoking conversations, follow other Independent readers and see their replies