Interview
Stacy Martin: 'I've never been paid as much as my male counterparts. Give me more money!'
The Anglo-French actor talks to Patrick Smith about her new film, 'Vox Lux', the glamorisation of victimhood, and why she won't be voicing her opinion on Kevin Spacey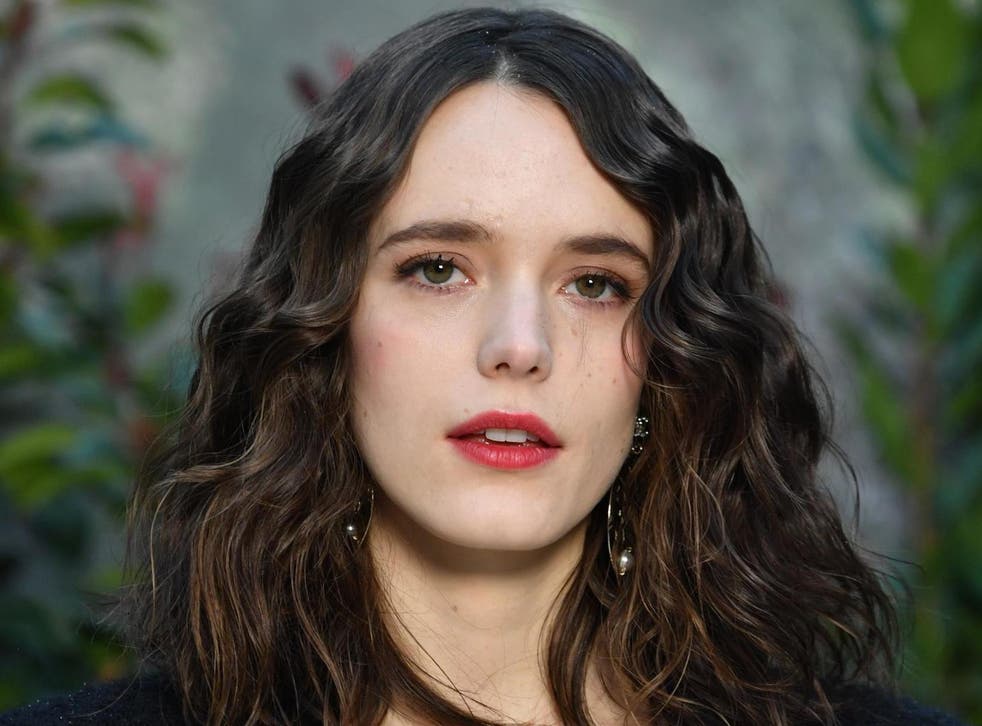 We glamorise violence as much as we do celebrity," says Stacy Martin, unwrapping a packet of sweets in an office suite in central London. "I think the two are intrinsically linked now and that's quite scary."
The French-Anglo star of Nymphomaniac is dissecting the premise behind her new film, Vox Lux. Part satire, part social commentary, it's a meditation on the vapidity of pop superstardom, filtered through the prism of a singer (Celeste) whose career was launched after she survived a school shooting. The film serves as a sardonic counter to A Star is Born, anchored by a deliciously kitsch Natalie Portman and directed with elan by Brady Corbet. For Martin, who plays Celeste's older sister Eleanor, Vox Lux is about our "weird obsession with sensation culture".
"I think there's a glamorisation of a victim's status, which is very dangerous," says the 29-year-old, "because it's perpetuating a certain relationship to violence that means that we're accepting that it happens. And it's not that these victims shouldn't have a voice, of course, because it brings awareness and knowledge, but it's a very fine line between bringing awareness and profiting out of someone's misery."
The 2017 terrorist attack at an Ariana Grande concert in Manchester seems to have informed Vox Lux, although the singer's response was far more admirable than Celeste's. I mention Grande, whose status in the UK has undoubtedly gained a deeper resonance since the bombings happened. "It's a sort of weird by-product," says Martin, "which is awful to just say that. That was awful."
In person, Martin is relaxed but scalpel-sharp. If her name and accent don't exactly sound French, she more than makes up for it with Gallic insouciance: a shrug here, some unfazed candour there. Hers was a peripatetic upbringing: born in Paris, she emigrated to Japan aged seven, before returning to the French capital when she was 13. Five years later, Martin – whose father is French and mother is English – moved to London to study media and culture at university. Modelling gigs helped pay the rent; acting classes were just a hobby.
Best films of 2019 (so far)

Show all 49
Not long after graduating, when she was yet to even find an agent, she landed a starring role in 2013's Nymphomaniac. An explicit four-hour-long erotic odyssey, Lars von Trier's film required Martin to wear a prosthetic vagina, as well as have a porn double. In 2017, allegations of harassment were made against Von Trier (which he denies) by the singer Björk, whom he directed in the 2000 film Dancer in the Dark. Martin has always maintained that he was "amazing" to work with, and has grown tired of being asked about him as if she were some sort of victim. "I do feel a lot of the time cornered," she says. "Even before the whole #MeToo thing happened, people would talk to me about Lars, and because I'm a woman, because I was young when I did that film, they think, obviously, I did things that I didn't want to do. It was almost like they took away my own ability to be responsible for myself, and that's very frustrating.
"I always say," she continues, "I can only talk about what I know and the people I know. I'm not a spokesperson, I'm not going to tell everyone's truth, I tell my own because that's all I know, and with Lars, that's what I did and that's what I still do."
Martin found herself in a similar situation with Kevin Spacey, with whom she worked on Ridley Scott's All the Money in World. When sexual assault allegations were made against Spacey, Scott decided to remove the actor from the role of J Paul Getty and replace him with Christopher Plummer. Last-minute reshoots were needed. "I didn't really speak to Kevin Spacey," she says. "It's just so tricky, you know, to suddenly be asked to speak about things you don't necessarily know about. I can have an opinion but is it worth making a headline? Not really."
Does she think it's possible to separate the art from the artist? "I think ultimately it isn't a debate between art and someone's personal life," she says. "Picasso, for example, wasn't necessarily the nicest man either. It's a fascinating phenomenon that we as human beings just decide collectively to turn a blind eye because of that person's talent. What was really interesting in this case was that the whole crew came back and it was exactly the same, but it was a very different film because there was a different actor. Everyone was so pleased that Christopher was doing it and even Michelle Williams came up to him and said, 'Thank you for coming, this means so much.'"
Access unlimited streaming of movies and TV shows with Amazon Prime Video Sign up now for a 30-day free trial
Sign up
VOX LUX official trailer (2018)
For the reshoots, Williams reportedly received less than $1,000, while Mark Wahlberg pocketed $1.5m. "Yeah that was not good," she says. "But you see, when we talk about pay equality, I think we're misunderstanding where the problem lies. I think the reason why they were paid differently was because they didn't have the same contract. And then there's the way a film is financed. There's still this concept that a man is more bankable than a woman." Things are changing, she says, but there's still a way to go. "I have never been paid equally to my male counterparts, and it's mainly because of bankability. Give me more money! l live in London!"
Of course, the smaller, independent films in which Martin tends to appear – such as Ben Wheatley's High-Rise (2015) and Corbet's The Childhood of a Leader (2015) – don't exactly come with huge pay packets. "Maybe I should be making more mainstream films if I want to get some money," she says, "but the kind of arthouse films Brady does are the ones I want to spend three months on a set for."
Martin's next big project will be Kirsten Dunst's directorial debut, an adaptation of Sylvia Plath's The Bell Jar. "That story meant a lot to a lot of people," she says. "There just aren't enough stories like that for young women to hold onto. The book is brilliant and heartbreaking."
Vox Lux is out in UK cinemas and on Curzon Home Cinema​ now
Register for free to continue reading
Registration is a free and easy way to support our truly independent journalism
By registering, you will also enjoy limited access to Premium articles, exclusive newsletters, commenting, and virtual events with our leading journalists
Already have an account? sign in
Register for free to continue reading
Registration is a free and easy way to support our truly independent journalism
By registering, you will also enjoy limited access to Premium articles, exclusive newsletters, commenting, and virtual events with our leading journalists
Already have an account? sign in
Join our new commenting forum
Join thought-provoking conversations, follow other Independent readers and see their replies