How Sonequa Martin-Green became the first black female lead of Star Trek: 'My casting says the sky is the limit for all'
We talk to the cast and visit the set ahead of Netflix's all-new reboot, 'Star Trek: Discovery', with each episode rolling out as a weekly episodic show
Gill Pringle
Friday 29 September 2017 08:53 Comments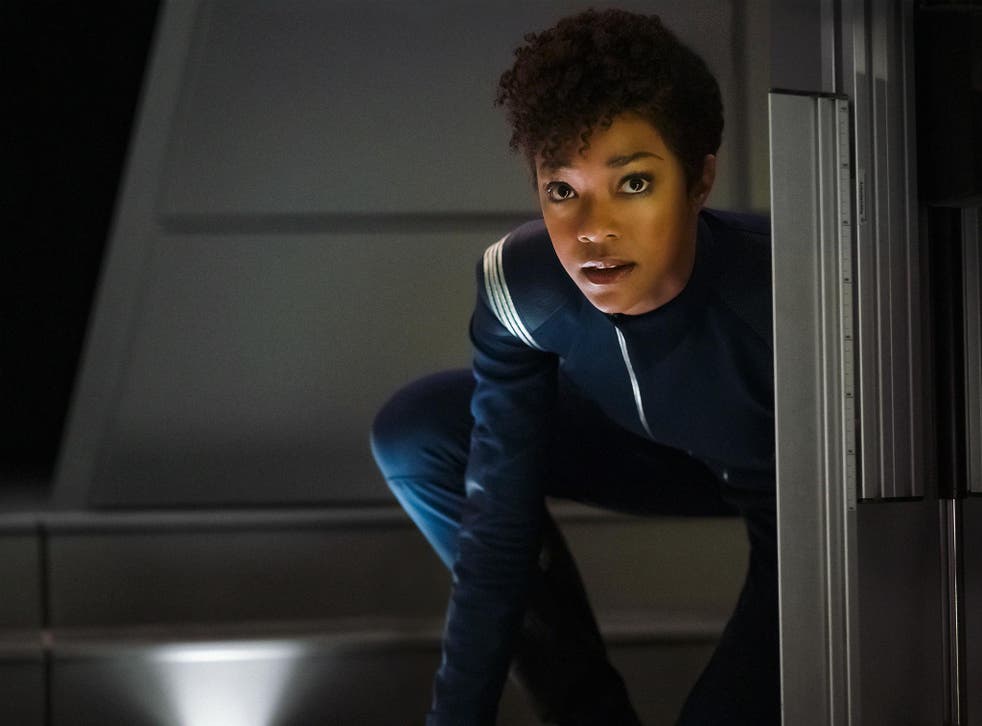 Star Trek pioneered diversity long before diversity was a hot-button issue. When the series first launched 51 years ago, its original crew featured black, Asian and, yes, females actors – not merely as eye candy – among its cast.
But an all-new reboot, Star Trek: Discovery, goes boldly where no Trek has gone before by placing two women of colour in command of a starship: Crouching Tiger, Hidden Dragon actress Michelle Yeoh and Walking Dead's Sonequa Martin-Green.
Trekkies have always been a passionate crowd, although even Star Trek: Discovery's genial show-runner Aaron Harberts was caught off guard by the intensity of the internet trolls and haters. "It's our job to reflect the world we live in; a world where more than half the population are women. Quite frankly, I don't know what all the fuss is about," argues Harberts when The Independent meets him and his cast.
If Yeoh brushes off the pressure – after all, the Malaysian martial-arts dynamo has quietly been shattering glass ceilings for the past four decades – then much of the burden falls to Sonequa Martin-Green taking centre stage as (arguably) Trek's first black female lead (some fans point to Nichelle Nichols, who played Uura from 1966-91, as the rightful owner of that honour).
"My casting says that the sky is the limit for all of us. I think what we're seeing now in our media is this push to diminish and to devalue and to make people feel that the sky is not the limit for them, that they are meant for the ground," says Martin-Green, a force of energy so bubbly and exuberant, its hard to imagine she was chosen to play a human raised as a Vulcan. Not only chosen, but actively waited on; production halted until her Walking Dead contract ran out.
"So having me as the first black female lead of a Star Trek just blasts that into a million pieces. I am eternally grateful that the diverse casting of our show means that we are now a part of the conversation and hopefully a part of making the world a better place, as cliché as this sounds. Because I really believe it and think its vital for us all right now," she says, the spectre of Trump lurking unspoken.
Not that she views her casting as a triumph for women alone. "I think it sends a message to any minority group that's been disenfranchised. We all benefit when we can see a picture of ourselves in a position of leadership and I think that goes not just for women and people in minority groups – but for everyone to see that this is possible. I think that it will help people see the beauty of women in power and also the beauty of minorities in power, and to incite change."
It should be noted that Martin-Green is the first black female first officer, rather than captain. There has previously been a female captain, played by Kate Mulgrew who made franchise history in 1995 when she was anointed as Captain Janeway in Star Trek: Voyager; however, there has yet to be a black female captain.
Star Trek: Discovery is a prequel to Gene Rodenberry's original series, set about 10 years prior in a world at war. An interesting experiment from Netflix, fans will not be able to binge on the series, each episode rolling out as a weekly episodic show.
Access unlimited streaming of movies and TV shows with Amazon Prime Video Sign up now for a 30-day free trial
Sign up
One of the most popular pop culture franchises in history, now returning to TV 12 years after the last Starfleet was cancelled, Harberts and fellow show runner Gretchen J Berg have plotted a very different course for Star Trek: Discovery.
"I believe this is the first time that it's a serialised telling of a tale and an exploration of just one character [Martin-Green's Michael Burnham] along the path of discovering what it means to be human and finding her individuality," says Harberts. "Those stories have been well told in the movie spin-offs, but were impossible to do on TV where each episode was closed-ended."
While visiting the Discovery set at Toronto's Pinewood studios, plot-lines are shrouded in secrecy and many sets are off-limits, although we are allowed a peek inside the quarters shared by the crew's first gay couple – Anthony Rapp's Lieutenant Paul Stamets and Wilson Cruz' Dr Hugh Culber.
"We don't want to make a big deal about it. Its just treated as perfectly normal – which it should be," says Harberts.
Trekkies have long been divided into Captain Kirk or Spock camps, and Martin-Green herself has always favoured Leonard Nimoy's Spock from the original series. "Spock is my favourite in the canon. I loved what Leonard Nimoy did," she says, reverently referring to the three original seasons as "TOS".
Jason Isaacs, who plays Discovery's war-mongering Captain Gabriel Lorca, is likewise a Trek fan from a different era, admiring Patrick Stewart's Captain Jean-Luc Picard from the big screen versions of the late 1990s.
Unsurprisingly, the new cast all geeked out when Jonathan Frakes, who played Riker alongside Stewart in the early film versions, recently guest-directed an episode.
"I'd never met Patrick Stewart before and Jonathan was excited to introduce us at an event we were both attending," recalls Isaacs, best-known for his role as Lucius Malfoy in the Harry Potter films. "But Jonathan couldn't come at the last minute so I wandered up behind the world famous silhouette, heard the echo of the magnificent voice, saw the mob of gorgeous well-wishers and... chickened out. So I still don't know him."
Born and raised in Alabama, Martin-Green marked her entry into TV nine years ago with a guest spot on an episode of Law & Order, a rite of passage for all New York-based actors, progressing onto episodes on The Good Wife, Gossip Girl and Once Upon a Time before making her name as The Walking Dead's fiesty Sasha Williams.
"My parents, in particular my mom, were always supportive of my wanting to act but I don't think either of them viewed it as a legitimate career until they saw me on Law & Order. I played a bisexual high school lacrosse player involved in the beat-down of a high school boy. So much fun," laughs the actress who has a two-and-a-half-year-old son with husband, Kenric Green.
Its no accident that her captain takes a male name, Michael Burnham. "It is on purpose. It was Brian Fuller's idea," she says referring to the writer who conceived the Star Trek reboot, lobbying for a black woman at the fore, before falling out with CBS executives. "A lot of Brian's female leads have male names. So I am named after my biological father and I love that because I think it really speaks to the gender fluidity. It's a subtle yet powerful nod to that."
Certainly Star Trek: Discovery presents a darker narrative. "It's grittier and raw in a way that the other iterations have not been. I think that's one of the ways we're going boldly where no-one has gone before," she winks.
She's excited to meet Nichelle Nichols, 84, who played Uhura on TOS.
"She reached out to me via social media and it will be a glorious day when we meet."
If the reboot proudly promotes diversity and gender equality then Martin-Green admits her costume fits way too snugly, a common complaint among all previous female Trek cast.
"It's tight, but its goood," she says letting the vowel spread like syrup. "It makes you stand up straight so I appreciate it for that. They're beautifully made and designed. Nor am I complaining about the lipstick after years of running around with zombies in the dirt."
Empowered by the strong women in her family, she will tell you, "My mother and my older sister are heroes. Also God, right? Because he's a woman too. He is all things; that's what I believe."
And lest you be wondering – yes, the new Star Trek crew do actually repeat the immortal line, "Live long and prosper".
'Star Trek: Discovery' begins streaming on Netflix on 25 September
Register for free to continue reading
Registration is a free and easy way to support our truly independent journalism
By registering, you will also enjoy limited access to Premium articles, exclusive newsletters, commenting, and virtual events with our leading journalists
Already have an account? sign in
Join our new commenting forum
Join thought-provoking conversations, follow other Independent readers and see their replies