Star Wars: The Force Awakens casting director Nina Gold on bringing in a new generation of acting stars
The new 'Star Wars' will not give up its secrets lightly, but there's no hiding the excitement around its young actors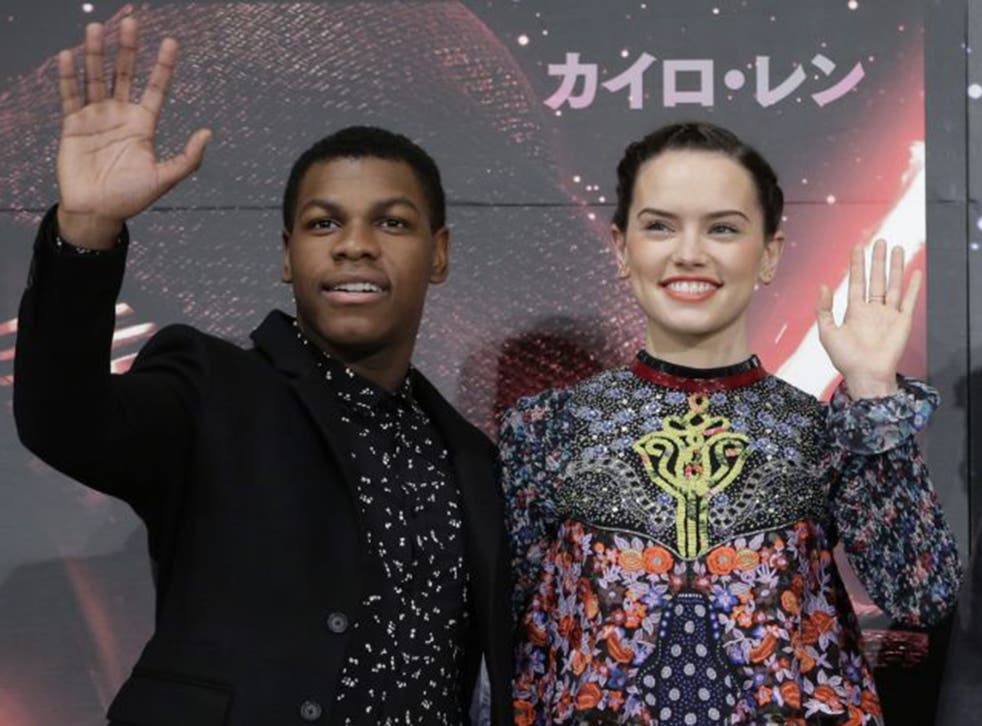 Who are you?" "I'm no one." These six tantalising words will be lodged in the brain of every Star Wars fan who has watched a trailer for The Force Awakens. But what I'm wondering, as I approach the north London house that doubled as casting HQ for the film, is whether the same question will be asked of Nina Gold's discoveries come next year's awards season.
Gold is the person millions of fans will have to thank if the seventh in the Star Wars franchise is the gigantic hit everyone expects. She is the force behind all the new faces to appear, masked or otherwise. And yet, Gold herself, who as casting director found this generation's Luke and Leia – John Boyega and Daisy Ridley – risks being overlooked, because hers is the only single-line credit not to have its own Oscar category.
Talk of trophies might be premature, but it's never too soon to talk how Gold has helped to transform the lives of Boyega, who plays Finn, and Ridley, who is Rey. The pair, both 23, will be catapulted into overnight stardom in dramatic fashion, particularly Ridley, who is making her big-screen debut in what is tipped to be the industry's highest grossing movie to date. "A lot of times along the way, you think they have no idea. Really. No. Idea," muses Gold about what lies in store for the young actors. "I don't think anybody could possibly contemplate what a big thing it will be for them."
I remind her that Carrie Fisher, who reprises Princess turned General Leia, once wrote how "George Lucas ruined my life ... in the nicest possible way". Gold interjects: "God, I hope we haven't ruined [Daisy's] life! I'm sure we've enhanced it!" Later, she adds that Ridley, "even though she's young, is a pretty grounded, hard-working, clear-thinking person. Hopefully she'll keep her toe in reality". And she thinks Boyega, whom she spotted when he was "17 or 18" in a play at the Tricycle Theatre, Kilburn, north-west London, and cast in the British sci-fi comedy Attack the Block, "has already had a taste of it". Episode VII is only the first of what is to be a sequel trilogy, after all, assuming Finn and Rey go the distance. "Hopefully they won't go insane."
It was "brilliant not having to cast someone from the same old list of names", she says: "You don't want somebody who was 'that guy from some other franchise'. You want them to entirely belong to This World." With Episode VIII expected to start filming in January, attention will turn swiftly to which other old faces might return. She dodges my attempt to discover whether Hayden Christensen, who made an unpopular appearance as Anakin Skywalker in the prequel trilogy, could reappear. In fact, Gold has to tread carefully throughout, picking her answers with the calm precision of Luke practising his early light-saber moves with Yoda.
EW's Star Wars: The Force Awakens photos

Show all 8
Gold admits the "deep secrecy", unprecedented in today's age of instant internet gratification, was one of the project's biggest challenges. It made filling roles hard "because you can't even tell anybody what they might be meant to be doing". It has made living with her 15-year-old son tortuous. (She also has a daughter of 19.) He's kept at it, asking you? "Oh my God, yes! I keep having to pretend I can't remember!" she laughs.
I can't help trying to infer answers from each change of tone. Read what you will into her voice climbing an octave when I ask if Disney, which paid $4.1bn (then £2.5bn) for Lucasfilm in 2012, has plans beyond Episode IX. "More? Pfft. I don't know!"
Then there's the "massive weight of expectation", not forgetting the challenge of getting the old gang back together. "Maybe they've been waiting 30 years to get them all together at the same time!"
Harrison Ford is seen in the latest trailer flying the Millennium Falcon before another shot shows the craft crashing. Whether the actor, who broke his left ankle filming at Pinewood Studios, will return as Han Solo yet again is another of those unknowns, despite a "bogus" online casting call posted by a "random American lunatic" claiming Ford is in the next instalment. "There doesn't seem to be any way of stopping him," Gold says of the fraudster.
Access unlimited streaming of movies and TV shows with Amazon Prime Video Sign up now for a 30-day free trial
Sign up
Where Gold – clad in head-to-toe, fashion-editor black, looking every inch the Hollywood insider, despite working almost entirely from her Queen's Park home – will open up a little is the issue of women in film. She thinks it's a "bummer" so many films pit older men against younger female lovers. "Somehow Hollywood would like any woman between 40 and 70 to be invisible. I definitely resist casting a couple with a massive age discrepancy."
For The Force Awakens, she proffers that "some of the leading strong, forceful, intelligent roles are played by women", adding: "And that seems completely normal." One female addition is Lupita Nyong'o, the Kenyan actress who plays Maz Kanata. Another is Gwendoline Christie, whom Gold also cast in Game of Thrones. Fan forums reckon Christie, who will play a female stormtrooper, Captain Phasma, was added to redress a lack of female parts, but Gold demurs. "I guess mostly the stormtroopers are men, or they have been, and it just seemed like a wonderful thing to have this incredibly brilliant woman in there too. But I don't think it was like, 'Oh shit, we'd better get a woman'. It was, 'She'd be great!'"
This pretty much sums up Gold, who fell into the casting game after being roped into finding extras for music videos while still at the University of Cambridge.
She quickly rose to become a regular collaborator with Mike Leigh for every project of his since 1999's Topsy Turvy, and has now made three films with Oscar-winning director Tom Hooper of The King's Speech. (The most recent Hooper film is The Danish Girl, whose lead actors have both just received Golden Globe nominations.) In the past couple of years alone, her name has been on the credits for films as diverse as Paddington, The Theory of Everything, The Martian and Mr Turner.
In an age when television can be as prestigious as the big screen, Gold has been the creative force behind the inspired (and Emmy-winning) casting of Game of Thrones and Wolf Hall, among many others.
But the Star Wars gig has come to dominate her working life, and with two sequels at the advanced planning stage, it shows no sign of slowing down. Gold admits she's spending much of her time driving to and from Pinewood studios.
Can the Force stretch from there as far as the Dolby Theatre, home of the Oscars? It almost doesn't matter.For this generation of Star Wars fans, Gold is very much "someone".
Star Wars: The next generation
John Boyega
The 23-year-old from Peckham, south London, will play Finn who, thanks to last year's teaser trailer, was the first of the new characters we got to meet. But it's no use asking "Finn Who?" because director J J Abrams has said it is "completely intentional that Finn's last name isn't public record". Looks as though he starts the movie as a stormtrooper. Possibly.
Daisy Ridley
Casting Ridley, 23, and also from London, as Rey repeats George Lucas's decision to feature relative unknowns. Could Rey be Leia and Han Solo's lost daughter? Who knows. She is, apparently, a scavenger from the planet Jakku with an android friend called BB-8. But will she wind up being related to or in love with Finn?
Gwendoline Christie
It's taken seven episodes, but finally Star Wars has a female baddie. She is Captain Phasma, a chrome stormtrooper (chrometrooper?), played by Christie, 37, best known for her role as the warrior Brienne of Tarth in Game of Thrones. Whether the character was or wasn't originally male might obsess chatrooms but is irrelevant. More relevant is that producer Kathleen Kennedy let it slip that Captain Phasma will be back for Episode VIII.
Lupita Nyong'o
The 32-year-old Kenyan actress plays a diminutive alien, Maz Kanata, in motion capture. Little is known about the Yoda‑esque creature, except that the orange extra terrestrial's eyes have a special power, hence the goggles.
Oscar Isaac
The Guatemalan-American actor, 36, whom sci-fi fans will know from Ex Machina and X-Men: Apocalypse, plays "Black Leader" Poe Dameron, an X-Wing Squadron leader. Expect plenty of pilot acrobatics, and also that he will partner Finn.
Star Wars: The Force Awakens is released in the UK on 17 December
Register for free to continue reading
Registration is a free and easy way to support our truly independent journalism
By registering, you will also enjoy limited access to Premium articles, exclusive newsletters, commenting, and virtual events with our leading journalists
Already have an account? sign in
Register for free to continue reading
Registration is a free and easy way to support our truly independent journalism
By registering, you will also enjoy limited access to Premium articles, exclusive newsletters, commenting, and virtual events with our leading journalists
Already have an account? sign in
Join our new commenting forum
Join thought-provoking conversations, follow other Independent readers and see their replies